Ninja Chirashi is a heartland Japanese Don café restaurant tucked in a Tampines HDB estate. They serve rather brilliant, tasty and value for money Japanese Salmon and Tuna rice bowls. Lets have a dine-in today.
The cafe restaurant offers both outdoor and air-conditioned indoor seating. The interior is small but otherwise not cramped in terms of spacing. The largest table can accommodate groups of 6. The store occupies two units of a HDB void deck residential area. Also, the ambience is generally chill and quiet. A reflection of this secluded neighbourhood of the east. Notably, the stretch here at Tampines Street 81 is also known for its selection of ice cream dessert stores and late night prata shops.
Moreover, Ninja Chirashi menu options are simple. Essentially your dish is served with your fish on a bed of Japanese sticky rice. Additionally, the rice is standard Japanese rice and nothing much to scream home about. There are 3 Chirashi and 6 Don dishes to choose from.
Go for their affordable Chirashi bowls
A typical regular single meal which served one would set you back an affordable $10. While their more premium selection dish costs $20. Menu recommendations include their staple Ninja Chirashi bowl ($10.50), it is available in Truffle and Spicy variants. Also, the bowl sizes are small but very compact, packed full of Chirashi goodness. Chirashi means "scattered" (散らし), so chirashi sushi literally means 'scattered sushi'.
Additionally, their Salmon Dons ($11.50) is great for a single serving. And by nature of Japanese Don bowl, they do fill you up rather satisfyingly in portions. Also, the salmon and tuna chunks at fresh. Your salmon are served as slices. While your tuna are chopped in mini cubes.
In comparison, a small salmon Chirashi dish in Sushi Tei with similar quality would set you back at least twice the price per bowl. Other miscellaneous dishes include their Unagi don ($17.50), and fried chicken Tori Karage Don ($10.90). It is a crispy fried chicken don coated with mustard sauce. Also, you can make your rice dish a set meal by adding $4 to $6 to your meal.
Moreover, the tuna chunks are thick and crunchy, it has a texture similar to, but not to the extent of premium tuna which melts in your mouth. The salmon slices are neatly sliced but with their less than pristine patchy flesh is notably on the lower quality of raw edible sushi. Still the offerings are adequate for the price.
Ninja Lord for the hungry
Furthermore, if you are hungry, a recommendation be Ninja Chirashi's Ninja Lord don. It is a mega dish filled with fresh seafood and at $21.90 does cost about twice a typical standard don offering here.
Moreover, your Ninja Lord dish is served with Scallops and generous spoonful of Mentaiko fish roe with neatly packed fresh prawns arranged in the edge of your bowl. For the large premium dish, your ingredient items are paid out neatly in a circular manner. It is so as to exhibit or showcase the dish offerings. Also, each dish is served with a side of wasabi for seasoning and taste. Dark soya sauce is available as a table side if needed. It is a joyful delight.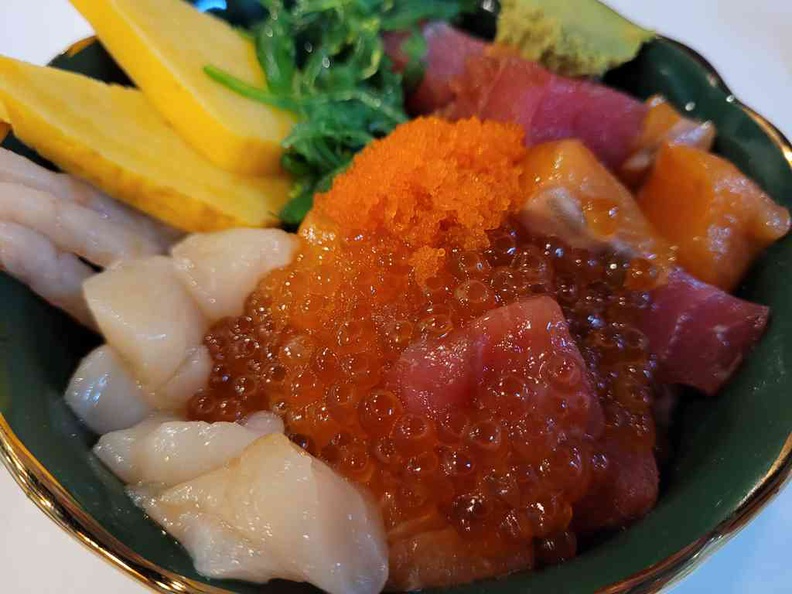 All in all, I find it hard pressed to find another Chirashi establishment offering similar quality at this price. I would recommend Ninja Chirashi as a must-go option if you are in for quality yet affordable fix of salmon and tuna Chirashi dishes
Verdict:
Must Go! | Actually pretty Good | Worth Trying | Shortlist Optionally | Should Avoid
Ninja Chirashi Locality Map
824 Tampines Street 81, #01-36,
Singapore 520824
Open 11.30- 2pm spilt shift 6pm- 9.30pm
Up to 10pm on Friday and weekends.