Today's let's take a visit and dine-in at Enishi Ramen, a ramen establishment that embodies a passion for crafting authentic Japanese ramen delicacies. The Japanese ramen restaurant were founded by a simple culinary menu when they opened in Singapore early 2019. They aim to bring the rich and diverse flavours of Japanese ramen to the local food scene.
An authentic Japanese Ramen shop
Enishi Ramen aim is to establish a ramen noodle shop that would enchant customers with its exceptional flavours and meticulous attention to detail. Upon entering the restaurant, the wood accents and zen decor immediately transport you to a traditional Japanese eatery. Also, the establishment is small-sized with only a 10-seat counter, and cramped space adds to the authenticity, resembling the dining establishments found in Japan.
Moreover, you place your order and pay at the entrance manned cashier before being seated. I reckon an automated ramen ticket vending machine to purchase meal tickets- a common mainstay in Japanese eateries would make the eatery more authentic. Also, the limited seating suggests that this is more of an "eat and go" place rather than a spot for slow meal and relaxation.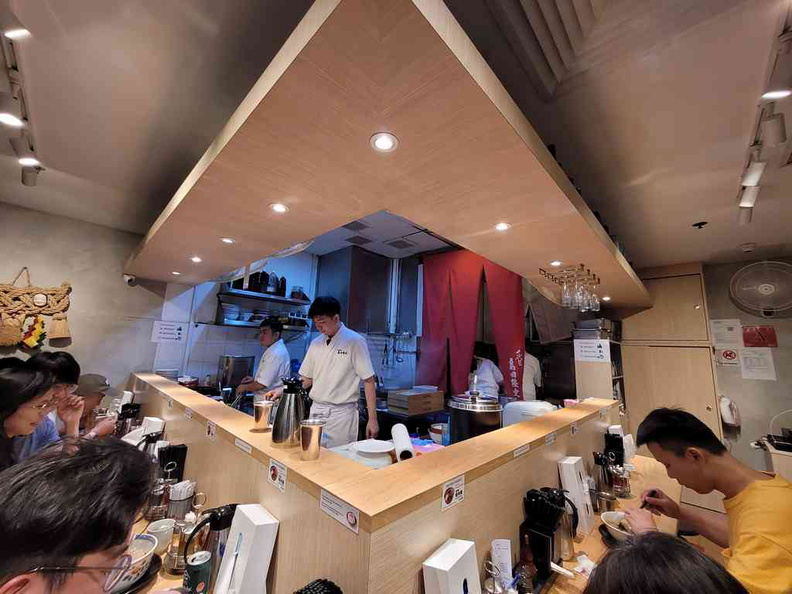 Notably, the Enishi chain is renowned in Japan, receiving the prestigious "Michelin Bib Gourmand" award in Kobe, Japan. There are only two Enishi restaurants in the world- one in Kobe, Japan, and another in Singapore.
Also, the chain brought its concept of "authentic Japanese experience" to Singapore right here in International Plaza in the Tanjong Pagar district. The small Japanese eatery sits on the second floor of international plaza. It is a quiet rustic old style mall and home to a mix of small eateries and café on its two floors. Notably, it sits beside a Korean cuisine restaurant, Ko Ryo Jeong we will check out soon, so stay tuned!
Simple Menu options
Enishi also offers a limited yet simple staple menu consisting of two items: Dan Dan Noodles ($18.90+) and their soupy variant of the noodles, the Japanese Dashi Noodle ($18.90+). It is their staple dish available in dry or soup versions.
Notably, currently, Japan is witnessing a decline in the popularity of "Tonkotsu" (pork bone broth) ramen, and the latest trend for well-liked "Dashi"-based ramen. Also, this type of ramen derives its soup stock from "Kombu" (edible kelp) and dried ingredients, highly favoured by the Japanese.
A Japanese take on Chinese Dan Dan noodles
Furthermore, their specialty ramen dishes are worth mentioning. Interestingly, their signature dish, Dan Dan mian, has more of a Chinese influence than Japanese. This dish is commonly found in Chinese noodle establishments, particularly in the Sichuan region. Enishi adds a unique Japanese touch to the noodles. It results in a one-of-a-kind fusion that combines the best of both cuisines with exceptional quality.
One of the standout dishes at Enishi Ramen is their Dan-Dan noodle priced at $19.80. It offers three levels of spiciness: zero, medium, and very hot. Surprisingly, even at the lowest spice level, the noodles are not spicy. Your meal is served as a set with a side of rice on a tiny saucer (could be more), soup and any additional condiments add-on. Also, for those who enjoy a bit of heat, the medium level is recommended. An interesting way to enjoy the noodles is to pour the egg over them, splash some dashi, and mix it all together.
Also, the skilled staff at Enishi use these Dashi ingredients to create their "Dandan noodle" menu. It features an impressive selection of 32 spices and a wide array of ingredients. The presentation and quality of these dishes are comparable to those found in Michelin-worthy establishments in Japan.
Soup version with duck and chasiu
Moreover, if you desire something more localised served duck meat and chasiu roasted pork slices, their soup variant is one worthy of considerations. You do get more choices of their soup variant at varying prices. The most basic and cheapest dish, priced at $18.80, is the Japanese dashi noodle with 1 chasiu and 2 duck slices.
For an additional dollar, the Enishi's Regular serving includes 1 chasiu, 2 duck slices, and a whole ajitama egg. The special, priced at $21.80, features a maximum of 2 chasiu, 4 duck slices, and a whole ajitama egg. Also, you can choose from dashi, ahio, or shoyu soup bases, adding variation to their two staple dishes. To enhance the flavors, extra chasu pieces and duck slices can be added for $2 each.
Furthermore, if you're a spice lover, it may be tempting to opt for additional chilli oil and richer broth for $2. You will love the well-blended flavours of spiciness mixed into the noodle package.
However, it is recommended to forgo this and instead utilize the chilli condiments available at the counters. It gives more control over the level of spice desired. Also, to complement the meal, Enishi Ramen offers a selection of soda drinks, hot ocha, houjicha tea, and a range of Japanese alcoholic beverages, such as Asahi, Gin no Hitomi, Ichigo, and Nanbubijin, priced between $7 and $27. Plain water is also available at the counter.
Japanese hospitality
Additionally, the restaurant takes pride in its exceptional service and maintains a warm and inviting dining atmosphere. The attentive team members ensure that you receive prompt service and are always available to address any inquiries or special requests. Also, the establishment's Japanese light wood decor is simple yet inviting, creating a serene zen ambiance that is perfect for savouring a comforting bowl of ramen.
Wrapping up
All in all, in summary, Enishi Ramen provides an authentic Japanese dining experience, offering a great bowl of ramen with rich flavors. The cosy and cramped ambiance, reminiscent of Japanese eateries, immerses you in the cultural atmosphere. The menu provides options at different price points, allowing customers to customize their bowl of ramen to their liking. While the lack of ample seating may be a drawback for those seeking a leisurely dining experience, Enishi Ramen remains a go-to spot for a satisfying and authentic ramen meal.
Verdict:
Must Go! | Actually pretty Good | Worth Trying | Shortlist Optionally | Should Avoid
Enishi Ramen Makan Place Locality Map
10 Anson Rd, #02-85A
International Plaza,
Singapore 079903
Opening Hours: 11:00am- 3:00 pm
6:00- 9:00 pm (Split shift)