Let's dine-in at K.Cook Korean BBQ at Orchard Central today with a dinner time buffet. At its core, K-cook is a self-help buffet where you can self-grill meats to your choosing. This is done on round table-mounted table grills. Let's see what's on offer.
Great for groups
Additionally, K.Cook buffet at Orchard Central the restaurant offers a mix of outdoor and indoor air-conditioned seating. The latter offering much limited space and for smaller groups on round tables. This is as opposed to Daessiksin Korean BBQ at Orchard gateway with only indoor seating. Also, the indoor seating area is where the buffet food spread reside. There is notably limited seating and can get cramped on peak weekends too.
Also, the outdoor seating is more geared for bigger groups and have entertainment such as a projection screen showing Korean music snippets. Notably the air-conditioned indoor seating has a ceiling-mounted vacuum pipe, while the outdoor one doesn't, relying more on natural ventilation. There is also a view overlooking Orchard Road here.
Moreover, food selections comprises of a mix of ready-cooked food and raw foods for your BBQ. This includes meats and an assortment of vegetables. Furthermore, I would recommend a mix and match of meats and vegetables to go with your Korean BBQ. It adds more flavour and breaks the monotony of too much grilled meat. Also, cutlery such as tongs and scissors are offered to handle your food as well as cut them into more manageable bite-sized pieces for sharing.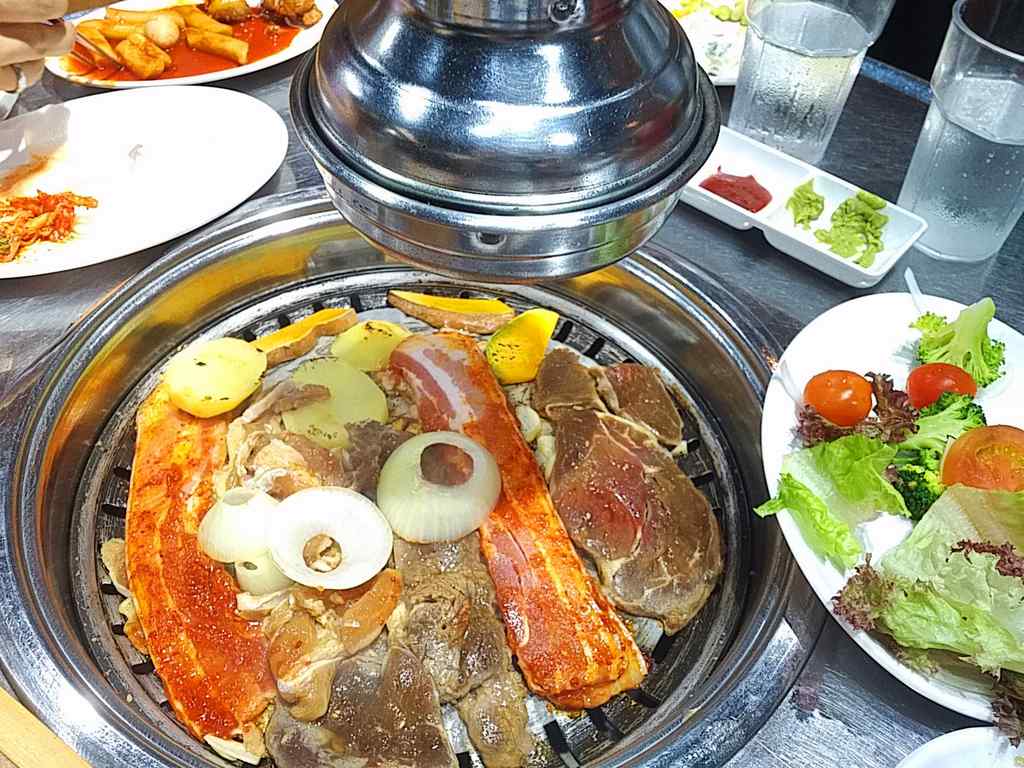 The meats such as seasoned pork belly meat rolls, beef slices are well-marinated with good flavour, though I would recommend not over cooking your meats or it would lose it flavour and become dry too quickly.
Also, one of their main selling points and recommend items would be their pork slices, these are served by the chiller-load which you can help yourself via-self-service. Also, it is cooked in its own fat without the need for oil and when grilled has the texture and crispiness of thin bacon.
Great with greens
In addition, not everything is meat. You can consider eating your grilled meats wrapped in lettuce leaves too, adding colour and variety into your meal. Also, a trick to try is pairing your meats with onions on-grill. It is a great way to infuse additional flavour seasoning into your meats.
Additionally, there is a Korean sauce condiment selection too. The restaurant offers tips on how to make a recommend sauce mix from the spices and vegetable condiments offered. Also, commendably, free flow of water is also available.
Wrapping up, there is a hot counter serving up fried chicken wings, fries as well as rice to go with your BBQ. Interestingly, the cold counter offers a selection of cooked pasta as well as ready-made salads. Moreover, on pricing, weekday lunch sets you back $16.90 while dinner is more pricey at $26.90++ per head. Weekend and public holiday rates costs $26.90++ for lunch, and $28.90++ for dinner.
All in all, K.Cook offers a rather compelling reasonably priced buffet sure to leave you filled to the brim. Also, right in the heart of Orchard road at a rather compelling price point.
Verdict:
Must Go! | Actually pretty Good | Worth Trying | Shortlist Optionally | Should Avoid
K.Cook Locality Map
Orchard Central
181 Orchard Rd, #07-01,
Singapore 238896
Opening Hours: 11:30am- 3pm, 5:30- 10pm (Split shift)