Smart Nation & U Downtown East is a short 2 day event held over this weekend at the Pasir Ris estate, Singapore. The tech event is organised by the Smart Nation and Digital Government Office, with support from IMDA, GovTech and NTUC. Let's check out the event.
Main stage at the Live Zone
The event is spread over 3 main sections. Most activities are located in the "Live Zone", situated in a centrally located huge white outdoor air-conditioned called the D'Marquee tent. Also, here, you can find a myriad of exhibitors showcasing their smart enabling technologies or services. Examples includes Amazon Web services, AI Singapore as well as Singapore Technologies to name a few.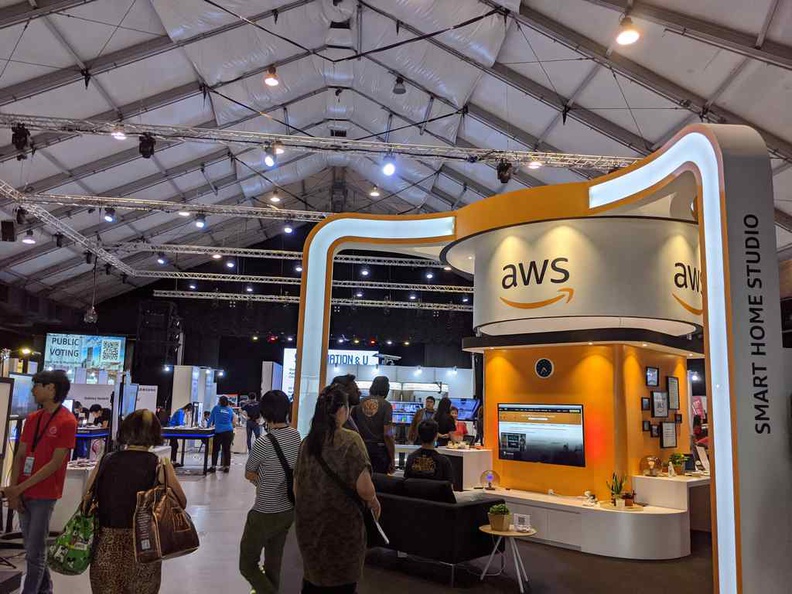 Moreover, there are a couple of kiosks devoted to elderly technologies. These are some enables as part of the 4th IR (Industrial revolution) of using tech to better the world. Examples includes the use of Virtual Reality headsets, and smart walking aids. Also, some booths offer door gifts after doing simple survey, if you desire. Additionally, I found the most attractive gifts are those by AI (Artificial intelligence) Singapore. Interestingly, 3 free prepaid Singtel mobile SIM cards are up for grabs after completion of a survey on your impressions of AI.
In addition to various kiosks in D'Marquee are a line-up of Smart-Talks. They are essentially tech talks. These talks aim to arouse public interest in 4th IR enabling technologies. It covers from a policy to tech perspective to suit a range of technical know-how. Examples includes Tech Tutorials at the Work Zone.
Learn about 4th IR tech to the masses
Also, the Tech zone teaches how these technologies such as AI are used to digitalise Singapore. Applications includes through various enabling digital government apps and services implemented. Examples include Singpass and CPF apps.
Additionally, next to the main "Live zone" tent is the future at Work @ Work Zone. It is a sector focused on focused on work-related tech. It is located adjacent to the D'Marquee at an open Carpark. Here learn how technologies change the way you work.
In addition to the Live and Work Zones are fringe activities at the Begonia section. Call the Demo Zone @ Begonia, here, you can find mostly play activities.
Rides at the Demo Zone
Moreover, the Begonia sector Play Zone is home to one of the few vehicle activity areas. Interestingly, you can hitch a ride on SMRT's eletric autonomous transport vehicle rides as well as visit IMDA Lab on Wheels. Notably, private company MooVita operates these automous SMRT vehicles.
In addition, the IMDA labs has two buses which deploys into a self-contained activity room. One bus is focused as a VR experience zone, and the other themed as an Escape room-on-wheels where solving various AI related tasks grants you the "escape". Also, there are free electric Tri-shaw rides in the carpark too.
Furthermore, the Play zone is home to a variety of family-oriented Fun Kids Activities. Examples includes story-telling session, digital and bag-colouring sessions, and Finger 3D Printing using 3D printing pens.
Additionally, there are also a couple of VR try-out zones with arena areas to pilot soccer robotics, and to learn how they work. Also, this zone is brought to you by various government agencies (IMDA, etc.) and institutions (e.g. SMRT, Singapore Airlines and our various Polytechnics).
Activities for all Ages
Furthermore, if you are feeling lucky, you can try your hand participating in the event Fringe Smart Nation & U activities. Examples includes a Hackathon and a Scan & Win Quest. Also, notably, activities here allow you to stand a chance redeem sure-win prizes. Also, items up for grabs includes Amazon's Fire 7 Tablets, Echo Spot or OSIM Blood Monitors, to name afew. Sometimes, prizes are effective motivators to coax members of the public into the topic.
Furthermore, the Singapore Civil Defence Force (SCDF) have an outdoor booth showcasing their amphibious rescue vehicle, the DART Amphibious Vehicle as well a variety of smart tools used in their disaster and recovery operations.
Moreover, these experiential showcases, demo play areas & talks aims to transport both the young and old into a world of technologies, which is easy to understand. Also, here, you can meet and learn from the people behind these gadgets. Be surprised how these gadgets influence the way Singapore work, live and play. Also, you do this by tinkering with the showcased enabling technologies.
An event for the weekend
Additionally, after a long day of exploring, the event also have a tent housing Food and Beverage Stalls. Also, dood on sale are typical to that of event pop-up stores, with a mix of pasar malam and premium dessert choosing.
Furthermore, it is always challenging getting members of the public interested in tech events. I am glad the organisers are able to reach the masses without being too technical on issues. However, I found a gripe of the event is the short event duration. It runs just over this short weekend. I wished it could be longer.
In conclusion, as a public awareness campaign, Smart Nation & U is a rather commendable one, with activities suitable for all ages. Check it out this weekend from November 30 to Dec 1st at the Downtown east.