Besides the huge assortment of toys and comics to boot, STGCC prides itself too as a one-stop entertainment convention touting a jammed-packed agenda of stage performances, competitive gaming and cosplay events to boot. Lets check out the Performances, Gaming and Cosplayers in the convention.
Following my previous write-up covering toys and static displays of the convention, this section focuses more on the human, events and performance aspects of the annual convention event held at Marina Bay Sands Expo.
Performances
Stage performances for STGCC this year promise an extravaganza of star-studded guest list such as invitational DJs, and J-pop stage brought to you by EDP Lab for entertainment. Leading up to the event, the organizers promised to attendees a back-to-back stage schedule to enthrall all attendees over the entire 2 day event weekend.
Greeting you just off the entrance to the convention is the convention main-stage where all STGCC on-stage events comprising of DJs performances, concerts, interviews and cosplay competitions are held. This stage is accessible to all attendees with a basic STGCC ticket. STGCC this year also saw VLV bringing in the first ever EDP Lab into Singapore. This is in celebration of the convention's 10th anniversary official after party with Ryu, kors-k, Camellia & kradness to bring down the house.
Celebrating the best of pop culture in the region STGCC saw spotlight on an extensive invitational guest list of pop culture heavy-weights and fan favorites such as renowned comic veterans Arthur Adams, Joyce Chin, Frank Cho, Simone Legno & Takuya Fujima. Not forgetting cosplay personalities Shimo and Leon Chiro.
You can meet each of these invitational guests at their respective meet and greet sessions in the main hall area by the artist alley and in the Akiba Zone.
Akiba and Korean Zone
Besides the main STGCC hall housing most of the toys, games and comics on display. Gaming-related and anime related entities are situated in their own sectors, namely the GGXP (Gaming experience zone) as well as the Akiba Zone.
With the latter located in a small secluded area tucked away from the main hall only accessible only via the GGXP area. The Akiba zone is the smallest sector of the lot home to the Japanese side of the convention and housing all from Japanese pop culture.
Anime fans can look forward to meeting anime and game illustrator and known mangaka Takuya Fujima (Magical Girl Lycial Nanoha, Vivid Strike!). The Akiba zone is where you can find Japanese or Korean related merchandise such as figurines, music and manga. Moreover, the sector even has its own mini stage for local performances. There was also professional face painting booths to transform you into a Disney princess if need be.
Tad confusing hall layout
However, there was much confusion of the segregated layout of the convention sectors. The convention this year follows through a linear route through separate halls with single entry and exit doors. There was a clear barrier between the main STGCC hall and the Akiba zone. With this separate Akiba Zone, people often get lost and wondering how to get to the Anime area, despite being in the same main hall itself.
Furthermore, exit signs in the main STGCC hall doors points to non-existent exit points. I noticed many attendees backtracking to the convention entrance thinking it's an exit, only to be told to find the exit of the convention hidden in the dark far end of the GGXP hall. This hall layout was confusing to many attendees.
Only later do I come to discover that entry to the gaming and Akiba zones are a payable extra out of the base ticket. Therefore the rationale of staff at the GGXP sector entrance. I don't understand the rationale of doing so as people will need to pass through the GGXP hall to exit anyway and including all sectors under one ticket will be a better idea.
Cosplayers Galore!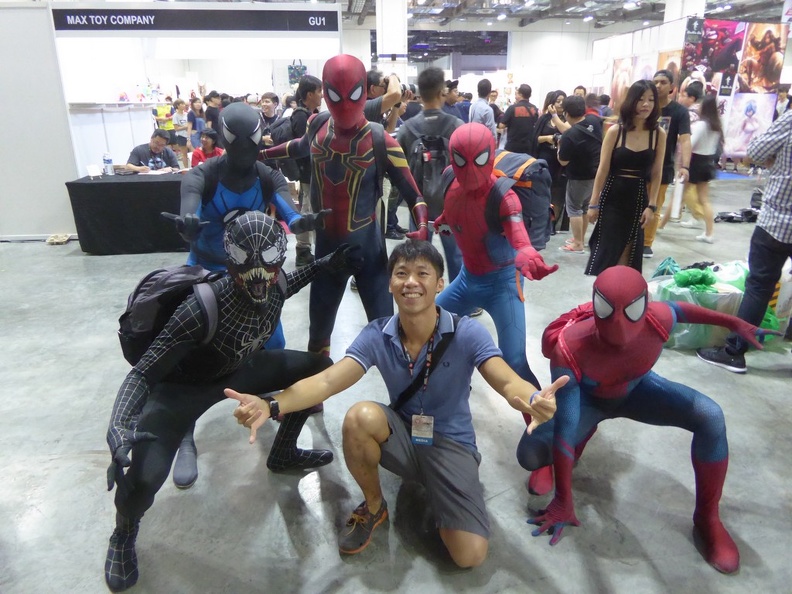 No toy and comic convention will be complete with their assortment of dress-up crew, namely cosplayers representing the different genres they represent, such as those from American comics or Japanese Anime. There were plenty of cosplayers around this year despite the hassle of increased security putting off many cosplayers, some with really notable detailed costumes too.
Cosplayers this year revolve largely around the movies released over the past year, as well as upcoming ones. Such as the upcoming movie- Thor: Ragnarok movie. There were also many, many, Kylo Rens around, as well as an entire Spiderman contingent. The presence of the Star Wars section was much the delight to many fans of the force, with many dressing up as Jedis, Tie-fighter pilots and even an inflatable Jabba the Hutt.
This year's convention increased security measures however, meant that the usual basement areas now are now strictly not available for cosplayers to use as form-up or logistics support points. The lack of a dedicated hall for cosplayers rest area had inconvenienced and limited the number of cosplayers this year. This is given that most cosplayers will most probably be in procession large bulky suitcases with costumes requiring facial masks, which are security nightmares.
This put-off most old-time cosplayers this year, preferring to travel light with lighter and simpler costumes. Noticeably, detailed intricate costumes are still much in the minority this year.
Gaming at GGXP
The gaming section, known as the Good game experience section (GGXP) comprises of several independent gaming related booths offering gaming experiences to all. The sector is shrouded in a dimly lit hall environment. This is in contrast to the rest of the convention setting. Moreover, the Asus ROG Masters championships is out there in full force representing the PC gaming scene. The sector is dominated mostly by the ROG Masters SG gaming area. It is decked with a main battle stage similar to we see in professional LAN gaming tournaments.
Asus ROG Masters championships
No LAN gaming tournament is complete without your vanilla first person shooter action and Defense of the ancients tourneys. That is what the ASUS ROG Masters Singapore at the convention aims to offer. On the lineup are several professional gaming ladder tournaments on Counter-Strike: Global Offense and the DOTA2. Attendees can watch them live as the semis and finals being played out right on-stage. Favorites in the first person shooter includes team One Time Wonder and Axylum. Correspondingly, Team ABC went against Desert Tiger in the DOTA 2 competitions.
Team One Time Wonder took the crown in the CS:Go. With Team ABC bagging the DOTA2 win. Both teams walking away with the $5,000 finals grand prize each and trip for representation in Philippines for APAC Regionals LAN tournaments.
A number of gaming accessory makers such as Logitech and Razer were present. They were there to showcase their gaming wares and peripherals in the GGXP sector. The merchandise sold are cross-platform. Also, Igda SG (International Game Developer's Association Singapore) was there to showcase of several home-grown indie and mobile games. These were delivered on several other platforms brought to you by their developers, who were present there themselves. This comprises of several locally indie games where you can have a try-out with the developers themselves.
With competitive gaming aside, SAFRA was there managing a Chillax zone to encourage family bonding through gaming stations. Examples include having a number of gaming couches for TV console gaming, as well as a couple of VR zones. These VR experience zones allow participants to have a go at introductory VR gaming. This includes multiple player games for people to get together in the name of the game. Moreover, Mountain Dew was present making their rounds about. Fueling all participants gaming energy needs via their backpack human dispensers running around the sectors.
Colesseum Table-top gaming
Last but not least of the 9 convention sectors is the Colosseum, a vast open table-top gaming arena for all your role-playing needs. This brightly lit area is lined with rows of table cloth draped gaming table which can be used for elaborate Warhammer gaming sets, magic the gathering tournaments or even a simple D&D pen and paper game.
Moreover, the distributor for Warhammer table top figures Gamersaurus Rex was there to offer tryout at painting Warhammer figurines. This is done using their renowned citadel range of high quality paints. It offers a very nice touch indeed into bringing participants into the world of fine modeling and detailing. Additionally, various other merchants line the edges of the Colosseum hawking various good of trade. You can find collectable figurines, toys, table-top gaming accessories and equipment.
A great 10 years to STGCC
And when I thought last year's STGCC was boring. STGCC this year pretty much blows me away this year in terms of the number of exhibitors and quality of exhibitors. It somewhat justifies the record entry ticket price at $21. But you do get quite a lot for your buck with the number of free areas, as well as bargains you can get which makes up for it.
Whether you're an avid comic junkie, die-hard collector, gaming enthusiast or just keeping up with the pop-culture scene, be prepared for an extravaganza of showcases & programmes, star-studded guest list and impressive gaming lineup which will engage you through the weekend.
Check out photos of this year's STGCC here.