The Army Open House (AOH) 2022 is back again this year after a 5 year break. The event is organised by the Singapore Army every 4 years showcasing initiative and hardware displays of the Army Service of the Singapore Armed Forces. Like the event before, this year's event is held at the Marina Bay Formula 1 pit building. Let's take an explore at the Marina Bay event.
Interestingly, event walk-in entry is allowed despite having to obtain tickets from the event website. Nonetheless, there were no entry queues. With tickets, you are in the event grounds within 5 minutes after an airport-style security check.
On similar events, notably the similarly, the Singapore Airforce (RSAF) and the Singapore navy does similar open houses, previously visited at Paya Lebar airbase as well as their exhibits at the Singapore Airshow and the Navy IMDEX at the Changi exhibition center.
Moreover, this 2022 Army Open house is touted to be nearer to home. There are 2 additional event locations in Punggol and Bishan heartland in addition to the main F1 pit building site here by the Marina bay.
Outdoor military displays
A visible highlight is the military hardware displays lined on the Formula 1 track in front of the F1 pit building. Notable hardware on display includes Armour displays such as 3 Leopard main battle tanks. You can climb on top of the driver hatch area for photos beside the 120mm smooth bore gun.
Furthermore, the SAF newest tracked Infantry fighting vehicle, the Hunter is also on display this time round. We last saw it at the previous 2017 Army open house, only this time you can climb inside it for photos. Moreover, other armour vehicles on display include the older Bionic AFV and the Bronco articulated tracked vehicle. Also, you can find a number of heavy engineering support vehicles like the Leopard recovery vehicle and engineering and mine clearing vehicles too.
Light vehicles here include the Guard's Unit light strike vehicle. It is a favorite too among the crowds as well as a Ford assault truck used by the special forces. Interestingly, a reconnaissance scout bike is also on display for patrons to sit on for photos.
Additionally, interestingly, you can find Airforce support in the open house bring about the widely acclaimed joint and tri-service efforts of a connected army. Also, here we can find the air force AH-64 Apache helicopters. These gunships typically support our ground troops as well as the Chinook transport helicopter which you can ride in the event battle ride.
SAR21 target practice and battle rides
Furthermore, another fun try-out area for your solider to-be is a mini marksman course. The "guns" here uses a modified real SAR 21 assault rifle. It is standard-issue in the Singapore army to "hit" targets scattered about the obstacles course using lasers. Notably, the training Laser Aiming Device (LAD) used is a bolt-in to the standard SAR 21 assault rifle manufactured by local company ST kinetics.
Also, queues here are brisk, with a typical wait time under 30 minutes even with a full tent of participants. You have about 5-10mins handling the guns, with the instructor coaching you on how to use the rifle.
However, the battle rides is one of the disappointing areas of the event. The event does not publish ride times on the website, leaving guests in the dark about the availability of the rides. Generally, do come early first in the morning if you wish to have a go at the rides, especially on the Chinook helicopter and land rides which typically cease rides by lunchtime. Ride time slot tickets for each ride vehicle are given out at the tent on the far end of entrance by Sheares Bridge on a first come-first served basis and usually run out before 2pm.
Solider storing outdoor course
Moreover, a neat place to check out if you do not mind the outdoors sun and some physical activity. The course runs through a series of obstacle courses adapted from the army standard obstacle course. Starting out with a tire run and followed by a horizontal balancing beam. Also, there is also a low wall as well as a high-element rope climb which you can scale as a test of your physical mettle.
Additionally, a swing trainer and low rope element is a test of your upper body strength. Notable miscellaneous obstacles include a small bouldering rock wall and a sandbag pulley hoist which is also a kid favourite.
Wrapping up, the course ends with an urban element. You can find a spider wall and a truck tire flip challenge area. Thankfully, lockers and chilled water are available for all participants.
National Service 55 exhibition
Furthermore, tucked in the indoor area of the Formula 1 pit building are two main exhibition spaces. The first one covers the journey of NS55. It is a celebration of 55 years of National service in Singapore established since independence.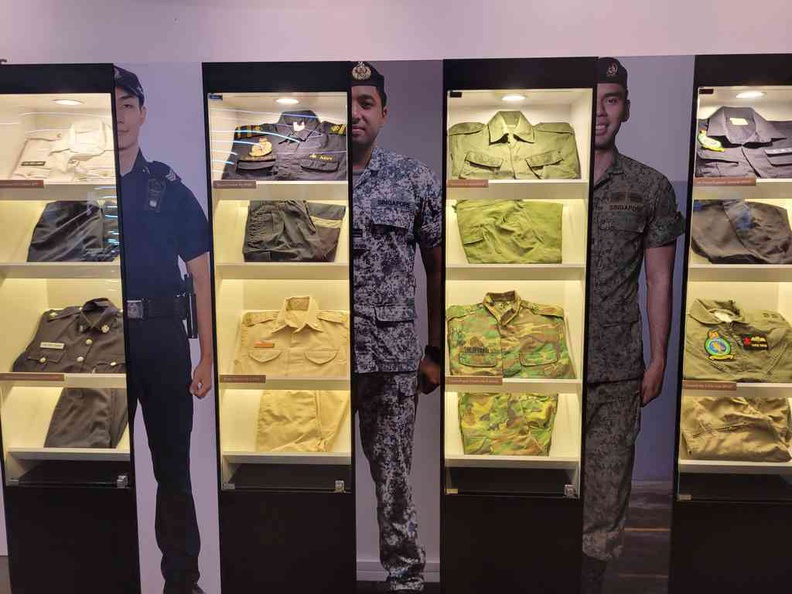 Moreover, here, you can find displays showcasing various chronological achievements of Singapore NS via a timeline. Also, there is also a display of various old uniforms worn by the different services over the time since its founding, fancy a "Temasek green" army uniform?
In addition, there are some kiddy activity areas like AR screens for you to dress up in various army uniforms. Also, there is a stamp and marine knot-tying section too. The knot tying area led by navy personnel who shared various marine knots used to anchor and berth ships at port.
Also, the NS55 display ends with a video showcase and a wall of thanks before leading into the Formation galleries.
Army Formation displays
Additionally, the Formation galleries displays is a large one. It spans 3 air-conditioned halls covering each and every army formation from Infantry, Armour, Guards and Logistics to name a few.
Learn how the NDP fireworks are safety inspected at the Ammo command display, have a go at RC tanks at the Armour formation or have a sit on an Motorbike and photos K-9 dog unit at the Military police booth.
Moreover, interestingly at the logistics section strangely a long queue to try combat rations. Not that anyone in active service are too keen or look forward into trying! Also, granted combat ration food came a long way into something more enjoyable to consume now.
Wrapping up are miscellaneous exhibitions displays on the upper second floor. Also, here, you can find an air-conditioned technology and kids play zone housing minor corporate exhibitions as well as an indoor drone flying area.
All in all, that wraps it up for the Army Open house 2022. Personally, the exhibition is one not too different from the Army Open House 2017 we last visited. After all, nonetheless it is a free event great for all ages alike to learn and educate future generations of National Service and the unsung heroes behind it.