I was fortunate to be invited to the new offices of WeWork to view their newest and largest space in Singapore at 71 Robinson Road, as well as to meet up with a couple of industry experts. WeWork 71 Robinson is not a stranger to this space. The American company was founded in 2010 and headquartered in New York City. They provide an office platform for creators that provides work and shared workspaces.
Additionally, they are launching a fresh new office location right in the heart of the Singapore Central business district at Robinson Road. WeWork has a current valuation of roughly US$20 billion. Also, the company manages 10 million square feet of office space over 270 locations globally through 90 cities. Notably, there are eight WeWork spots all around Singapore. In addition to this newest gem, this includes locations at Anson road, Cross Street, Beach Centre and Science Park.
Highlights of the event includes a tour of their offices and joining the Fireside chat informal discussion with WeWork, government and industry experts. There, I was introduced to Turochas "T" Fuad, WeWork's Managing Director for Southeast Asia.
Also, there was Kiren Kumar, Assistant Managing Director from the Singapore Economic Development Board (EDB), Arun Verma, Country Manager, Shopify and Chris Fossick, Managing Director of JLL, a Commercial Real Estate company.
Evolving trends of work areas
There, I learnt on the trends that are changing the fundamental nature of work and how WeWork is embracing this change and helping transform the way Singapore works. WeWork aims to provide community and services to help people make a life, not just a living.
This initiative goes with EDB intention to create highly accessible workspace to fuel the next generation growth of tech start-ups and talent. Our discussions with WeWork touch on government, industry expert and life of a WeWork enterprise member, particularly on the changing nature of work today.
The workspace is centrally located right in the heart of the Singapore Central business district. WeWork offices (spaces) sits on the 13th to 15th floors of 71 Robinson. A white wooden staircase connects these three levels in addition to wheelchair accessible elevators. The middle floor is the welcome reception and main activity area. there I was greeted by very enthusiastic reception staff. Additionally, the office offers a packed non-work activity schedule weekly.
This encompasses learning, tech-sharing, health and wellness talks, events and happy hour conducted by WeWork staff or even WeWork residents. Tad bit like technology startup subculture get together communities.
There are games rooms on every floor as well as a pantry with free food. Occasionally there are free buffets catered for all, especially when there are events.
The middle floor pantry enjoys free flow of fresh brew coffee as well as beer.
Connected by App and IoT
Enabling all these is the Wework app. Wework showcased this proprietary app. It allows office goers to book, schedule and reserve facilities all around the workspace. It can include. Tables, rooms to conference rooms. Additionally, the offices uses a network suite of IoT (Internet of things) sensors to gauge room utilization and identify hotspots. This allows for more efficient allocation of available resource to customers and bookings.
A fun location to work
In my tour of their offices I noticed that there were plenty of collaboration play spaces. It allows you to work anywhere within the space. Visually, the office is decked with a hipster feel, complete with motivation signs and slogans littered about the walls. Furthermore, WeWork offers what I found almost like university hall life, brought to you in a working environment. It helps to minimize the sterile corporate feeling you get in typical offices.
Moreover, the offices are very open in Nature. A key card access from the common area brings you down a wood floored corridor with glass walls on both sides. Occupants in the office sit in large glass offices, which you can see from one end of the room to another. Notably, the demographics here comprise  mostly of expatriates and foreign tech start-ups. There are however, very few locals here.
Ideal for startups
One of the selling points is a relatively low price of entry for a office in the central business district with a good address. Also, the space model in a nutshell is ideal for startups and small agencies. Especially small companies starting out without much capital or cash flow.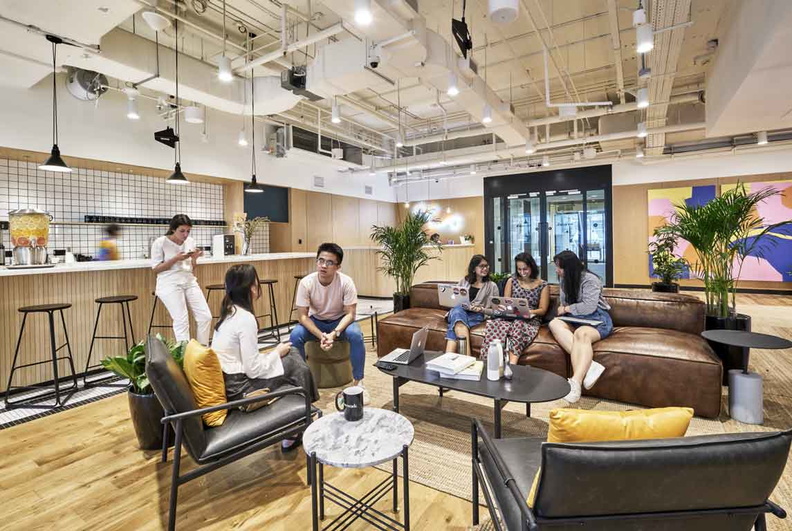 After all, the culture and eco-system does encourage open sharing. The office is laid out for companies to come together under one roof for everyday collaboration and growth. Openness and collaboration is the game here. Wall mounted TV screens throughout the common areas, game rooms and kitchens feature screens which showcases, acting as a springboard for firms to find out more about other companies in the building. This potentially can open up avenues for inter-company collaborations.
Custom flexible office space
WeWork touts to offer flexible office arrangement and services for entrepreneurs, freelancers, startups, small businesses and large enterprises. Hence their solutions are made to suit all company and employee sizes. WeWork shared that their space starts at $450 SGD per month their most basic hot desk option. This will be ideal if you are a start up, road warrior and don't mind working at a different locations (or a coffee shop) each day.
I am a fan of hot desking and often find myself working at coffee shops to food courts. If you do not mind the noise and more chaotic ambience which comes with outdoor areas, this is a good option. Moreover, at the entry price, you get the benefits of the WeWork ecosystem as well as the ability to book conference meeting room for client meetings if need be.
Additionally, I learnt of several more office options which you can tailor upwards for company expansion. If you are more planted, WeWork offers a dedicated desk plans. These are said to cost starting at S$630 per month. This bestows you a desk of your own in a shared space at one location. This is one of the more popular choices. You set up shop in the same spot each day in your WeWork building location of choice.
Traditional Offices
Moving on, there are larger private offices which can house about 4 people starting at S$1,100 per month. This can grow into custom build out offices for larger corporations. Also, I found the sweet spot for what WeWork best offers are services are offices more geared towards small companies with the most 4-5 employees. Most of the ready offices can seat this many, where you get the best bang for your office space buck.
All in all, though flexible office spaces are not new in Singapore, no provider had done it to the scale as WeWork. Such hipster office spaces are the craze these days, particularly in the tech startup communities. It is nice WeWork is able to offer to meet this need.
Check out more photos of WeWork 71 Robinsons here.