Royal Caribbean Spectrum of the Seas is one of the largest cruise ships in the world. It is 18 deck high Quantum-Ultra-class cruise class ship with a gross tonnage of 169,379 tons. It's a big one, offering a wide range of activities and amenities for guests of all ages. Whether you're a thrill-seeker, a foodie, a culture enthusiast or simply looking to relax, there is something for everyone on this cruise ship. We will take an explore into activities, performances and food. Let's take a cruise on board Royal Caribbean's Spectrum of the seas.
Onboard ship activities
First off, let's take a look at the activities on board. The Royal Caribbean Spectrum of the seas has an impressive array of attractions and activities. It offers a mix of free and paid activities which unlike smaller ships never really left me bored on a 3N cruise from Singapore to Penang, Malaysia and back. There is always something fun to do onboard. Whether it is daily night shows or free and easy access to the pools, and the Seaplex amusement arena.
Furthermore, the ship features a state-of-the-art flow rider, as well as a rock-climbing wall and a skydiving simulator for those seeking a more adventurous experience. Let's touch on the points of interest part by part.
Bumper cars and FlowRider
The cruise ship offers a wide range of activities, both free and paid options. The free Bumper cars is a favourite, operating at the Seaplex, a multipurpose space and basketball court at the ship's top deck.
Moreover, it's worth noting that bumper cars typically operate daily for about half a day. Queues can be up to 30 minutes long for a ride that lasts less than three minutes. Reservations may be required depending on how crowded the ship is. Also, the same also applies for rock climbing, which is free. Though private time slots are available for Key holders who wish to try rock climbing.
There is also an outdoor FlowRider surfing machine which can take two guests at a time, and can have a long wait. You have about 5 tries on the surf machine before giving up your turn. The flow rider is one to try when you are already dressed for the pools. There is also indoor archery, court sports, and an outdoor rock-climbing wall.
The rock climbing wall has about 3 concurrent lanes and about 5 meters tall. You can scale the wall at your own time using an auto-belayer and ring a bell when you are at the top! Other activities include a tiny arcade with a small bowling alley.
Go on the North Star Observation capsule
If are undecided on paid options, the North Star is one to go for. It costs US$20 per person. You need to book a slot via their mobile App and is an exciting way to elevate yourself 100 meters above sea level for a stunning obstructed 360-degree view around the ship.
I found going on the North Star after docking the best times to go up, firstly as all guests be queuing frantically to leave the ship. This leaves you the entire capsule yourself and the views are better with a port city to view than just "the sky and sea" when you are out sailing.
Other activities onboard
Additionally, there are several free events that take place onboard. This includes freestyle karaoke, singles and solo travellers get-together, and sports competitions like basketball hot shots and soccer crossbar tournament. The pool outdoor movie is also a great way to unwind, and it operates on a first-come, first-served basis.
For those who love trampolining, the Sky Pad is one to consider. This bungee trampoline experience costs US$10 per person. There is also a glass walkway here suspended over the edge of the ship you can roam about freely.
In addition, more pricey paid activities on board the Spectrum of the Seas include the Ripcord by iFLY vertical wind tunnel. It costs up to US$40 for both adults and children. Private lessons are also available for the FlowRider surfing machine, although during our visit, there weren't any takers for this option.
In addition to its many amenities, the Spectrum of the Seas also offers a range of excursions and activities at each port of call. This allows you to experience the local culture and attractions in each destination. This ranges from scenic tours and beach excursions to historical and cultural tours, such as a walking tour of Penang's George Town for instance. Though I advise you could do these tours easily on your own with some prior research.
Gym and Swimming pools
Furthermore, there are seven pools on the ship, comprising of 1 main large swimming outdoor pool, 2 large indoor ones and the Solarium. Also, the outdoor pool is home to a water playground called Splashwater bay, geared towards children and young families.
Pool water is fresh pool water, and not seawater onboard other ships. Also, the pool area sits on deck and is home to two food stalls and two bars. Namely the North star bar which serves the open-air outdoor pool, and the pool bar serving the adjacent indoor pool. Both pools are perfect substitutes to each other two whirlpool Jacuzzis with the latter being sheltered from the elements. The main pool is also where the international belly flop competition is held too, where the biggest splash wins.
Moreover, the use of the gym and sauna is also complimentary. However, the gym is pathetically small and can get crowded in the mornings, especially the treadmill section. There is also an alternate running track on the top deck. The Solarium provides free access to the pool for adults only, which is a great quiet place to relax and unwind.
Indoor Solarium
Also, the Solarium is a great place, especially if your sailing is during the school holidays if you wish to find a quieter refuge area from noisy kids. The Solarium has a central circular shallow pool with a see-through glass wall great for photos. The main pool is also complimented by an indoor double whirlpool, with the sections connected via a central walkway.
The gym is part of the body and soul section which sits on the forward front section of the ship above the ship's bridge. Here, you can also find a massage and aesthetics section and a sauna in the gym toilets. Also, I find a notable lack of a steam room a downgrade to the smaller Mariner of the Seas ship with an entire forward top deck dedicated to the gym.
Also, the staterooms are adequately sized and clean with an ensuite bathroom provided in balcony rooms. These rooms are the most common offerings typically costing from $350 to $500 per passenger depending on demand. Suites costs about $1000 per person while cheaper non-balcony rooms can be as affordable at $250 per passenger. The wall plugs in the room have universal adapters in-built, and the tap water on-board the ship is drinkable though you can also find a number of water dispensers lined around the top deck of the ship too.
Highlight Performances
Furthermore, the ship offers a variety of highlight performances that are sure to entertain passengers of all ages. One of the main highlights of the ship are the theatre shows, which take place at Two70 space and the Royal Theatre.
Reservations are required for some shows with limited seats. The Silk Road show is one such show and is highly recommended. Also, ladies will enjoy the Show Girls performance. It is a singing and dance evening performance which takes you through the past, present, and future of the genre. You can call The Show Girls performance is tad of a kid-friendly PG version of the can-can dance.
Superheros and aerobatics
Also, Silk Road at the Two70 is another show that's worth checking out. It's an immersive experience that combines live performances with cutting-edge screen and projection technology on the ship's rear windows, transporting you on a journey through time and space.
Moreover, the Effectors show is another spectacle that showcases light, sound, laser effects and even drones. It's typically shown on the ship. I find it is the best action packed show on the cruise. It is a must-see performance that will leave you in awe.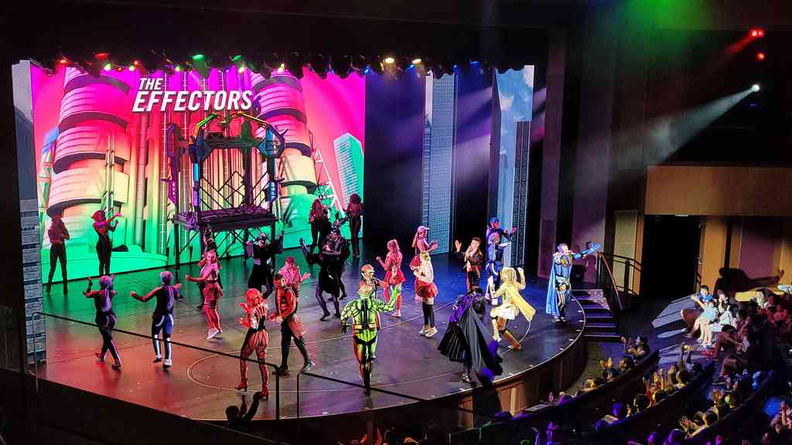 There is also an engaging live magic show by Zlwin Chew, the show aims to impress and awe audiences at impossible illusions. It is also held at the main royal theater as an evening show.
Also, I find arriving 15 minutes early sufficient for you to get a good theatre seat. Though Royal Caribbean does not allow reservation "choping" of theatre and dining hall seats. Still, it is still widely practiced on cruises departing from Singapore, or with a large Singapore passenger count. Hence, be equally kiasu and come early before your showtime to get seats.
Moreover, guests are still allowed to enter the theatre when the performance begins, but would have to stand for the entire duration when there are insufficient seats.
Live music and bands
If you prefer a more small-knit group performance or live music, the ship has a variety of offerings in several halls and pubs about the ship. The music hall be one your fancy.
For those who enjoy live music, there's is usually an offering of band music like a reggae quartet that played onboard my cruise. They're a great way to get into the island spirit and dance the night away. If you prefer a more laid-back vibe, you can also catch a live piano performance at the bar and dance floor.
A foodie paradise
One's stomach is a path to content. The highlight of my cruise will be the food. If you are a foodie, and love buffets, you are in wonderland. You can pretty much go about your everyday meals on board the ship without having to fork out extras. The two main dining areas on-ship are the Grand Windjammer Market place which offers an international buffet spread, as well as the Main dining hall which is more of a menu sit-down experience.
Free dining at Grand Windjammer
Furthermore, Royal Caribbean Spectrum of the Seas cruise offers a wide range of dining options. It caters to different tastes and preferences. Food is a major offering on the ship, and buffet lovers will particularly enjoy the international spread at the Grand Windjammer Market Place, which is open for breakfast, lunch and dinner.
Furthermore. the main dining hall also provides a sit-down menu experience. The Windjammer, located at Deck 14, is a free dining option that serves all meals throughout the day, including breakfast, lunch, and dinner. Up here, the Noodle Bar and Sorrento's Pizza are also located in the Windjammer Marketplace and offer Asian noodles and freshly-baked pizza, respectively. Notably, on shore excursion days, the buffet dining halls are open till late at about 11:30pm, so no worries of rushing or having to grab dinner off-shore.
Also, the dinner buffet dining areas are more informal, spacious and more airy. I particularly liked the hand washing area where guests have to wash their hands before entering. Notably, on shore excursion days, the buffet dining halls are open till late at about 11:30pm, where the buffet stands are cleared out. Also, the halls are open for breakfast on boarding and disembarkation days too.
Main Dining Room
Moreover, other free dining options include the Main Dining Room, which serves international cuisine. It is a vast dining hall at the rear of the ship. Notably, and thankfully, unlike the Mariner's of the sea, there is no captain's night on the last dinner night onboard the Spectrum, not that it is missed. Also, do you know you could ask the waiter for meal seconds if you could not get enough of your dinner at the dining hall too. They be happy to oblige to your table needs.
Also, the Splashaway Café, which provides kiddie meals and is located near the kid's pool area. La Patisserie, located at Deck 4, offers pastries, fruits, and coffee, but ice cream is a charged extra. Room service is also available but with a US$7.95 service charge plus 18% gratuity. However, there are no charges for premium-paying guest, like Key holders & Sky Class guests.
However, late night foodies much be disappointed to know that absent now is the 24-hour café promenade. It was a supper mainstay on my past Royal Caribbean cruises.
Paid food options
Furthermore, if you prefer a more quiet and personalised dining experience, you have options for paid food options on board the ship. Prices for paid food options range from around $20 to $50 per person, depending on the restaurant and the meal. While the free dining options provide a great variety of food choices, the paid options offer a more personalized and quieter dining experience with a wider range of cuisines. It's worth noting that some paid options require reservations and purchases via the Royal mobile app or cruise planner on top of your stateroom fees.
Examples include Jamie's Italian by Jamie Oliver, offering Italian cuisine, and Izumi Japanese Cuisine, which serves sushi and sashimi. Wonderland by Dadong provides imaginative dining options with Chinese cuisine, while Sichuan Red, specially designed for the Spectrum of the Seas, offers Chinese cuisine for both lunch and dinner. The robot bar and the Two70 bar are also payable extras.
Moreover, there is also a pretty cool robot bar serving cocktail mixes. After placing your order on tablets, here, industrial automation robot does mixes using ceiling mounted bottles you can watch as your drink being made.
Additionally, The Teppanyaki provides Japanese cuisine with teppanyaki-style cooking ($10 per pax). The Chops Grille restaurant offers a steakhouse experience with prime meat and Maine lobster. The Chef's Table serves continental food with a five-course meal and wine tasting, while The Hot Pot provides Chinese cuisine with hot pot style cooking. Finally, there is the Leaf & Bean, a coffee and tea shop with a wide selection of hot and cold drinks and pastry offerings.
Tips to beat the queues
Furthermore, it pays to know your demographics on board your ship. You can ask a crew member who be more than willing to chat up with you to share the statistics on the ship including passenger count, and even their adventures out on the sea. It will give you an indication of the type of food tailored to the ethnic groups on your cruise. Asian and passengers from Singapore are generally sunlight-adverse.
Interestingly, from observations, there are stereotypes of what to expect with each sailing demographics. Passengers from India tend to prefer spending their time in restaurants, while Caucasians are observed to love being outdoors by the pool deck and and sun. Singaporeans tend to go for anything free. Having said, Dining halls and activity are least packed on when major evening show times. Also, the best times for outdoor events like the flow rider and the rock-climbing wall are midday and during meal times and when it is sunny out.
About the ship and operations
Furthermore, it is also worth noting my sailing was not a full house with a sizable 4800 guests on a limit of 5200. This owning to travel just picking up following the pandemic. Also, the ship was built for and geared towards the Asian market. This is evidenced by the ship's atheistic and myriad of bilingual signage in both English and mandarin.
Notably, the ship was built for the Chinese and Japanese markets, doing frequent calls in the east Asian region. It served both Japan and China as its main port of port until the Covid-19 pandemic hit a couple of year's back. Then, the ship was rerouted to serve the Singapore Market during the 2019 pandemic with China being under lockdown.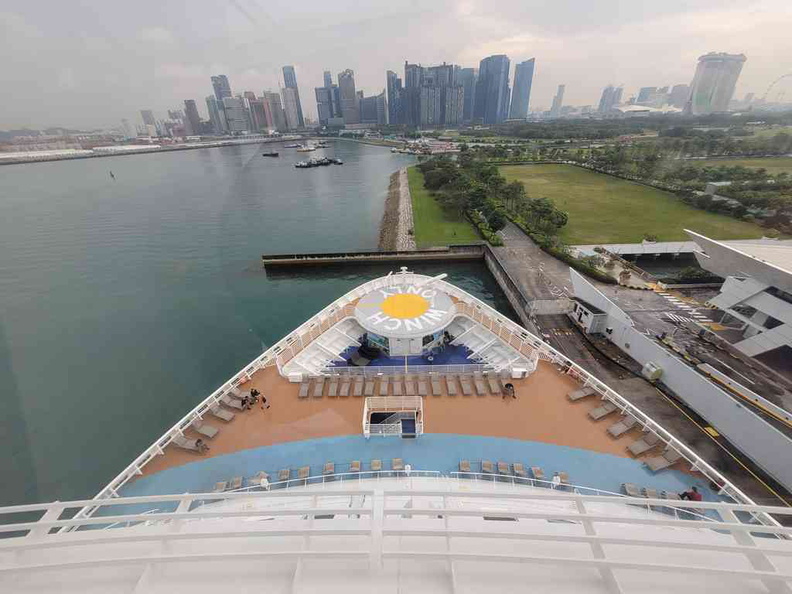 Still, the ship is more German than it is Asian. It was built from November 2017 by Meyer Werft in Papenburg, Germany and was delivered in April 2019 with her maiden voyage on 18 April 2019. So she is quite a new ship.
Furthermore, the ship has 18 decks. A grand central atrium runs throughout the length of the ship. It allows you to connect the front and back in a quick manner. The ship's Casino also resides under this lobby. The casino is a popular spot, notably with the older crowd. The casino runs 24/7 and operates once the ship hits international waters.
Also, there is also this route i-95 which runs on the service floor of the ship inaccessible to guest you can visit on an all-access ship tour. Also, crews typical stay on board for 7 months at a go. If you wish to learn more on how the ship's tick, you can have a personal tour of the inner workings of the ship. You can read out on my All-access Ship tour article here.
Wrapping up
All in all, the Royal Caribbean Spectrum of the Seas cruise ship offers a variety of highlight performances, and dining options for all ages. You can indulge in a variety of free and paid food options to suit different tastes and preferences. Ranging from gourmet cuisine to casual street food, and enjoy nightly entertainment shows and live music performances. The Silk Road and Effectors performances getting recommendations. Overall, the Royal Caribbean Spectrum of the Seas offers a truly unforgettable vacation experience with something to suit every taste and interest.