On our lookout for new dining experiences. Recently, I had the pleasure of visiting Gong Yuan Ma La Tang, a popular restaurant in Singapore that specializes in mala noodles. Let's check them out with a dine-in today.
Gong Yuan Ma La Tang is not too different from the mala offerings seen in most food courts and coffee shops today. Albeit with a different premium take. I like to call them the "more atas mala yong tau foo store", bringing the staple flavors of Chinese mala hotpot into the mainstream dining scene.
An aroma of mala hits you when you walk into the establishment, affirming that yes this is a mala place. Furthermore, Gong Yuan Ma La Tang is a chain brought by Singapore's Royal T Group. The establishment started its journey in Singapore in 2017, and since then, it has gained a reputation for serving some of the most delicious and authentic Chinese mala dishes in town.
Ordering process
The store is usually back, but has fast moving crowds making the wait time for a table short even on peak meal periods. Also, what sets this eatery apart from others is its unique ordering process. Unlike traditional hotpot restaurants where you have to order a set menu, Gong Yuan Ma La Tang allows you to choose your own ingredients, giving you complete control over your dining experience.
The ordering process is straightforward and easy to follow. You pick off your food from a cooled counter like a Yong Tau Foo store. You have a selection of meats, vegetables, seafood, and noodles. The menu also includes a range of sauces and condiments to complement your dish. Once you have made your selection, you simply hand it over to the staff, and they prepare your dish right in front of you.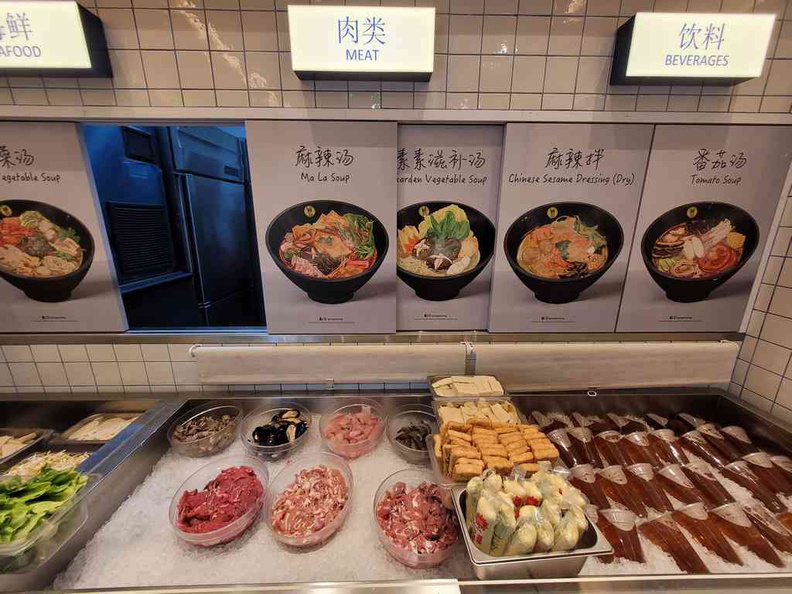 Atas Yong Tau Foo
But do not get carried away picking up more pieces than you need as the prices can rise fairly quickly. The price you pay at the counter is based off a standard weight rate on a scale.
Though weighing your entire bowl may seem petty, it is quite the standard practice abroad, especially for Chinese takeaways in China as well as in Europe too. A typical meal here costs upwards of $10 for 5-6 pieces and even up to $15 with 10 or more pieces.
Choices with your noodles
Soup base and flavour options includes pickled vegetables,garden vegetable soup, hot and sour pork bone soup. This is on top of the usual flavour staples like Tomato and Mala soup.
Moreover, you can opt for a mix of hot and sour dressing for dry variants, as well as Chinese sesame dressing.The kitchen will then prepare your dish, stewing your noodles and cooking the ingredients to your liking and stock flavor. I recommend having your mala dish in the dry variant. It is an interesting take on and otherwise traditionally soupy dish.
On top of your "self-help" options, you can also additional sides. This includes dumplings costing from $4.90 for their pork to $6.50 for premium fish roe. There are also Eggs top-ups, priced at $2.10 for osen egg and $1.10 for regular boiled egg. Also, beverages are available in pre-sealed plastic drink cups $2.
The food quality at Gong Yuan Ma La Tang is what you expect for the setting and price range. Every ingredient is fresh and of pretty decent quality, and the broth is rich and flavorful which was a perfect balance of heat and flavor.
Also, the cooked meat selections was tender, and the vegetables were crisp, adding a fresh element to the dish. The noodles were also cooked to perfection, making the overall meal a delightful experience.
All in all, Gong Yuan Ma La Tang is a restaurant to check out for anyone who loves Chinese mala on the go, and without breaking the bank. The quick dining experience coupled with food quality and unique ordering process, is a very Chinese take on Yong Tau Foo. Definitely one a shortlist for your mala addiction fix, and probably between your Hai di lao breaks for those mala die-hard fans.
Worth trying.
Verdict:
Must Go! | Actually pretty Good | Worth Trying | Shortlist Optionally | Should Avoid
Gong yuan ma la tang Locality Map
Funan Mall Branch,
107 North Bridge Rd, #B2-09
Singapore 179105
Opening Hours: 11:00am – 9:00pm