All aboard the Royal Caribbean Mariner of the Seas for a cruise to Penang Malaysia from Singapore. This post shall cover my cruise experience with them early 2018, which I found time to write today. Notably, the Royal Caribbean cruise company operates in Singapore out of the expansive Marina bay cruise center.
Here, the Singapore cruise center is large and deep enough to accommodate to simultaneously allow the boarding and unboarding of large cruise ships with deep harbours.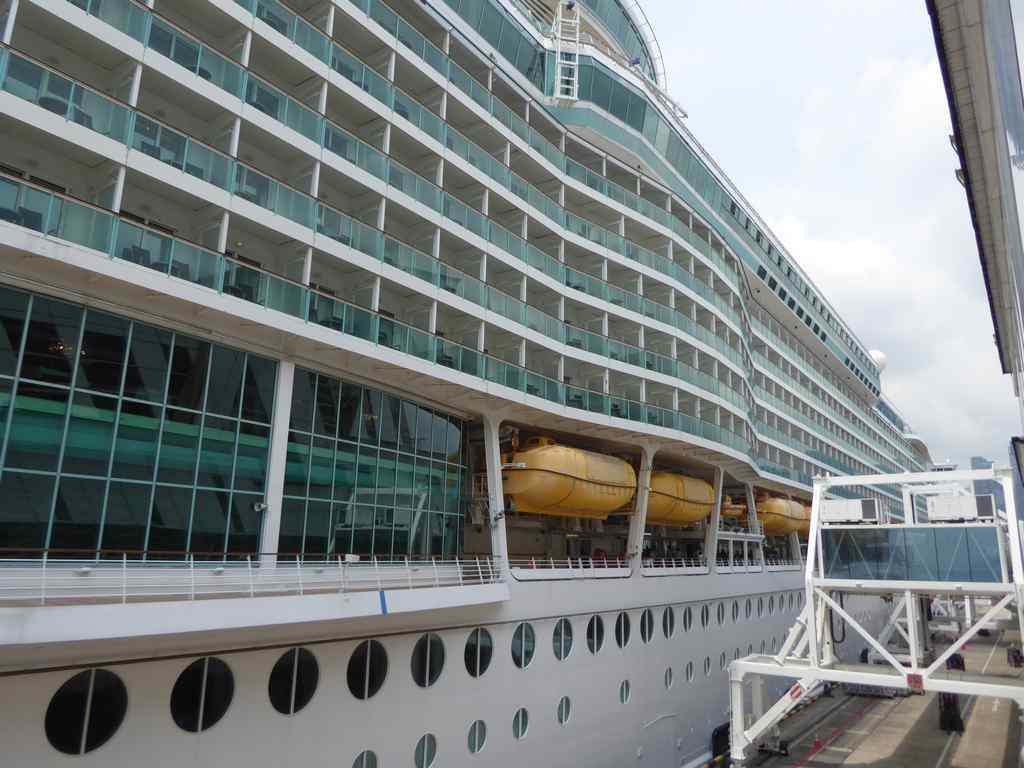 Also, the drop off departure is on the second floor which links via a bridge to the ship itself. Immigration is quick and you be given a boarding card which you use as a door key and for cashless purchases on the ship.
Moreover, cruises by Royal Caribbean Mariner of the Seas typically starts on Fridays before returning by Sunday or Monday evening depending if it's a 3 or 4-day cruise.
Life on board the ship
Navigating the ship is simply straight forward. There are stairs and elevators you can use on either end aft and port side. Also, orientating on the ship, accommodation floors starts from deck 6 all the way to level 8.
Furthermore, on deck level 5 sits a central long promenade with shops. This is the ship's center mainstay sheltered event area.
Moreover, this atrium is the ship's showcase. It is a long corridor running the entire length of the ship with room windows by the sides.
Also, on your explorations, you can visit the ship's bridge at specific times of the day, just check the ship's daily event schedule. Alternatively you can get an overhead view of the bridge consoles at the open walkway by the top floor gym too.
Casino musings
Additionally, the casino is the single one most largest space besides the gym. The casino takes center stage runs the entire length of deck 4 below the promenade deck.
Also, the Casino opens after the ship leaves ports and in international waters. Here, you can find an assortment of table games and of course, jackpot machines.
Exploring the ship
Moreover, if you are a curious explorer, like yours truly, you will notice you would pretty run out of areas to explore after a day. Thereafter it is a matter of revisiting the areas you like for the rest of your cruise. The library is tiny and tad more like a corner than a "full-fledged" library.
Also, there is an arcade on the top floor as well as a mini-golf and rock climbing wall on the top open deck. Free flow of food is available 24 hours at the promenade bar on the deck 5. Moreover, moving on exploring the ship, its arcade gaming area is a curated one with a selection of about 20 or so machines. It sits adjacent to the children play area.
Interestingly, the ship has its own on-board radio station, which broadcasts live music throughout the ship and your room. Most rooms and theaters are closed for most parts of the day only, only opening for occupation on event timings.
Hence, it pays to be acquainted with the ship activities for the day. You can find daily agendas through daily printed agendas you can find on common areas on the ship on your room TV. Activities includes games of trivial or excursions about the ship. Interestingly, if you start to lose track of time, the floor of every elevator has a day of the week printed on the carpet, which is updated daily.
The pool area
Furthermore, the Royal Caribbean Mariner of the Seas ship is 12 decks tall, with the swimming pool is located on the 11th floor deck. The pool deck is a popular spot, with a large LCD screen for outdoor movies, night parties and large spaces for groups.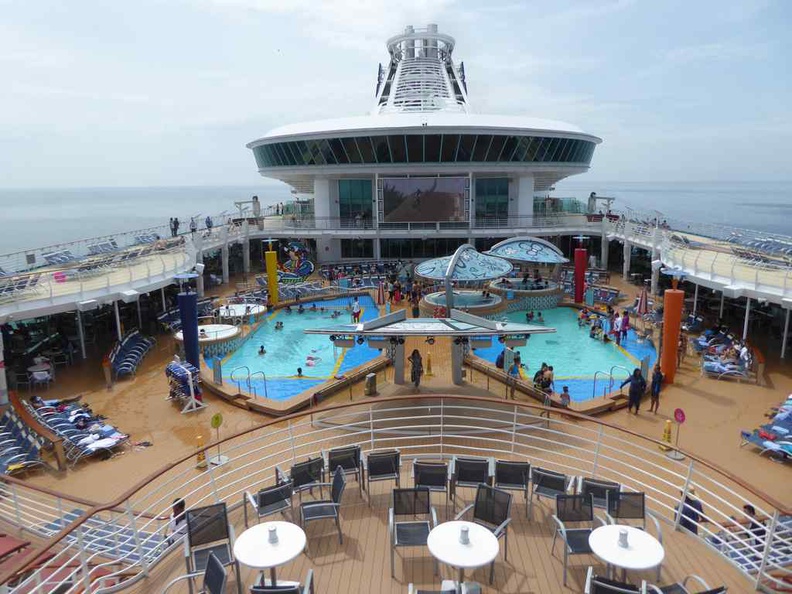 Also, there is also deli shop here called Dog House selling hotdogs and drinks. Do note that these are extra payable food.
Moreover, up here, there are a total of 3 swimming pools and over 6 hot tubs and Jacuzzi scattered over two themed sectors on the swim deck. Also, the swimming pools are filled with sea water and are quite tiny when packed full of people. The pools have a shallower edge and a progressive deep end box at the center. Coverage is not bad with each main pool has their own lifeguard.
Additionally, the pool area is themed to a roman bath hot tub which connects to the Ship's vitality gym located at the bow of the ship.
Pool deck events
Notably, the pool is where large events such as the night dance party and group teaching session are conducted. Examples includes towel origami, a Royal Caribbean staple where housekeeping staff teaches you how to fold them at the pool area too.
Interesting, as soon the ship leaves port, you see the country flag of California being hoisted on the ship. You can catch it on the upper decks, where you can find a skating alley, basketball court, mini-golf green and a running track.
Accommodations
Furthermore, staterooms with balconies are tad the standard here, with such rooms taking up the bulk of the available rooms. In totality, there are 246 Ocean View Rooms, 638 Balcony Rooms (mainstay) and 121 Suites.
With larger suites on the upper floors and non-balcony rooms on the lower decks. All rooms laid like a hotel with en-suite toilets, central bed and TV. Also, through the day, you can catch live updates of your cruise location, ship itinerary of events, and broadcast updates from your cruise director on dedicated channels. Moreover, the ship offers a full range of cable TV and movie channels for free in the rooms too.
Furthermore, the quality of the state rooms are similar to that of a typical 3 start hotel. The beds are clean, but he rooms are the bathrooms are standard sized pre-fab which are crammed with airplane-style toilet seats, presumably to offer weight savings. Also, the ship is very stable. Also, the ship's large size and the presence of modern active stabiliser helps. You can't even feel any noticeable rocking even at cruising speed. It is also worth noting on my cruise up to Penang, the waters on the Straits of Malacca were really calm.
Moreover, before departure and by port regulations, the entire ship is required to undergo an emergency evacuation drill. Here you will need to gather at your designated emergency boat for your room. Here, a member of staff will scan your personal keycard to mark your presence. Also, your personal keycard is used to as your room access key as well as for purchases on board the ship including food and cruise merchandise.
Keeping yourself occupied
I found the cruise a good way for the tech detox. As you will be far out at sea, there won't be any mobile reception to any base station. There is a separately payable satellite internet service on-board you can subscribe to get access throughout the ship, but that defeats the purpose of a tech detox.
You will however, able to get back onto mobile base stations at your port of call or when near dry land. So you can check up with your backlog of SMS, Facebook or twitter feeds. Some cafes in Malaysia and Starbucks offer free wi-fi which you can visit during your shore excursions trip.
Ship top floor Gym
Furthermore, the ship's gym is large with almost 20 running treadmills and cycle machines. There are also two dedicated weight rack areas. They are located over the bridge with a central indoor heated pool.
Here you can find the sauna with separate rooms for both male and female vitality Spa located above it.
Entertainment and day performances
If lazing by the pool side the entire day is not enough for you, there are activities planned throughout the day to keep you occupied. Most of these involves live music and entertainment around the Ship.
These performances can range from piano solos, mini strings ensemble, like the Afternoon Strings music with Fleur-de-lis, to massive party dances, like a 70s dances at the ship's central promenade area.
Also, you get Live music playing throughout the day at various venues around the ship.
These ranging from Live smooth jazz band, often with Violin and piano accompaniment at both the promenade, and the Ellington, an overlooking bar located on the top of the ship 14th floor deck. These areas are usually devoid of people, where you can easily find a table for yourself with a good book in the lounge.
Evening shows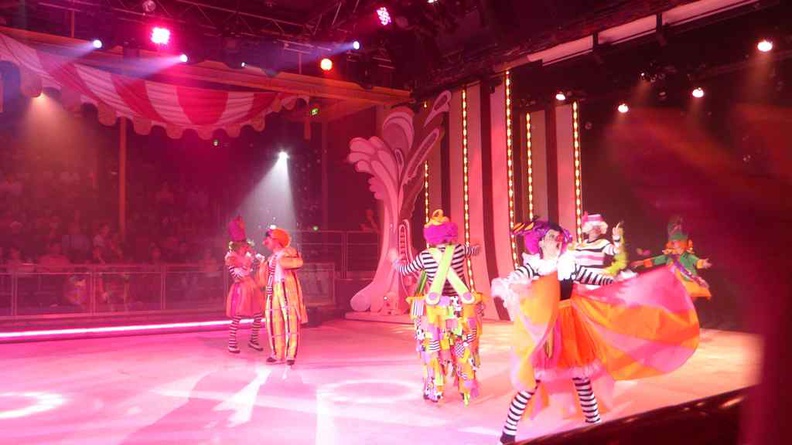 Additionally, the ship does a major one night performance each cruise. Also, these comprise of magic shows, ice-skating aerobatics and singing like in a variety show setting, hosted by your cruise director.
There may be maternity performances at various times of the day throughout the ship. Moreover, these highlights often starting in the late afternoons and evenings. Typically, from the second night onwards, expect an evening event every night at the ship's main Savoy theater.
Wrapping up, typical nights usually ends with a dance event at one of the club venues with a resident house DJ. Moreover, the Dragon Liar is a small cozy bar themed after a medieval setting. It is located on the 3th floor deck under the ship casino and above the conference center. It has a small bar and a small dance floor which opens and serves drinks and dances till late.
Ice skating
Additionally, the ship does ice skating displays at the ship's dedicated ice rink at lower Deck 3. Also, the Ice rink is inconspicuously located on the lower third floor deck. It has a viewing spectator area allowing for an audience on the Ice skating performance.
Also, if you like to have a go at ice skating yourself, look for the guest's ice skating slot. You get a staggered hour is allocated to you to cater for crowds and venue size restrictions.
Dreamworks extravaganza
Moreover, on the starting cruise day, the ship often have a franchise showcase with Dreamworks in the central promenade. This live parade consists of human performers as well as costumed mascots. Notably, Royal Caribbean has a tie down with the animated studio known for their blockbuster movies.
Here, you can see several characters of the franchise coming together, such as puss in boots, Po from kungfu panda and critters from the Shrek series.
Additionally, the parade runs for a duration of about 1 hour. Also, throughout the day, random individual DreamWorks character will be out for a meet and greet session on the ship.
Day trip tours
Depending on your second port of call. You have an entire half day of free and easy at a mid-point destination. You are given the flexibility to arrange your own tours and trips at your own time at your intermediate destination port of call.
Generally, it is not advisable to go for the ship recommended tour packages and recommended to arrange your own. For example, on my cruise to Penang, Malaysia. Here, I got in contact with a third party tour agency offering day tours specially catered for short cruise stopovers.
They are priced at 350RM (About $120 SGD) for up to 7 pax on a multi-purpose MPV tour. Its half the price and far cry from Royal Caribbean at rates and quality matching the Ship's own tour packages. However, doing it yourself means that you will be liable. Hence, it pays to choose reputable tour operators with good sustained reviews, say on booking.com or TripAdvisor for instance. Just remember to get back to the ship before your stipulated departure time! Furthermore, during the shore excursions, you have the option to stay on board the ship and not disembark. You are not obligated to join on their official tours.
Dining on-board
Meals on-board are served at two main dining venues at the rear of the ship. These are namely the main dining hall and Wind jammer buffet hall. The main hall used for individual waitered tabled service dining great for groups and usually serve dinner as a 3 course al-la-crate style.
The Windjammer dining hall has a more buffet style open setting for lunch. Food quality is good, though food varieties tend to vary slightly and it does gets old after a while.
Moreover, the experience at the Windjammer restaurant was less than ideal. Though it is a huge restaurant located situated at the rear of the ship spanning over three decks, it is often crowded and fully packed.
Unpleasant dining crowd-frest
If you do not like crowds, I suggest avoid the Windjammer for your meals and pay the premium for one of their 8 restaurants. The windjammer is crowded, rowdy with noisy guests in a crowded and packed environment. Also guests often do not heed the PA messages constantly reminding diners not to hog their tables.
Furthermore, the lack of tables on my trip was so evident, guests could be seen eating standing by the counters or using walkway ledges as standing tables. Most just ended up quickly gobbling up their food before evacuating from the area with disgust. It was a rather unpleasant experience. The cruise director could consider staggering lunch dining times to prevent overcrowding.
Additionally, in the day, do avoid sitting the rear windowed end of the Windjammer. It is warm and stuffy like a greenhouse which can be nauseating especially with an overcrowded venue. Also, a thing worth noting is that your cruise experience however, is also largely dependent on the demographics of your cruise. This can be seasonal, for instance, the bulk of travel for connecting passengers are from India on my cruise. I had heard stories of better experiences with Australian guests, but this is just guesswork, and your experience could differ.
Also, the Mariner of the seas has 8 restaurants, with options ranging from Japanese, Western and Chinese cuisine, including a Johnny rockets serving authentic American food. Do note only food at these two main dining areas (main hall and windjammer) are included free.
Pleasant Main dining hall
In comparison, dining at the main dining hall at the lower rear of the ship is more bearable. It offers sweeping, multi-level ambiance, with allocated seating for breakfast as well as dinner. You also get waitered dinner which comes as part of your cruise package with excellent service.
Moreover, alternatively you can choose to go earlier or an hour after the usual dining time where the crowds are lesser. As food are regularly refilled, you won't have to worry about the lack of food nearer to the end of your allocated the dining session. Notably, Halls will still serve guests even an hour past the stipulated closing time.
Free food 24 hours a day
Throughout the day, free food available at few places throughout the ship, such as the Cafe promenade. You can chill out there even in the wee hours of the night. I had a late night walkaround on the ship after a night at the Dragon's liar and the eatery is still loaded with sandwiches and hot drinks. The café is also a great place to refill your water bottles.
Furthermore, the demographics of the staff range is very cosmopolitan. With service staff from all over the world. I you have the chance to find time to chit chat with the several crew members who would share with you their adventures sailing around the world with the global cruise company. Also, on the last day, all the waitering crew will get together at the restaurant grand staircase and sign a song for all the diners present.
All in all, cruising with Royal Caribbean was largely a positive experience, with quality food, excellent staff service, but let down by large guests choke points during dining and at the pool. It pays to know which demographics you are traveling with to ensure that your cruise experience is best possible, or make accommodations for them so you won't be disappointed. This article is written by the author who went on the cruise as a full paying cruise guest, and not in any way sponsored by Royal Caribbean or related entities.