Amsterdam of Netherlands is a city of canals or bicycles as you put it is the capital and most populous city of the Netherlands. It is home to a population of about 900 thousand. Historically, it was founded at the Amstel, a region given its low-land typical of the Netherlands was dammed to control flooding. Hence, the "dam" in the Amsterdam City city's name (Amstel dam).
Exploring the city center
In addition, I found Amsterdam has a city vibe just almost like Helsinki in Finland. It has a rather chill, though not as crazy on the party front. This makes the city a rather more relaxed city. It has the chill and vibes of Copenhagen, but does feel less safe than Copenhagen.
Additionally, when exploring the city, interesting finds includes a local fast food outlet called FEBO which serves food delivered though little glass-doored pigeon letterbox holes holding your freshly made food. You can see staff and kitchen on the other side of the food letterboxes.
This is otherwise known as contact less fast food where no human interaction is required to get your meal. To get your food, you simply pop your euro coins into the coin slots by the items you are look to buy. Tad reminds me of the human-less ramen shops you can find in Japan too.
Check out Damrak main street
You can find most of Amsterdam's activity along Damrak main street. It is a home to a number of retail and eateries and great way to shop and grab a meal. Landmarks along here includes the Amsterdam Dam Square and the Mint Tower. Other interesting sights here includes Amsterdam Stock Exchange. Notably it is the oldest stock exchange in the world.
Moreover, one of the quirkier and interesting parts of Amsterdam is their De Wallen,Red light district. There is no hiding from plain sight here, with large shop front and glitzy suggestive neon signboards with hookers seen loitering along the streets and outside the stores soliciting customers even in the day.
Still it is still one which is "family safe along the streets, presumably that everything happens behind closed doors. Activities here includes legal prostitution and sale of cannabis. They are typically sold in a number of weed "coffee shops". Also, activity in Amsterdam's Red-light district does get busier at night.
Also, this Damrak main street connects up north to Amsterdam Central railway station, one of the few of many transport routes into the city
A bicycle city and way of life
Furthermore, Amsterdam is a both a pedestrian and Bicycle friendly city. At its heart, the best way to get around the city is by Bicycles. This is similar to Copenhagen city in Denmark we visited previously.
The city has a huge investment in bicycle infrastructure, including dedicated cycle lanes, traffic lights and storage. This is right up the alley of bicycle-friendly European cities, pioneered right here in Amsterdam. Also, it is uncommon to see bicycles whizzing around the streets as people's main mode of transport over private cars within the city.
Moreover, besides bicycles Amsterdam is known for its vast network of rivers and Canals which runs and bisects several districts of the city. The canal network is integral into Amsterdam. It is an organized grid and not as chaotic like the canal network in Venice, Italy.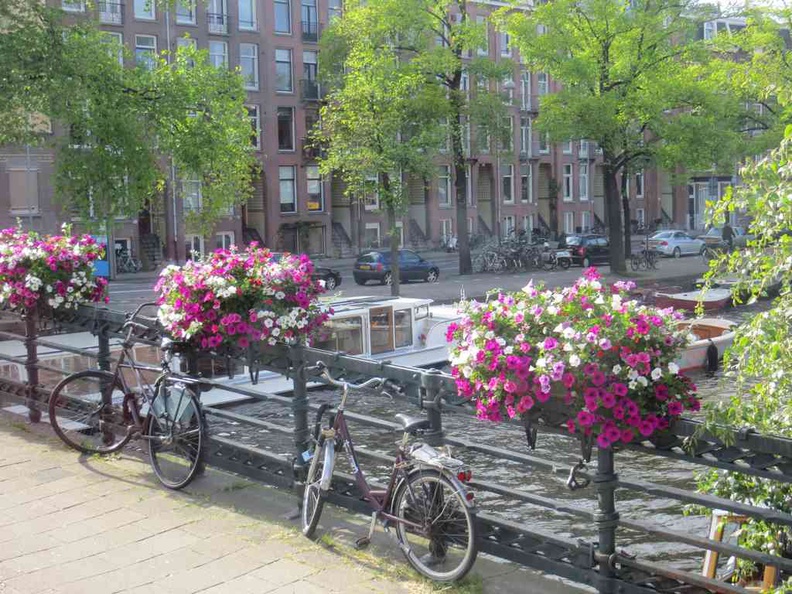 Amsterdam Netherlands canal and river system
Still, Amsterdam's canal system is often called the "Venice of the North", albeit a less chaotic one. These canals of Amsterdam Netherlands date back as far as the 17th-century, originating as a small fishing village in the late 12th century, and it links as a major shipping port. Additionally, the canals granted the city a UNESCO World Heritage site status since 2010.
Having said that, getting around Amsterdam involves an internal network of railway trams, as well as a network of river buses and private boats. Also it is not uncommon to see boat houses berthed alongside the canal walls.
Occasionally, you can find large two floored boat houses too. You can often see their owners chilling on their boat patio and roof gardens. These houses however, unlike long boat houses usually have no engine on-board and have to be towed to get around.
Additionally, you can take an opportunity to explore the various canals and sights through a river cruise. As touristy it sounds, there are several tour operators who does tours around the scenic canal route under an hour.
All in all, Amsterdam is the city to visit in the Netherlands and a starting point of your journey in the Dutch-lands. It is not just all just lands of rolling fields, tulips, clogs and windmills.