Taiwan is the home of global electronics, or at least most of them call home here before being shipped to all parts of the world. If you are in the DIY computer scene, big component brand names you may be familiar with like ASUS, MSI, Gigabyte, etc. all have one thing in common- They all originate from Taiwan with a strong reputation for price and quality electronics. Come Guanghua Mall and Syntrend Creative Park.
Welcome to the Taiwan tech Mecca
The Zhong zheng district in Taipei is arguably the sales center of the booming Taiwanese electronics and technology industry. Though the electronics are not exactly manufactured in this neighborhood, this district is the largest electronics retail marketplace in Taiwan, spanning over 2 malls and about 5 blocks of city street shop houses.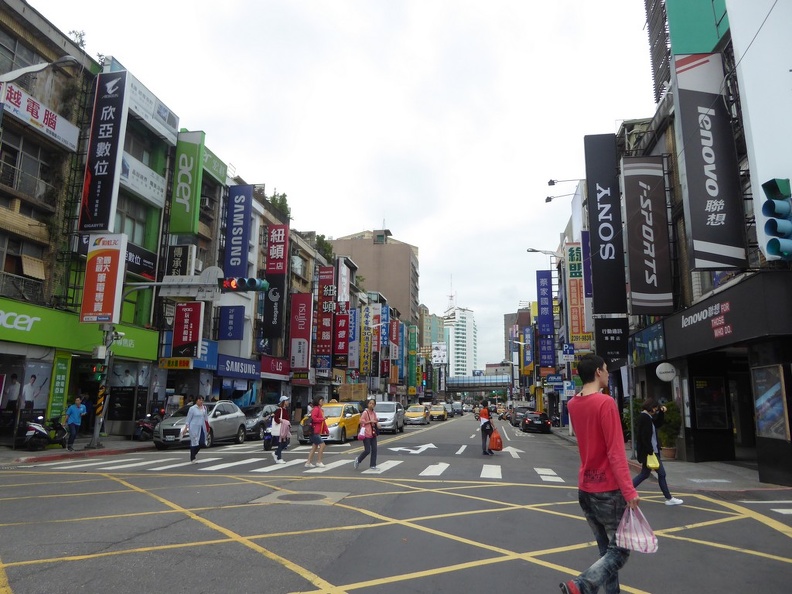 Getting there
The Zhong zheng district is well connected by public buses and MRT. On the MRT, take the Orange Line (Line 4) or Blue Line (Line 5) to the Zhongxiao Xinsheng station. Exit 1 is the nearest underground MRT station exit to the street.
On the surface, you will come across a large school-link compound with mosaic murals. Immediately make a U-turn upon exiting the station and an immediate left down a side street heading north towards a car park exit. A line of stores with racks of digital merchandise signals the start of your electronics adventure.
Electronic streets of Zhong zheng district
It is not long where you enter the maze of shops south of Bade Road. This road offers an eccentric mix of electronics, book shops and even restaurants all seemingly residing side by side with. There is also a beef brisket noodle store here popular with the locals, especially at night. The main theme here is more course, electronics and there are tons of such stores here to boot.
Both sides of Bade Road are flanked by several independent IT merchants hawking literally anything and everything tech- from PC accessories and components. You get small shops here, as well as boutique stores by bigger brands, such as Transcend, Samsung, etc. It is easy to get lost and distracted by the variety of shops in the alleyways here even before starting on the highlight of the district- the Guang Hua and Syntrend IT malls.
Guang Hua IT Mall
Labeled as the classic one-stop shopping mecca for Taiwanese tech under one roof, the Guang Hua Digital IT Mall is a six floored wonderland of electronics housing everything tech related.
Don't let the worn-out building façade fool you- You can find literally thousands of different electronic items here. The list is not just limited to laptops, tablets, computer parts, phones, cameras, gaming devices, cables (or all kinds), measuring equipment, IC chips and even sports gear.
The Guang Hua plan started out on April 1973 as a retailer market known as the "Guang Hua" Market, established by the Taipei City Government. The current Digital Plaza building residing till today was completed on July 2008.
Upon entering the mall, the lower ground floor of the mall is dominated by big name boutique brands, such as MSI, Asus and Wacom, all selling laptops. Items sold in this sector here are mostly assembled ready-made consumer-level PCs and laptops. These booths are usually manned by rather aggressive sales people who will try to shove as many flyers into your hands the moment you enter the mall or coax you to their displays as you walk past their booths.
The other half of the ground floor is occupied by a food court, which sells very affordable hot meals and popular even with the workers in the mall. It is good for a quick bite.
Guang Hua Mall Layout
The mall upper floors from second floor onwards are home to hundreds of little shops selling staple products of the digital mall. This includes bare PC component and peripherals, such as graphic cards and CPUs. Shops which do system-building usually also offer PC troubleshooting and component repair services. At times you can see patrons carrying their own computers systems in for component upgrades or repair services.
Under the florescent light walkways lining the entire mall, the upper floors from the second level are laid out in two distinctive wings. Each of these wings form a mini-loop of about 20 stores you can cover in a circle. A central escalator serving all six floors sits at the center of long corridor connecting in-between these two said wings. So usually on reaching a new floor, you will do a loop closest to the escalator exit, then head down the walkway to the next loop before heading up to the next floor.
Goods of the trade
In a nutshell, goods sold here include brand new first-hand computer components as well as second-hand parts. Used parts are usually sold by the variety of computer repair shops and IT recycling businesses here. You can often distinguish them by the number of old computers on displays without their packaging boxes.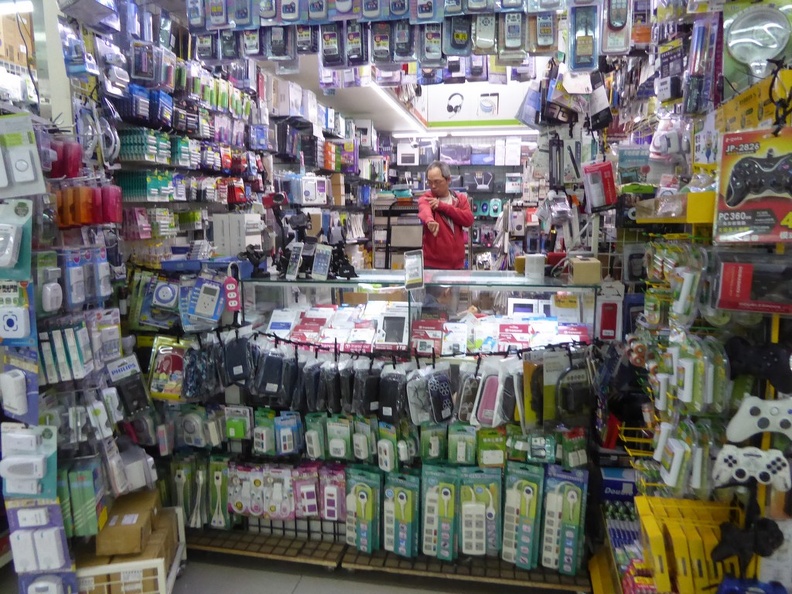 Furthermore, you can also find old working LCD (and occasionally CRT) monitors going at near scrap prices here. However, you have to buy them at your own risk without any guarantees other than that agreed up front with the shop owner on purchase.
A typical first-hand PC parts store here have a front counter storing expensive smaller boxed items such as CPUs, SSDs and Memory sticks, while larger bulkier items such as computer cases, graphic cards, etc. are stashed on shop shelves or behind the cashier counter.
It is a common sight to find large board plastered across a shop front listing all their inventory items on sale with their corresponding prices (cash terms). Prices of items going at a bargain may be deliberately hidden and can be obtained upon enquiry in-store.
Niche Items
Besides PC parts, there are also a couple of niche stores selling measuring devices such as oscilloscopes (including trade-on and repair), handheld and large HF/VHF/UHF radios (a HAM radio shop). There are dedicated specialist shops too, such as an Arduino robotics kit shop, as well as a Bitcoin mining shop.
From a Singapore perspective, Guang Hua mall is what you can call a fusion of Sim Lim square and Sim Lim tower all rolled into one, only that Guang Hua is smaller and more compact, with an absence of a center atrium space. Still, you can not only find all the components needed to build a PC under-one-roof, but can also find niche specialty parts such as cables, wires and industrial measuring instruments. Guang Hua Mall can satisfy even the most extreme tech geek needs.
You can further stretch your dollar on the already jaw-dropping prices on just about everything tech. Given ferocious competition between the large number of stores, a good bargaining tactic is to reference the best offer another store is offering for them to better the offer. Usually you get better prices off the already low-profit margins if you pay using cash.
Getting an Electronics bargain
Prices are pretty standard and open across stores. Component Prices in Guang Hua are largely based off market/industry rates. With prices clearly stated on printed pricelists which can be referenced through on large pin-up boards usually very clearly posted and placed at the entrance of the store or via photo copied handout leaflets. As such, there are minimal pricing differences between stores.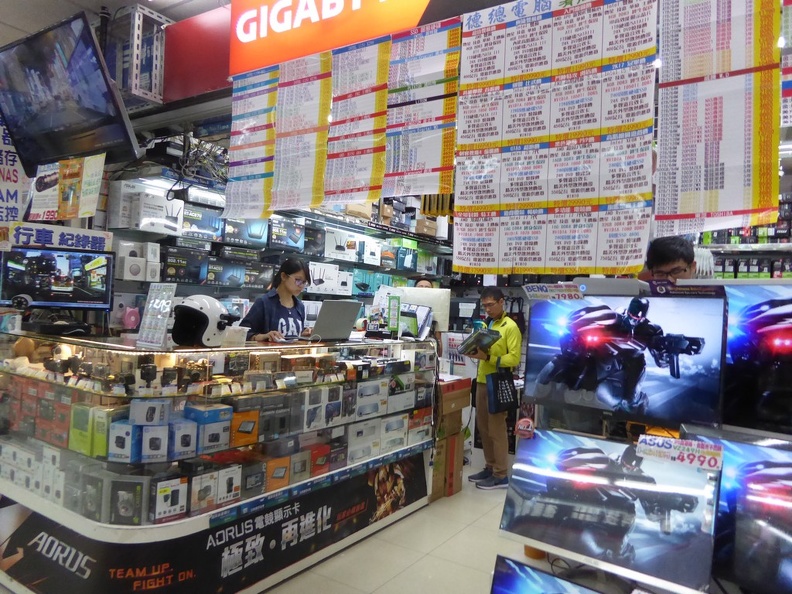 Paying in cash could entitle you to a small discount. Therefore eliminating the hassle of having to bargain with merchants. However, be aware that most merchants operate their businesses primarily by cash on razor-thin margins. Hence, minor service charges may be levied for credit card payments (e.g. Visa, MasterCard or Union-pay). Basic receipts with your purchase are free, but official (e.g. with store letterhead) and split receipts could also incur additional fees.
If cash discounts could not be given, merchants may small upgrades to the next best model for free. This tend to usually apply if it is not the latest or slower moving component or graphics card. Alternatively they might bundle in free accessories (usually with ready-built systems) to secure your sale due to intense competition within the neighborhood.
Moreover, the prices PC components here varies depending on what you are looking for. Items such as fans, boxed graphic cards, CPUs and SSDs are competitive, can be matched and at times even to prices offered cheaply on Amazon online. You may encounter several OEM brands on sale only for the local here which you might have not heard off anywhere else too.
The exception however, will be memory prices (where there is a global 2017 shortage now). The memory prices in Taiwan are on average prices much more than those in Singapore and US. Memory prices here comprise of flash storage (e.g. SD cards) as well as random access memory modules for systems.
That's all for Guang Hua for now
Guang Hua mall is open daily from 10am to 9pm. However, each independent store in the mall and can open and close at any time they desire. Almost all the stores during my visit remain open till the mall 9pm official operating hours and some even surpassing that. Guang Hua mall is located at No. 8, Section 3, Civic Blvd, Zhong zheng District, Taipei City, Taiwan 100. Similarly, the nearest MRT to the mall is the regional Zhongxiao Xinsheng Station.
Guang Hua Digital Mall Locality

Syntrend Creative Park Mall
Next up, the Sytrend IT mall. Guang Hua Digital IT Mall isn't the only big kid of the block. Just opposite to the Guang Hua mall is the Syntrend Creative Park Mall. The mall opened its doors mid 2015 boasting 12 storeys with a floor area spanning about 8,100 square meters. Moreover, each level dedicated to a specific sector theme. Both the Syntrend and Guang Hua mall are connected via pedestrian walkway bridge on the second level.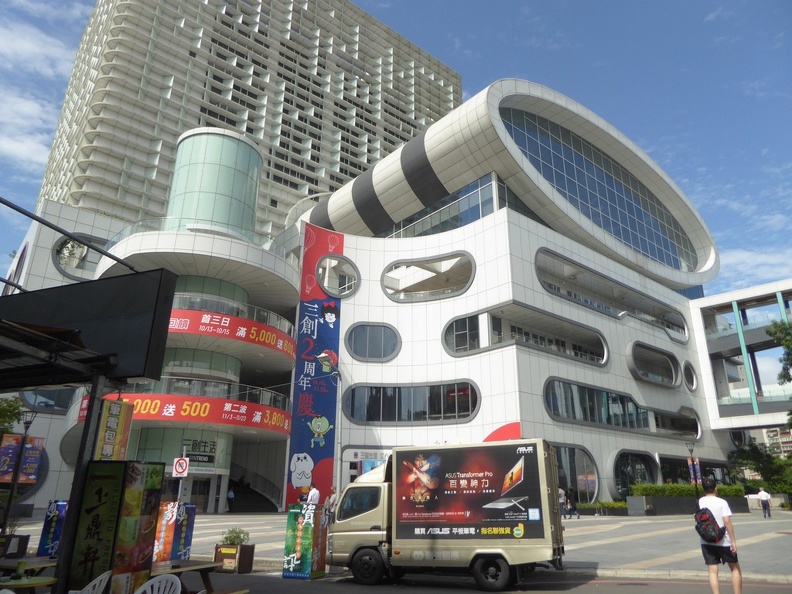 Syntrend is also the biggest and newest kid on the block mall in the Zhong zheng neighborhood with a more a modern architecture. It appeals to a more up market crowd. In comparison, Syntrend is humongous and expansive compared to the cramped Guang Hua mall. The creative park spots a clean and modern exterior architecture.
Additionally, Syntrend claims it derived its name from three achievements in Chinese language. It consists of creativity, innovation and entrepreneurship. As cheesy as that sounds, you could see that philosophy resonate in the floors of the mall.
Syntrend lower ground floor entrance is an open event space where brands can hold temporary shows and product showcase. A series of telco shops as well as on-the-go dessert shops can be found here too. The mall has a dedicated space at the basement for a food court with serving Taiwanese treats and delicacies in a modern air-conditioned environment.
While you can get "down and dirty" in Guang Hua mall buying parts and components down to capacitors and chips, Syntrend has a market target of the more mainstream non-technical consumer with a focus of selling more off the shelf ready to use products. The mall here is modern, vast and open. It is also much less cramped and cluttered as opposed to Guang Hua mall.
So nothing much about digging through pages of price lists from PC board components, peripherals, processors, parts, wires and specialized industrial equipment. Goods sold here, such as audio equipment, toys, clothing, consumer boxed electronics as well as brand-new luxury tech devices, are mostly nicely packaged ready for immediate plug and play.
Casual and sports shopping
Each level you ascend in the mall is themed to a different area of focus. For instance, Level 2 is dedicated to "Touch" devices. It is home to a large assortment of gadget stores selling mobile phones and tablets. There are even creature comforts such as a "Junior" section for kid-friendly technology, such as shock-proof and learning/reading tablets. Moreover, assembled computer and gaming products have their own floor on the third "click" store. Here you can find boutique and showrooms by big brands such as Acer, Asus, Sony, Lenovo, etc.
There is an entire floor on the 4th level dedicated to non-electronics sports and lifestyle equipment. A sports shop and even and outdoor Jack wolf skin shop here selling camping apparel and equipment reside here too. Hipster style stationery shop on the 8th floor selling pretty much overpriced paper crafts and novelty items.
Moreover, the 6th floor titled the "Game" floor is one completely dedicated to VR zones and motion simulators. Here, you can find a HTC Vive zone with VR experiences play zones as well as driving simulators.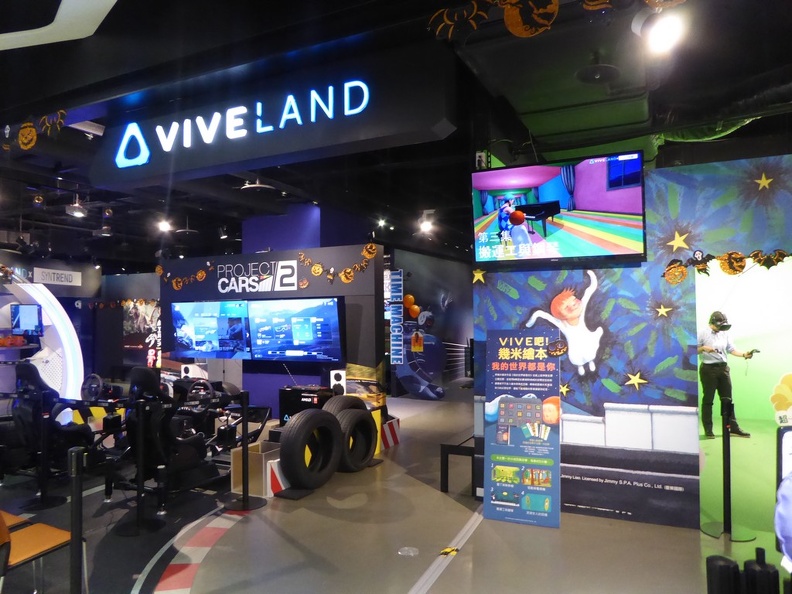 However, the larger and posh environment also comes with a larger price tag on components sold. The items sold here generally being more upmarket and expensive. Also, there more emphasis on lifestyle products, already nicknamed the "Akihabara of Taipei", which the mall is largely modeled after. The prices of products here are usually net prices and are more likely displayed behind display stands than sprawled on price lists plastered across the wall held by masking tape.
Toys Galore
If collectable toys are your fancy, the mall boots an entire floor of stores for Japanese and Western brand of toys. There is a neat Gundam Base hobby plastic model kit shop, with its own internal model gallery showcase.
There is a Lego and Playmobil shop on the 7th floor, as well as home to a number of anime figurine toy shops. Throughout the floor, there are a number of small independent toy shops selling pop culture toys, such as Marvel, Disney toys, figurines and clothing. There is even a store dedicated entirely to nanoblocks.
To complete your fix for Japanese pop-culture, you can find rows of Japanese-inspired Gashapon (capsule dispenser) machines lined on the common areas on the floor too.
Beast Kingdom
Moreover, Beast Kingdom has a toy and clothing boutique shop here with a showroom of their extensive range of detailed movie replica models, which the company is renowned for.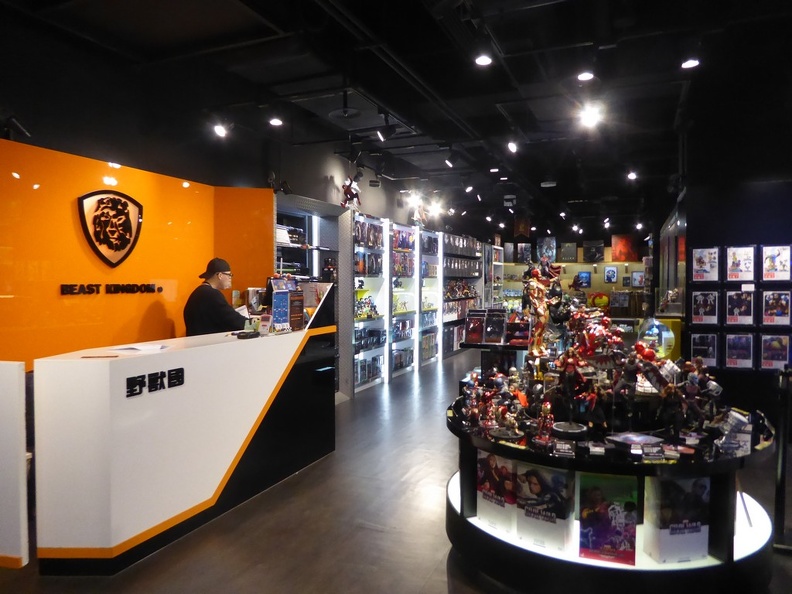 Here, you can find quite an extensive collection of detailed figurine models. This range from free-standing large movie figurines to collectable mini box sets. There is even a section dedicated to apparel, set in a rather cool futuristic setting.
Audiophiles rejoice
Level 5 is the Audiophiles floor or the "Listen" gadgets section. Situated here are a number of big-brand boutique stalls such as Weston, Audio Technica, Bose, JBL. The central area here is an open concept being spacious and comfy. Often, it is easy to get carried away at the displays here, designed to keep you happy and entertained. However, expect much higher prices than grungier hangouts like Guang Hua.
Lastly, the final top floor is dedicated to an open events space. It is also home to a number of restaurant eateries. You can catch some pretty good views overlooking the Zhong zheng district from up here too.
That is all for Syntrend
Syntrend Mall is a gem on it's own, far from the chaotic setting of Guang Hua. If technology retail therapy is what you desire, Syntrend will be your best best. In closing, the mall is situated at the Civic Blvd, Zhong zheng District Taipei City, Taiwan 100. Similarly, the shopping mall is accessible within walking distance northwest of Zhongxiao Xinsheng Station of Taipei Metro.
Syntrend Mall Locality

In all, if you are a techie looking for great bargains for electronics and PC components, the Taipei Zhong zheng district is the mecca of Taiwanese tech and techies a must-visit. The neighborhood will be good for 2 hours tops if you are just passing by and sightseeing. Otherwise, you could be glued here for almost at least half a day or so if you plan to explore both IT malls and the entire Bade Road alleyways, not a bad choice at all.
View more photos of Bade Road, Guang Hua and Syntrend here.