The Blue Mountains are one of the few natural scenic sights in the Sydney city suburbs. It is a World Heritage site offering breathtaking views of valleys and cliff side shaped by land erosion. Not all nature sights are remotely situated, the Blue Mountains are near enough that you can use half a day to catch some fantastic highland scenic sights from the city itself.
How the Blue Mountains got its name
Eucalypt forests are prevalent in Australia. These tress releases tiny droplets of this eucalyptus oil. This when mixed with atmospheric water vapor produces a distinctive natural blue coloured haze in sunlight. It gives the area its trademarked Blue Mountains. Also the Blue Mountains is protected as a World Heritage area.
Getting to and around the Blue Mountains
Katoomba is the town and train station of interest when visiting the Greater Blue Mountains World Heritage Area. You can get there via train or by driving. A train ride via an air-conditioned double decker carriage is two hours from Sydney's Central Station.
Here, you pass by a scenic route through to the Mountains. It calls at station stops, Strathfield, Parramatta, Penrith, Emu Plains, towards Katoomba. Moreover, when there are several scenic tour buses which you can take to the various scenic sights of interest. These tours run daily from Sydney and Katoomba to Jenolan Caves as an additional attraction spot.
Furthermore, you can catch traditional Australian Aboriginal dance performances. These are performed at the Waradah Aboriginal Centre in Katoomba. Also, Faulconbridge train station is the stop to look for if you wish to join the Aboriginal Blue Mountains Walkabout tours.
Moreover, Blue Mountains is about a 90 minute drive by car from Sydney. It is best reached and explored by car as you can convenient follow on the scenic routes along the mountains ridgeline. Here you can find series of winding but otherwise fairly straightforward mountain roads you can follow. They run on the outskirts along the forested cliff line through a little residential and commercial town which supports the visitors in the region.
Sights of interest, Three sisters
The region comprises of over one million hectares of tall forests, mountains and waterfalls which make up the magnificent Blue Mountains. The mountains, cliffs and canyons are natural sandstone features.
When driving, you will first hit the Katoomba Echo Point Lookout. Here you can see the Three Sisters rock formation. Moreover, Katoomba is also the gateway to many walking trails where you can do day hiking trips. There are also couple of tourist railways and cable cars.
Here, you can have a ride onboard the world's steepest passenger railway. It is an inclined train with seats rotated leveled to ground level. It does trips to and fro into the blue ancient rainforests where you can find a couple of touristy attractions.
Also, there is a scenic cable car gondola. It runs between two high points suspended above a steep gorge at the 3 sisters lookout point. It's glass bottomed gondola allows you to have a panoramic view of the mountains and the valley below.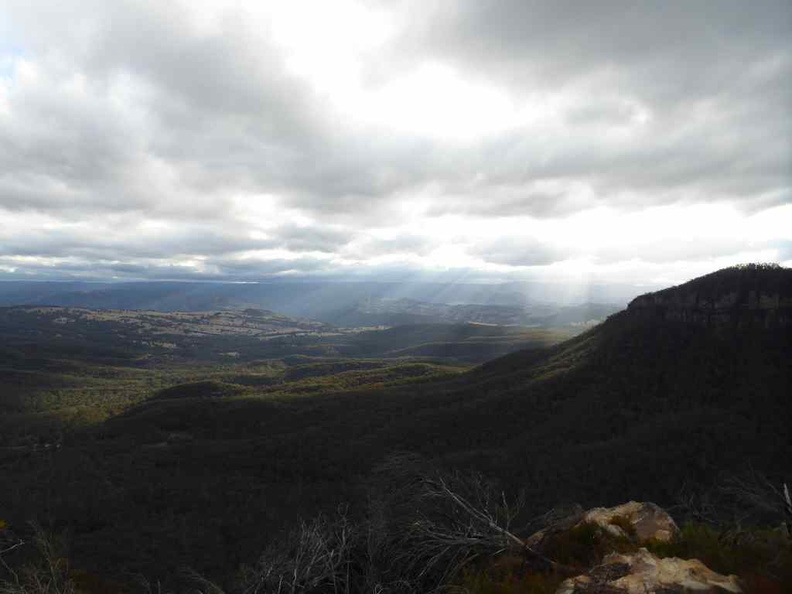 Cahill's lookout
In addition to the three sisters, another nice spot offering unobstructed views of the Blue Mountain and it's untouched forests at the Cahill's lookout.
Here, a vast open valley greets you at the vantage point. When I was there sun rays were seen peeking through an overcast sky. It offered very photogenic scenes worthy of your drive up.
Additionally, scientists estimated that these limestone formations dates back at least 340 million years. Many of the rocks of interests like the 3 sisters to the steep cliff faces were formed over the centuries by land erosion.
Moreover, if trekking is your cup of tea, you can find the devils hole nature trials here too. At 1.4km above sea level, it one of Australia's highest camping spots. Entry to the forest costs $6 per person per night.
All in all, the Blue mountains is one of the must-see when you are within Sydney. Coupled with the fact that it is highly accessible by public transport or driving makes it one of the best things you can do as a day trip when you are in the Australian city of Sydney.
View more photos of the Blue Mountains here.