Vivo is a brand synonymous in the mid range segment of affordable phones. Vivo is brought to you by BBK electronics based in Dongguan, Guangdong, China who also has their offerings under the Oppo brand. Also, Vivo's range is always focused on delivering feature-packed near flagship features in the mid-range segment.
Moreover, Vivo has their phones in the Y, X, and V-series, with the "V" series the flagship of the company. The mid-range segment is often one under-looked which set my interest into trying out the new V11 just released in November this year.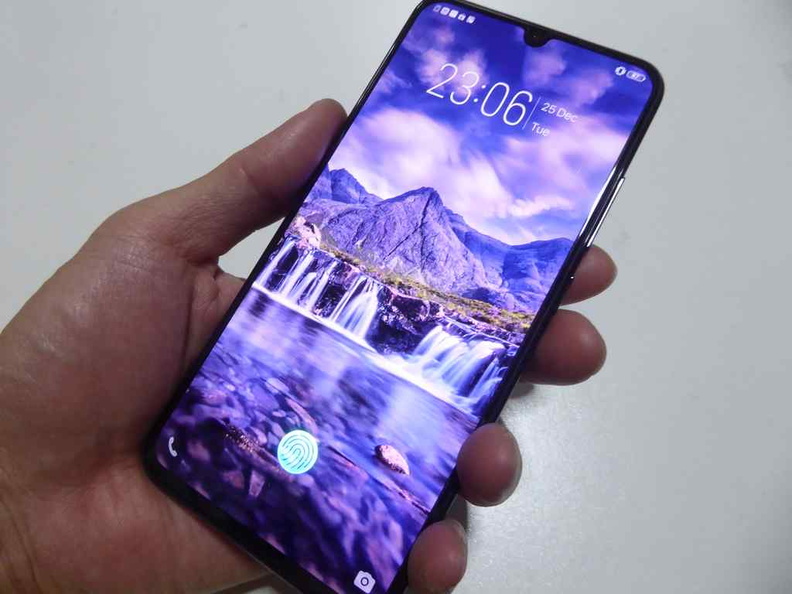 When I review phones, I always make it a point to use it as my main phone for a period of time, so as I can give the phone a proper shake up, knowing it best points and quirks inside and out.
Let's have an in-depth look into the Vivo V11 today. For this first part of the review, I shall be diving into usability and build impressions, followed by the second part on camera and performance tests.
What is in the box
In the box, you get a pair of stereo headphones, USB charger, Micro-USB charging cable as well as a SIM tray ejector pin. They are all packed into a small compact box with the V11 located at the top of the box.
The V11 here has the Starry Night colour option. It has an intricate hybrid gradient Black/Blue color scheme paint job. It starts off black at the top and slowly transition to a metallic blue towards the bottom. The blue is tad like what you find in automotive metallic-flake paint. It is a neat touch.
Notably, Vivo has chosen to keep the rear face as clean as possible, omitting additional IMEI numbers and CE/regulatory information on the rear now.
Protection comes standard, out of the box
Vivo has bumped up their screen quality in the V11. In for this year is a gorgeous 6.41″ Super AMOLED screen. You seldom see such a high end display in mid-range phones. It presents to you 2,340 x 1,080 pixels (402ppi) with a rather quirky 19.5 by 9 aspect ratio, making it a rather tall phone.
Moreover, the phone comes packaged with a screen protector stuck on. Included in your suite of protective materials includes a clear soft gel case. It is one fitted by Vivo right out of the box, so no dealings with bubbles or hassles of sticking one on yourself.
Often, find I myself won't go about using a phone in the wild without at least a screen protector or a case in-hand. This is true for most consumers. Hence, it is very nice that Vivo thought though this need and catered protection phone right from the factory, literally out of the box. You can use it immediately.
However, from my daily use, I noticed the front screen protector scratches pretty easily. I noticed a number of micro scratches on the pre-applied screen protector after a week of normal use. In comparison, my experience with off-the-shelf tempered glass screen protectors in similar usage do not scratch that easily. Hence, you might see yourself having to replace your factory-applied after a couple of months of use.
Return of the in-screen fingerprint scanner
Vivo had been perfecting their recipe of the on-screen fingerprint scanner since we last saw it first implemented on early Vivo adopters like the Vivo X21. It was the world's first smartphone with an under screen fingerprint scanner. I found the front facing fingerprint scanner a very useful addition. Something which Apple till today did not have on their phones. It works like a charm.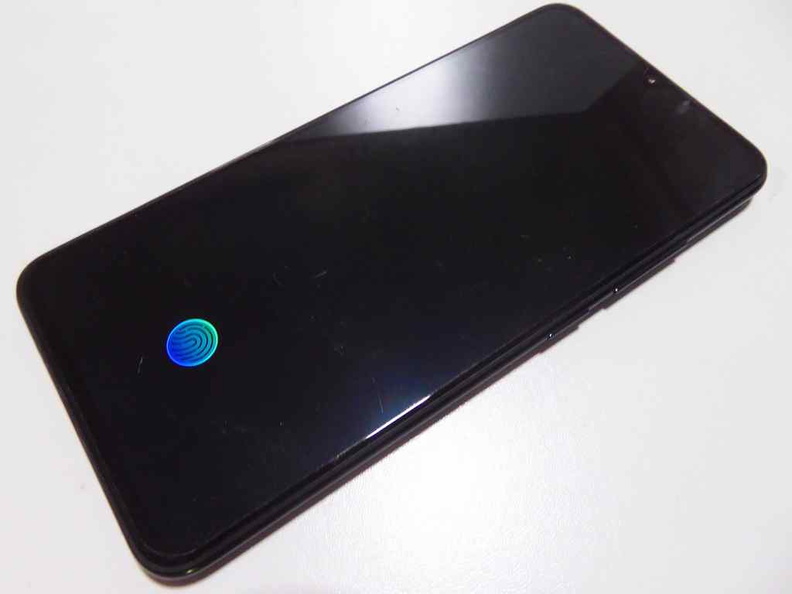 However, there are a couple of moments when it won't register mildly dirty or wet fingers. Henceforth, it will provide you a default pass-code challenge.
Also, the phone reminds you the presence of its under-screen fingerprint scanner through a display animation. This reveals the location of the sensor with a small blue spot whenever the phone detects that it is being taken out of your pocket or nudged on the table.
Moreover, this persistent sensor spots overlays over any unlock screen wallpapers you have. Even without the screen guide, simply tapping the screen with your phone on a table turns the screen on.
Additionally, on standby, the phone monitors accelerometer values so that the screen wakes even without pressing the power button. A front facing scanner is useful especially if you have the phone on your table and you do not have to pick up the phone to say, swipe a rear sensor like those found on the Pixel 3 or Samsung note.
Under-display fingerprint sensor battery drains
However, In my use, I found it puzzling that the Android system was draining much of the battery on standby. It turns out that disabling the off-screen standby unlock option could easily squeeze in additional 20% of battery life with that feature disabled.
This standby features keeps the under screen fingerprint scanner active, as well as the display always-on keeping the small fingerprint icon.
Well-built simply exterior and clear ports
The V11 comes with a glass front with a rear plastic frame. It measures at about 160mm by 75mm and is 7.9 mm thin. Despite being wrapped in plastic, it feels solid in-hand despite being a featherweight at 156 grams. It has a densely packed feel which paints a quality product without being too heavy.
Moreover, on ports, the V11 keeps a simple and clean design methodology when it comes to the placement of buttons and ports. The cleanest sides of the are the top and left faces. On the left of the phone is a SIM tray/MicroSD slot. You get a discreet microphone hole on the top.
Additionally, the bottom face of the V11 houses almost all the connectivity ports of the phone. Here, starting on the right you have a volume rocker and power button. The bottom of the phone is where the business-end is. Here, you get (thankfully) a 3.5mm audio jack, the other of the stereo microphone hole, a micro USB connector and single mono downward-firing loudspeaker.
Mobile connectivity and expansion
Moreover, the V11 spots dual standby up to 2 nano SIM cards. Unlike previously Vivo model where you have to sacrifice one SIM slot for additional MicroSD card slot, this time the phone can accept 2 SIM cards in addition to an external MicroSD card slot. It is nice that Vivo catered for dual SIMs without having to sacrifice external storage.
Moreover, the card slot is expandable to 256GB. This makes it highly attractive for space-hungry users who wish to have all their storage on them, especially in this age where cloud storage is replacing external storage.
Wireless-connectivity wise, you get your standard servings of Bluetooth 5.0, and global positioning through GPS and GLONASS. There is also a hardware FM radio on-board which is rare on phones these days.
Modern Charging, dated connector
Moreover, impressively, the included 18 watt, 9V/2A adapter juices the V11 from flat to about 50% in around 30 minutes. Thankfully, the USB port does comes with fast charging support. Vivo touts the use of their Dual-Engine Fast Charging on their phones, with the V11 being no exception.
Here, it allows you to charge using a supported charger doubly-quick. It is essentially Qualcomms's QC3 (QuickCharge 3.0). This does auto negotiation on any supported QC3 charger (including the Vivo-provided 18W). So no worries about having to deal with proprietary USB chargers.
Interesting, the V11 sporting a MicroUSB (USB 2.0) port in place of USB-C. By today's standard, it was a rather odd move, considering that their NEX S flagship had a USB-C connector. So far low and mid-range phones are distinguished by the use of MicroUSB.
While USB-C are reserved for higher eng phones like those we see in Huawei P and Mate series as well as the Samsung Galaxy series. If the phone were to be released last year, I reckon a MicroUSB port would still be largely an acceptable, but not so much today.
Impressive Battery Life
Vivo phones have a good reputation for battery life. Like most Vivo phones like the Vivo V7+ we had seen before the V11, they do perform well in real and benchmarked battery rundowns.
Under the hood, the Vivo V11 comes equipped with a sizable large 3,400mAh battery. It is not class-leading, but paired with a low power screen and a power sipping mid-range processor and we have quite a winning combination here.
Moreover, the phone's integrated Jovi AI Engine deliver a more efficient allocation of CPU and memory resources. A revamped battery menu shows you high drain apps and advise you to shut or remove them to improve battery life.
In my tests, the phone can easily manage a respectable 1.5 to 2 days of moderate to heavy use on 4G and wi-fi. The phone could easily last me at most a day and a half before needing to recharge from under 10% battery life. Also, on continuous use, the V11 manages about 6.5 hours of mp4 video playback at 50% brightness.
In the next part of the review, we shall touch on Vivo's FunTouch Operating system, have look into the V11 AI camera performance and run some gaming benchmarks. Read on!