This article follows on from my first impressions of the new Vivo V11 smartphone. I covered the exterior impressions as well as functionality of the in-screen fingerprint sensor- a world first. In this second part, I am checking out the Vivo V11 Camera, Gaming Benchmarks and Performance.
FunTouch, zippy, but not perfect
The heart of the phone is always the operating system. The V11 runs a heavily re-skinned version of Android 8.1 Oreo with out of the box. Notably, Vivo is known for their customised OS which bears little resemblance to the Android base operating system it is based on.
Called the FunTouch OS, it is Vivo's proprietary Android with several unique additions such as a simplified launcher, a new battery management software and security pages.
Moreover, you get the usual Android system buttons such as back and home buttons persistently situated on the bottom of the screen. However, swiping from bottom up (instead of top down) brings up the quick access toolbar which you can toggle your phone quick-settings, such as Wi-fi, Bluetooth and airplane modes.
Also, one usability issue I see with Funtouch is how much it tries to mimic iOS in terms of how its icons, notifications and settings menus are placed. You move your icons using a similar grid layout and remove apps by holding your "home button".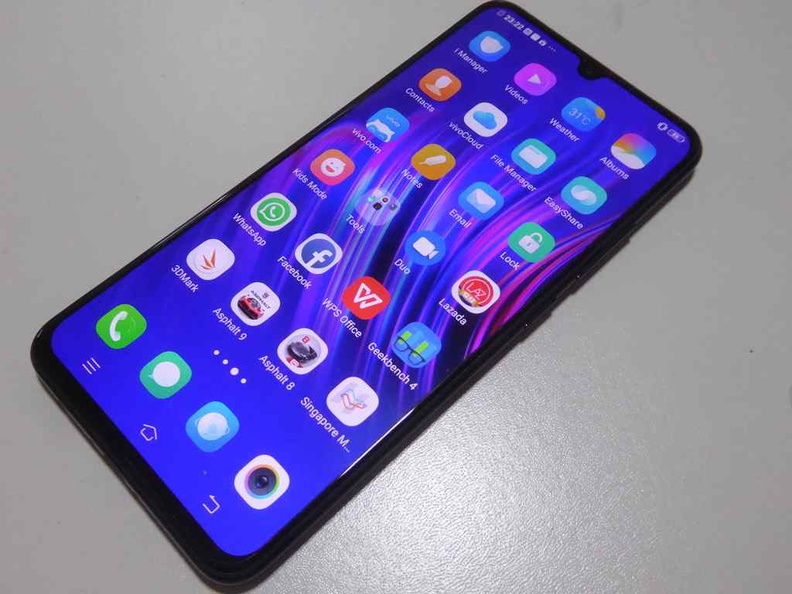 Nonetheless, it is a refreshing touch in the Android ecosystem, only I wish that it is not too blatantly Apple-like. Nonetheless the interfaces are fast and clean. The 6.41 inch screen is wide enough for two handed typing. The included stock keyboard did not exhibit any visible lag when quick typing out messages.
Also, thankfully, you can access a couple of quick functions like the camera without having to unlock your phone. However, at times, I often saw myself accidentally swiping-out the wrong menus when trying to swipe-launch the camera without unlocking the phone.
Only when actually swiping up from the corner of the screen where the camera be launched. But sometimes the handy quick access toolbar came up instead. It gave me some missed photo opportunities. It seemed that it is not thoroughly thought through how these soft buttons are placed.
Mind the teardrop!
2017 was the year of the notch, 2018 is the year of the teardrop. With LCD manufacturing able to accommodate rounded LCD corners, manufacturers had been trying to squeeze more bezel to bump up their screen to bezel ration into seemingly tight space without sacrificing a front camera.
On interesting front camera implementations, humorously Vivo had released their Nex with the slide pop out camera. For the V11, just like the Oppo F9 and R17, Vivo had kept to a more conventional, simple and cost-effective design with the front facing camera situated at the front dead center of the screen.
Camera Offerings
You get the similar bells and whistles in other Vivo phone models with a 25 megapixel (f/2.0) selfie camera up front pared with a dual 12 and 5 megapixel shooter at the rear. You can recognize this setup very similar to the Vivo X21 I reviewed earlier this year.
In addition, face unlock is also available using only just the front-facing camera. You are put through a face registration process similar seen like the fingerprint registration on the phone's security setting page. When up, the face unlock is relatively quick. It is also able to recognizee you in headgear or even in glasses.
Also, it is commendable that Vivo had managed to cost-effectively allow face unlock without the need for IR light or front dual cameras (e.g. those used by the Huawei P20 or iPhones for their Face ID functionality). The adequacy of security using one camera may be questionable, but it gets the job done well enough for most consumer needs without breaking the bank. To wrap up the front camera, it is able to shoot 1080p video at 30 frames per second.
A quick AI shooter
Furthermore, the V11 spots an AI powered rear dual-camera setup. It comprises of a 12MP primary sensor with a f/1.8 lens. It is correspondingly mated to a 5MP depth sensing camera. There is phase detection and auto-focus. Also, the dual cameras utilizes a single LED flash which is good for subjects up to about 2 meters away.
Moreover, the V11 Camera snaps pictures really quickly, especially when saved to the phone's on-board 128GB flash storage. I had not issues spamming the shutter button and the phone rapidly captures fast motion shots with ease. We had seen the power AI camera logic in the Google Pixel 3. Vivo aims to build on that by using similar AI implementations of their own via their Camera app.
Shots are taken in full AUTO mode to best allow the camera AI functions to decide on optimal scene settings. Though this dual-lens setup is not new in the Vivo range of phones, a new feature the Vivo V11 has under its belt is extensive use of Artificial Intelligence for photography scene predictions.
Scene detection is pretty accurate. Vivo claims that their engine recognizes scene features to automatically determines the right camera shooting mode and settings to bring up the best of your photos. In Colours appear reasonably accurate. Though some of my day shots do look like they have an instagram-like filter post-applied.
In addition to the convention landscape and night modes is the AI selfie Beauty and the Portrait mode. It is ideal for if you so wish to "Korean-fy" yourself with touch to fix plastic surgery to clean up your facial features. It may not be useful for everyone.
Fun AI camera features
Examples of AI camera features includes auto metering, ISOs and shutters for night shots. From the detected scene (and subjects) the camera will run the necessary post-processing to auto-enhance your images. Examples includes putting in an auto-bokeh for subjects, given a professional depth of feel to auto-touching up your face complexion when shooting portrait subjects.
However, though useful, I found these AI camera features nothing novel to scream about. Such auto scene detection are already common place in the phone market on offer. To the consumer, we had already seen such features already implemented in point and shoot cameras with auto-scene mode detection for years.
Furthermore, at times, the saturation appears too high on the photos to my liking. This is largely attributed to an aggressive software post-processing resulting in over saturation. Thankfully, Vivo offers a couple of preset scene modes right in the camera menus to dial back on the saturation and colours.
Fair Night camera Performance
Night shot performance are a mixed bag. The camera generally fared well in night shots and produced good shots. I was able to get a good amount of detail even in dark environments. However, mixed-lighting shots are tad challenging to get good photos on the V11.
Having said that, the V11 struggles bit in mixed low light conditions to find a common ground, often striking a compromise which is neither fantastic. It is after all, no Samsung Note 9 shooter. This is a limitation of the V11 with a small fixed aperture. But it is still good for casual photos and posting to the internet.
Also, I noticed the camera tend to lose details of faraway lights with a limited focus depth. This is especially true if there are both dark and lit subjects composed within the same shot. As illustrated in the shot below and a 100% crop showing over saturation of the far lit rooms in the building.
Additionally, the camera is able to do HDR, but the assembled shots did not necessary improve the darks or tone down the over exposed parts as I expected. They still appear bit too dark to my liking. Even shooting in full auto mode.
Furthermore, in manual mode, the phone has a fair bit of control, you can bump the shutter speed up to 32s and up to ISO 3200. Marco photos appear sharp with a nice background blur mimicking shots in SLRs with fixed focal lengths. Also, you are able to capture reasonable time lapse photos and starry nights with this option.
Simple to use Camera Menus
The camera menus are very easily to navigate. Within the App, you side-scroll below the shutter button to cycle between the scene modes. If you come from an iOS device, you will feel right at home.
The camera interface passed my usability test. Here, people unfamiliar with the phone I passed it to were able to use it first time, able to take a picture without any additional instructions. So top marks for camera menu intuitiveness.
Moreover, it is advisable to shoot in 4:3 aspect ratio to get the maximum. HD 16:9 mode simply crops the top and bottom of your image to achieve the cinematic letterbox look. Also, video quality is good with no wavy jitters. On top of the rated 1080p @ 30fps video, impressively, the phone, after an Over the air update is able to record 4K video natively at 30 fps.
Benchmarks and Heat
Moreover, the V11 has the Snapdragon 660 AIE processor, which supports its AI features via a dedicated artificial intelligence engine. Also, it is an Octa-core processor comprising of four Kryo 260 cores clocked at 2.2 GHz, and the other four at 1.8 GHz. It is touted by Qualcomm to provide near flagship grade performance to mid-range price range.
Performance of the V11 is a mixed bag. The phone scored a respectable 5500 in the Geekbench multi-core score. This is despite a diminutive 1452 in the single core score. This Geekbench score puts the V11 performance behind last year's Samsung Galaxy S8 and Note 8, but beats the Note 7 and S7.
Also, these days with multi-threaded apps, the multi-core score is more indicative of performance as manufacturers are able to simply stack a combination of cores on a single CPU die without changing too much of the inherent hardware architecture. Hence we shall focus mainly on multi-core scores here.
Moreover, 3D performance is the V11 Achilles heel. The onboard Adreno 512 GPU managed a 3D Mark benchmark score of 1230 for 3D Mark Sling Shot extreme, and a lower 969 on the Vulkan API. Similarly, these scores are close to the performance as of last year flagship phones. Moreover, the V11 scored a geekbench Compute renderscript score of 5145. Notably, Renderscript is an Android API offering acceleration from heterogeneous hardware.
Additionally, it comes with 6GB RAM onboard coupled to 128GB of storage. Notably, 6GB of RAM is near flagship specs for 2017 and 2018. It is nice seeing this in mid-range phones now. It is plenty for phones in this price segment, not to mention excellent for multi-tasking.
Good software-hardware optimisation
The coupling of hardware with an optimized Operating system is where we can see the true value of the custom Funtouch OS. The OS monitors high drain apps and automatically sets priorities to them or for user actions.
Heat was not an issue throughout my benchmark tests. The V11 however close to a 33-35 degrees Celsius. There is noticeable little throttling, as the processor is able to perform at its maximum without the auto v-core regulation kicking in. You can see this from the inverse relationships between temperature and CPU use.
The phone gets warm, but still a far cry from the older snapdragons 4-5 years ago which suffered from severe heat issues. This severe throttling often slows the phones down to a crawl when running CPU-intensive computations. I am pleased to report none of such experiences here on the V11.
Furthermore, a Battery score of 4464 puts the Vivo ahead much of the competition in the segment. This includes the One Plus 5 with a more power hungry Snapdragon 835 and the Samsung Galaxy S8. The V11 however falls behind last year's Samsung Galaxy Note 8, with it's smaller battery.
Market Offerings
The main competition of phones in this segment will include the Samsung Galaxy A8, Oppo R17 (also a BKK phone) and the Huawei Honor Play all with similar 6″ screen offerings. Similar priced offerings but with faster processors includes the Xiaomi Mi 8 SE and Xiaomi Poco F1. It is quite a crowded market.
Of course the mid-range 600-series Snapdragon is not a screaming 800-series Snapdragon series. However in real world usage, you can hardly feel any lag between menus and launching of apps. Unless you find yourself mostly paying 3D games such as Asphalt, Fortnite or say even the upcoming, Diablo Immortal, then I would say for casual gaming, the V11 is fine.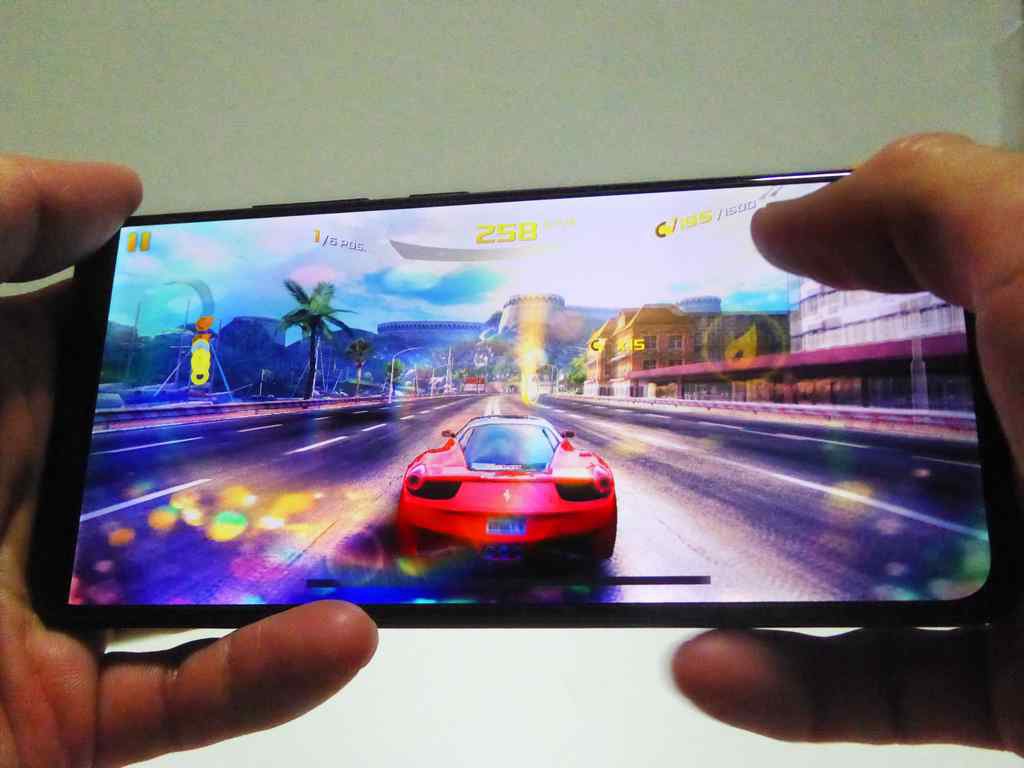 But, if it is going to be your daily gaming phone I will recommend a phone with a faster processor and if need be, a larger (4000mah range) battery to boot like the Vivo Nex S, Samsung Note 9 or the gaming-specific Razer phone 2. What you pay is what you get and these phones however are flagships and will definitely cost you considerably more than the V11.
Conclusions
All in all, if you are in the market into purchasing any middle-segment or last year's flagship models mainly for productivity with whole day battery life, but do not regularly play games on your phone, it will be difficult not to recommend the V11. Also, priced at $599 contract-free, it has a good build, has near flagship features such as a higher than HD AMOLED screen, flagship amount of system RAM at a good price to boot.
Additionally, it is also nice that Vivo has gone down the path to integrate AI predictive capabilities beyond that of the camera but into the other aspects of the operating system (such as battery and usage patterns) adding to usability. The on-screen fingerprint sensor sweetens the offerings and is still a plus selling point.
This puts the V11 in a good spot and gets my take as a worthy contender in the mid-range segment.
Good- 76%
Pros:
Impressive AMOLED Screen
Novel and fast fingerprint unlock
Solid built quality
Excellent battery life
Runs very cool at load
Cons:
Dual camera let down by low light performance
Competition offers more at price range
Micro-USB port in place of USB-C
No NFC and wireless charging
Fingerprint sensor don't work all the time