Let's take a look at the Linksys AX5400 Atlas Pro 6 WIFI6 Mesh router today with a detailed run through and review. We shall put it through its paces setting it up for a home environment and doing performance benchmarks.
The Atlas Pro 6 AX5400 is part of a family of Mesh routers in Linksys WIFI6 range, with their MX5500 router as a focal point. It is a rather capable small home router great for homes and small offices. Let's take a closer look.
Exterior and Device Impressions
The MX5500 is a rather compact device, the vertical standing router is clad in matte plastic finished in white colour. Furthermore, the absence of any external antennas gives it a sleek modern look. It goes well in a living room without standing out or spoiling your deco. We saw this design in Linksys other Velop models, though it might start to look dated being a few generations old.
Furthermore, the top of the device has a ventilation mesh and a corner a rather intuitive multi-colour status LED. It blinks Blue when powering on, and Blue steady functional and connected to internet. Also, it signals yellow with weak connection, and Red when there is no internet or being out of wireless range.
Also, in case if you are seeing double, you are not alone. The MX5500 unit bears a similar identical design in shape and proportions to the MX4200 we looked and tested a year ago, only it is proportionally smaller. Hence, I be making most of the MX5500 comparisons to Linksys MX4200 which is the closest substitute in Singapore now.
Still, I prefer the smaller device footprint of the MX5500. The rear of the device is home to one gigabit WAN port and 3 switched gigabit LAN ports. Also, the WAN and LAN ports allocation are fixed. Hence, you won't have the ability to reconfigure them on the factory firmware.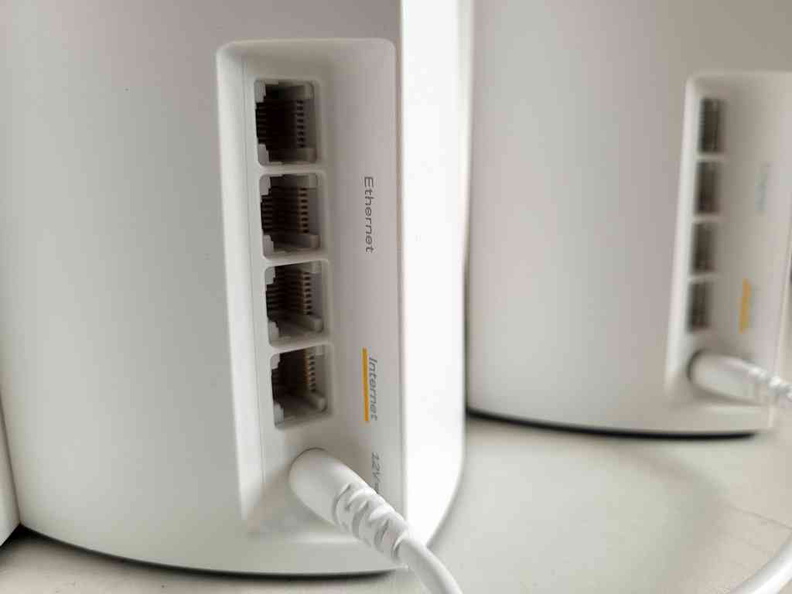 However, the offering gigabit-speed ports on the MX5500 starts to look dated, and quite a let-down too on which would otherwise bottleneck simultaneous WIFI6 bandwidth. This also considering that we are starting to see 2.5Gbp Interfaces becoming mainstream on desktops and Mini-PCs. If you need at least 2.5Gbps, you might want to consider Linksys Atlas Max 6E (MX8500) series with 5Gbps WAN uplink, when it is available in Singapore.
WIFI6 without the fat
Furthermore, the MX5500's absence of a USB3 port is tad a disappointment. USB connectivity are now mainstream in consumer routers, to the extent they are almost hygiene features. You can even find them in low-end router market. Hence, you would be out of luck if need to hook up external storage devices for Network Attached Storage (NAS). If you need a USB3 port, you would need to step up to Linksys MX5300 line-up (which also comes with an additional gigabit LAN port), or the older AX4200 both with faster CPU, more RAM, and more bandwidth per frequency.
Additionally, the differences are also not skin-deep. The MX5400 also spots two wireless bands, one 5Ghz wireless band less than the older AX4200. Also, the AX5400 (MX5500) allows for up to 5.4Gbp on both bands (Wi-Fi Bands: 2.4 GHz at 574Mbps + 5GHz AX Band at 4804MBps), while the AX4200 (MX4200) has 3 Wi-Fi Bands: 2.4GHz at 600Mbps, 5GHz at 1200Mbps, and 5GHz at 2400Mbps making it suited for a higher device environment.
An mid-range value mesh solution
The MX5500 is well-priced for the offerings. In comparison, a single MX4200 costs S$389, making it a premium for the additional 5Ghz wireless band. This puts it in-line with most WIFI6 routers from Asus RT/GT-AX range. On the contrary, this MX5500 sits in at a more affordable S$289 per router.
Still, this price point is more expensive than the other WIFI6 AX offerings in the market. This includes the TP-link Deco Series, D-Link Eagle Pro and Xiaomi AIoT AX3600, albeit with the latter utilising a comparatively lower (and slower) part of the AX 5Ghz spectrum. If you view the MX5500 as just a WIFI6 router and no more, it is still actually a very compelling package.
What you get in the MX5503 package box is simple- three MX5500 routers, a gigabit ethernet cable, instructions and three 110-240v auto-sensing power adapters. The adapters comes with a selection of 3 additional inter-changeable plug head pins depending on your region.
Also, the included 12V barrel-pin power adapters are rated at 24W for each router. Each unit is pretty energy efficient, sipping about 7 watts off the wall, with 3 routers in Mesh mode drawing about 20W in total. A welcome with energy prices being a premium now.
Setting up via the Linksys App
Moreover, setting up and managing your router is a painless affair and can be done on your phone via Linksys's management app. You can download the App from the Google play or Apple App store.
Also, for the initial setup, using the details on bottom of your router, the Linksys App will guide you to find your device via the router's LAN WIFI. Hence, there is no need to plug it via ethernet for this configuration process. Also, instead of standard password (feat admin, admin) the router comes pre-configured from factory with it's own unique ID and access password for each device. Hence, the device is inherently more secure out of the box.
Adding more Nodes
With you first node up, you connect each additional node one by one to your network via the app. All you have to do is to turn it on, verify the purple top status LEDs. The App will guide you step by step, and doing all the heavy lifting in finding, identifying and joining your network automatically. No need for manual IP allocation and SSID configurations.
Moreover, I can that Linksys is trying to move away from traditional WebUI setting to the more convenient setup in on a mobile app. Also, the Linksys app serves as a central place to get an overview of your home network.
Here, you can view the status of your home network, such as number of connected devices, parental controls and load. However, there is no deep packet inspection available as a firewall option, a feature mostly seen on more prosumer and enterprise networking equipment.
One gripe is the app forces you to sign-up for a Linksys account. This is required to access additional functionality like cloud access and adding a new additional mesh access points.
WebGUI Device Management
Also, Linksys has expanded the app functionalities today to reflect most of the functionality on the router's traditional WebGUI, albeit the lack of some advanced features. This includes advanced security and WIFI SSID settings. However, you are still able to have access port-forwarding and MAC filters though mobile UI. However, it is not as intuitive to manage or display adequately (e.g. large tabular layouts) on a mobile interface.
That is where the WebGUI comes in. Accessing http://Linksyssmartwifi.com/ on your desktop browser and bypassing the SSL certificate errors, a familiar WebGUI page greets you to manage your router the traditional way. Strangely, you need a desktop browser to do so. You can't access the WebGUI on a mobile browser even in Chrome mobile Desktop mode.
Wi-Fi 6 Test Methodology
Moreover, on my WIFI signals tests I was able to test the peak WIFI transfer bandwidth in single, dual and three node configurations. The maximum LAN speeds is indicative of the router's real AX performance independent of internet connection speeds.
The speeds were measured in four environmental distances (0m, 5m, 10m, and 15m) from the main node itself, with the additional two nodes placed scattered around to bolster the signal of the primary node. This setup is indicative for say a three-bedroom apartment, with your first main node in a living room.
Also, your first living room node is also where you WAN port is most likely to reside too. Your second intermediate node could be placed on your first bedroom or study as a bridge serving the furthest spot in your home from the first WAN router. Henceforth, an ideal spot for the last third node is to fill up the WIFI dead spot in the furthest bedroom, (i.e. master bedroom).
Wi-Fi 6 Performance
In the best scenario, situated right next to the access point, I was able to achieve transfer speeds of 933Mbps over AX 5Ghz with a maximum signal strength -30 dBm. This is near the expected real-world AX speeds of 1200Mbps, without the attenuation you get from walls and the air.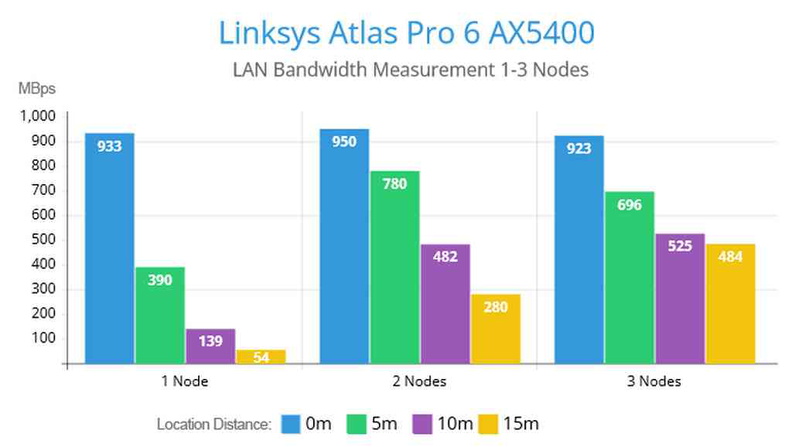 Furthermore, the speeds do fall considerably with distance from the AP. Moving to the next measurement spot, I was able to get reasonable fallout in bandwidth to 390Mbps (At -67 dBm) at my next measurement point 5m away from the main node with two concrete wall in-between. The worst result is 54Mbps (-75 dBm) at a distance of 15m from the main node with 4 concrete walls in between. Anything close to -80 dBm is quite an unreliable signal strength and you be hard pressed to consume rich-media internet content, like high-definition videos.
Moreover, the ability to achieve gigabit level WIFI6 wireless speeds is a welcome despite having only a single 5Ghz band. Also, it is worth noting that you need WIFI6 devices to fully reap the speed benefits. If you have a new mobile phone or laptop purchased within the last 1-2 years, chances your devices would have WIFI6 support out of the box.
Mesh Performance
Furthermore, with each successive MX5500 node added, there is a considerable jump in bandwidth improvement obtained. Repeating my 5m range test yielded an improvement of 390Mbps to 780Mbps, and 54MBps to 280MBps for the furthest 15m range. This is just by adding a second node. Also, this maximum transferable WIFI speeds is independent from internet speeds, which is traffic dependent, limiting the test boundaries to the best conditions.
In my 3-node setup, the increase in bandwidth in otherwise previously spotty areas yielded significant speed improvements. After, all removing dead spots through overlapping Mesh networks is what the nodes are designed to solve. Even the most remote spots, was able to get an impressive minimum transfer speed of 484Mbps. This is a significant 4x speed bump over the older AX4200 we looked at previously.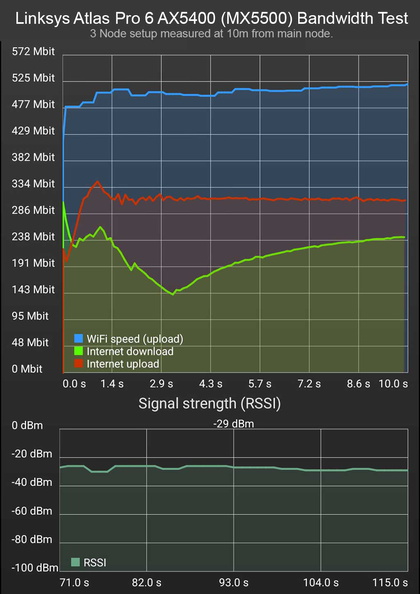 Hence it goes to say the AX5400 having a single 5Ghz band radio at 4800Mbps outperforms even the AX4200 dual band (which is rated at 1200Mbps).
Also, it is worth noting that your wireless performance is largely dependent on the placements of your expansion nodes. It is not a quick "turn on and forget" implementation, but rather one which does require a fair bit of trial and error to get the best bandwidth in your home's unique setup.
AX5400 Atlas Pro 6 Availability and Pricing
Moreover, in Linksys current home router line-up, I would position the MX5500 sitting above the Linksys Velop AC2200 Tri-band Mesh system (S$319 for 3 Pack) and behind the Velop AX4200 in total offerings. Currently, Linksys has primarily two different models of Wi-Fi 6 Mesh routers, the MX4200 (AX4200) and this MX5500 (AX5400) in stores. You can buy the units individually, or part of a 2-piece or 3-piece node kit.
Price-wise, a scout at my nearby Challenger store yielded finds of single 1 pack (MX5501) costing $289 retail. You get more value per device with more units, with the 2-pack (MX5502) at $489 (S$244.5/per device) and this MX5503 3-pack setting your back $649 ($216.33/each).
Still, the AX5400 Atlas Pro 6 is rather solid performer for the WIFI 6 price point. It is significantly cheaper than its bigger siblings, but offers comparable WIFI6 performance and at times beating the AX4200 in real-world tests.
In comparison, the Linksys AX4200 we looked at previously is a rather expensive beast. Both the AX4200 1-pack and 2-pack sets you back $100 more each to the MX550 equivalent. Also, the AX4200 3-pack, also known as the MX12600 costs just under a grand (S$949). It is the direct competitor to the MX5503, but costs $300 more. Thankfully, Linksys did adopt their rather confusing model naming convention from the AX4200 on the AX5400 this time round.
Great for small-medium sized homes
With the more affordable MX5500, I find Linksys is putting itself in a difficult situation in cannibalising their very similar MX4200 product line-up. Still, a better decision point would be based more on the functionalities you need and trade-offs. If you have a network many (20>) concurrent wireless devices, the AX4200 additional wireless band would be more up to the job. Also, the lack of a USB3 port on the MX5500 for network storage could be a deal breaker for many, which the AX4200 or MX5300 might still fill your needs just well.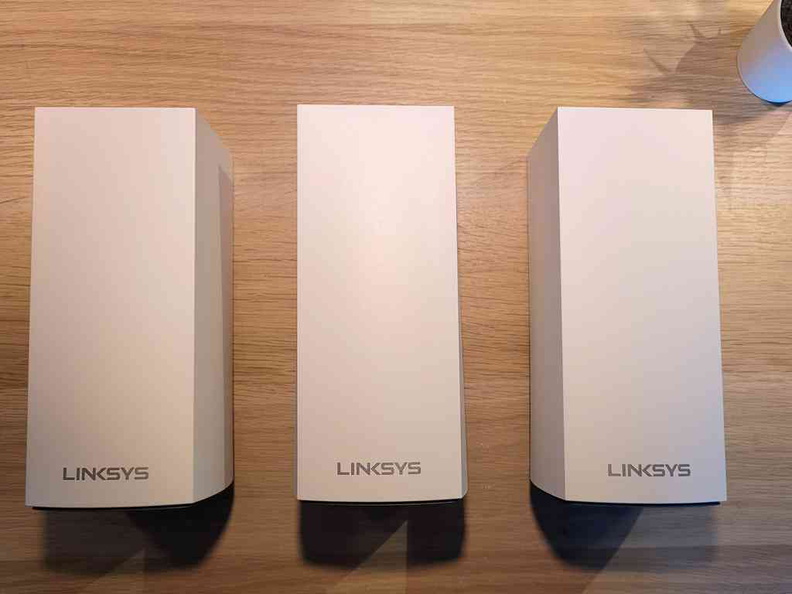 Additionally, the price to performance would be the biggest selling point of the AX5400 Atlas Pro 6, I find you get the most value with a two node MX5502 setup ($489), it pulls ahead slightly in multi-node performance. Also, this with the ease of setup and If you run fewer than 10-20 WIFI6 devices at home, and do not need tri-band WIFI 6 radios to get gigabit-level of wireless performance out of the box.
Linksys offerings of a multi-pack kit is a welcome if you are looking to stay on the Linksys ecosystem, with more price value with more nodes. If you have a smaller home or ISP Internet not exceeding 1GBps, this cheaper 5GHz dual-band mesh system is probably a better fit and fills the transition to the relatively new 6GHz WIFI6E. Also, for most Singapore homes and flats, a 1-2 node setup will be more than adequate, where 3-nodes would otherwise be an overkill for apartments smaller than 3 bedrooms under 150sqm floor area.
Closing Thoughts
Overall, the Linksys AX5400 Atlas Pro 6 offers strong wireless performance for the price. The multi-packs fill a much-needed market demand and complete set of means to get onboard the benefits of WIFI6 (802.11ax) without breaking the bank.
Linksys AX5400 Atlas Pro 6 Router Pros
Excellent Gigabit-level wireless AX performance
Great value multi-node packs
Easy to setup
Low power consumption
AX5400 Atlas Pro 6 Cons
No USB3 port
Gigabit ports are dated
Linksys account needed for App functions
Design timely for refresh
This post is #NotSponsored, i.e. not paid by Linksys to cover this review.