The Linksys FGW3000 is a router on the airwaves. 5G WAN freedom is the name of the game here. It is a home router which uses mobile 5G network as its WAN uplink for internet, shared via speedy WIFI-6 as well as ethernet ports. Let's take alook at it today with a review and performance test of Linksys's newest indoor 5G router.
Exterior Impressions
The exterior of the is clad in matte black. It does give the device a sleek and modern look and feel which would go well in a modern living room setting. This is contrary to Linksys's Atlas-Pro home router range typically clad in matte white. Also, the last time we touched on a black Linksys product was their 5G mobile hotspot, probably means to differentiate their home mesh products and 5G equipment.
Furthermore, the unit build is solid, it does feel like a quality product. In the box, you get an instruction leaflet, a 36W (12V, 3amps) universal power adapter with 3 swappable region plug heads, and a black unlabelled ethernet cable.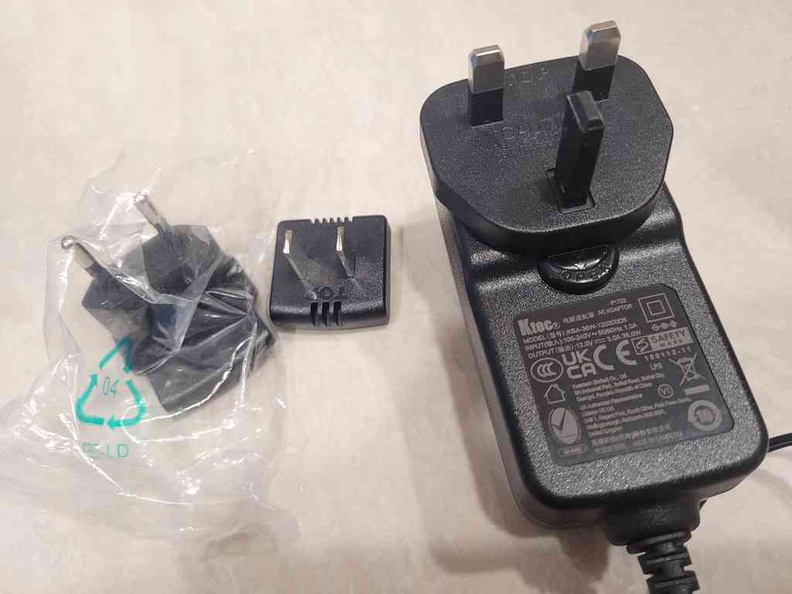 It is huge!
At first impressions, the 22cm tall Linksys FGW3000 is huge! It is much larger than the Linksys Altas Pro 6 AX5400 and as large as the Triband AX4200. The front of the device has a set of six blue LEDs which displays power, WIFI 2.4Ghz and 5Ghz bands, and mobile network status. It is also used for diagnostics and flashing red for attention. In operation, all the LEDs glow steady blue.
Ports connectivity
The side and top of the device houses air vents, which are tiny stylised holes punched in the matte plastic body. The body does catches dust and fingerprints rather easily. The top of the device is covered in shiny plastic with the same stylized vent holes for top venting of heat by convection in operation.
Moreover, at the rear sits a WPS button, two gigabit LAN ports, power switch, DC input jack, and lastly a USB 2.0 Port, which to popular belief is not a useable port and used for diagnostics.
Also, the Linksys FGW3000 does feel tad like a stripped down Linksys dual-band Wi-Fi 6 router packed with a 5G uplink WAN. Connectivity wise, the 5G router is able to accept both 4G LTE and 5G sim cards. The nano sim card slot is situated at the bottom of the device covered by a rubber door. Also, the card pops in and spring ejected like an SD card slot. You can also find the reset hole-pin below here too.
Exterior comparisons
However, the FGW3000 does not fair pretty well in the physical port connectivity side. I find the 2 rear LAN ports is the bare minimum needed. Especially if you have a Network Attached Storage or even servers/services running in your home which does not necessarily interface via WiFi.
Normally, I would request for 2.5GbE ethernet ports, which is fast becoming the standard on routers these days. But I would make an exception for the FGW3000, as today's real 5G WAN uplink won't hit over 1 gigabit speeds anyway. More of that in the performance tests.
Also, the FGW3000 coincidentally does bare some inspiration from the other similar cylinder-shaped routers like the TP-link Deco X-series and the Ubiquiti UDM pro. Also, the Linksys FGW3000 does tower over the more compact UDM pro in size, even the Huawei B311B diminutive size dwarfs the FGW3000.
Notably, the cheaper 4G-based Huawei B311B, despite its much smaller size has 4 ethernet LAN and WAN ports, allowing you to wire up 4 separate cabled devices, something the FGW3000 can't. What a bummer.
AX3000 WIFI-6 LAN performance
Still, looks are subjective, but what the FGW3000 can vouch for is the performance in the wireless department. Coupled with WiFi 6, the FGW3000 shines in the wireless LAN department. Performance on AX3000 is akin to similar performance we saw on the Altas Pro 6 recently a couple months back. Having said that, the router WIFI-6 performance is commendable, reaching over a consistent 900Mbps (930Mbps) on LAN tests beside the router (~-5 dBm).
Also, Wi-Fi 6 LAN speeds does fall-off to about the sub 400MBps range when measured about with increasing attenuation distance, with speeds falling to around 380Mbps measured 10m from the router with 1 concrete wall in-between (-60 dBm).
Furthermore, not being tethered to a WAN uplink point does bring flexibility in the placement of your router placement. A great thing about a 5G router is the freedom to place your router in the most central location of your home without being bounded by WAN location.
This is unlike fixed home fiber where the WAN point typically resides in the living room. Found a dead spot in your house? Simply just move your entire router to a central location in your home.
Mobile 5G Performance Tests
5G performance is a mixed bag. Though 5G is often touted to offer speeds up to 20Gbps. I was not able to get such optimal 5G speeds in my tests. Also, I was averaging about 250Mbps downstream and 60-80Mbps Up on the FGW3000 in built-up residential neighborhoods.
With repeated testing at different locations, I was able to achieve a more desirable peak download speeds of 400-417Mbps, though ~250Mbps is the norm despite being on Singapore's preferred 5G provider. Having said that, do expect more variability in 5G WAN speeds. It can vary in your area too, with faster speeds in downtown and the CDB.
5G network externalities
Moreover, the sub-gigabit 5G speeds is not an indicative performance figure of the FGW3000. Also, unlike home-fiber ethernet, 5G speeds are largely telco network dependent. You are more susceptible to less consistent WAN speeds due to peak user cycles and number of mobile devices connected to the same 5G mobile base station you are on. These base stations are typically shared within an area. Hence your quality of service is largely dependent on the number of concurrent devices connected to that same 5G base station.
Also, I managed a reasonable sub 30ms ping for Singapore regions and going up to 300ms for US servers. This latency is adequate for productivity applications like surging and zoom calls, though it just might be sufficient for light gaming or stock trading. It is a trade-off of adding the variability of mobile networks which are typically shared by devices in your area.
Though sub-gigabit 5G WAN speeds would be the main speed bottleneck, as a package, I found the pairing of a 5G modem best compliments the WIFI-6 FGW3000 offering. This is especially if you can get faster 5G speeds in your region, where the FGW3000 can truly shine.
4G LTE Tests
Likewise, the tests are repeated on 4G. Furthermore, the router also has 4G LTE radios, which I can see users of the FGW3000 would mostly operate on. My 4G LTE tests yielded a more stable 87Mbps down and 53.9Mbps upstream, which are respectable speeds for real-world 4G speeds. This is more than adequate for HD youtube videos and Netflix.
Moreover, in my stress tests, the FGW3000 power draw maxes out at 10.7W from the wall. This is when pushing downstream downloads on 5G, with a nominal draw of about 8.5W. The unit does get mildly warm in extended operations, but not overly hot to the touch. Also, this is unlike the UDM Pro with an active cooling fan. The FGW3000 itself appears to be passively cooled.
Router GUI and management
Setting up the Linksys FGW3000 is plug-and-go. Linksys always shines when it comes to making the initial setup a painless and easy affair even for non tech-people. Also, the inclusion of a customised router password makes the FGW3000 a secure device upfront rather than relying on default admin passwords, typically seen on older-generation routers.
Keying in the login information from the bottom of the router brings you to a familiar router Admin page where you can customise your network. Also, the page is accessible on desktop or mobile browsers. In addition to setting-up your wireless network, there are also advanced features like firewall and port forwarding typically seen on full network router devices.
Notably, Linksys mobile app does not work with the FGW3000 and you have to manage it via the web-GUI. The GUI is a familiar place, with easy to navigate menus.
You can also set restrictions on the device use by the day of week, useful for limiting the mobile data use on your device and avoiding expensive telco excess charges.
Keeping with changing times
So, who is the Linksys FGW3000 for then? The 5G+WIFI6 router does cater for a niche set of users. Say for home users with large 5G mobile data package, or for businesses for the provision of internet in big corporate events, where a transient mobile WAN network is preferred over fixed fiber internet.
Moreover, the product is good for those on-the-go, renters, or for use in RVs (recreational vehicles), buses or boats, where mobile network can be easily shared within living quarters and powered off a wall plug in a vehicle.
Also, increasingly, we start to see households omitting home landlines, and even fiber-internet at home too. This preferring to utilize mobile data instead of subscribing or tethered to a home-fiber internet package.
Rise of mobile home internet
This trend is true given the influx of extremely value for money telco mobile packages in Singapore today, which would make the Linksys FGW3000 a compelling home router. Today, ~100GB/month Sim-only mobile data plans can go as low as S$20/month contract-free. In comparison, the cheapest 500Mbps unlimited home-fiber broadband set you back about S$29/month, typically with a 24-month lock-in contract.
Hence, for home users, the FGW3000 is ideal and more than adequate for light to moderate internet users who do not consume heavy media, movies or streaming. This includes those already on mobile home-internet and looking to future proof their existing 4G router with a 5G router and the newest WIFI-6. The FGW3000 is in a position to capture this growing portion of the market. Especially if Singapore 5G infrastructure improves down the road.
However, it is worth noting that most "Big data" telco mobile data packages today are mostly on 4G LTE and not 5G. Also, 5G's theoretical 20Gbps speed as touted by Qualcomm based on IMT-2020 requirements is not quite a realistically achievable speed we see today peaking around the 400MBps range on our tests.
Furthermore, unless if you are on a 5G mobile plan, you won't be utilising the full speed potential of your FGW3000. This is where a more conventional 4G LTE router might actually meet your needs at a cheaper price too.
A price premium
With an industry-leading 3 year warranty, the FGW3000 retails at S$638.00 on Amazon and S$799 in stores at Harley Norman. This is not cheap and sit in the flagship router price range, akin to premium gaming routers. Notably, the $799 price point is similar to the release price of Linksys portable 5G router too when we looked at last year.
Moreover, it is commendable that Linksys had elevated themselves out of the crowded 4G router market, which is typically saturated in the likes of other brands, like Huawei, Netgear Orbi and TP-link for instance. Having said that, there isn't much competition in the 5G router space, with the FGW3000 closest competitor being the Huawei 5G CPE Pro and the TP-Link Deco X80-5G. Notably the TP-link is better speced with a 1× 2.5 Gbps port WAN/LAN port at a similar retail price. However, both the Huawei and TP-Link 5G routers are not readily available via conventional retail channels in Singapore yet.
All in all, if you need the fastest 5G and WIFI-6 router out there money can buy on our shores, the Linksys FGW3000 is a no-brainer for its solid wireless performance. Do expect to pay a premium for it though.
Pros
Excellent Wireless performance
Low power consumption
Easy to setup
Cons
Large size and footprint
Few LAN port and no USB port
Expensive