Bone conducting headphones provides an interesting take to sound generation for personal music, allowing music to be played without earbuds in your ear canals. The OPENEAR Wave AS9 is one such device we are looking at today priced under S$60 with waterproof capabilities- Something never seen in this price range. Is it any good? Let's take a close look at the AS9 Bone Conduction Headphones with an in-depth review today.
The Openear AS9 Bone Conduction earphones at its core is a budget wireless and IP68-rated waterproof sports headphones with Bluetooth audio and call functionality. The headphones has an in-built 16GB of storage. This is more than enough storage for the 3 hours of battery life (more on that later). I had mine ordered from Chinese online retailers at AliExpress and resellers on Lazada costing S$57.88 Singapore dollars including shipping.
AS9 Box and accessories
The packaging of the Openear AS9 is professionally done. You get a flip style box with textured print. Besides your Bone conducting headphones, you also get an English manual, one charging and data cable, which is proprietary for the headphones. The box also contains an optional pair of earplugs- one for each ear for swimming, a black drawstring storage bag and the headphones.
Notably, there is no USB charger included in the box, though I won't fault Openear for it as its becoming an industry norm to exclude USB chargers in-box- and to think of it too, not that we actually needed one too.
Furthermore, the charging cable has a magnetic clasp which sticks onto the right side of the headphones when charging. Also, the cable has a USB type-A on the other end. The connector works and goes in-one-sided only. However, the one-way tab is so tiny, often you could easily insert it the wrong way.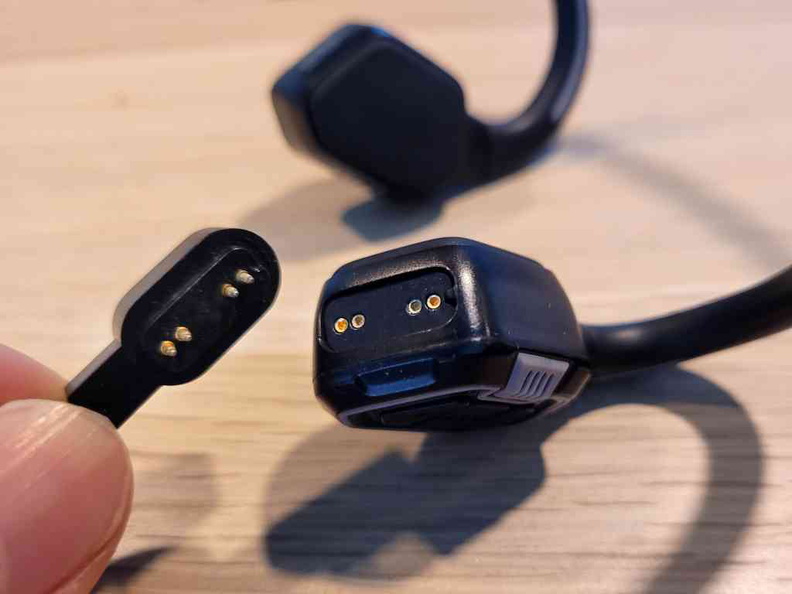 The charging tab sits flush when properly inserted. A handy green LED by the charging port lights up when it is properly charging. Sometimes, you have to nudge it into place for the LED to come on. I would advise verifying the LED is on before leaving the device to charge.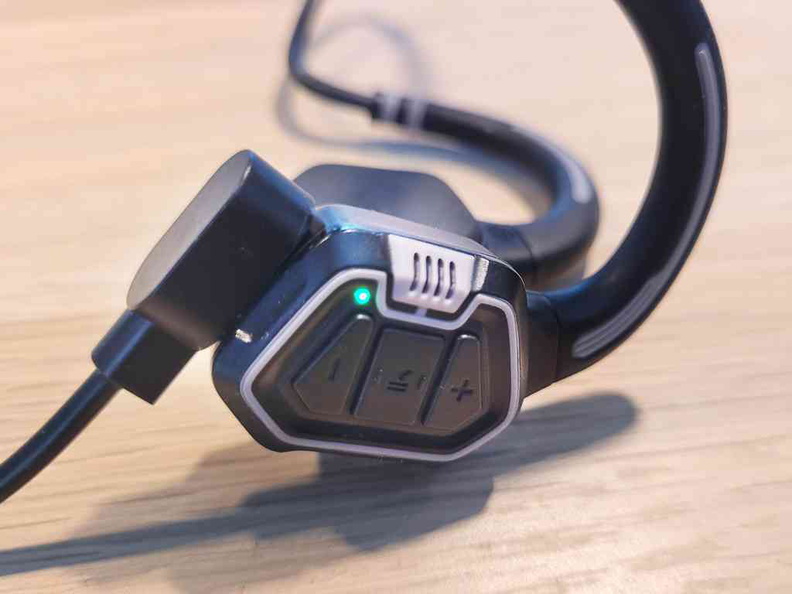 Notably, in the IP68 world of waterproof headphones, you often have to trade off waterproofing for propriety connectors. We saw this is Garmin watches, Sony WS-series and Shoks headphones. Openear's offerings are not too different either, with a proprietary 4 pin connector which tacks magnetically to the right side of your headphones.
Headset Exterior impressions
Moreover, the device is very small, compact and lightweight. When it comes to design, the Openear AS9 scores great for a very uninspiring design. It looks more like a toy than the supplicated piece of hardware it actually is. This is in comparison to other waterproof headphones on the market like the Sony WS and SHOKZ openswim. The OPENEAR Wave AS9 is completely black as a base colour and available in three colour "trims", gray, orange and blue, which are plastic outline bits on the earpieces. Grey would be my pick for the most "nommie" colour.
Also, the OPENEAR Wave AS9 does reminds you of the early rudimentary MP3 players of the 2000s. This is especially if you get it in the other red or orange colour opposed to my more discreet grey colour. There are three buttons on the right side of the device. Also, there is alot to expect in controlling the device with only three buttons. All the buttons and status LED are located in the right side of the headset. There are no buttons on the left side of the earpiece (More on the buttons later).
Moreover, the Openear Wave Bone Conducting Headphones is fully waterproof up to IP68 level. It appears the headphones has a one-piece body fully enclosed design clad in waterproof silicon exterior.
Science of bone conduction
The benefits of Open bone conduction technology is the lack of the need for an audio diaphragm. Vibrating diaphragms are a source of failure, especially in water-rich environments and water ingress. This was an issue I had with other waterproof headphones like the Sony – NW-WS41 WS623, which all failed prematurely within 1 year of use.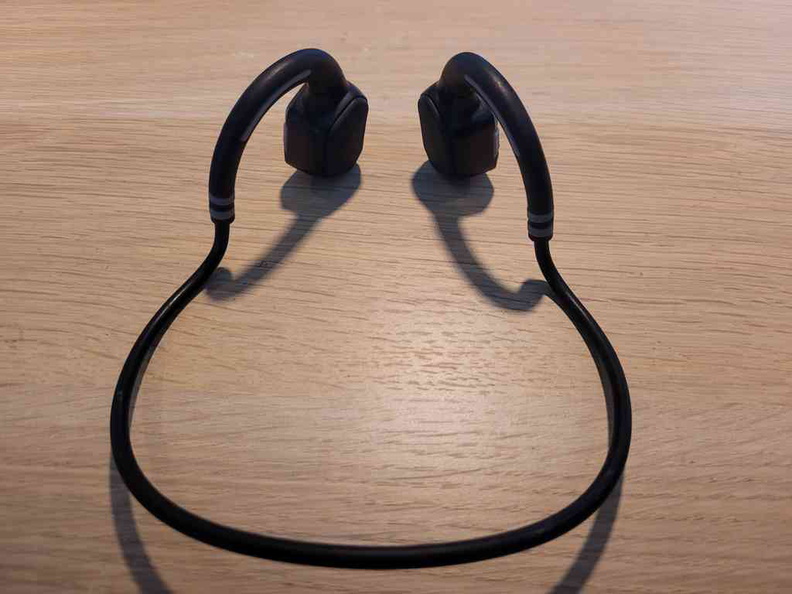 Additionally, Bone conducting earphones uses "vocal motors". This vibrates at various high-frequency ranges, according to a played song transmitting the sound through these vibrations into the skull as a "resonance chamber". This allows for sound to be transmitted with minimal power and loss. If you are concerned about noise pollution to people around you, I noticed when playing a song, you could faintly hear music when holding the earphones in-hand, this could be the earphones moving the air around it. But is much softer in volume contrary to putting it on.
General and Running performance
The Openears is lightweight (29 grams) and does have a comfortable fit. This is one of the best features of the Bone Conducting Headphones. The lightweight design and adjustable headband ensure a snug fit without any discomfort. This makes them ideal for long listening sessions or workouts. The lack of weight also reduces the bounce of the earphones when running, without the need to strap it tightly around your head to hold it in place too.
Also, the absence of earbuds or over-ear cups eliminates any pressure or irritation on the ears, making them a suitable option for those who dislike traditional headphones.
Furthermore, I find the greatest benefits of Bone Enhanced Situational Awareness. As music is transmitted via external skin surfaces, it keeps both your ear canals open to maintain awareness of the surrounding environment. This is useful when running say, in an urban environment with traffic or paths shared with bicycles.
Having said that, the Bone Conducting Headphones allows you to hear external sounds while listening to audio. This is particularly useful in outdoor activities or while commuting. You can stay aware of your surroundings, making them safe for activities like running, cycling, or walking, where being aware of traffic or other sounds is crucial.
Swimming performance
As previously mentioned in my exterior impressions, the Openear claims that the headphones at IP68 fully waterproof and able to be submerged under up to 1.5 meters underwater, suitable for swimming. I find the small footprint has a streamlined design, which does not catches water when swimming forward.
Also, the two-channel stereo as bone conduction works best with the vibration pads pressed firmly in front of your ears just behind your temples. You need to ensure a firm placement for consistent audio quality. This is more an issue when swimming.
Additionally, the earphone's Bone conducting surface which comes in contact with your skin has a felt-like velvety material which is waterproof too. The rest of the earphone body is covered in soft silicone.
When used for swimming, I would advise you to clip the earphones left and right bands under your google straps to keep it firmly on your skin. Otherwise, your audio performance and volume will change each time the earphone shifts. You tend to notice this between your swim strokes transitioning between above and under water. Wearing earplugs helps in keeping sound quality constant too.
However, although the Openear Wave Bone Conducting Headphones are versatile, they may not be suitable for all activities or situations. For example, if you're looking for headphones for intense workouts, such as weightlifting or high-intensity interval training (HIIT), the vibrations from bone conduction may not be ideal as they can move around during vigorous movements.
So far I am satisfied with the Openear's swimming performance. I had been using the earphone on my weekly swims for half a year and been performing well. They are my go-to headphones for my weekly runs and swimming sessions. There I was able to put Openear's claimed IP68 waterproof rating to the test in the rain, the pool. With a fresh water wash down after each session.
Mediocre Sound Quality
Moreover, audio quality is never the strength of Bone Conducting Headphones. The headphones touts a frequency response of 20Hz-20KHz though the high frequency top end is always absent in my tests. This is typical of Bone conduction earpieces, with a very strong mid-range reproduction and occasional muted low-ends. The audio quality is like listening to an audio score with a band-pass filter with the high and low-end cut-off. It may not be as immersive or robust as traditional headphones.
The audio quality is like listening to an audio score with a band-pass filter with the high and low-end cut-off. It may not be as immersive or robust as traditional headphones.
Additionally, Bone Conducting Headphones may not be the best choice for those who prioritize audio quality. This is similar to other similar Bone conducting earphones like Shok as well as Creative's new Outlier Free and Outlier Free Pro. The sound is transmitted through vibrations, which can result in a reduced bass response and lack of deep and high-frequency sound. Audiophiles or those who prefer heavy bass in their music may find these headphones lacking in audio range and richness.
Also, the Openear has limited noise isolation. Do not expect any form of noise cancelling in a noisy environment or looking for complete isolation from external sounds, these headphones may not be the best choice. The ambient noise may interfere with your listening experience, especially in a quiet setting.
Quirky control buttons
One gripe the Openear is the clunky button interface. There are three 3 control buttons on the right earpiece which controls all earphone functions. You hold down on the center button for about 3 seconds to turn on the device, where it goes straight into pairing mode via a loud robotic female voice. Holding the button down again turns it off. Also, fast-tapping the same button 2 times brings you to MP3 mode which plays the first song on its local storage. The center button is also used to take Bluetooth calls.
Moreover, the top and bottom button controls both your track seek and volume controls. You hold the bottom "next-track" button or the top "prev-track" for 3 seconds to advance songs on the device alphabetically. Holding the same top and bottom buttons for 1 second increases and lowers your volume respectively.
Also, timing your button duration presses is key when controlling the Openear headphones. Tapping the button quickly does not actually adjust the volume, you need to hold and release them about at least half a second to go one volume segment up or down.
Clumbersome, but usable
Though daunting at first, I got used to the button arrangement after 3 weeks of use. For me, a typical use will be holding the center power button till I hear to "power on" voice. Thereafter, quickly fast-tapping the same button twice to go into music mode.
Additionally, this button holding is tad cumbersome to adjust, especially when running or swimming, where often you need a quick press to skip a track or adjust your volume. Openears could benefit with additional dedicated volume buttons on the left side of the device to circumvent this. For the record, the buttons does work underwater.
Also, the reliance of the center button and having to put 4 presses each time to turn it on and off does put considerable uneven wear on it. I would question the longevity and durability of the headphones on the long run. There are no alternate methods to turn on the device.
No play modes and does not remember settings
Moreover, a second gripe is the lack of persistent settings memory. While the headphones is able to resume from the last song you played, the headphone volume levels reset to a (pretty loud) default value after turning off. Irritatingly, you have to readjust it again each time you turn it on.
Additionally, one of my biggest gripes is the lack of play modes (shuffle, random, etc). Songs are played in the alphabetical order they are loaded into the device. There are no shuffle or additional playback modes available, or at least not made known from their rather simple instructional pamphlet which came in-box. This is strange as play modes and setting persistence are somewhat already "industry-standard", even on cheaper MP3 players.
Battery life and proprietary cables
Moreover, battery life is not one of its strongest point but is fairly adequate for most people's needs. The bone conducting headphones comes with an on-board sealed 160mAh battery running at 3.7V battery. It is an extremely small capacity and suited for its tiny size. It takes about 1.5 hours to fully (slow) charge from empty. The one side LED indicator turns green when charging and white when fully charged.
Also, Open ears claim of continuous music play time of 5 hours. This is close to the actual lifespan of 270 minutes or 4-4.5 hours, averaged from after a 3-month use. You could probably have enough juice to last you for a full marathon. Additionally, the device also touts the device to offer 4 hours of Bluetooth 5.1 talk time, with a standby time of 12 hours. When running out of battery, the earphones will chime a rather irritatingly loud "low battery" warning every 30 seconds until going dead, where it will safety shutdown, though you can always turn it back on again.
Bluetooth connectivity
Additionally, the earphone doubles up as a Bluetooth 5.0 stereo device too, operating at the 2402- 2480MHz frequency. Having an in-built microphone, allows you to connect smartphones, tablets, or laptops wirelessly. There is no noticeable difference in audio quality between same music files played through Bluetooth or onboard storage. Connection is excellent and does not drop. I wasn't able to fully test hands-free calls, making only a couple of calls. The call audio pickup and audio quality is average and can be heard loud and clear on the other side. Also, you are fine with a Bluetooth range under 5 meters, thought Openear advertises this transmission range up to 10 meters.
Moreover, I found the onboard 16GB memory more than sufficient for the battery life. Also, I would recommend loading your songs into the headphone's and playing from local storage for longevity of battery life instead of streaming via Bluetooth.
Conclusions and Wrapping up
Wrapping up, after using it for about 6 months, I am pleased with how the headphone are performing for the price. At its core it is still a rather capable budget sub-S$60 swimming sports Bluetooth MP3 dual-mode headset. Utilizing bone conduction technology typically found on more expensive earphones.
In comparison, but both Sony and Shok waterpoof headphones costs at least 3-4 times the price of the Openears, with Creative's new waterproof Outlier being the more affordable mainstream brand, but still costing at least twice the price of the Openears.
On durability, after 6 months of use for 3km of swims and 30km of runs weekly, I am gunning for the Openear Wave AS9 to perform well, especially with good care as I use it towards the 12 month mark. No wonder why I am stilling using the Openear as my main running and swimming earphones, even using it on the last Singapore Marathon too.
I do hope it last longer than my previous Sony waterproof headphones, where I hadn't much luck with durability with running and swimming. They would magically conk out past their 13th month of ownership just after the warranty ends. The Openears do come with a 1-year warranty. Though I wouldn't be expecting the same level of support from Chinese Aliexpress sellers to big brands, like Sony for example.
Still, the earphone is not perfect, with a clunky button control and lack of setting persistence. But the benefits of Wave Bone Conducting Headphones as audio solution that offers a comfortable fit, situational awareness leaving your ears open to ambient sounds, and versatile connectivity.
All in all, in conclusion, the Openear Wave AS9 Bone Conducting Headphones are ideal for outdoor activities, particularly Running and swimming, or situations where you need to be aware of your surroundings. However, they may not be the best choice for those who prioritize audio quality, complete noise isolation, or intense workouts. If you value comfort, safety, and versatility over audiophile-grade sound, without breaking the bank, the OPENEAR Wave AS9 is a no-brainer and a great choice.
Not bad- OPENEAR Wave AS9 Bone Conducting earphones
Pros
Really low price
Bone conducting technology
IP68 rating
Comfortable fit
Small and lightweight
Cons
Poor battery life
Proprietary charging cable
Uninspiring design, looks like a toy
No play modes and does not remember settings
Questionable durability
As with all my reviews, manufacturers have neither editorial inputs to reviews, nor seen this review before it is released to you, my readers. Thanks for reading!