The New Balance Fresh Foam X 1080v13 Suntec pop-up event at the Suntec City Mall Atrium in Singapore is an exciting showcase of New Balance's latest running shoe and a celebration of fitness. I had the opportunity to grace this event, which promotes the release of New Balance's new Fresh Foam X 1080-series running shoe in its 13th generation. The "Run your way" campaign and mall pop up aims to create a more inclusive running experience. It spans one week running from 31 Oct- 5 Nov 2023, culminating till this weekend at the Suntec City mall. Let's check it out.
The event is strategically located at the ground floor atrium of the Suntec exhibition and convention center wing. This makes it easily accessible for patrons coming from the Marina Square or Esplanade MRT entrance. Here, the main attraction of the event is the introduction of the 1080 v13 running shoe. This shoe is the latest addition to the 1080 range, which was first introduced in 2011 with the v1. It is designed to be a versatile pavement pounder, offering excellent cushioning and support with a newly engineered thicker mid-sole.
Introducing the New Balance 1080v13 running shoe
Upon trying on New Balance (NB) new version 13 of the 1080 running shoe, I immediately noticed its very thick midsole, which provides exceptional energy return. This is a significant improvement over the outgoing V12 version from last year.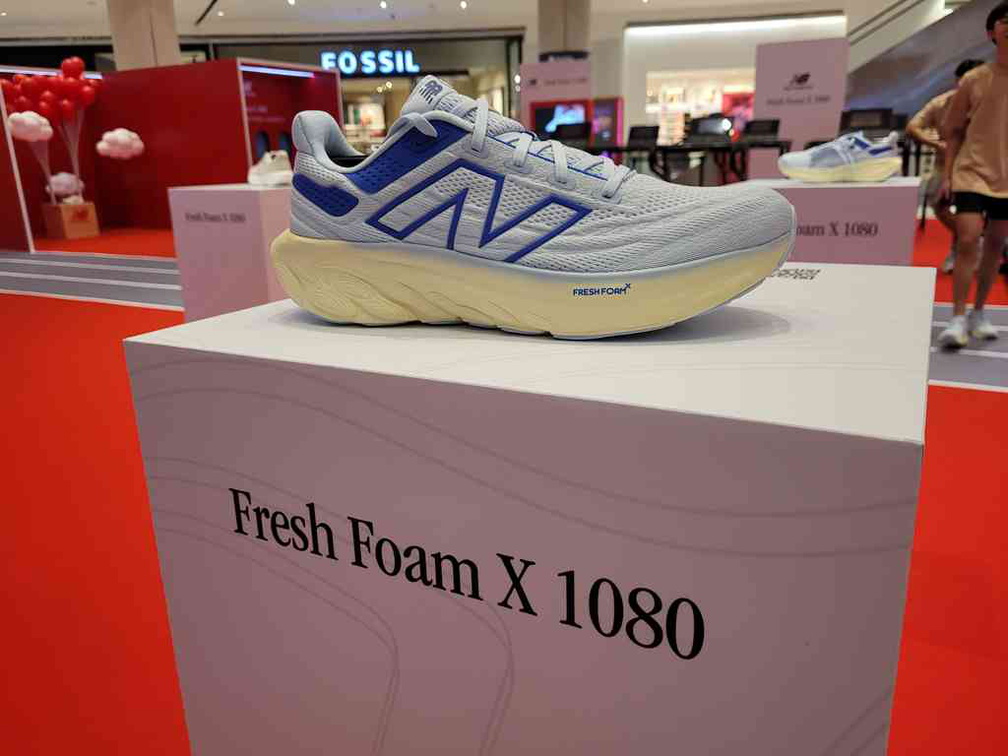 Although the added thickness does make the shoe bulkier and heavier at about 260 grams for a US size 9. Surprisingly, the shoe hides its weight well, allowing for a comfortable running experience. Additionally, there are standees showcasing the 1080 and New Balance Apparel in various styles for both men and women fits.
Also, one notable aspect of the 1080 shoe is its colour options. While the shoe is predominantly available in white, it comes with a variety of coloured trims or even a "dirty grey" variant. It allows you to add a somewhat a personal touch to their footwear, though more colours be better too.
Suntec atrium sport events
Furthermore, the mall pop-up event features an open and inviting atmosphere with New Balance's signature red colours. The center stage is occupied by a row of treadmills, which serve multiple purposes. They are used for mass exercise events, as well as for customers to test the new shoes. Also, the treadmills offer a great opportunity for you to test and experience the shoes in action.
To participate in the event, you simply need to register at the front counter. After registration, you will receive a locker key to store your belongings at the provided event lockers by the registration area. Then you proceed to get fitted for the 1080 shoes in the sizing room. Also, you have the opportunity to test the shoes on the treadmills and wrap up your workout with a refreshing soft-serve ice cream from Swirl.Go. It makes for a rather delightful post-workout treat.
Additionally, the event space is thoughtfully designed and themed to resemble a sports running track. It is complete with lanes that lead to a spectator seating area and an open area with treadmills. There are also a couple of photo booths with a cloud and foam theme. It offers you a chance to capture fun memories. The inclusion of an ice cream stand run by Swirl.Go adds an enjoyable touch to the event.
3D foot scanning
Furthermore, an innovative and informative aspect of the event is the 3D foot scanning pad hut. This technology offers you a detailed analysis of your feet, including length, width, and arch type.
Also, with these data, the analysis provides a compressive view of your feet length and width which translates into a shoe size recommendation as well as whether to go for wider "D" or "2E" wide shoes. It helps you quickly (in under a minute) to find the perfect shoe fit personalised to your needs. This definitely beats having to use the old-style ruler frame methods of feet sizing.
This is especially important for ensuring that the toes are comfortably accommodated in the shoe's toe box and reducing the risk of blisters. The 3D foot scanning machine represents a significant advancement over the old-style feet measurement ruler.
In addition to the pop-up event, the week features treadmill mass running classes led by certified fitness instructor Queenie Azabeth. This is done with silent disco headphones blaring music. These group workouts provide an engaging and dynamic fitness experience. Completing either the one-mile (1.6km) Treadmill Trial or the Treadmill Group Workout earns you an exclusive New Balance runner kit, store discount vouchers for New Balance apparel, and a chance to enter a raffle to win a pair of New Balance Fresh Foam X 1080v13. Notably, the event here at Suntec would transition to the Orchard Road Pedestrian Mall from Nov 8th too.
Suntec City Mall new New Balance store
Also coinciding with the Suntec pop-up event is the newly renovated New Balance store, located just a few stores down from the Suntec atrium event grounds. Notably, it is located near the Suntec Lego store we visited previously. The store provides an opportunity for you to explore a wide selection of running, trail, and casual New Balance shoes and apparel.
Moreover, the store's open and clean layout is well-organized, with sections dedicated to men's and women's running gear on one side and casual attire on the other. In the center of the store, there is a 3D foot analysis machine, the same one at scanning hut at the pop-up event.
The staff at the Suntec New Balance store are helpful and knowledgeable, ready to assist customers in finding the right footwear and apparel for their needs. This seamless shopping experience, coupled with the 3D foot analysis technology, ensures that customers can make well-informed decisions about their purchases. Shout out to Simon, a very helpful staff around in helping me out with my purchases during my visit!
Wrapping up
In conclusion, that wraps it up for the New Balance Fresh Foam Suntec pop-up event and the newly opened store in Suntec City Mall. The showcase of New Balance latest 1080 shoe, complimented with the innovative convenience of the 3D foot scanning offers tad a fantastic opportunity for running enthusiasts and anyone in search of quality athletic footwear. Whether you're an avid runner or simply seeking comfortable and stylish footwear, it is one worth a visit in town.