With the Singapore Marathon coming around the year end, begin seeing myself bumping up my weekly leisure run distances, up to 21.4km today. I always have the mentally of setting the requirement to training leisurely half the distances I intend to run for each year's running season before "qualifying" myself. So as for example this season's X-Country, Newbalance Realrun, Mizuno Waverun ups for the Army Half Marathon and training leisure half marathons for year end full marathons.
Today's run is quite an exception as it had been raining the whole day, with temperatures hovering around 25°C-26°C only to stop in the evening where my usual runs are scheduled. Alias! what can I do but jump immediately into the key of the storm for the chance to run. It started drizzling lightly about mid run onwards, then came into a moderate drizzle/light rain around the 18km mark. Usually my running shorts will be sweat drenched around the 12km mark (haha an indicator?), but the very cooling weather made very favourable water conservation conditions which in turn allowed me to carry on the run continously without hydration. The only bad point running in the rain is that I cannot afford to stop or my body temperature will drop, making myself immune to colds and chills, this allowed me to train at a target intensity throughout the run so maintain my temperature in the cold weather.
Tiong Bahru Park, 0.73km/round linear map distance plot (Actual 0.8km/round including relief and terrain)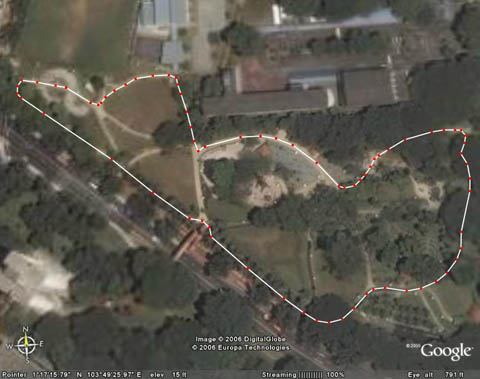 Today's run 23 rounds tiong bahru park + return trip from home (21.4km)
I will be tabulating the week's total distance as usual when the week comes to an end, as there is still the 9km Terry Fox Run this Sunday.