Imperial War Museum Duxford is a vast educational museum and live airfield devoted to British Aviation located in Cambridgeshire, England. It is operated in partnership with Cambridgeshire County Council and the Duxford Aviation Society. It is home to a vast selection of nearly 200 aircraft, military vehicles, artillery and minor naval vessels in seven main exhibition buildings.
This includes a concord and an SR-71 blackbird. Let's do an exploration and check out the cool sights and sounds of what makes this museum one of the best for aviation enthusiasts.
Notably the Imperial War Museum operates two notable Britain's largest aviation and war museums over two locations; in London and here in Duxford. The Duxford museum is home to the museum's larger exhibits. This includes entire planes which would otherwise be impossible to house in their London Museum. Getting there is tricky as it is located on the outskirt of south Cambridgeshire, it is an hour bus ride or a 30min cab ride from the city center.
Today, Duxford remains an active airfield with the IATA location code QFO with two runways running alongside the M11 highway where it resides adjacent. It is popular with casual "Cessna" flyers. Also, the site of the regular annual Duxford Air Show, hosting large planes with attendance upwards to 40,000 people. Other events held here includes the Spring classic car show, Spitfires, Merlins, and military vehicle show, just to name a few.
A tale of 5 Hangars
Moreover, established in 1977, the museum has dotted around the air field grounds is a collection of hangars. 5 of them in total to be exact. They saw use over the years of British aviation since the second world war and three hangars dating back to the First World War. The buildings here are of significance to British aviation history by English Heritage.
Today they are repurposed as both for display, conservation storage and repair use today. Hangar 1 was built in the 1980 and converted into a large AirSpace exhibition hall with 30 aircraft on display.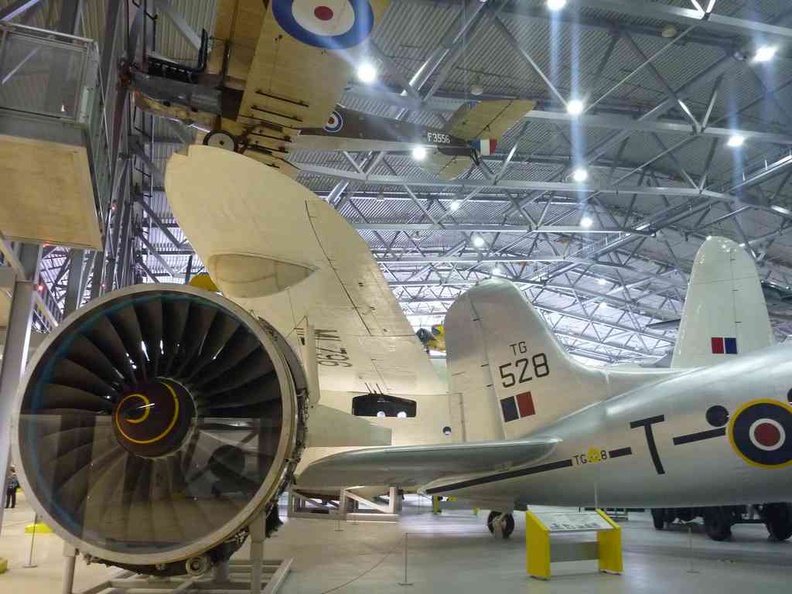 Here, you can find a curation of several European aircraft such as RAF Panavia Tornado and a Concorde G-AXDN as part of the Duxford Aviation Society British Airliner Collection.
Also found here are a couple of interactive educational installations exploring aeronautical engineering and the principles of flight. You can also find an entire jet engine here to learn about how planes fly. Modern military jet aircraft here include the Eurofighter Typhoon DA4.
Get on board a Concorde plane
Furthermore, Duxford Aviation Society prides itself to home one of the few intact Concorde planes right here in Duxford. These retired Mach 2 capable passenger jets are now confined to the history books.
Also, it marks end of supersonic jet-set. Also, this variant here is an experimental flight vehicle. Much of the passenger area refitted with house measurement and instrumentation equipment. Also, the Concorde is a lot smaller than it is in person. It has the width of a small regional jet with 2 by 2 seating and not exact first-class.
Moreover, you can pop in from one of the doors by the cockpit, do a walk through and exiting at the end. There is also an Olympus 593 (a true jet non-bypass jet engine) and an open engine bay for you to gawk about.
The place is stuffed-packed with planes including several hanging from the ceilings. Moreover, the AirSpace aircraft conservation area halls here are vast. You be spoilt for choice here with several historical planes, like a Spitfire too.
Exploring Britain's largest aviation museum
Moving from Hangar 1, Hangar 2 and 5 is a flying aircraft hanger, with the larger one sometimes out of bounds if active aircraft is moving in for storage or repairs. The smaller hanger 5 is a working workshop where you can see the conservation in action. This westernmost hangar, houses Duxford's aircraft conservation workshops.
Moreover, as the hangar is used as an upkeep workshop area and a place to educate visitors. Here, you can find mechanics and aviators working on restoring and maintaining classic jets, helicopters and propeller planes here. Notable aircraft here includes a B-17G Flying Fortress in 1978 (Sally-B) and Harrier VOTL jets.
In addition, moving on, Hangar 3 is home to a selection of Air and Sea vessels and naval aircraft. You can find a Westland Wasp helicopter from HMS endurance and a couple of aircraft carrier type folding winged planes such as the Sea Vixen, Sea Venom jets to a Fairey Gannet AS6.
Additionally, Hangar 4 is one dedicated to the Battle of Britain. This on-site exhibition covers the efforts of Britain's air defence during the Second World War to the Cold war, and in relation to the Battle of Britain. Here you can find a classic Blitz Bristol Fighter biplane with its Rolls Royce v12 Falcon III, and a German Messerschmitt Bf 109E.
Also, there are some minor attractions like Building 6 here at the Imperial War Museum Duxford. It is a 1940s Operations room which served in the war, as well as a couple of Prefab bungalows here.
Tanks in the Land Warfare Hall
Additionally, the Imperial War Museum's Land Warfare Hall and Royal Anglian Regiment museum is home to a collection of armoured vehicles, artillery and military light vehicles. This display of vehicles and tanks run chronologically from the First World War to the present day.
Notable finds in this section includes a collection of allied and captured enemy tanks. Examples include a Russian BMP-1 Infantry Fighting Vehicle and a Canadian-built allied Sherman tank.
Moreover, the displays are laid out in a rather dark and danky sheltered building. It was notably rather devoid of visitors during my visit. Still, it provides a good atmosphere to a beach landing and land warfare exhibit you can find and read about here too.
Also, do wear comfortable shoes as you could be literally on your feet the entire day exploring hangar to hangar. There is indeed much to see here at Duxford.
American section: Check out a Lockheed SR-71 Blackbird
Lastly, but definitely not least is another highlight item here in Duxford housing a Lockheed SR-71 Blackbird spy plane. These and several other American planes and helicopters are housed in Building 7. It sits on the far end concrete structure of the museum houses the American collection.
Interestingly, the building was tad quite empty of people during my visit. This is despite the building being a rather relatively modern installation sitting nearly 20 m tall and 100 square foot print with respect to the age of the establishment.
Back to the SR-71, these secretive planes can travel up to Mach 3 as reconnaissance jets. They flew sorties to photograph enemy terrain below without detection. Humorously, it's a potential source of "UFO" sightings in Area-51.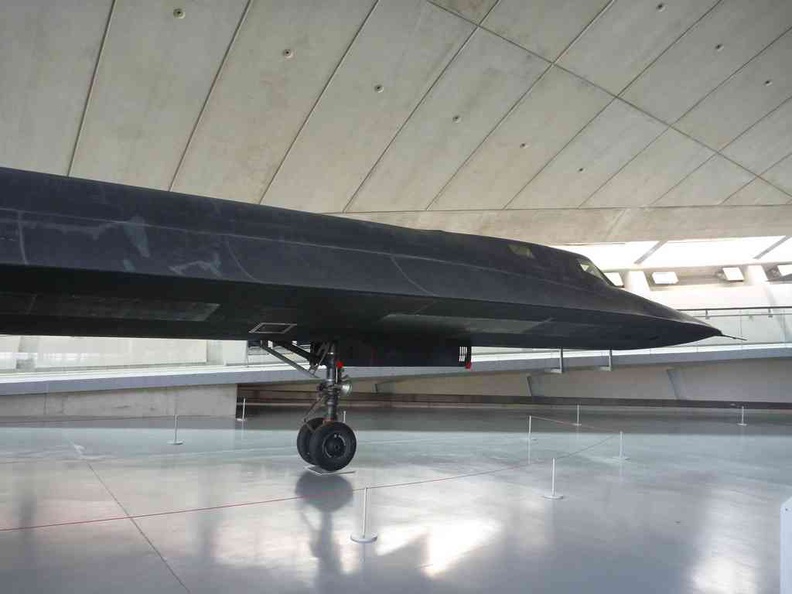 Also, this building is similarly jam-packed with aircraft from the ceiling to the floor. Aircraft of mention here includes a classic B-29 Superfortress (1980) named It's Hawg Wild, and a B-52 Stratofortress bomber from 1983.
All in all, you are good for an entire day here at the Imperial War Museum Duxford. This including the travel time up and back from the morning makes it good for an entire day out with aviation history.