Wild Olives Western at Pasir Ris Central Hawker Centre is a hipster western food store selling a good selection of western food at very affordable prices. For years, food Pasir Ris Town had been largely served by private coffee shops and food courts. Finally this year, the eastern neighborhood got its first government operated hawker centre. Let take a look at the new food joint as well as touch on the food served at the western food store after.
In a nutshell Pasir Ris Central Hawker Centre is one of the new "Atas" hawker centers which the Singapore government is looking to progressively Introduce as part of the new "hipster" hawker centers to encourage the younger generation to get into the hawker fare.
The store is located on the upper second floor of the new Hawker Centre. Moreover, it is not uncommon to see long queues snaking from the store front. On hind side, which it's long queues, that is one of the quickest ways to identify where the store is. With this, expect wait times to be about 30 minutes tops, especially during the lunch peak hours.
You place your order one (usually the left where the cashier is) and collect your order on the right serving counters where the cutlery boxes are. The queues are not as fast moving as I expected.
Wild and Olives? A throwback
So what is so interesting about Wild Olives which makes it one of the most popular dishes served at the new hawker center? The history is that Wild and Olives here is that same largely popular western food store which used to operate out of Changi Airport Terminal 2 staff canteen. It is the one which you can access via the cargo lifts in the carpark block. That was two years ago and now they are back again in the eastern Singapore region selling affordable western cuisine.
The Food Arsenal
You have a choice of 5 western-style mains. This comprises of one fish, two chicken, one pork and one beef (NZ Sirloin $10.90) options. The store was not serving Fish and Chips ($6.50), Grilled Norwegian Salmon ($9.90) and the Pork Cutlet ($5.90) dishes during my visit. The more sought-after staple dishes however were still on-sale during my visit.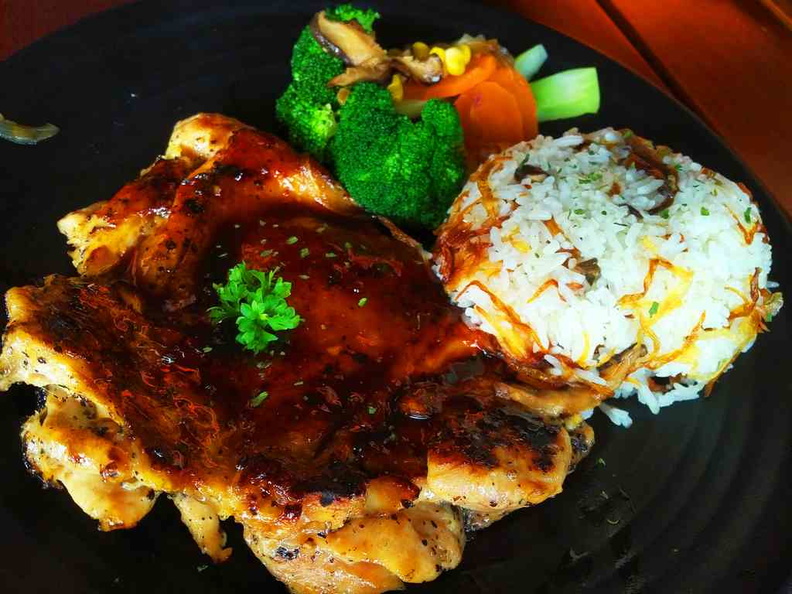 I will recommend their grilled chicken chop dish ($5.90). It is said to be their store-favorite and best seller. The chicken meat is grilled with soft and layered with lightly charred chicken skin. The meat is rather tender, juicy and well marinated with good flavor without being too overwhelming.
On other menu items, a notable choice will be the Grilled Catfish with Creamy dill sauce ($6.50). Their cat fish dish is tad bit of a mixed bag. The dish is prepared similarly to fish and chips. It has a fried crispy outer core and a somewhat soft and buttery inside. The insides are tad been too mushy to my liking. But I guess it is subjective. I particularly like my fish and chips with a crispy fried outer shell.
Moreover, in my visit, I found the pork chops however are tad too tough and dry to my liking. Though still much edible, it does not feel like a quality product. It feels like it was prepared and cooked from frozen. However, it is still priced similarly to their chicken chop at a reasonable $5.90 per plate It is OK for this food segment.
Leave a side for Sides and Sauces
Additionally, you have a selection of two sauce selections to go with your main. They are choice of Teriyaki Sauce or main stray Mushroom Sauce. Portion-wise is acceptable average. Wild Olives serves almost Collins and Aston sized portions (just slightly smaller) but at a price a third to even half of the price offered. It is really a bargain for what you get.
Each main course comes with a choice of two sides and a sauce. You have a choice 2 of 5 different sides to choose. This range from green sides like salads, vegetables (broccoli). For your carbohydrate fix, there is mushroom rice, herb potatoes, mashed potato, coleslaw or just regular straight cut fries. I recommend their vegetable choices, such as the broccoli which comes as an option. They are fresh, crunchy and well cooked. However, I found the mushroom rice was tad bit too oily with all the fried shallots infused into it.
Also, you can add a soup of the day for a dollar extra. They were serving mushroom soup when I was there. The soup is chunky, creamy and filled evenly with finely chopped mushroom bits. It is not a bad soup, though it could be improved with chunkier larger mushroom cuts like those from Soup Spoon. It does make the soup feel more satisfying with the soupy bits.
Pasta Selections
Additionally, on menu selections and complimentary to their western dishes is their rather extensive pasta selection. This makes up almost half of their dishes available. You get 12 pasta options available at the store. The range includes their best-selling Spaghetti Alle Vongole, Spaghetti Marinara with Seafood (Tomato sauce) and Fusilli di Bosco with Sausage.
The prices from these pasta dishes range from $4.80 to $5.70 depending on your choice of Pasta and toppings. On top of that, you also have Homemade meatballs in Marinara Sauce going for $5.80.
All in all, my dinning experience at Wild Olives is largely an enjoyable one. In the rather crowded western food segment, Wild Olives main selling point is of course their price point. And I am glad to report that Wild Olives does punch above it's weight in offerings for well priced food for the portions served.
Despite some shortcomings, it is hard to find areas to fault Wild Olives for the quality of food you get for the price. Notably, this is on top of a rather pleasant hawker environment to boot too. It just adds to the dining experience. If you are in the Pasir Ris Central region, it is definitely a good opportunity to try without burning a hole in your wallet.
Wild Olives Western Food
The Faregrounds
Unit #02-19
110 Pasir Ris Central, Singapore 519641
Open daily at two slots: 12– 3:30pm and 5– 9:30pm (with a break between).
Makan Place Locality Map