nomVnom vegan fast food is a small cozy vegetarian fast dining eatery in the basement of Central mall food court in Clark Quay, Singapore. They cater exclusively to the Vegan community with an entire meat-free menu. Lets see what's on offer.
Vegan burgers
On menu selections, their best seller burgers is their QQ cheezy ($9.90). This is followed by the NomNom burger and the King Mushroom Head. Burgers all costs a flat rate of $9.90, with extra sides such as salads and drinks costing extra in an ala-carte fashion. For instance, their Organic Rainbow salad can set you back $17.70.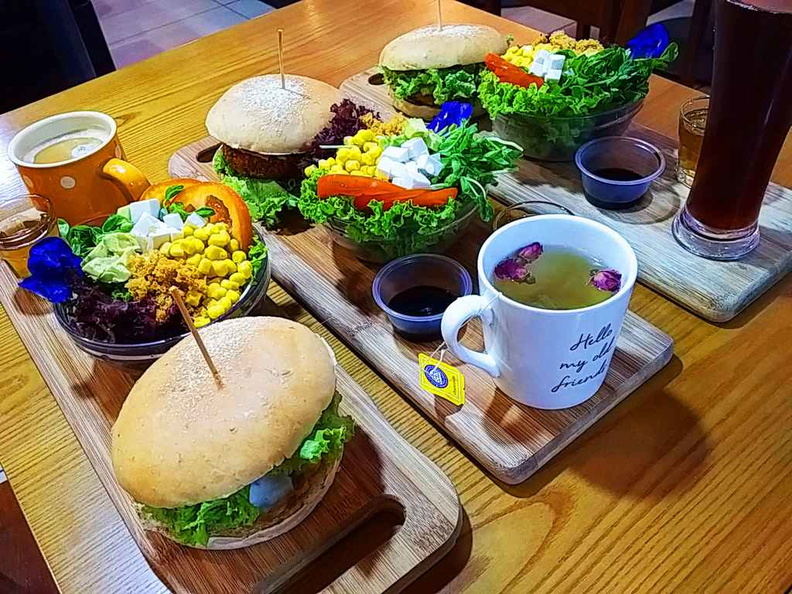 I found the burgers really small and flat. Also, the mock meat you get out of the burgers are not oily, but does not really have the mock texture of meat either.
Additionally, their fired variants like their Terrific light burger ($9.90) is one of the better selections as a distraction from the meat-less texture, so if you crave something more of a realistic meat-less alternative.
Also, their largest burger is their Mammoth truffle burger. It sets you back $12.90 per serving. It is a towering double stacked goodness. There are also several localised offerings, like Otah burger ($6.90) and Satay burger ($8.90). All are reasonably priced under $10.
Other menu items
Additional menu items includes 4 selections of pastas costing $10.90 each. There is also a selection of ice cream by the scoop ($4.50 for a single scoop, $7.90 for doubles and $10.,90 for a triple scoop).
Additionally, I found the burgers goes well with tea or coffee, though you can also order your meal with soft drinks or juices. Moreover, their Mugi Tea ($2.50) is served in a nice hot cup and is flavorful. Their Black coffee cost considerably more at $3.90. nomVnom drinks generally range from a modest $2.50 to $6.90 for their more premium cold pressed apple juices. The store also offers a selections of matcha lattes ($4.90) and smoothies ($5.90).
Service and staff was friendly. You order from a fast food style counter, but the staff will serve you in person at your table when your food is ready. Also, your burgers are served on long wooden platters. It comprises of 3 courses, starting first with your vegetarian burger, followed by a salad side and a drink of your choice.
All in all, with good pricing and location in town to boot, nomVnom vegan is not too bad an eatery to visit for your vegetarian fix, and with your vegetarian friends to dine with.
Verdict:
Must Go! | Actually pretty Good | Worth Trying | Shortlist Optionally | Should Avoid
nomVnom vegan fast food locality map
Clark quay central mall basement
Update, the store is now shifted to a new location in Central mall:
#03-105 106/107,
6 Eu Tong Sen Street #B1-44
Singapore 059817