Dining at Joji American Diner in Singapore offers a glimpse of authentic American dining in a retro-inspired setting. Let's take an evening dinner dine-in to experience their dinner menu. Located on Upper Serangoon Road, Joji presents itself as a 24-hour American diner, promising a truly American dining experience.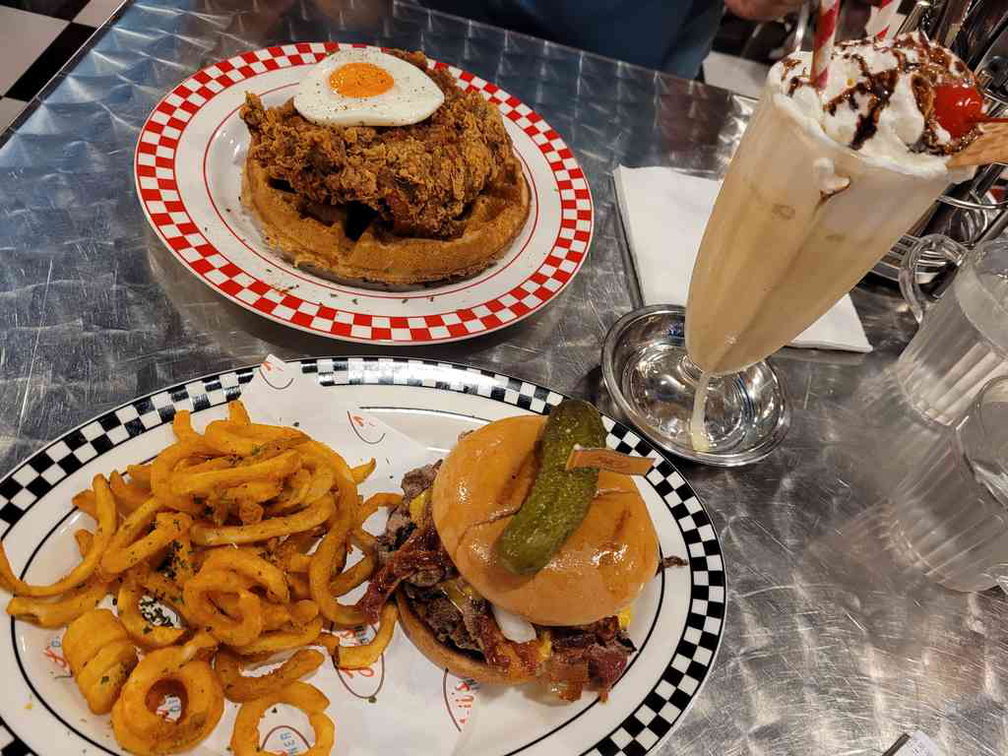 Upon entering the diner, I noticed that it exudes a nostalgic ambiance with its retro interior. The bright red and white striped trims on the seat benches and booths, as well as the lack of illustrations in the menus, reflect the typical design of American diners.
The staff, dressed in light blue buttoned shirts, maintained a professional appearance without the clichéd aprons, heavy mascara, and permed hair often associated with American diners.
An authentic-looking American diner
Joji Diner primarily revolves around classic American dishes, offering a variety of Southern fried chicken burgers, shakes, and hotdogs. Interestingly, even I find the menus pretty spot on in terms of the layout and excessive use of text with not much photos of illustrations for the food served.
Furthermore, the diner provides a mix of booth seating, accommodating groups of four and half-booth seating for two. The central area offers flexible movable tables with red chairs, providing ample dining space.
Also, to enhance the retro atmosphere, a disco ball hangs from the ceiling, and the walls are adorned with posters featuring the staff, old comic books (Archie and superhero comics), as well as American-styled posters and car number plates. A lone jukebox in a corner adds to the vintage vibe.
Try their waffles and breakfast plate
Moreover, one highly recommended dish is the Country Style South Fried Chicken in Waffles, priced at $13.90. The chicken is crispy on the outside and juicy on the inside, served on homemade buttery waffles with sides of sweet "maple" syrup.
Additionally, another signature item is Joji's "All-Star Plate" priced at $13.50. It's a hearty meal plate which, despite it's "big breakfast" aural can be consumed anytime of the day. The Joji's signature dish featuring sausages, scrambled eggs, toast, and baked beans.
Also, I recommend to pair your All Star plate with the optional $4.50 chicken chop add-on. The boneless chicken chop servings are large, grilled well with a thin layer of skin on one side. The chicken is incredibly juicy, tender and adds a delightful meaty juiciness to the meal.
Authentic American-style Burgers
For burger enthusiasts, Joji diner offers a range of options, including the Vegetarian Portobello Mushroom Burger ($10.90) and Fried Chicken "bird" Burger ($11.90). Also, their Smash Burger, priced at $14.50, is a standout choice.
Also, contrary to popular belief, authentic American diner burgers are often smaller and messier, packed with flavorful ingredients between the buns. Interestingly, Joji manages to replicate this "American burger" essence, bit like the burgers we had at in-N-out burgers in US. It delivers tad a culture shock for those accustomed to conventional fast-food burgers like McDonald's and Shake-shack.
If tidiness is your take, your burgers can be eaten European-style with utensils, or the American way- with hands. The beef patty is complemented by thin bacon strips, melted cheese, and onion slices, sandwiched between toasted buns.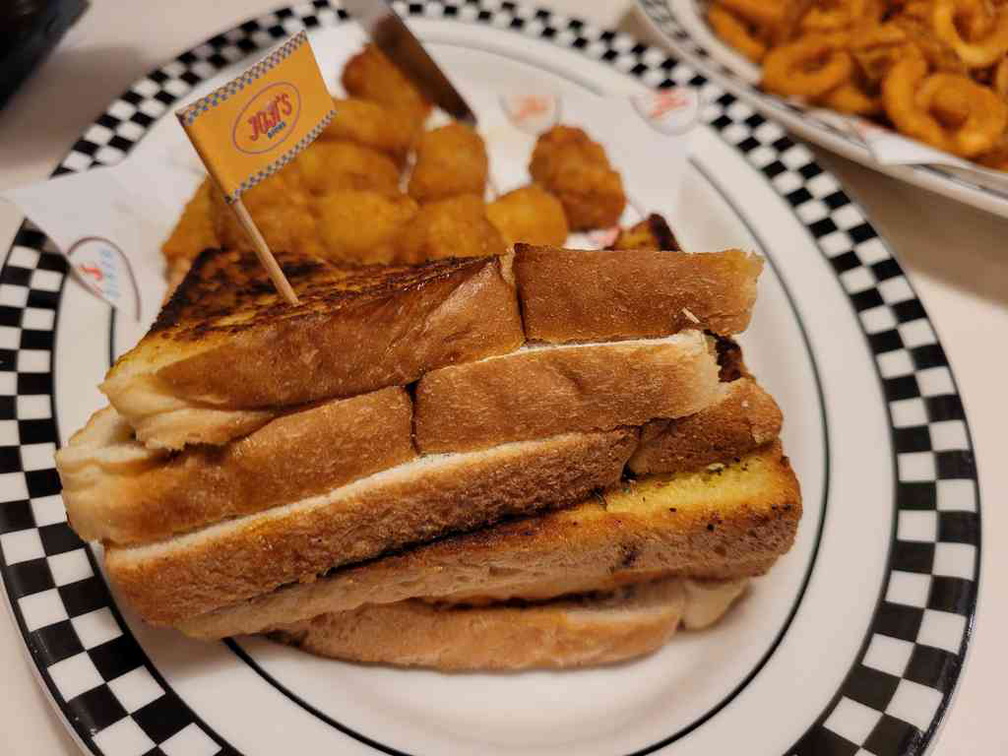 For lighter options, Joji offers the Grilled Cheese Sandwich ($8.90), topped with beef chili and accompanied by tater tots, a departure from their usual servings of fries. The bread is toasted crispy with a bite in them cut into halves held together by melted cheese.  Also, their Chili Dog with curly fries ($11.90) is reminiscent of the famous coney dog from American fast-food chain A&W.
Also, you do get generous heaps of fries to make it a rather filling meal, though in larger quantities, the fries were slightly dry and oily for my taste, though yours might differ.
So-so Milkeshakes
Of course, no American diner experience is complete without milkshakes, and Joji offers multiple flavors, with the chocolate, strawberry, and banana ($8.90) shakes being particularly recommended. However, I found the milkshakes to be slightly watery, lacking the thickness of the shakes we had at Fatburger or Black Tap Burgers at MBS. Also, the shake portions are decent, served in medium-sized sundae cups. A notable addition is the option to add a donut topping for an extra $1.90. Though it does not match the extravagance of the crazy Heart attack milkshakes from Fremont Las Vegas.
Joji American Diner reminds me of the early days of Denny's restaurants in Singapore, offering a 24-hour all-day breakfast menu. Remarkably, Joji operates 24/7, but on a couple of my visits, the restaurant does tends to get crowded during peak dinner times, with crowds largely tapering off into past 10pm.
Also, the staff are kind, helpful and are mindful of the wait times, with signs posted to manage customers' expectations. Despite visiting during a busy weeknight, I waited for about 15 minutes in line, although the turnover was relatively quick. The efficiency extends to the food preparation, with my mains arriving within 5-10 minutes of ordering.
In conclusion, Joji American Diner in Singapore provides a pleasant and authentic American dining experience. With its retro ambiance, classic American dishes, and 24-hour availability, it is a great option for a late-night supper or an enjoyable meal at any time of the day. Joji successfully captures the essence of a traditional American diner and offers a taste of nostalgia for diners seeking a slice of Americana in Singapore.
Verdict:
Must Go! | Actually pretty Good | Worth Trying | Shortlist Optionally | Should Avoid
Joji American diner Makan Place Locality Map
534 Upper Serangoon Road,
Singapore 534549
Open daily 24 hours