Colbar is a retro open air restaurant tucked in a rustic neighbourhood. They serve an old-school selection of Hainanense western food as well as Chinese zhi-char dishes. Let's check out what dining is like at Colbar restaurant at Whitchurch Road.
A Rustic setting
Colbar interior is a throwback to probably to how the place looked like in the early days. It is like you are being transported back into the olden days, an era long gone in Singapore.
An antique weighing scale sits at the entrance of the dining hall. An elderly auntie with silky white hair greets you when you enter, ready to take your order behind the counter. There is even a retro cathode ray TV sitting on the ordering counter which adds to the olden feel. Also the restaurant is pet friendly, animals are allowed indoors and there are water bowls outside if you need them.
Moreover, the establishment walls are decorated with old photos and cabinets full of memorabilia. Even the light fixtures, dining tables are recognizable as old school classroom tables. Even the toilet doors are classic aluminium doors locked in place by hooks.
Furthermore, there is no air-conditioning in Colbar. Most patrons will sit at the sheltered outdoor sitting. This area is also where the establishment smoking corner. Pets are welcomed into the establishment. There seem to be a resident feline sometimes seen roaming the restaurant. At times, you can see patrons with their dogs inside the restaurant.
Moreover, there is free open-air roadside parking or at a disused establishment across the road. Additionally, the sheltered exterior seating areas features a heritage wall original timber boards
A Colonial Past
Colbar has a long history as a food establishment, a 50 year history as a matter of fact. It opened in 1953. Colbar started out as a canteen for an army base serving base personnel. Interesting it was also an unofficial mess for the old British Army barracks located at their old address along Jalan Hang Jebat Street. An old address you might ask? Yes, the current spot at Whitchurch road is not where Colbar used to be.
There is a strong expat following at Colbar, with many staying at the nearby Wessex village square, managed by the Jurong town corporation.
It was also Football which brought the community together. In the 90s, expatriates will usually convene and chill at Colbar for beers after their football matches. You used to be able to see the football field along the AYE towards the Alexandra. Today it is just an open patch of state land having half of its field taken by the adjacent highway flyover.
The Big Move
Notably, due to an AYE off-ramp construction to cater for the incoming media avenue hub, Colbar did a major relocation about 15 years ago around end September 2003. Then, it was relocated from their old location nearby the AYE to Whitchurch Road, being rebuilt in exact detail.
Interesting, the old clay roof tiles, timber screens and doors from the old building were painstakingly transfered over with construction completed Feb 2004. The last I visited Colbar was almost just over 10 years ago before the move, and I say it does look like what it was before.
What on the Menu?
Colbar prides itself as a Hainanense cuisine establishment, serving western food and a variety of Chinese zhi-char dishes. Colbar menu choices range from $11 per main course, and going up to $28 for a steak. After trying a couple of dishes on multiple visits, I found their pork and lamb chops dishes are one of the better offerings around.
Additionally, legend has it that Colbar is famous for their liver and onions, pork and lamb chops. Moreover, each western main course is served with sides of potatoes wedges, mushrooms or beans. The wedges have a homely feel to them. As no single potato wedge on your plate is similar, you can tell that they were all individually hand-cut and fried, just like how it is traditionally done. A neat touch indeed.
Furthermore, Chinese-style zi-char offerings includes fried rice, horfun and sweet and sour pork dishes. Moreover, Colbar also offers breakfast toasts, as well as curry dishes.
The old timers who used to prepare the dishes now manages the outlet with a young batch of kitchen staff seen working in the kitchens tucked behind the ordering counter.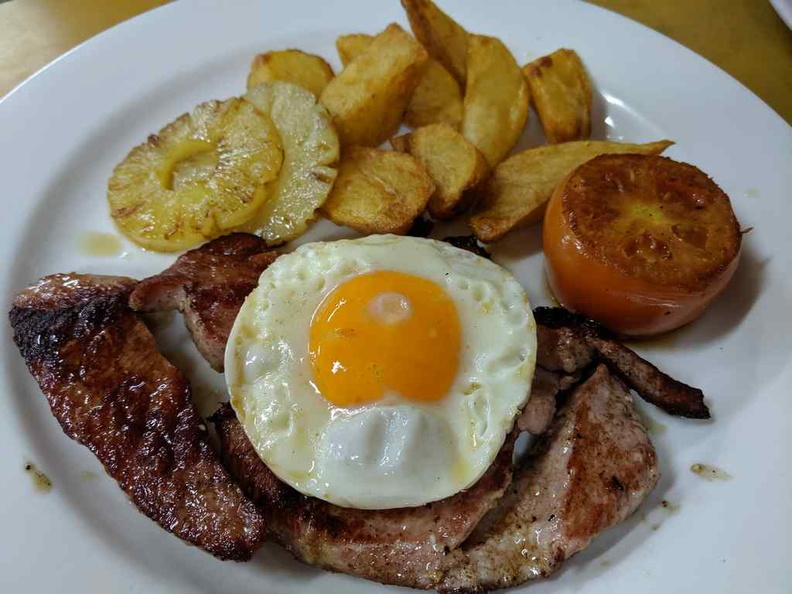 Furthermore, on drinks, a recommendation is their homemade milkshakes from $5.50 per cup. You have a choice of chocolate, strawberry and Oreo shakes. Also, a Col-bar is no bar with beers. Colbar offers a selection of well-priced local and craft beers from the chillers. They are situated by the front counter which you can choose and take your pick of drinks.
Large variety, but tad pricey
However, one gripe is the sub-par food quality and the high price point to the competition. I found the grilled chicken cooked tad too dry. Additionally, their beef steaks are rather tough and feel like cooked from frozen. Their homemade sauces are flavourful, but quite tad bland and dated and due for an update.
Notably, their prices are priced above average. Also, I found it hard for their zi-char dishes to deliver on the quality offered for the price point, particularly what you get from your typical cofeeshop zi-zhar store, but $8 for a horfun is definitely on the pricey side.
However, I found their western chicken leg portions is tad small and quite lacking in quality for the price. I can see it being adequate back in the day when western food choices are a few. But today, it is hard to give Colbar a strong recommendation for their western offerings with steep competition at the same price point. If their main courses are under $7-8, that might be the sweet spot.
Competing alternatives
If portions are what you are going for, you can get twice larger portions for the same money from Tanglin Halt Chef Western. There, $11 gets you double servings of mains. Even Astons and Collins offer better selections at a cheaper price point. Additionally, Wow wow west at ABC market we visited sometime back is able to offer a similar western steak set at less than half the price at better quality.
All in all, my visits to Colbar is mostly an enjoyable experience. However in the light of a highly competitive western food scene, it is difficult for Colbar to stand out today. If they were to stick into what had always been "tried and tested". However, if the rustic ambience is what you are going for, there is no one such other place in Singapore offering such an experience beside Colbar to chill with a drink or beer away from the buzz of town. Probably good for a meal out, though you should be selective on the food.
Verdict:
Must Go! | Worth Trying | Shortlist Optionally | Should Avoid
Colbar restaurant at Whitchurch Road
9A Whitchurch Rd, Singapore 138839
Opening Hours daily: 11:30am–8:30pm
Closed on Mondays.