Bruxie fried chicken is a southern chicken and waffle fast food restaurant which operates in America. They are known for cheap affordable and rather filling meals when paired with their waffles. Let's check them out at their branch in Las Vegas.
Additionally, this branch of Bruxie I am looking at is located on the exterior of the New York New York Hotel and Casino along the Las Vegas strips in Nevada USA. With their own entrances, they operate independently from the main building opening hours in front of a park. Interestingly, Bruxie is relatively new to the dining scene. Their first store started out in California on 2010 as a patio stand in Orange County.
Try their chicken waffles
Additionally, Bruxie touts themselves as the home of the chicken waffle sandwich. It strikes a bell as a more affordable option to the Yardbird southern chicken which we visited at Marina Bay Sands awhile back.
Recommendations at Bruxie will be their fried chicken, though there are bun and waffle sandwiches available on their menus. Essentially they are permutations of their popular fried southern-style chicken. The fried chicken to go for here are boneless, covered in breaded batter. Meals costs about $12 USD (about $16 SGD) a pop.
Moreover, Bruxie pride themselves in serving in offering natural and hormone-free chicken. Nothing is pre-made. Even, their self-help sauces and dressings on the counter are all self-made every day right in their kitchens.
Notably, the quality of the chicken you get varies by the time of the day. Do come just before meal times for the freshest of the chicken. Generally the chicken breasts are full, juicy and are marinated well in buttermilk. However, they are oily in typical American fast food fanfare and are best washed down with a float shake.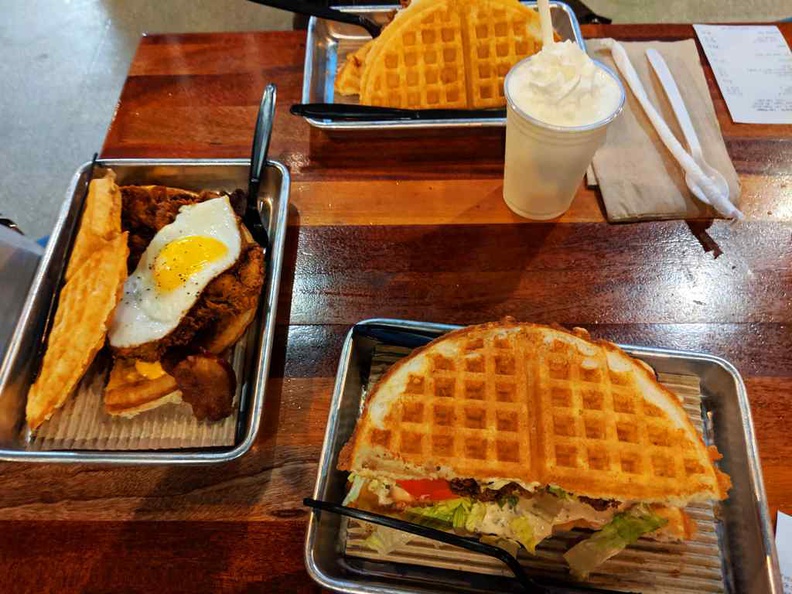 Also, try to avoid dining late, as the place closes at midnight. Chicken quality tends to deteriorate toward the end of the day. Expect smaller portions of chicken meat and dry batter (especially on the fried edges) nearing to closing.
Best doused with Maple syrup
Furthermore, their waffles are baked fresh throughout the day. They are crispy and strangely are paired well with an eccentric potpourri of salad and seasoning spices. Also. their chicken waffles are typically served with shredded vegetables lettuce, tomato, pickles and their Bruxie sauce. Additionally, their original seasoned, Bruxie Waffles are best doused with generous servings of butter and pure Vermont Maple syrup.
Furthermore, on my visit, the store was never crowded with ample air-conditioned indoor seating shielding you from the outdoor desert heat. Patrons come and go quickly and it is generally pretty chill. In addition, selections includes The Original. It is their trademarked seasoned breast topped with Chili Honey and Cider Slaw. Additional variants includes Holy Chicken! and their Crispy Chicken.
Also, their Holy Chicken comprises of their maple-glazed chicken, topped with Applewood Smoked Bacon, melted Cheddar Cheese, Sriracha Sauce and Sunny-Side up Egg packed between two crispy waffles like a burger sandwich. Your waffles are best paired with shakes. I had an ice cream float which makes for a rather filling meal indeed.
Moreover, if you demand to have the chicken on its own, you are well covered too. On the menu too are Chicken Tenders by the servings up to a dozen for sharing.
All in all, Bruxie fried chicken is a cool place for chicken waffles and probably one of the affordable offerings around especially if you are on a budget. It is definitely a thing to try for its unique novelty. However, it is not overly fantastic which I would see myself rushing out for. Nonetheless, it is still a good addition to try as fast food choices at your disposal.
Verdict:
Must Go! | Worth Trying | Shortlist Optionally | Should Avoid
Bruxie fried chicken Las Vegas
3782 S Las Vegas Blvd,
Las Vegas,
NV 89109, United States
Opening hours daily: 8:30am- 12:00am