Tucked on the third floor in Changi Airport Terminal 2 (T2) is the Japanese SORA Gourmet Food Hall. It is tad synonymous to the Market place "Marche style" eating outlets. The food hall opened just recently late 2017 at the public area of the airport Terminal.
I got about trying out what this place has to offer after receiving a recommendation on the place. The outlet pretty much spans half of Terminal 2 third floor on the right hand side of the terminal above the departure floor. You can see it when entering from the front departures glass door entrance. On hindside, I won't exactly call the place a restaurant, but rather an open concept dining food court outlet.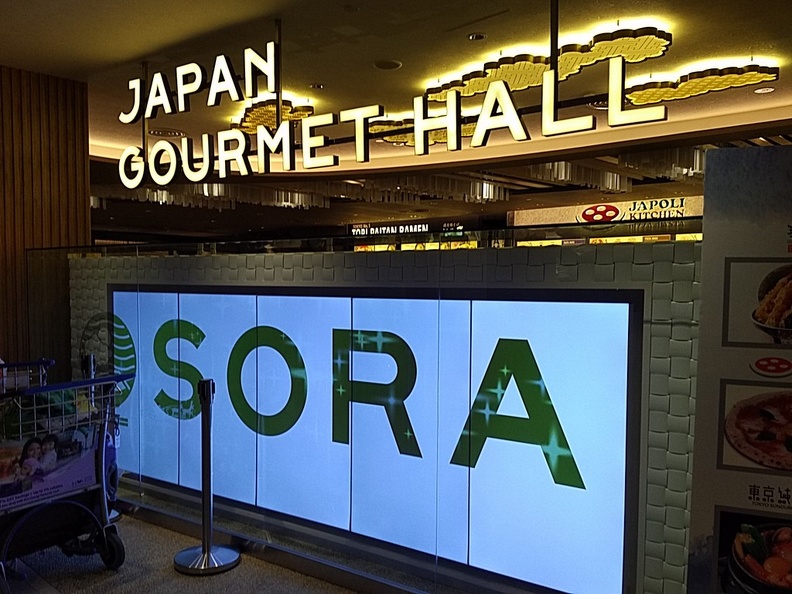 RFID payment tag
Upon entering, you will be issued an RFID payment tag. This tag is given to each patron and used to store all your orders for your visit. Each store cashier on purchase registers your order on it. Thereafter, you pay the sum stored on your card at the cashier checkout when done.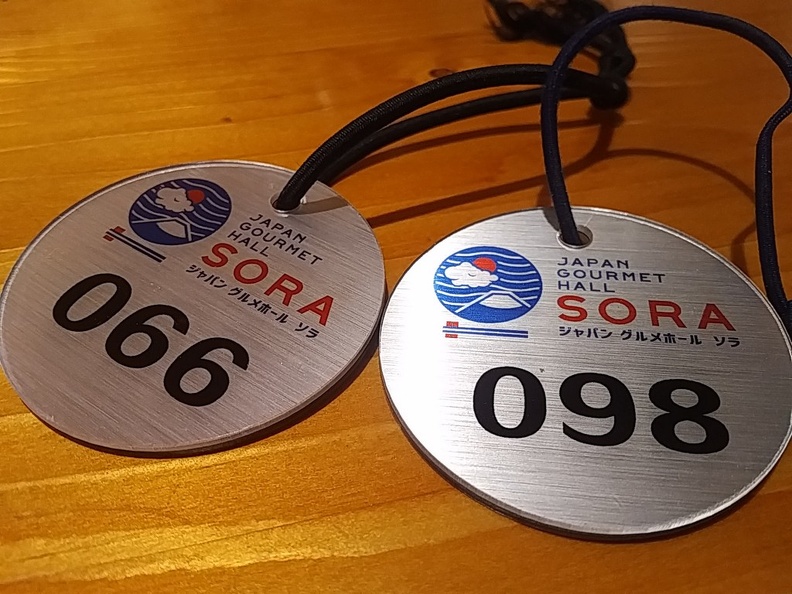 You are free to enter and exit the outlet with the tag. Just make sure not to lose the payment tag given to you! Strangely, toilets are not located within the outlet. Rather, the nearest washroom being an escalator ride one floor down, so it won't be convenient for guest on wheelchairs.
Stores in the Gourmet Hall
SORA Japan Gourmet Hall prides itself to offer a taste of Japan through a variety of theme-specific stalls. Each of the six food stalls in the outlet here offers unique food offerings. Each of the stalls specializes in each of their Japanese food fare. The outlet was brought into Singapore by the trading Air Nippon airways (ANA) and locally-based Kormas Group.
Furthermore, the 300-seat food court is laid out like an open food court concept. The Gourmet Hall offers a mix of traditional chair/table seating, traditional tatami mat style seating and bar-seat dining at the SORA drinks bar. You will be allocated a table by staff on busy hours.
Now lets check out what the food stores have to offer.
Tendon Kohaku Tempura
The Tendon Kohaku Tempura is noticeably the most popular store in the entire food hall. Long queues can be seen snaking in front this stall throughout the day. The store serves only two dishes. Tendon Kohaku and a Vegetable Kohaku. Each variant can be served as original or a Singaporean catered "spicy variant". The Tendon is served with a variety of items. Moreover, you get a total of about 10 tempura fried items packed over a bowl of Japanese sticky rice. The assortment of fried items here includes two pieces of Tempura prawns, two piece of chicken, long beans, Brinjals and sweet potatoes.
Here, I will recommend their Kohaku Tendo which includes chicken tempura along with prawn, seafood and vegetables tempura. In Tendon style, the fried items are served over a bed of sticky rice and pre-laced with tempura sauce. A bowl here costs $17.50.
Don and soup dishes- Kuro Maguro and Tokyo Sundubu
Moreover, if you desire your fix of Fresh Sashimi and Charashi, Kuro Maguro is the Sashimi and Charashi store. The stall serves a variety of Baracharashi dons, all fresh from the catch of the day. Additionally, the stall serves donburi or Japanese rice bowls topped with fresh fish.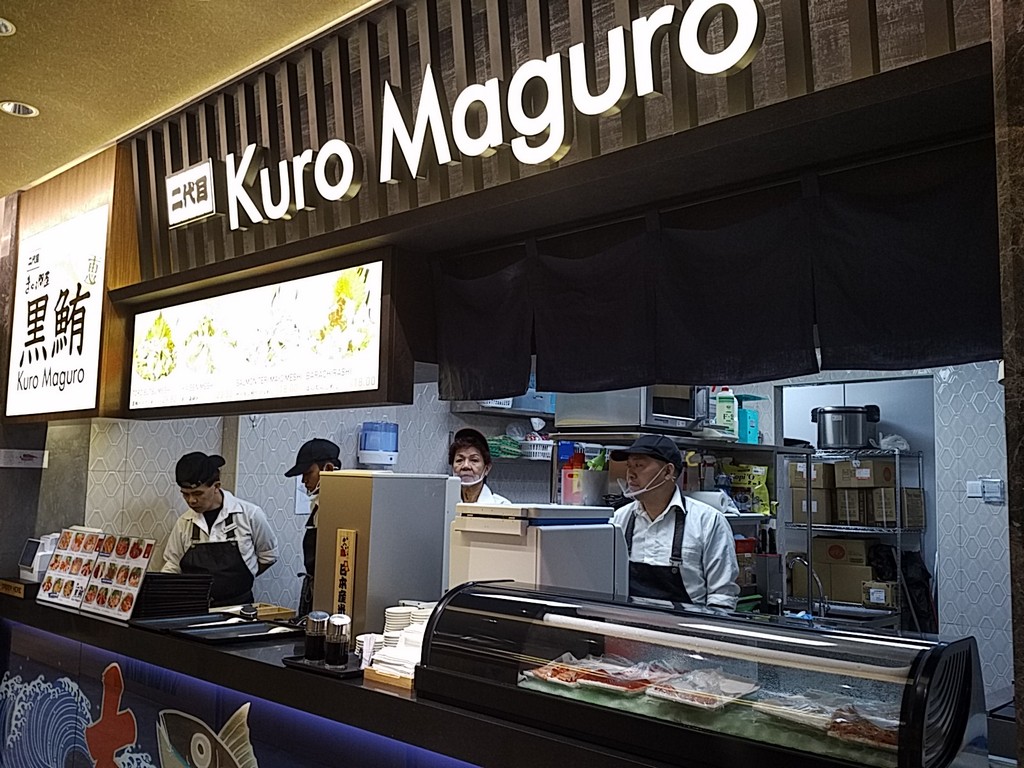 Kuro Maguro here is translated into "bluefin tuna". Their range of Dons here cost up to $20 a bowl, a reasonable market rate in similar Japanese sit-in restaurants.
Furthermore, if you desire a soupier dish, Tokyo Sundubu Express offers a selection of Korean-style Sundubu. This Tokyo style dish is very similar to the Korean delicacy. It is served in a thick rich stew broth and a bowl of rice. The dish is suited for Singapore tastes.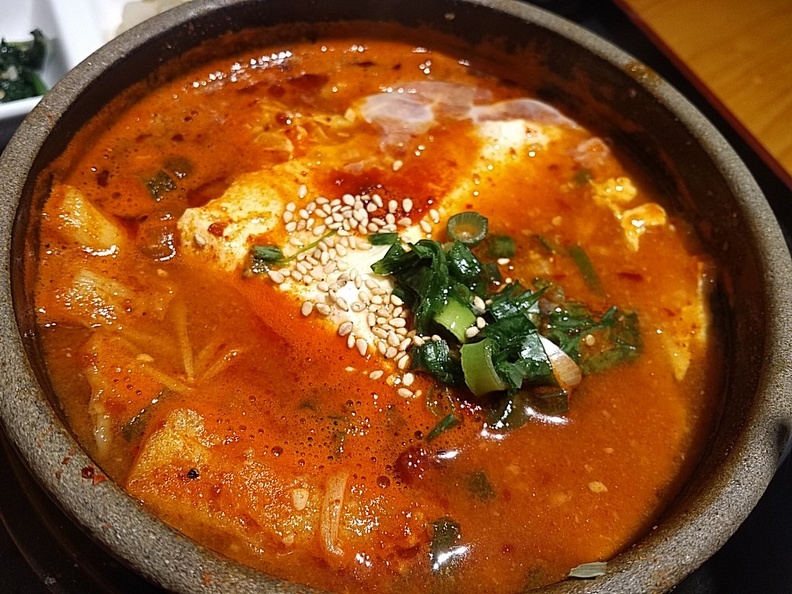 Noodles at Menya Takeichi and Tsuruhashi Fugetsu
In addition to your noodle fix, Sora prides itself in bringing the Menya Takeichi ramen chain into Singapore. It is one of Tokyo's top chicken (Tori Paitan) Ramen chains. It offers authentic ramen with a chicken-based broth. On choices, their ramen is best eaten with their special Rich Shoyu Ramen. Also, the ramen spots a thick and tasty chicken broth, served with Al Dente ramen noodles, and topped with a Japanese soft egg.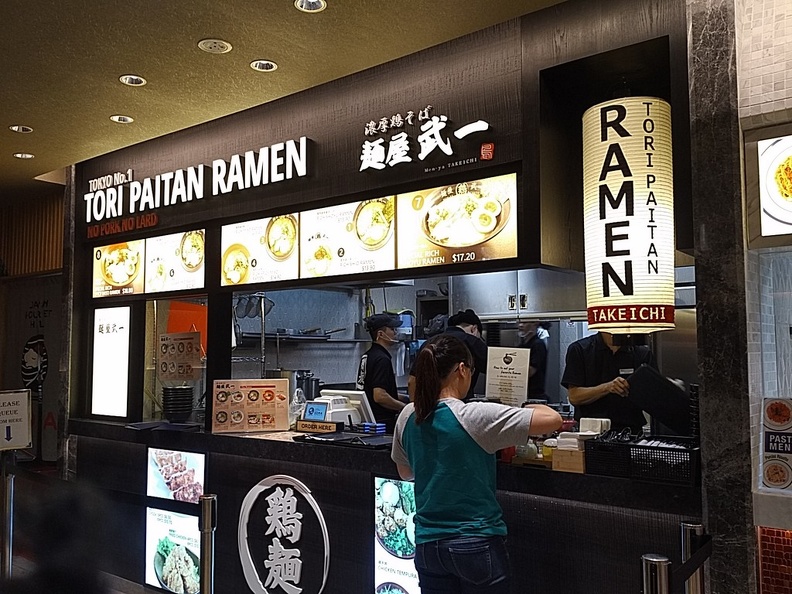 Furthermore, if you desire Asian-style fried hotplate dishes, Tsuruhashi Fugetsu is there to satisfy your tastes with a more traditional Asian flavor. The stall is renowned for their pan fried Yakisoba ($19), or Okonomiyaki. Notably, it is the Modan type of Okonomiyaki containing Yakisoba (fired Soba noodles) served as a noodle pancake. Moreover, this savory Japanese pancake also mixed wholesomely with cabbage, battered meat and seafood.
Italian fusion at Japoli Kitchen
Fusion foods are the craze these days and Japoli kitchen aims to serve up to that with a menu of Italian food with a Japanese twist. The selection here includes an assortment of pasta mains, as well as a pizza menu.
Pasta offerings includes Porcini Mushroom Risotto ($14) and Bolognese Pasta ($14). Here, they are cooked Al dente served with heaps of accompanying sauces. Moreover, the pizza is excellent to be served and eaten as a side. Their thin pizzas range touts a premium selection of oven-baked hand-pulled dough which is imported fresh. This gives the pizza a more bread-like texture yet thin and crispy. The selection includes Mentaiko Pasta, Truffle Mushroom Pizza and Teriyaki Chicken Pizza, all at $15 each.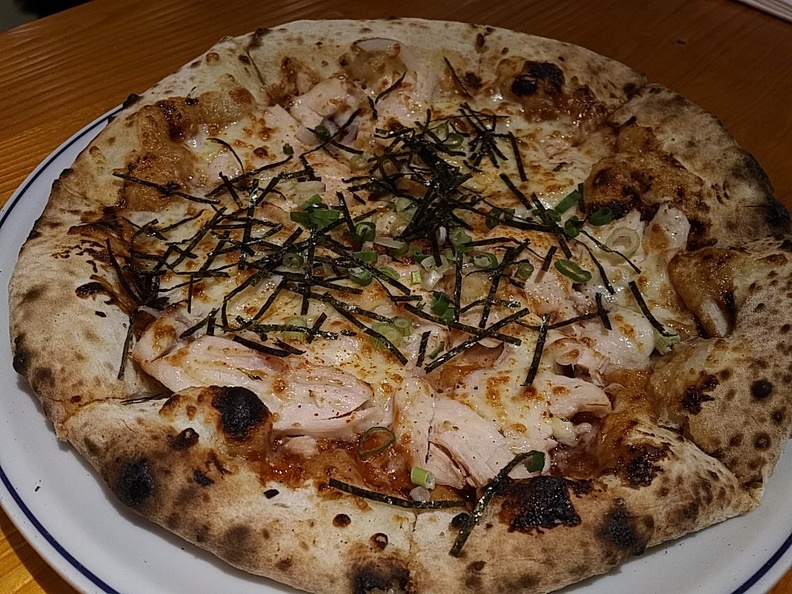 In all, there are plenty of good food serving at SORA. The gourmet hall at Changi Airport T2's is open till late daily. Worth checking out when you are in the east.
SORA Japan Gourmet Food Hall
Singapore Changi Airport Terminal 2 Level 3.
60 Airport Boulevard #036-058/059
Open Daily 10.30am to 11pm
Makan Place Locality Map