Burger and Lobster is a casual British fine dining restaurant serving premium burgers and lobster. The chill establishment is tucked on the upper top floor of the Changi Jewel mall.
Originating form Mayfair, London, and as the name of the establishment suggest, Burger and Lobster serves a selection of gourmet hand-crafted American-style burgers, as well as an expert in premium lobsters to go on a platter or as a roll. Burger and Lobster Singapore officially opened May 19, with initial operational hours from 9am to 3am daily (now revised to a 11pm daily closing time).
Also, notably, the rooftop of the Jewel mall is home to the attraction's canopy park and a couple of F&B outlets. The top floor environment is open and chill, with plenty of greenery up here.
Burger Choices
Furthermore, Burger and Lobster Burger menu selections are simple. Besides fresh lobsters, there are only three options available for burgers and rolls. First off, we have the Mayfair Burger ($25). It comprises of grilled Nebraskan beef patty with homemade pickles, onion, tomato topped with their signature burger sauce. These are sandwiched between two lightly toasted sesame-seeded brioche burger buns and stuffed with crunchy iceberg lettuce.
The quality of the burgers are good. The patties have a good texture and tasteful without being too drippy or oily. Notable, this is a trademark of hand-made beef patties. Also, their burgers are neatly and tidily stacked in compact packages.
However, I found the portions tad small for my liking. Additionally, if you demand a bit more of a spicy Asian flair, the Hot one ($25) is a spicy version of the Mayfair. It has hot pickles instead of regular pickles, and spicy mayo fire sauce instead of their signature burger sauce.
Meatless burgers
Lastly, on their burger lineup, we have impossible burger is a take on the meat-less burger craze with vege-based patties tasting and having the texture of real meat. Here, you get a pumpkin brioche bun with guacamole, crunchy kale, lettuce, tomato cheese, onion and red pepper coulis. You might remember the last time I talked about one of the first Impossible burgers available in Singapore at Fat Papas. Here at Burger and Lobster, it is served standard with sweet potato fries and house salad.
Moreover, the impossible burger, with its real looking meat patty feels like real meat, but without the fat or oiliness associated with real meat. It comes topped with melted cheese with a rather interesting bun laced with large pumpkin seeds.
To top it up, each burger is served with straight-cut thick fries and fresh house salad. You have a selection of standard ketchup and chilli sauce to go with them. No fancy sauce options here, like the ones we rejoiced at the HANS IM GLÜCK Burgers Vivocity or Berg's special sauces.
Also, each of their burgers are priced at $25 each, excluding tax and service charges. You have the option to add cheese and bacon for an additional $1.50. Pricing is reasonable but priced above average of typical gourmet burger shacks. You get free flow of water, there is also a bar with bar seating serving mock tails.
Try their lobster rolls.
Do try their Lobster Roll at $40, you get chunks of fresh chilled lobster meat. It is tossed in Japanese mayo and topped with chives in Burger and Lobster's own signature toasted brioche roll. Also, the rolls are firm and well toasted crispy. The lobster here is the same fresh quality you get as that order al-la-carte, served in a more convenient bun.
Though each roll costs a rather steep $40 for a small breaded roll, which was tad small to my liking, but made up for it with the really tender and fresh lobster meat. It goes well with their Japanese mayo mix without overwhelming the taste of the lobster.
Really fresh lobsters
The other half of what the restaurant can offer are servings of their Live Canadian lobster ($65) steamed or grilled with a choice of clarified butter. Additionally, you have a choice to pair your seafood offerings with their famous lemon and garlic butter. Also, each Lobster is served with fries and house salad, completing it as a meal. Unlike the Lobster roll, you can really taste the crunchy tender lobster flesh itself without it mixed with Japanese mayo.
On top of their Original Lobster, you can also try their Jewel exclusive sambal-glazed lobster at $65. It is essentially the same dish prepared with different seasoning offerings catered to our Asian tastes here. However, I tend to prefer them grilled as they have the best offerings of taste and consistency.
Get a Lobster Combo for sharing
In addition, if you are in a group, you can consider Burger and Lobster Original Combo. This discounted $115 set grants you two burgers from their menu, one lobster, one portion of fries and a dessert tart. The best part of the lobsters are the claws, and they are huge!
To top it up, you also have one house salad and two stay sober Mocktail. Burger and Lobster recommends having a minimum 2 people to finish this lobster meal combo. If you do not wish to get your hands dirty and wish to try their lobster, the Lobster roll is the best way to go.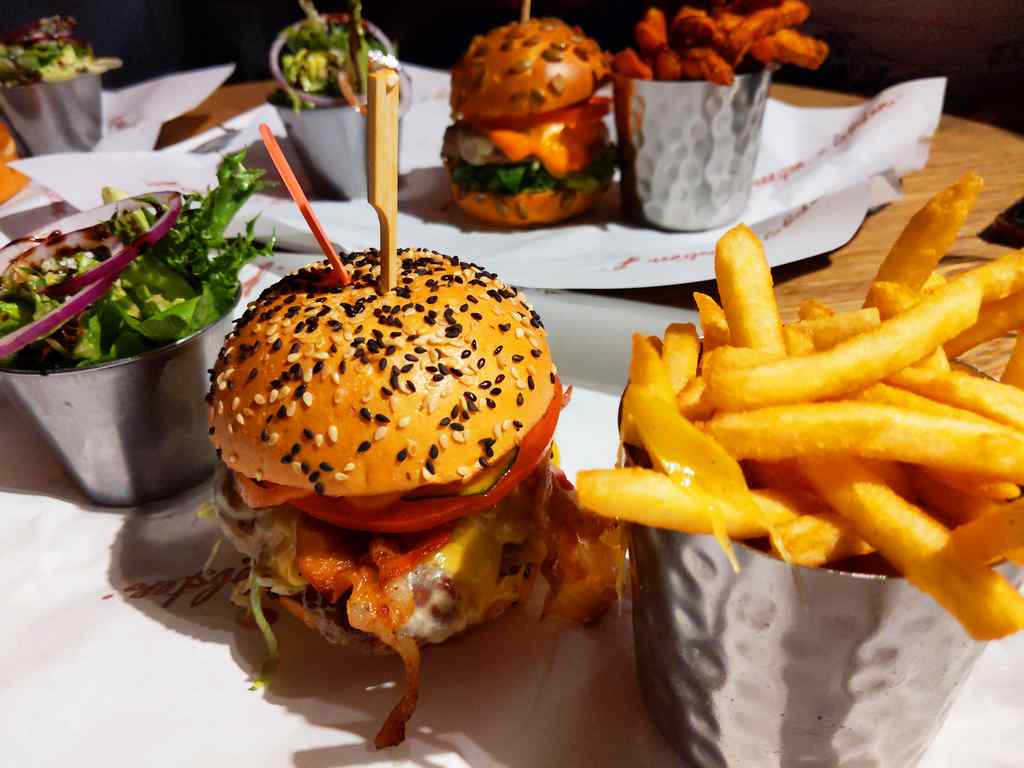 All in all, Burger and Lobster is actually pretty good in their offerings, for both quality, service despite their small menu offerings and food quantities. Their tad tiny burgers aside, the complete package with a great pub ambience on the roof top to boot does make it an establishment difficult not to recommend for a meal when you are in Changi Airport.
Verdict:
Must Go! | Actually pretty Good | Worth Trying | Shortlist Optionally | Should Avoid
Burger and Lobster Locality Map
Airport Boulevard, 78
Singapore Changi Jewel, Units #05-203 Jewel,
Singapore 819663
Opening Hours daily: 11:00-11:00pm