Goro Goro Korean BBQ and Steamboat buffet joint is an all you can eat Korean buffet place. Located at The Centrepoint mall in the heart of Orchard road. It is tucked on the new wing on the 4th floor of the shopping center offering the buffet in a casual dining fashion. Let's check out Goro Goro today with a buffet dine-in!
A Monster wonderland?
The first thing which catches your eye is the myriad of adorable monster cartoon theming which dots the glass walls, as well as the interior walls of the restaurant. These comprises of tall, round and square-ish shaped monster presumably depicting and representing the food offered.
Notably, the restaurant is sizably large, with lots of booth seating. But the place is otherwise rather cramped as the restaurant does have quite a lot of seats to go around. Notably, the restaurant is situated near Kim Dae Mun, another Korean food place we visited previously.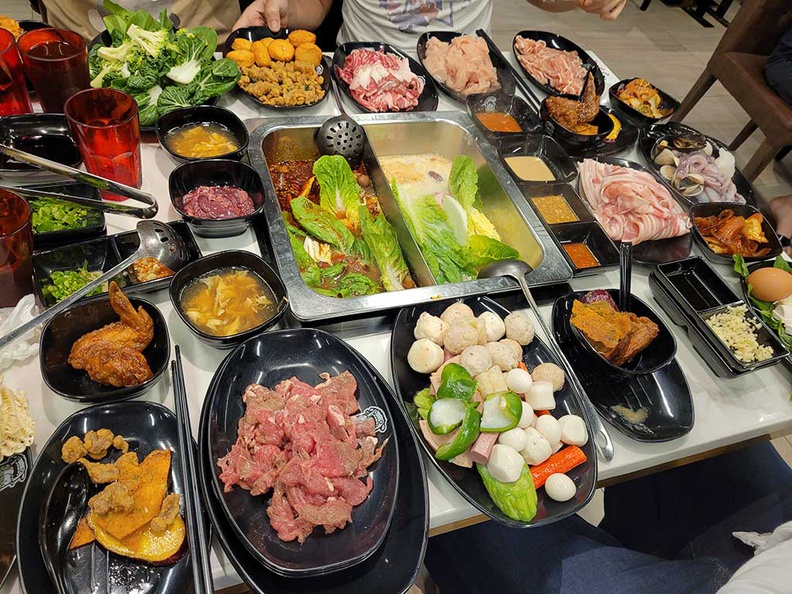 Meats, vegetables, seafood
Moreover, the buffet offerings are split into distinctive sections, meat, vegetarian, seafood and cooked food options. Also, the food are laid out in a logical manner. The food counters located at the center of the restaurant, where all the tables can convene.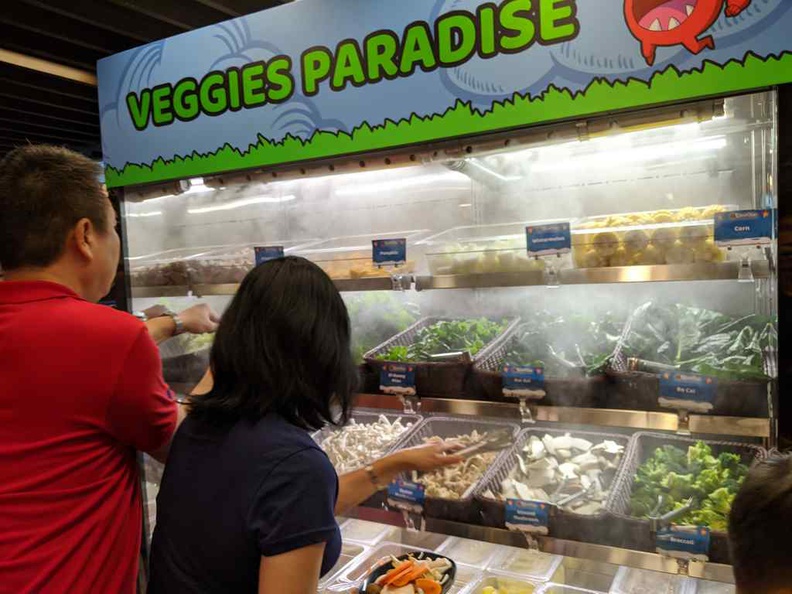 Vegetables are served in open chillers offering a rather great selection of leafy vegetables, broccoli and mushrooms. I was impressed particularly by their mushroom selections, with Japanese, shitake, and straw mushrooms to name afew.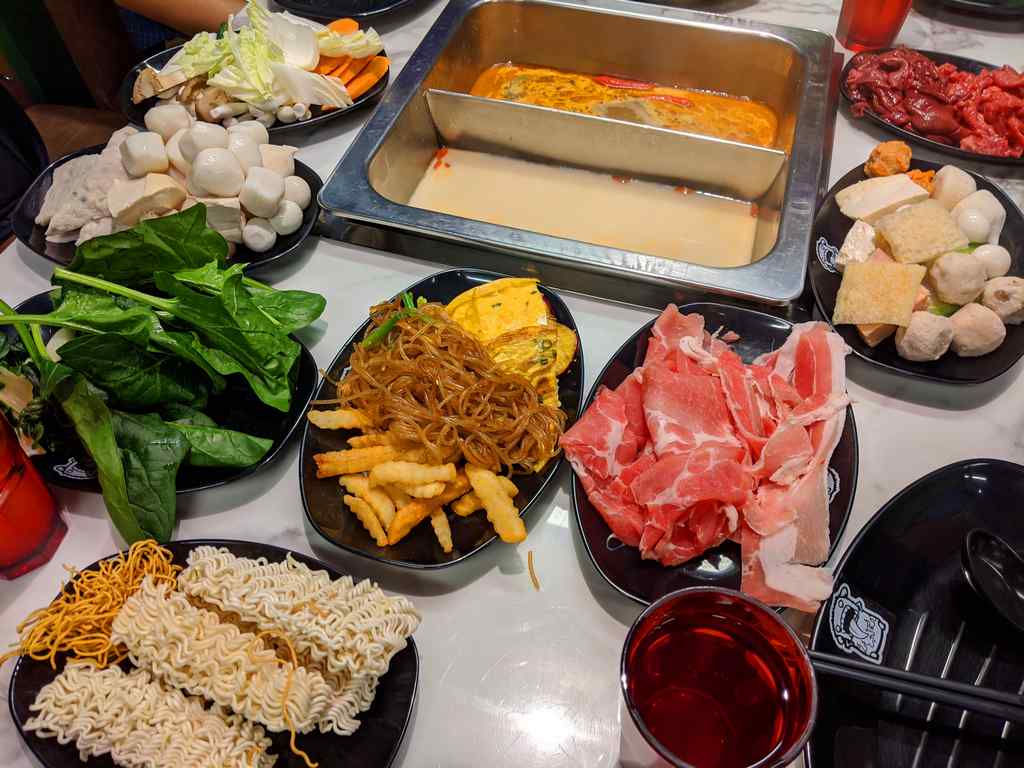 However, the seafood section was tad a let-down in selections. You only get small bowls of fishcake, crab sticks, squid cake and Tau Kwa. But this was made up with the meat selection, which is the staple of any Korean BBQ. Here you get heaps of choices of marinated beef, chicken and pork. Recommendations includes their pork belly, which when cooked has the consistency of chewy bacon. It is a joy.
Also, the beef slices are thin and perfect. Notably, all meat selections are that of frozen, with some of them still stuck frozen at the bottom of the meat pile when picking your food. Also, I would also recommend their Marinated beef and Chicken breast fillet. They are quite rather sizable servings and are of pretty good quality.
Topping up the meat offerings are buckets of Fishballs, Yong tau foo pieces as well as in pure Korean fashion, army style Luncheon meat.
Cooked food
Lastly, if you like to take a break from cooking, there is a small selection of cooked food fillers. Selections includes mostly rice staples, such as noodles (bee hoon) and rice, as well as fried foods, such as fries, tapioca and fired chicken (a crowd favourite).
Additionally, there is also a sector just devoted to dessert fruits and sauces, where you can build your own BBQ sauce bowl with the assortment of spices, chopped chillies, garlic and spices available on-counter.
All in all, I found you do get a lot of value for the food offered here at Goro Goro, Lunch is priced under $20 per pax which dinner is priced at $32++ per adult. The weekday prices are reminiscent of the budget Korean BBQ, such as Seoul garden during my growing up years. There is definitely more market options today. The food is not spectacular, but hits the sweet spot right for the balance of quality to price.
In conclusion, Goro Goro Steamboat & Korean Buffet you be rested assured to leave the establishment weighing a lot more (and much loaded) than before you came in, in a good way too, and without breaking the bank.
Verdict:
Must Go! | Actually pretty Good | Worth Trying | Shortlist Optionally | Should Avoid
Goro Goro Korean BBQ Locality Map
GoroGoro Steamboat & Korean Buffet @ The Centrepoint
The Centrepoint mall
176 Orchard Rd, #03-43 The Centrepoint, Singapore 238843
Opening hours 11.30am- 3pm, 5pm- 10.30pm.
(Buffet counter closes at 2.30pm & 10.00pm respectively)