Lets dine-in at Daessiksin Korean BBQ today with a lunchtime Buffet. The Korean food outlet is tucked in its own area by in Orchard Gateway shopping complex. Notably it is situated away from the 8th floor food street where Kiseki buffet is, and near the orchard emerald crossing bridge.
Inside, you find booth tables seating good for groups. It is at its core a Korean table BBQ place. It might bear some resemblance to the Gogi hotpot place we visited previously at Alexandra Mall, only that it is a Korean buffet this time round.
Moreover, each table has its own individual smoke exhaust pope which aids in removing most of the smoke from the grill. Though, it does not make your clothes smell any fresher after your meal.
Try their pork strips
In addition, food selections are aplenty. The food counters are lined off the patron seating area. These common buffet counters offers self-help rows of fresh meats and vegetables. Recommendations includes their seasoned beef prepared Korean style as well as their pork belly best cooked as bacon strips.
Furthermore, each table grill has their own independent electric cooker, which you can control with ease at a panel beside the grill with intuitive controls. Also, the meat slices are nicely sliced in small portions to fit on the grill and for sharing. If need be scissors are available to cut them down to more manageable bites.
Simple but effective value Korean BBQ
Additionally, I would recommend a mix of vegetables to go with your Korean BBQ or it can get tad bit too rich with too much grilled meat. Also, seasoning your meats with onions on-grill is a great way to infuse additional flavours into your meats. Also, you can consider eating your grilled meats wrapped in lettuce leaves too- Korean style. It adds colour and variety into your meal.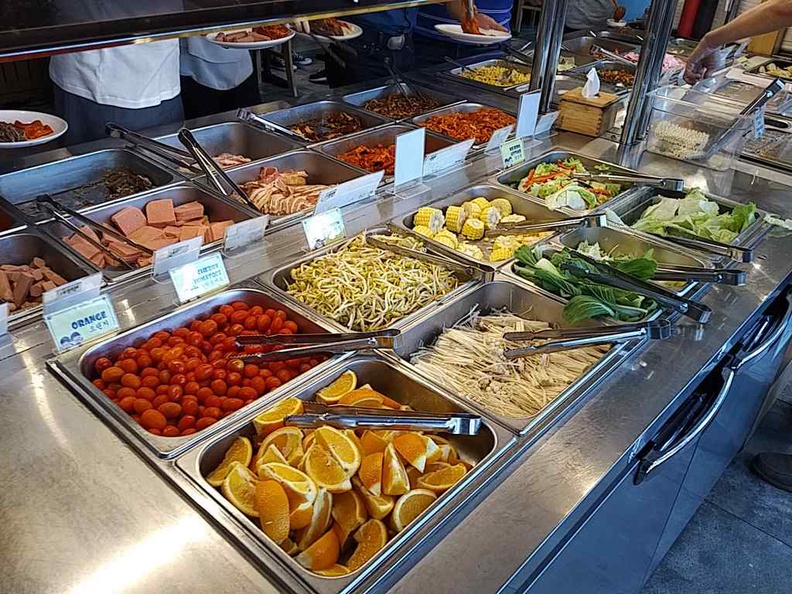 In addition, the buffet also offers a mixed of fruits and salads on top of leafy vegetables for cooking, Korean staple such as luncheon meats, as well as hotdogs.
All these are offered at a rather compelling price point starting at $14.90 per adult for a weekday lunch, going up to a weekday dinner rate of $24.90 per pax. The weekend and public holiday rates are similar at $24.90++. Do note that additional charges such as service and GST are non-inclusive in the above prices. Still it is great value.
All in all, Daessiksin Korean BBQ Buffet offers are rather compelling price to value proposition. Though there are several other similar Korean BBQ outlets out there, not many is able to offer it at the sub %15 price point making it great for students and budget-conscious alike.
Verdict:
Must Go! | Actually pretty Good | Worth Trying | Shortlist Optionally | Should Avoid
Daessiksin Korean BBQ Buffet Locality Map
Orchard Gateway
Address: 277 Orchard Rd, #03-17,
Singapore 238858
Opening Hours: 11:30am- 4:30pm, 5:30- 10pm (Split shift)