Sun café is a hotel restaurant and coffee house located at the Hotel Grand Pacific along Victoria street. Notably, they sit beside Bras Basah complex and the National Library where we visited the Nature X Nature exhibition recently. The hotel restaurant is running a rather value for money (and ridiculously cheap, in a good way) Peranakan Buffet for their lunch and dinner sessions with a 1-1 special (more on this later). It is quite a gastronomical affair. Let's see what's on offer with Sun Cafe Peranakan Buffet with a dine-in.
A Peranakan a-la-carte feast
Sun café has on offer a snippet of what Nyonya cuisine is, affordable offered via a home-style cooking and setting. Moreover, given COVID-19 restrictions, the buffet is an a-la-carte one, where you order from over 30 selections using an order sheet "Dim sum style" and service staff will serve your orders right to your tables.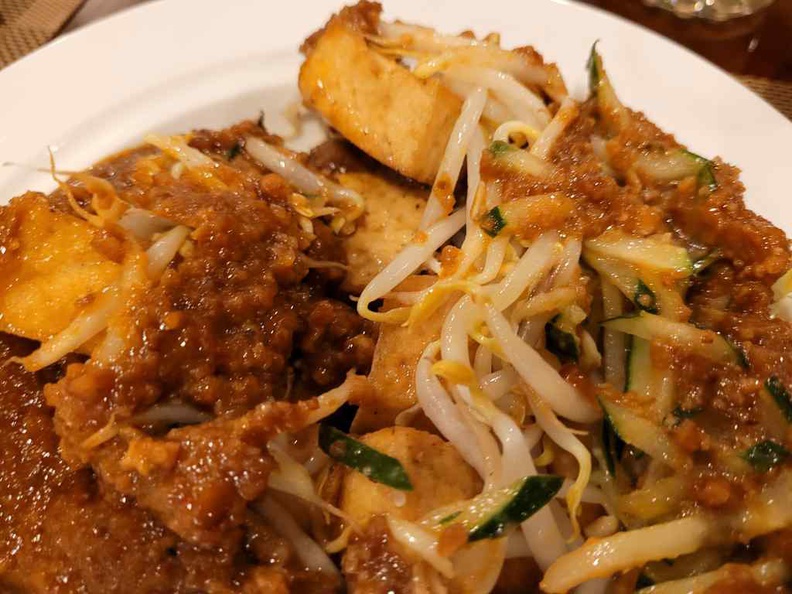 To start off with appetizers I would recommend to try their Tahu Goreng, Fried Ngoh Hiang and Ikan Goreng. They go as mains themselves despite being called Appetizers. Their Nyonya Achor is a mixed bunch, but I would pass on that unless if Achor (pickled vegetables) are your thing. Otherwise the go for the Tahu Goreng and Ikan Goreng without a doubt.
Also you can specify how many Ikan Goreng fish you wish. A standard 1 serving comprise of 3 fish. The fish is lightly fried and crispy on the outside yet nice steamed and juicy on the inside.
Poultry and Meats Mains
I would recommend their Beef Rendang, Chicken curry and Fried chicken as good starters. Then you can work your way. More interesting selections includes their Pork Ribs with pineapple curry and Babi Pongteh with mushrooms, which is essentially pork belly stewed with mushroom.
On staple dishes, Char Quay Teow are available too, though you can request out of menu plates of rice servings at no additional cost. Their Laska is highly recommended as a side dish too.
Furthermore, vegetables offerings are much of a general affair with curated Nyonya Chap Chye and Sambal Binjal. More leafy offerings I recommend would be their Sautee Greens with Oyster sauce, Broccoli with Mushroom and French Beans with sliver fish. It is lighter and balances out the oilier meat dishes. Also, the vegetables are fresh and of good quality. They complement the meat and rice dishes well.
Seafood and soups
Additionally, wrapping up with the buffet seafood sections includes I would recommend their Assam Pedas Fish and Fried fish with Tow Chew. Their prawns selection, though fresh is already quite overwhelming with the Sambal offerings.
Also on offer are two types of soup with Pig stomach soup and Fish Maw Soup. I found the booth soups pleasing and paired well with the Nyoya cuisine, especially washing down curries. Also, you should try their home-made wheatgrass drink. It is very refreshing, especially after a curry and rending loaded dinner.
In addition, a trick I discovered on the order sheet you can choose to specify 1 standard serving from the kitchen, or if you wish to have a larger serving, you can specify the number of pax (e.g. 3-4 pax) on your order sheet. The restaurant service staff will verify with you your orders when you pass it to them. Furthermore, if you wish to try everything on their buffet, you could consider alternating your order sheets by splitting your orders between multiple orders instead of ordering all of them at a go.
Small Nyonya Desserts
Lastly, what good way to wash all your Nyonya goodness with Nyonya Desserts such as Nyonya Kueh, Kueh Lapis.
I have not much to complain about the small selection of desserts, as you are probably too full to have anything much more after your mains anyway. You have a choice of 6 items on their dessert selections.
Still, I would recommend their Sago Gula Melaka and Bubur Cha Cha if you have space. Otherwise, their Fresh Fruits platter is a viable alternative. You get small servings of oranges and watermelon on-plate.
A buffet under $30 a head?
Moreover, the buffet costs $38 SGD per head for lunch and $45 for dinner. This excludes 10% service charge and 7% GST. It costs $2 more per head on weekends.
Additionally, the main draw is that you get an even better value at run a 1 for 1 special for major Singapore cards DBS, OCBC and UOB cards. Hence, for a weekend $47/pax rate costs about $165.96 all-inclusive for a 6 pax which boils down to an average 1-1 rate of $27.66/pax for the entire buffet. This sub $30 price point is extremely value for money for the quantity and quality offered. Most hotels I would know could easily charge twice the price for similar offerings.
Final Thoughts
All in all, dining at Sun café is also an enjoyable one. Waiter service is prompt friendly and quick, served by a waiter trio comprising of middle-aged old-timers who are really warm and friendly.
This, coupled with a quiet setting, Sun café is quite a gem of an eatery which is not crowded or rowdy even on weekends. Also, during my 2 visits at the establishment, the restaurant was at most a third to half full. Notably, the Hotel grand pacific which Sun café is situated in was used as a tourist quarantine hotel over the past year, with the last of the quarantine guest checked out the past month.
Wrapping up, the buffet is quite a gastronomical experience with a simple but very effective menu. Though you do need a good stomach to able to stomach the spicy Nyonya everything in one dinner sitting. Also, it has a hint of home-cooked goodness in it which is not oversold.
Though the menu offerings are not as flavourful as the Peranakan dishes we had at Violet Oon National Gallery restaurant, Sun Cafe Peranakan Buffet quality and menu simplicity for the price is really hard to beat. If homely Nyonya crusine is what you are after, Sun Café at Victoria Street is one worthy of your shortlist.
Verdict:
Must Go! | Actually pretty Good | Worth Trying | Shortlist Optionally | Should Avoid
Sun Cafe Peranakan Buffet Locality Map
Sun café Hotel Grand Pacific
1 Victoria Street,
Singapore 188018
Opening Hours daily: 12pm- 2:30pm, 6:30pm- 10pm