Nan yuan fishball noodle stall is a small family run noodle stall in the Beo Crescent estate serving value fish ball noodles in pretty sizable portions affordably. Is that too good to be true in today's inflationary climates? Let's check them out.
The Fish ball noodle stores in the Singapore hawker scene seldom get much fanfare and attention. Nan yuan fishball on the other hand stands out in my regular hawker run for its price to size offerings and yet still tasting great. The fishball noodle store is located at the Beo Crescent market and hawker center in southern Singapore. It is a small rustic mature neighbourhood in the Tiong bahru region.
Affordable Big bowl for $3.50
Moreover, at the $3.50 base asking price per bowl, Nan yuan serving portions are generous. Even in the times of post pandemic inflation. For the base price, you get 3 fish balls, 2 meatballs and generous slices of fish cake. Equivalent portions would easily set you back $4.50 to $5 from other stores. Nan yuan fish ball noodle portions does fill you up as a lunch meal.
Additionally, I recommend having your meal in the dry variant. Where you are able to savor the chilli served with your dry noodles. I particularly like the less-oily offerings Nan yuan offers compared to most noodle stalls which doused your noodle in heaps of sauce, oil and lard.
Furthermore, your fish balls are served in a separate soup bowl, in distinctive yellow melamine bowls which makes the store's food highly recognisable in the hawker center. The meatballs are nothing to scream home about. Pretty run of the mill. The fishballs are tender and flavourful, without being too salty or artificially crunchy.
Moreover, it is pleasing to know that their basic fishball noodles are still priced at a very affordable $3 per bowl. If the sizable portions are insufficient for you, you have the additional option to upsized your noodles at their next up $4 per bowl.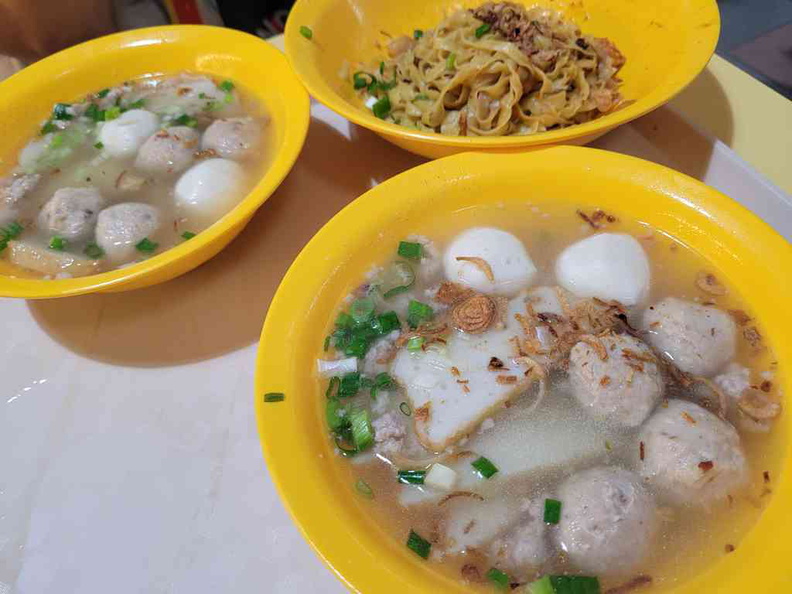 A breakfast and lunch place
Also, the noodle shop typically sells out after 2pm. After all, the store, like most of the stores here at Beo Crescent are primarily breakfast stores which operates from the early morning.
Notably, the presence of long queues could be a public nod to the offerings the store gives. Though we would come to learn in many occasions, stall queue length is never an indicator of good food. Also, the queues are very fast moving-a 6 person queue be cleared under 5-10 minutes. Thankfully, Nan yuan does not disappoint in their offerings. The store is also where the Fuhua Soya bean store we last checked out now resides too.
All in all, Nan yuan was a good find and offers not bad a price value point offering sizable and quality fish ball noodles for the masses. They are located at Beo Crescent hawker centre unit number #01-68 and are open daily, with Thursdays being rest days.
Verdict:
Must Go! | Actually pretty Good | Worth Trying | Shortlist Optionally | Should Avoid
Nan Yuan Fishball Noodle Locality Map
Unit #01-68,
38A Beo Crescent Market
Singapore 169982
Opening Hours: 6am– 3pm
Closed on Thursdays.