Fried rice stores are tad the craze now in the Singapore Hawker scene. King of fried rice touts to offer premium restaurant-quality fried rice available right in your heartlands at affordable rates.
Notably, to date, the franchise had expanded to over 14 locations island-wide having entered the market since last July. I got to try their fried rice offerings at their Teck Ghee and Jurong East branches. Let's see what's on offer with a dine-in.
Moreover, we first had a try of it at Chef Wang's fried rice store at Beo Crescent recently. There, they offer a rather affordable and quality alternative to the fried rice offered at more established eateries like Shang palace and Din Tai Fung. King of fried rice offers a similar proposition with additional choices of fried rice flavours.
There are four, on top of the regular egg fired rice variants, their fried rice are available in mala flavour, tom yum and XO flavours. Also, each flavour is offered in 3 additional toppings, starting with plain egg, pork culet, shrimp and lastly crab meat and tobiko (flying fish roe).
Great premium portions
Furthermore, their rice is flavourful without having much a burnt taste typically evident in zhi-char fried rice. It does imply the care and attention to preparing the Asian staple dish. Also, their rice is of the short grain stubby rice and is not that of sticky Japanese rice.
There is this saying that the key way in determining the quality of a chef's ability to try their basic fried rice. And I am pleased to report that King of fried rice tad does live up to the standards expected for price.
Moreover, I found the portions at King of fried rice are pretty sizable. I particularly enjoyed the large portions of Pork cutlet ($6.50) which comes as a topping on top of your chosen rice flavour. This is the variant you should go for and has stripped pork cutlet servings even rivalling the portions served at Din Tai Fung, but at considerably cheaper at half the price here.
Also, their Pork Cutlet is well marinated with a juicy interior. Hints of spices on the exterior does tell you about a mix of effort which goes into making this a flavourful concoction and is paired well with the rice.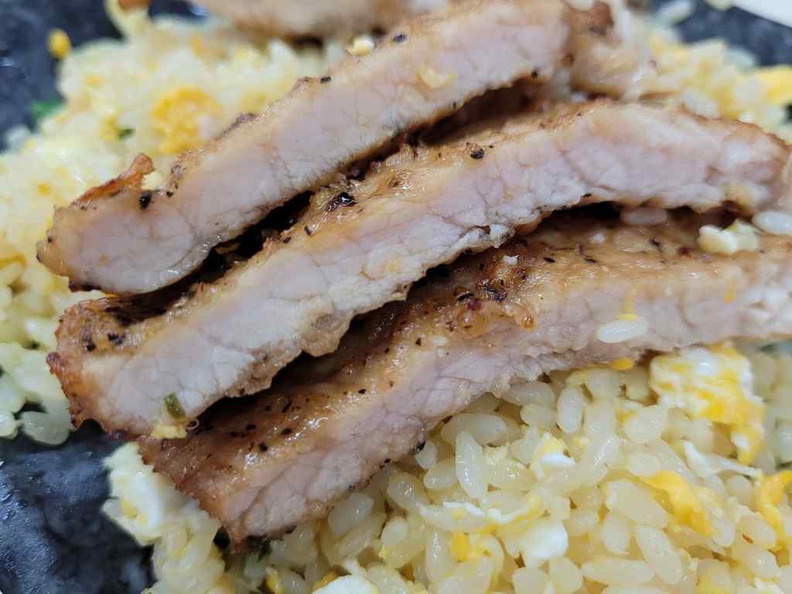 Pricey, but great value
Additionally, if you wish to pamper yourself, their Crab meat fried rice is loaded with generous servings of shredded crab meat. It is also topped with flying fish roe roe. It is a very good value for money at $11. The crab meat is chunky and cooked well. Still though $11 for a fried rice is rather expensive by hawker price standards. I reckon this offering at a restaurant would probably set you back at least $2, which in turn puts King of Fried rice a rather rosy value proposition.
Mala fried rice anyone?
Moreover, having multiple flavours does add to the revisit value of the store. Which you can see in the strangely long queues. Has everyone been hooked on an Asian rice staple which literally had existed around for decades? Or maybe its draw is the repackaging of something which is already there? Who knows.
Still, the next best menu recommendation would be their mala fried rice. This is especially if you can't get enough of Hai Di Lao hotpot. The Mala fried rice has a hint of an orange hue with little spec traces of mala peppers. Also, you can indeed taste the mala in the rice. It has a mild flavour without being overly spicy. A nice touch without going overboard.
Stick to Egg fried rice
However, their XO flavour and Tom yum fried rice are not something I particularly enjoyed with the same fantastic wow-factor. Also, if you are undecided, I would recommend sticking to the regular egg fried rice over the other flavours. You can't go wrong with it.
All in all, King of Fried Rice is a refreshing addition to the Singapore hawker scene, seeing the revitalisation of one of Singapore staple hawker dishes updated with a modern touch. The addition of various flavours and toppings you desire does give more choices, with thumbs up to their pork cutlet. Still, you can't go wrong with the recommendation of regular egg fried rice. It's hawker culinary simplicity at its best.
Verdict:
Must Go! | Actually pretty Good | Worth Trying | Shortlist Optionally | Should Avoid
Makan Place Locality Map
Various locations in Singapore
Branch visited: GHK 407 Food House
407 Ang Mo Kio Ave 10, #01-733, Singapore 560407
Opening Hours: 11am 9:30pm daily