Din Tai Fung is quite a household name in Singapore. It is quite an upmarket-looking dine-in restaurant specializing in Huaiyang cuisine. The establishment has a Taiwanese origin, relying much on heavy restaurant franchising to bring their speciality to the masses.
Moreover, history has it that Huaiyang cuisine is one of the Four Great Traditions in Chinese cuisine. Notably, it is derived from the main china native cooking styles from lower reaches of the Huai and Yangtze rivers. Also, Din Tai Fung's first restaurant is located on Xinyi Road in Taipei. Moreover, it is worth noting that Din Tai Fung buns grew so popular that the store stopped selling it altogether. Instead, they reorganised their business and became a full-fledged Chinese restaurant from 1972.
Since then, the chain had rapidly expanded to locations around Taiwan, Thailand, United Kingdom, China and Singapore. They are managed by Taster Food Pte Ltd. Notably, we saw one at the Tapiei 101 on our trip to Taipei too. Additionally, I had dined at Din Tai Fung on a couple of occasions, but hadn't had much the effort to write about my take on their offerings.
Also considering that their restaurants are always jammed packed with people. Based on the typical diner's profile, Din Tai Fung mainly targets mainly the middle-class, offering quality food without breaking the bank.
A Traditional Chinese meal for the masses
Furthermore, interiors in Din Tai Fungs are traditional yet decked with a modern touch for the masses. Their interiors are usually lined with wooden panel with a general bright setting. Modern and more space-optimised western style booth seats takes the place of more traditional round tables. Also, this allows the restaurant to take in a large number of customers for a higher customer turnover. No wonder, it is not uncommon to see long snaking queues are most Din Tai Fungs in Singapore.
Food of the trade
Offerings revolves their chain's favourite dishes, such as their Steamed Pork Xiao Long Bao and rice dishes, such as their fried rice. At every restaurant, their Xiao long baos are made to order. Also, you can see them being made at every restaurant behind glass panes with their kitchen viewable from the entrance.
In addition, a typical meal affair here revolves recommendations from a full menu selection of Dim sum, including paos, as well as Oriental staples, such as Noodle soups and short grain premium rice bowls.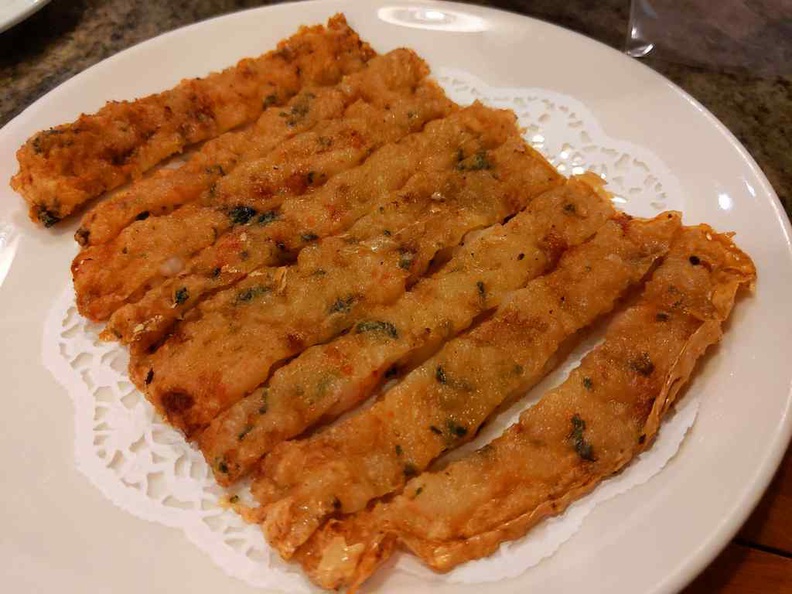 Try their fried rice
Also, you can't go wrong trying their fried rice topped with sliced fried pork cutlet, and their fried fritters- a Crispy Golden Prawn Pancake. There is just a tad of quality which pleases the senses.
Also, more soupy dishes includes their Herbal chicken soup with noodles, Sweet and sour soup. Their main dish would of course be their Dim Sum. Recommendation here includes their Steamed Shrimp & Pork Shao-mai, Siew mai.
Also, their Dumplings in chilli oil are best paired with your noodles and rice dishes as an accompaniment.
All in all, Din Tai Fung is not tad, with great service and a rather down to earth price too boot. Prices are tad higher than your regular Dim Sum restaurant, but it does make up for it with a great quality of food, despite the relatively small portions. No wonder Singaporeans can't get enough of it.
Verdict:
Must Go! | Actually pretty Good | Worth Trying | Shortlist Optionally | Should Avoid
Din Tai Fung Makan Place Locality Map
Multiple branches around Singapore
The Centrepoint
176 Orchard Rd, #02-55 The Centrepoint,
Singapore 238843
Opening Hours: Daily 11:30am–9pm