Cosfest Classic, one of Singapore's most anticipated anime events, returns to Downtown East for its 2023 edition. For this year, the pop-culture event celebrated its 20th anniversary. It is an annual event where Cosplay enthusiasts, anime and manga lovers, and pop culture fans gather at the D'Marquee tent in Pasir Ris in eastern Singapore.
Also, the event goes by the new name Cosfest Classic, and is held on this weekend of 29th and 30th July 2023 to indulge in a journey filled with performances, cosplay, and a vibrant pop-culture market. Let's check it out.
Furthermore, Cosfest at Downtown East is situated between the Wild Wild Wet water theme park and the Aranda Country Club. The festive revolves about the D'Marquee tent. It is a large white multi-purpose event tent sitting on a large open compound in front of the Downtown East mall. Also, you do not need a ticket to enjoy Cosfest on the outdoor public areas.
An open Cosplay event
Moreover, Cosfest Classic has a more free and easy approach to programming. Here attendees are free to roam between the event open spaces for photo opportunities, and main event tent where performances and a pop-culture market reside. An event ticket is only required to enter the indoor air-conditioned tent area, which takes up about half the event space.
Cosfest Classic took pride in being a pioneer in Singapore's anime scene. It pays homage to the classic anime that laid the foundation for today's east Asian pop-culture. Also, the event's focus on cosplay performance and staying in character captures the hearts of enthusiasts who were eager to showcase their love for their favourite characters.
Additionally, you have the freedom to immerse yourself in the world of animation, comics, games, and music genres, from all walks of life.
Cosplayers at Cosfest
The cosplayers themselves are an integral part of the Cosfest Classic experience. Walking around the event, you be treated to a stunning display of creativity and dedication. From intricate handmade suits to impressive full-body costumes of beloved animal characters, cosplayers brought their favorite characters to life.
The Downtown east mall also allows for unrestricted access for cosplayers within, much to the delight of guests who can interact and pose for photos with the cosplayers. You can also find Itasha themed cars as well as motorcycles here parked outside the event area too. They are all decked in anime livery printed wraps.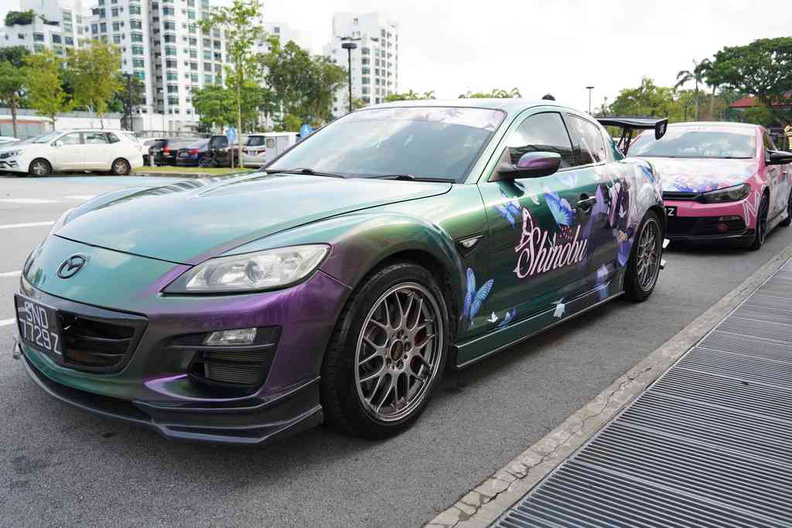 Besides cosplay as a form of entertainment, impressively, there is an untold vibe of craftsmanship here, as many of the suits here are handmade, such as those custom full-body made suits worn by animal characters. Additionally, there is also a notable number of attendees cross-dressing as characters of opposite gender, a nod at the inclusiveness to the LGBT community.
Also, unlike some events with strict prop weapon restrictions, Cosfest Classic provides a more lenient policy for such prop weapons. This approach not only fosters a safer and more enjoyable environment but also encourages cosplayers to express themselves more freely.
Additionally, the event encourages participants to portray characters from older or retro animations, comics, movies, and games. It gives them the chance to relive cherished moments from their childhood or teenage years. There were a duo as Takumi from Initial-D anime series, karmen riders, besides a horde of cosplayers dressed as Genshin impact characters.
Cosplayers photo gallery
Also, in supporting the cosplayers, it is pleasing the organisers also provide baggage storage services for cosplayers and opened up the spaces at the adjacent Begonia Terrance for cosplayers to gather, hold photoshoots as well as serve as a space for logical needs to gather and store their props and equipment. It is a good shaded and open-air communal space beats being out in the heat. The open pavilion also serves as a backup sheltered area in case if the weather goes bad.
Throughout the two-day event, from noon to 7:30 pm, Cosfest Classic buzzed with excitement, drawing in crowds from all over Singapore and beyond. Also, the atmosphere is energetic and friendly, with lots to see in a small place.
Here you can find cosplayers, enthusiasts, and families coming together to celebrate a shared passion for anime and pop culture. Bonus points if you can identify their costumes, ranging from Japanese pop culture, manga, anime and mobile games.
Stage performances and Shoppes at Cosfest
One of the highlights of Cosfest Classic was the variety of stage performances. The Cosplay Walk, a notable stage event, allows participants to flaunt their meticulously crafted costumes on the stage runway.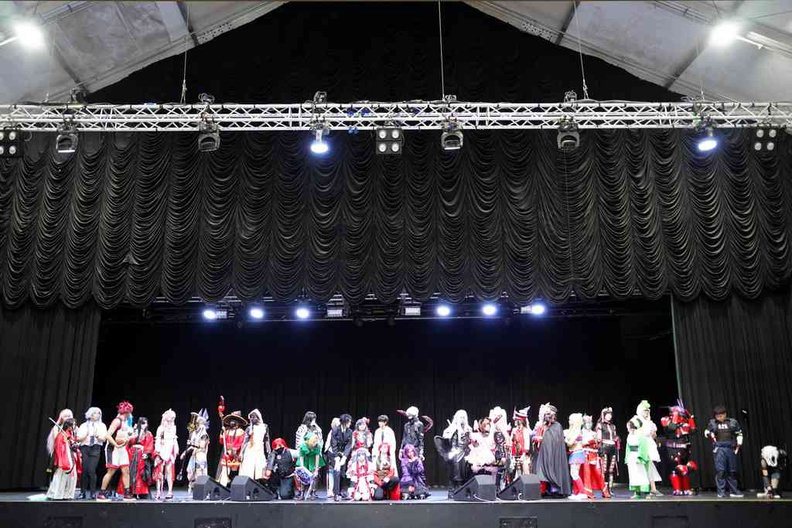 Moreover, the on-stage from mid-afternoon offers back to back performances till closing. This includes dances and songs, which ran from mid-afternoon until 6:30 pm.
Also, the entertainment performances captivates the audience with their impressive presence and attention to choreographed dance detail. Also, the event saw features of both local talents like Monoko and Ayu Mantou and international personalities like Yui Ninomiya. She is a Japanese voice actress and singer renowned for her work on Aikatsu Friends as Ema Hinata.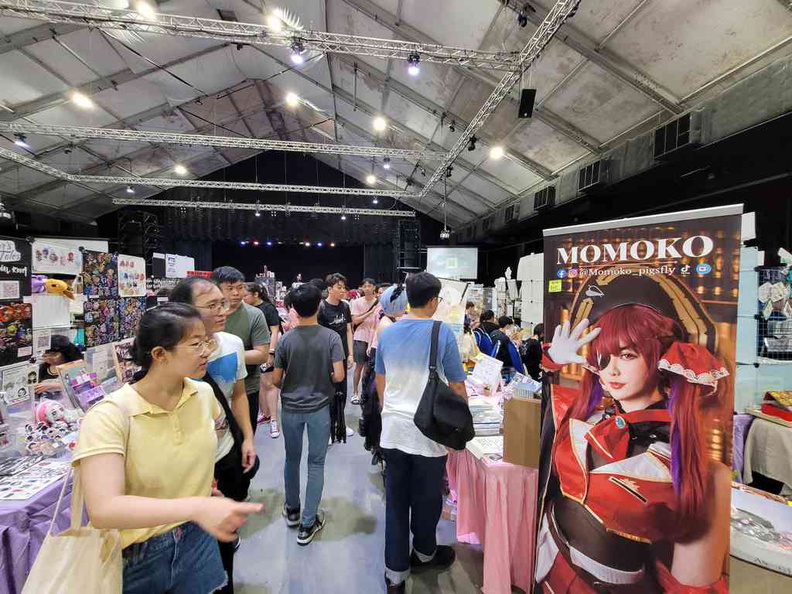 Furthermore, a highlight of the interior tent of Cosfest is the Shoppes at Cosfest. Also known as the anime pop culture market, the number of stores here had grown considerably, within the tent.
All these are located inside the D'Marquee tent, which requires a ticketed entry. Also, the air-conditioned tent with open floor seating is also a good place for participants to seek refuge from the heat.
Also, this anime pop culture market features an array of booths offering merchandise, collectibles, original artwork, prints, anime props and toys. The stores are laid out in four rows of 10 booths each, with about 60 stores in total.
Here you find some interesting sections we last saw at the Suntec Doujin market, albeit, a much smaller selection. Still, the Cosfest classic 2023 market had grown considerably compared to previous years.
Stores here includes Yuzu work, Roseberry and Smmindraws, 711+ to name afew. Also, you have opportunity to explore unique offerings, such as anime-themed samurai swords from Casears too.
Wrapping up
The event also sees the social gathering of similar interests. An example such as a Genshin impact community circle which spontaneously appeared on the outdoor event grounds.
Moreover, Cosfest Classic's ticketing system was user-friendly, with tickets available for purchase online through platforms like Eventbrite and Peatix. Once purchased,  you present your confirmation QR codes at the event to receive day-specific colored wristbands for easy identification. Scanning your QR code is quick and fast, and there were no queues to get your wristbands.
Also, the ticket prices, at S$14.00 for a single day and S$22.00 for both days, were reasonable considering the array of entertainment, performances, and shopping options available. The value offered by Cosfest Classic made it a more affordable choice compared to other similar events, like this year's Doujin Market at Suntec City Convention Center.
In conclusion, Cosfest Classic 2023 proves to be a great event. It showcases the enduring appeal of classic anime and manga in Singapore's pop culture landscape. From the captivating performances and skilled cosplayers to the bustling pop-culture market, the event embraces the spirit of nostalgia and creative expression.
As one of Singapore's pioneering anime events, Cosfest Classic cements its position as a must-attend gathering for fans who seek to relive cherished memories and forge new connections within the anime and pop culture community. As the sun set on the festival, anticipation grew for the next edition, eagerly awaited by enthusiasts and cosplayers alike.