Keisuke is a name in Singapore I find, is known for providing good quality Japanese food through their specialty dine-in restaurants. To date, they have over 10 outlets across Singapore, with each focusing purely on a Japanese food dish, such as Gyoza, Tonkotsu and Tori. Keisuke Ramen Tori King is one such store in the Tanjong Pagar area I am going to check out.
Ramen Tori King is located in the neighborhood with a strong Japanese expat presence on the third floor in the Tanjong Pagar 100am Mall. The mall itself is packed with Japanese themed outlets to cater for this market segment. Notable tenants includes Daiso, Don Don Donki, as well as a huge selection of Japanese Casual dining restaurants.
Furthermore, I am pleased to find that unlike most run-of-mill Japanese dining, which try to cramp as much on their menu, their store at 100am mall specializes only in "Tori" Ramens. This specialization allows Keisuke Ramen Tori King to focus on doing what they do best.
I found the long wait and queues are one of the biggest let downs of the establishment. A typical wait takes about 30 minutes on average. This is due to the rather small seating areas inside the restaurant. However, the tables inside are pretty fast moving. Like typical Japanese efficiency, the staff does a pretty good job in ensuring no downtime between orders. They take your order before entering, serving you quickly and clearing up when you are done for the next table. Commendably efficient indeed.
What's on the Tori menu?
Keisuke Ramen Tori King offers a rather simple selection on their menu, with about 5-6 different kinds of Ramen. This comprises of 3 main types of Ramen flavors (standard, spicy black/green, clear) on offer with varying richness. You have a choice of soupy or dry Ramen.
"Tori" in Japanese means "chicken' and what you get is what it says on the tin. All their basic Ramens comes with a soupy Ramen broth stewed from chicken. You get their flavor from chicken bones, chicken feet, Japanese seaweed and an assortment of vegetables. This contraption of ingredients are meticulously boiled for eight hours. This is to extract their individually essential flavors you get in the soups.
Additionally, These specially selected elements come together to create a tantalizing and creamy chicken broth, which is layered and deeply comforting. Their more popular Tori king Ramen has an additional selection of broth richness, ranging from mild, normal to ultra rich.
A good offering for the price
The Tori King Ramen basic Chicken Broth Ramen starts at $11.90. It is their cheapest option available with only the basic and a single piece of pork meat. You are generally fine with a meal under $20, this is well priced compared to other Japanese Ramen establishments in Singapore, where bowls could start from $20.
Moreover, to add to the mix, you have free flow of boiled eggs and bean sprouts, which is a welcome. The broth is tasty and flavorful, but does get overwhelmingly strong and pretty salty when you are finishing the bowl. Hence, I will recommend against going for the Ultra-rich broth. The standard richness is more than adequate without raising your cholesterol by too much.
If you can't decide what dish to start with, a good area is their Tori King Ramen Special. Here, you have three different topping levels with the base dish with one slice of pork and a full chicken leg with Japanese Seaweed going at $12.90. Bumping up an additional flavored Egg sets you back an extra dollar, while the full works with all toppings will cost you $15.90.
"Upsizing" your meal with toppings
Also, to suit small and large eaters, the restaurant allows you to vary your servings by "upsize" you meal with additional toppings. The base dish of any variant usually sets you back in the $12 to $13 range. With an intermediary range about $2 more and the range topping option with all the works coming close to $20 a bowl. The choice to upsize vaguely reminds me of the offerings of Hitoyoshi Ramen at Harbourfront center.
Moreover, the black spicy Tori King Ramen variant is based off the standard ramen, but has added black spicy chili paste. This introduced a great of dak spiciness on top of your dish. It starts at $12.90 for the base dish and $16.90 with all the toppings bells and whistles. It is recommended dish only if you had tried the basic offerings and want to try something more adventurous.
Also, if you demand a fusion of bit more local offerings, you can opt for the traditional Tan Tan noodles. They are a Sichuan noodle dish typically served spicy with red chili oil soup for taste. Also, this Tori King Tan Tan Mien starts at $13.90 and goes up to $18.90 with their special with all toppings. The Tori King Ultra-Rich Tan Tan Mien starts at $14.90 to $19.90 with all Toppings.
Additional specialty Ramen options
Moreover, if you wish to try more specialty options, I would recommend the Tori King Green Spicy Ramen Special. It is best eaten with all Toppings. The broth has a green tint hue to it, with some creamy-ness of a milk-based curry added to the broth. It is not overly spicy at all.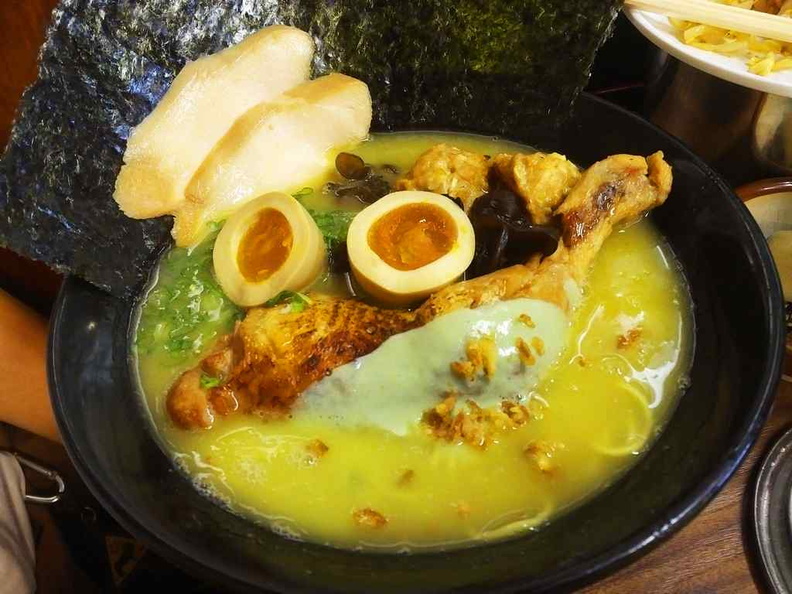 Additionally, if dry Ramens are much to your liking, there are offerings such as the Maze Soba Dry Ramen. It is served with a side bowl of soup and starts at $12.90 a bowl and up to $17.90 with all toppings.
Lastly, if you prefer something more clear and soupy, Tori King Ramen Special with Clear Soup is a good choice. It is not rich and salty as that offered in the Tori broth. It starts at $13.00 to $16.00 with all toppings added.
Moreover, I found the serving portions of their Ramen is adequate. It is not too little making you feel you had got your money worth. Also, but not too much that it makes you feel miserable at the end of your meal. Having said that, for me, I found the portions could do with a little more. However, given the small menu selection, I found that you can quickly run out of options on what to order on subsequent visits.
All in all, Keisuke Ramen Tori King at 100am Mall is a delightful experience. Despite the long queues, the food quality, free flow of side offered makes it one of the few better Ramen places in Singapore with a good price to boot too. It gets my recommendations.
Verdict:
Must Go! | Worth Trying | Shortlist Optionally | Should Avoid
Ramen Keisuke Tori King
3rd floor, 100AM mall, Unit #03-15
100 Tras Street
Singapore 079027
Opening hours:
Daily at two time slots:
Lunch: 11:30AM–3PM
Dinner: 5:30–10PM