Farming is an old way of life in Hoi An, Vietnam. But with tourism receipts being the main income provider to the region today, it had been less feasible for farmers to give up their trade and move on. My farming experience today comprises of such farms, doing both Vegetable and Fish farming. My first stop at the Hoi An Tra Que vegetable farm.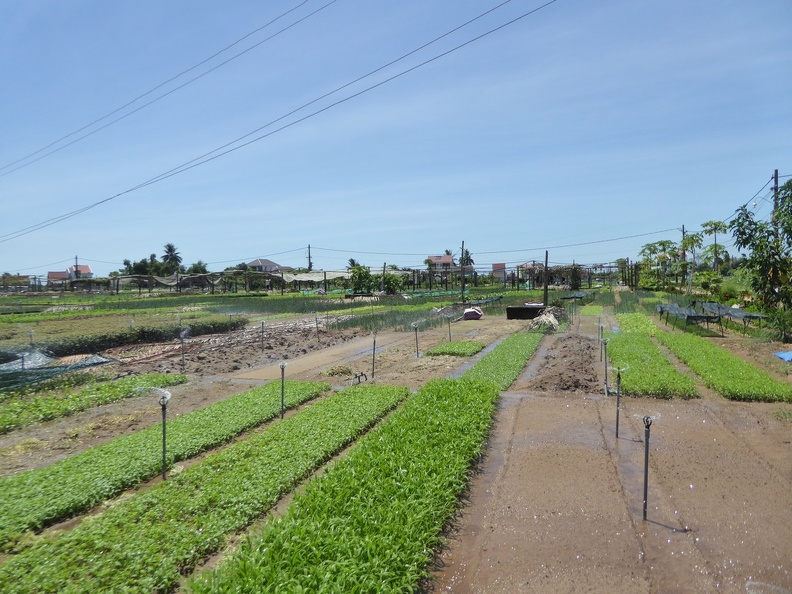 Today, there are a number of vegetable and fish farms left to visit and experience this dwindling trade. Also, at times, farms and fisheries are still surviving not from the takings from produce sales, but from entrance and hospitality fees from visiting tourists.
Hoi An Tra Que vegetable farm Urban Farming
Tra Que farm is located a short 20 minute drive from downtown Hoi An into a secluded residential area. Farming is now very much a localized event, where farmers looking to stick to the trade grow fresh produce to cater for local demands and tourism.
One of the farm owners brought us around for a tour. The farmers all live on site in the surrounding houses. There are over 20 families with over a 100 farmers managing the various plots in the city farm area. I had a welcome tea followed by dressing up in authentic Vietnamese farming gear. This attire comprises of a straw hat and light cotton long overalls, I got to be a farmer for a day!
The farming attire is surprisingly cool and airy. The attire set comprises of a set of thin cotton long sleeved garments and a straw hat which does a very good job in shielding you from the scorching afternoon sun.
Farming is now very much a localized event, where farmers looking to stick to the trade grow fresh produce to cater for local demands and tourism.
We started wandering the plots, trying to identify various types of plants and vegetables growing out of the various plots as well as chatting with farmers. You can do so on foot or on bicycles if may.
Planting your crops at Hoi An Tra Que vegetable farm
Lets get our hands dirty planting cabbages. I prepared the soil using a variety of digging and scraping tools, as well as hand-prepping and layout out the agitated soil with bundles of hay for soil rigidity. Next was digging in the planter holes of the seedlings, where the young seedlings were then hand-planted, secured and watered using large shoulder carried watering cans.
My farmer guide was an experienced old man who has experiences in the field. He was ran us through on the farming processes. He coached us on the proper planting procedures, such as the right number of fingers to use to poke a right-sized hole in the soil sufficient for the seedlings to stand.
Patiently, he coached and corrected our mistakes and giving praises for a job well done in his trademarked hand signals after planting down an entire vegetable planter for actual growing.
Caring for your crops
Next was regular watering of the plants, traditionally done using large metal sprout cans. It takes a combination of balance and dexterity to swing the watering cans using the momentum of the water-laden receptacles to water rows of seedlings at a single go.
Also, I learnt too that fishes are kept in the water wells serving the farming plots to prevent mosquito larva from maturing. Hence, do be careful not to scoop up the fishes when filling up the watering cans!
Interestingly, the age demographics for the local farmers is rather varied as well. Many of the farming plots there today are also manned by younger farmers. They resort to more use of technology on their fields to automate farming tasks, such as modern water sprinkler systems. Older farmers still uses traditional farming methods. Examples includes using the manual and laborious shoulder-carried watering sprout cans to water their plants.
Watering your vegetable farm crops
Furthermore, I got a hand at watering the crops using these large watering cans. You need a combination of momentum, pacing and a sense of balance to water an entire aisle of vegetables with a just full-load of water. Swinging the cans will allow the can sprouts to take in water which scatters it over a large area of field. Also, all you have to do this to carrying on this rocking motion and pace yourself with the amount of water you have. Just be sure not to miss any spots!
Moreover, much of the vegetables here locally grown are all sold in the downtown Hoi An wet vegetable market. This includes those planted here at Hoi An Tra Que vegetable farm. Also, Rice are mostly grown out of the town in large paddy fields on the outskirts of the city, like on a green belt. You can see them on your way in and out of the city.
Thu Bon River Fishing Village
Not too far off the vegetable village is one of the many fishing villages in Hoi An, the Thu Bon river. The river along this stretch is a vast river open for large boats of travel for transportation, trade and fishing.
Currently, traditional fishing longboats still dominates fishing in the river with their large weighed unique casting nets. You may notice a number of odd-shaped boats looking like giant baskets. These are called the Thung Chai, or "basket boat". This name is synomous with the boat almost centuries ago snice the Vietnamese French colonial era.
Story of Vietnamese Basket Boats
The story goes that, the French upon their arrival in Vietnam began taxing the Vietnamese on literally every good possible. This includes tax on the ownership of traditional fishing boats, which were seen as revenue generating assets.
Hence, boats were levied heavy taxes. Most of the poor Vietnamese fishermen who depended on boats for their livelihood could not afford to pay the hefty taxes, devising a workaround.
Moreover, like the how the Vietnamese got about building narrow but long houses as they are taxes based on the width of their houses. Here, the Vietnamese invented a new type of boat which does not resemble a traditional boat. The fishermen who built them argued that these were not boats and "all basket" as therefore was un-taxable, as such the Basket Boat was born.
Working the Basket Boats
The edges of the Thu Bon River are home to many large mangrove areas. These are areas where many fishes reside and hide when they are not in the main river. This made the small basket boat with its all-directional omni-directional ability to transverse these tight mangrove areas with ease and invaluable asset.
Furthermore, the small circular basket boat was also traditionally used in parts of the British Isles as well as India, Iraq, and Tibet. Also, it is sized not over 2 meters in diameter, able to sit 5 people safely (including the paddler). Though it can get rather cramped and cozy. 3-4 persons are a more bearable capacity, especially if there are many boats to go around to split the load.
The fishermen who built them argued that these were not boats and "all basket" as therefore was un-taxable, as such the Basket Boat was born
In addition, Basket Boats do not have rudders and are steered using a single long wooden paddle. The proper propulsion technique is to gently wave the paddle back and forth through the water in a circular arching motion. Unless you have two paddles on either end of the boat, paddling the ore on one side will simply just spin you around the boat central axis in circles.
From the fishing village via the open river, your Basket boat will soon find its way into the shady and shallow mangroves. Here, you can see the value of such small boats, entering areas where traditional boats will get stuck.
If you feel like it, your basket paddler can do stunts with your basket board. This includes doing 360 degree spin stunts in the water. If your paddler is crafty and not as adventurous, he or she may go into the mangrove to harvest some leaves to make you a leaf ring.
Making and maintaining Basket Boats
Moreover, to ensure that the boats remain waterproof, each basket boat has to have its exterior re-tarred every 6 months. Also, this depends largely on boat utilization and care from the owner. Each boat can typically last for 2 years before being decommissioned or scrapped.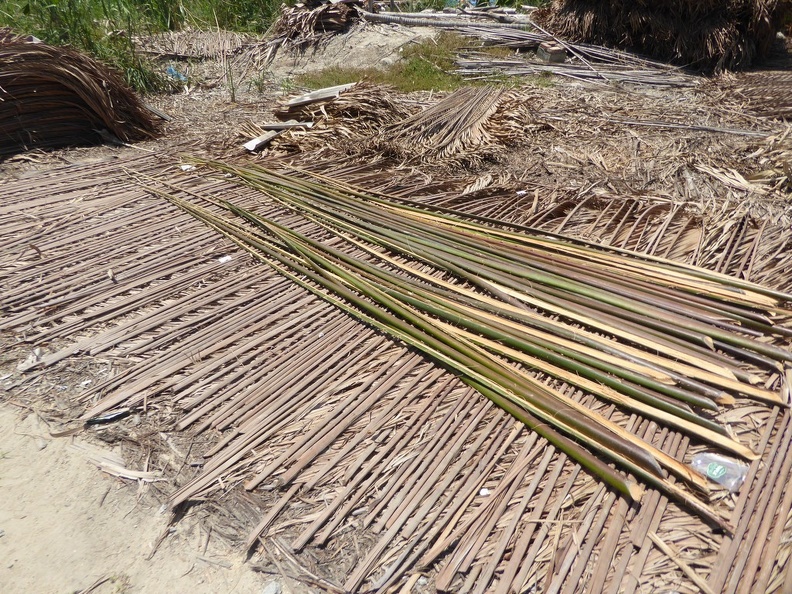 Additionally, the manufacture of Basket Boats is a trade originating in Vietnam for almost a century. These hemispherical boats are all hand woven from dried bamboo. When visiting the fishing villages from land, it is not uncommon to see vast strips of bamboo leaves all laid out in the open under the sun to be dried out. Interestingly, these bamboo leaves will be then stripped and cut to lengths and woven into the criss-crossing patterns you see on the boat.
Lastly, It is not uncommon to end our fishing tour of the river with lunch by the riverside of the Thu Bon river itself. Lined along the river are several family restaurants and coffee shops catering to visitors.
You can have a go at authentic Vietnamese street-side coffee shops too. These outlets have a very rustic feel complete with small short stools and surrounded by wandering village chickens who curiously come over to you at times.
Definitely a rural experience not to be missed!
More photos of Hoi An vegetable farm and Thu Bon river fishing here.