GUM is not your average departmental store in a city. What drew me to visit the Moscow GUM department store is largely due to its century-ling history, as well as it's interesting quirks and uniqueness, which makes it an exploration worth writing and sharing about.
In a nutshell, the building is essentially a mall. The GUM name (Russian: ГУМ) is an abbreviation of Russian Государственный универсальный магазин, tr. Gosudárstvennyj Universáľnyj Magazín. As generically as it can sound, it literally means "Main Universal Store" when translated in English.
History of GUM
The history of the building is not widely known. Notably, the current building spot sits on what used to be a single floor open market square. Catherine II of Russia commissioned Giacomo Quarenghi (a Neoclassical architect from Italy) to design this huge trade center.
Furthermore, the completed market place is situated along the east side of Red Square and the Grand Kremlin grounds. It complements the open trading market site of the current Red Square where is it situated beside.
However, the 1812 Fire of Moscow destroyed the original market building. Henceforth, Joseph Bove was approached to design the rebuild of a set of new single-floored trading rows on the same spot. It is located beside the Red Square along Nikolskaya street.
Moreover, an additional second level trading shop row was added in the 1890s. Alexander Pomerantsev, a Russian architect and educator who topped up the addition of the building's second floors between 1890 and 1893.
The building was also known as the Upper Trading Rows, prior to the 1920s. Also, thereafter, it was then expanded with additional upper floors to the height we see today. Also, the mall is lit with an assortment of "Christmas style" lighting all year round. It offers great photo opportunities.
GUM during the Soviet rule
Furthermore, GUM had its own fair share of dealings as a mall serving the people under Soviet rule. Notably during the era of the Soviet Union until 1991, the store was notorious for having a floor dedicated to Soviet goods.
Also, it continued to be used as a department store until Joseph Stalin converted it into office space in 1928. Also, notably, the mall was also used briefly to display the body of Stalin's wife, Nadezhda in 1932, after her suicide.
Moreover, the chain of State Department Store operated in many states and cities across the former Soviet Union. As of today, the building functions as a full-fledged shopping mall. It offers a mix of high end boutique and lifestyle shops on top of dining and supermarket services.
Shopping by the Red Square
Of course, the most famous GUM is this one here in Moscow. It is a large store in the Kitai-gorod area. Moreover, This area is also otherwise known too as the spot of the Russian Red Square. The square was traditionally a centre of trade in Moscow.
Also, the thought of a commercial entity right next to a historical square was new to me. I was not expecting to find the comfort of modern shopping right next to one.
At entry, large rotating doors greets you at every entrance providing a grand entry. Mall security will check or scan your bags before entering as a security measure. Moreover, there is a nice second floor viewing gallery overlooking the Red Square, on the mall's west entrance.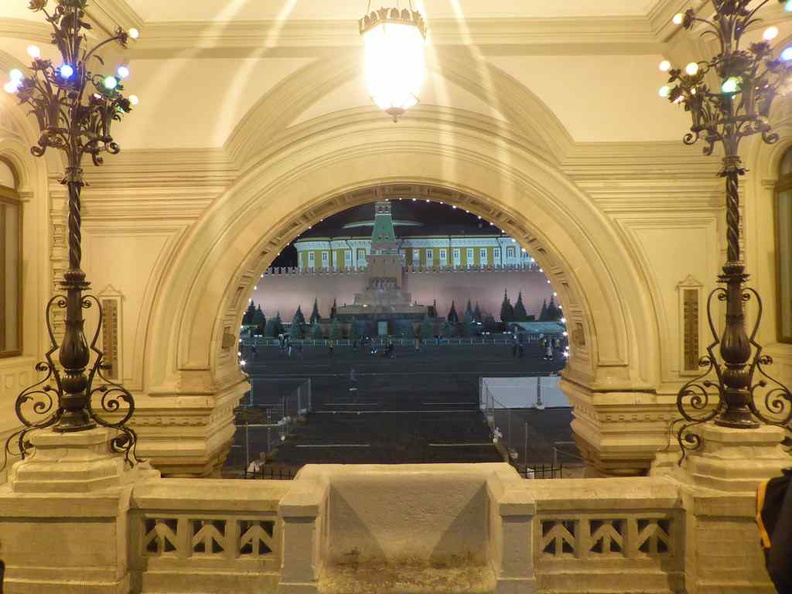 Furthermore, in pure Russian brutalism, the interior of the mall are painted concrete. It was pretty much the architecture of the buildings in the 1900s. These hard-looking walls are softened up by tiled flooring and trims of wood and glass which makes up the various shop fronts. It does give it a modern feel on an otherwise old building. A neat touch.
A walk through the mall
Navigating the mall can be tad confusing to first-timers. The mall does not have a linear layout, some walkways appear to be of different lengths and not really connect like a grid, so some exploration is required.
Also, these walkways seemingly all join up into an impressive central fountain square. Here you can find various themed booths and food stores of interest selling Russian desserts. It is a nice throwback to an era bygone.
Moreover, between each shop row is central void space. This void is spanned by glass-covered roof. Called the Shukhov's roof. This roof, made out of 50 thousand metal poles shades makes the mall more weather proof as well as help regulate interior temperatures. This allows you to shop undisturbed by summer heat or winter snow all year long. A relatable mall of a similar layout is Bugis junction in the Singapore Bugis area.
Also, mini bridges spanning the voids between blocks. Additionally, the mall features elongated shop galleries which are connected via mini-bridge. These innovative bridges made of metal-and-glass vaults were designed by Vladimir Shukhov. When viewed from the top floors, it offers a good overview of the mall.
Not an escalator at every corner
Moreover, navigating the mall can be quite daunting at first. You can navigate up and down the mall levels using escalators, elevators or staircases. The location of escalators are varied. Confusingly, you can take the escalator up one floor to be surprised not to find another following up to the next floor.
Furthermore, given the age and history of the mall. You could tell that the mall was designed in an era where escalators weren't invented. The current mall building was built as an upgrade of the previous one it was based on.
Hence, interestingly, modern conveniences like escalators and elevators do look like they were added following subsequent mall upgrades for accessibility. They appear "tacked-on" in some parts of the mall.
I found, taking the stairs is more reliable. You can find a stairwell serving the ground floor all the way to the top.
Up market shopping
There are many up market stores here. They appear to cater for a more affluent group of Moscow population. You can find big name brands from the LVMH group, boutiques from Chanel and Hermes, just to name a few. In addition, the mall also offers several high-end lifestyle branded goods. The offerings range from to high-end electronics and Audio equipment such as Bose and B&O.
Also there are several micro pop-up stores and exhibits on the ground floor spaces between stores. The three floors of the mall's walkways are lined with various artworks and painted sculptures.
GUM Supermarket
Furthermore, a recommend area to visit is their supermarket on the ground floor. It opens past late and is probably one of the few nicely themed oldie Supermarkets I had seen to date.
It is like any typical modern supermarket, but with an old flair and spotting some additional unique goods. Hence there are no compromises here, with all the modern conveniences.
Moreover, the market has tiled floors with walkways lit by chandeliers. Here, items are laid in dark wooden shelves. Goods of the trade hanging from the ceilings at some counters. It does add to the market feel.
Surprisingly, additionally you can find all the products and conveniences of a modern supermarket. Let be sauces, condiments and even American products. There is a large candy sweet counter which will sure catch the attention of any kid passing by.
Moreover, here, interesting finds includes an extensive section devoted to cheese, bread and teas. Moreover, their dessert cakes and bread sections are very extensive and full of variety too. They are all commendably made and baked on-site, just like how it is supposed to be done.
Interestingly, even the shops play American hit music throughout the mall, so no gripes against the west here in this establishment. Also, the supermarket operates 24 hours, so you are able to get your food fix anytime.
Impressive alcohol offerings
Additionally, the Russians love their alcohol. This is reflected in the extensive Liquor section with a sizable collection devoted to Russian Vodka. Interestingly, it is available in several uniquely Russian bottle forms too, like an a Kalashnikov or a V2 Rocket. It comes complete with an impressive crate-like packaging.
Food in GUM Stolovaya 57
GUM offers a mix of high end-dining as well as pretty budget options. Dining options comprise of a mix of cafes and restaurant offering a fine dining experience. Meal prices are quite pricey here (about $40 dollars for a main course). I find it tad more expensive to stomach, and possibly out of the price range of your average local too.
So where are the locals eating in GUM? A place I recommend is Stolovaya 57. It is a cafeteria-style sit-down restaurant on the top 3rd floor. The food is really affordable. Two main courses and a beer will set you back about 1000 rubles, which is approximately under $20 Singapore dollars a person.
Also, here you grab a tray and order food along a line of counters and pay at the till at the end. Just like a cafeteria.
It has the dining ambience of an up-market eatery. Also the cafeteria had a dedicated bar serving beers and wines, as well as a separate bakery section for fresh bread. Which seems rather odd in a cafeteria. Notably, even the staff are smartly dressed in shirts and vests.
Additionally, this sits contrary that after all, the restaurant is a cafeteria and does not offer table service. It does help keep the food prices more affordable in an otherwise expensive establishment.
Good for half a day trip
All in all, GUM is a pleasant place to visit just for the unique offerings and history, besides just satisfying your shopping fix. Exploring the mall itself will take you under an hour. If you wish to do shopping and dining within, you can be good for 2 hours to even half a day, which is ideal if you wish to do some midday shopping and chill with a lunch or high tea after. GUM has these offerings to what your budget can offer.