Izmailovsky Flea Market is a small dedicated tourist flea market situated in the East district of Moscow City, Russia. It is the go-to place for Russian souvenirs at a good bargain all in one place. The place takes its name from Izmailovsky Park, which is a landmark in the neighborhood. Lets check it out with a day trip.
Getting to Izmailovsky Flea Market
Moreover, the park is located down south from the market itself by a metro station. The best way to get to Flea Market is to stop at Partizanskaya station. It is the nearest Metro station to the venue and is accessible a short walk away.
You see the Izmailovo Hotel right after exiting from the metro station. There are a couple of fast food restaurants and amenities such as toilets here too. Walk northbound from here and you will encounter a long straight pavement leading towards the Flea Market. Additionally, the market is situated right beside a large sports stadium, so you can use that as a reference landmark.
A fairy town?
After about 100 meters, the front entrance of the market greets you. It is themed like a dreamy Fairy tale town complete with white castle-like spires which covers the entrance façade. However, much of the paint work appears to be peeling off. It looks like it had not been washed or tidied in a long time.
Furthermore, the flea market is barricaded by a short perimeter fence. You enter the flea market through one of the many gated entrances.
Lines of wooden stalls greet you when you enter the market compound. Also, these stalls are separated by store numbers and are populated by each merchant goods of trade.
As introduced, Izmailovsky Flea Market is known to offer reasonably priced souvenirs and Russian memorabilia at prices way lower than main street prices. Other selections on sale includes crafts (like leather crafts), clothing and used books.
Moreover, if you are looking for Russian dolls, this is one of the best places in Moscow to buy these unique Russian souvenirs at really good prices. There are several types of such dolls on sale here.
Meet the Russian Matryoshka Dolls
Russian dolls are known plainly as "nested dolls". The dolls typically made of wood or compressed wood and have an interior container which houses a smaller and exact replica of its outer housing. This pattern carries on until the smallest doll. Interestingly, the smallest in the line-up can go to as small as a pea. They are uniquely Russian souvenirs and are hand-painted but typically sold are high volumes (mass produced) throughout Russia.
Additionally, Russian dolls come in a variety of quality categories, each with their corresponding market price. Premium Russian dolls usually feature intricately hand-painted exteriors. You can identify them by two ways, such as more inner nested dolls (which can go up to 8 to 10 interior pieces) and better quality paint finishing.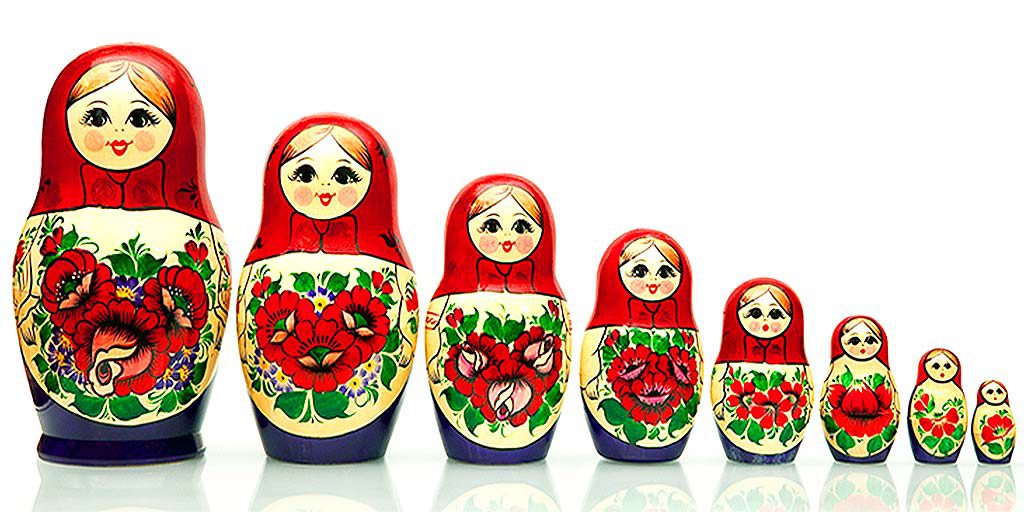 Moreover, better quality dolls typically reflect fine details on the eyes, especially on the faces and lashes. The expressions on their faces are usually similar with the design and colour of their clothing the main differentiating factor. Also, they are usually about 20cm tall and are decorated with gold and trimmings, and are usually finished with a smooth glossy sheen. It looks almost flawless. These dolls can easily cost from up to 5000 rubles ($100 SGD) in upmarket shopping areas. Here you can get one of these for about 2000 to 3000 rubles each. If you are lucky, you could even snag one for about 1000 Rubles.
Finding a Russian Doll of your choice
Noticeably the quality of detail starts to drop as the prices go down. Cheaper dolls they are usually smaller in size (about 10cm in height and below) and have lesser fine detail. I usually recommend this price range of dolls if you are not a serious collector and just looking for a simple Russian souvenir with decent quality without breaking the wallet.
Moreover, if you demand something a little more contemporary, increasingly popular are animal themed Matryoshka Dolls. They typically have the same Russian doll silhouette, but are hand painted with recognizable animals, such as dogs, bears, cats and even pandas.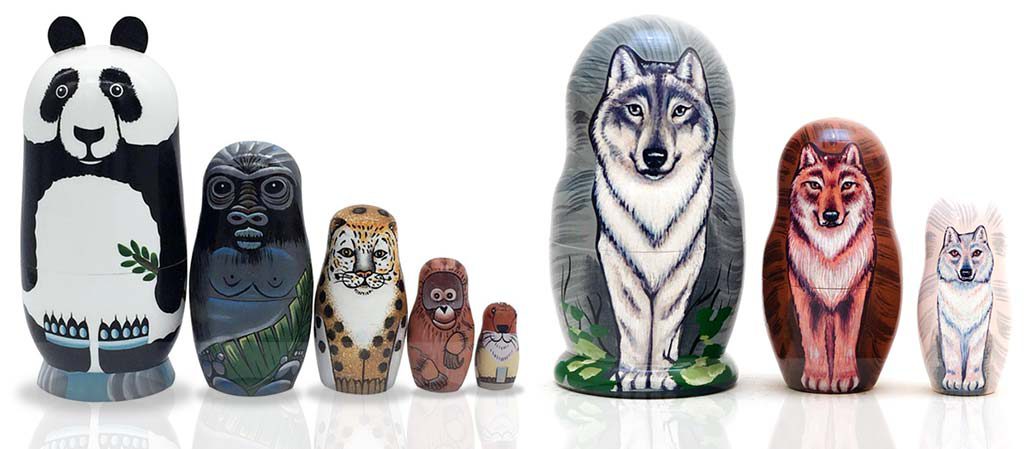 Additionally, these "mid-range dolls" I would like to call cost about 500 rubles ($10 SGD) and offers a good balance of detail and price. Though most stores appear to stock similar carbon copy dolls, some do are different. A good find are those with at least more than 7 nesting levels costing about 500-600 Rubles. Dolls with 7 or more nesting levels usually are reserved for dolls costing 700 rubles and up.
Moreover, moving down the quality chain are the cheaper, low end micro mini dolls. They usually have 2-3 nesting levels typically cost below 300 rubles ($6 SGD) . The cheapest of the batch are usually and small hand painted keychains. You can usually get a bundle deal here with 3-5 Keychains for 100 rubles for instance.
Other good of trade
In addition to Russian dolls are selections of handicrafts and Russian winter wear. Here you can find fur coats, scarves. An interesting unique item will be the Russian Ushanka hat. They make a uniquely undeniably Russian gift item. However, you will be hard pressed to actually be able to use it in any way in tropical Singapore.
Interesting finds includes old relics, such as old world war propaganda pieces from Soviet era. These include vintage décor, and those from folk and army heritage. There are also several push-cart food stores you can find littered about the market too. They sell a variety of finger snacks and dried fruit you can buy off by weight. Great to satisfy a bite while shopping!
I found a vintage pin seller who I got to know and had a good chat with. I bought a couple of old unique Russian pins from past big events like the Olympics and those commemorating Russian space efforts.
Notably, they are reasonably prices at a couple of dollars each. They are very unique and make great collection from my US space pins. He even gave me an additional pin as a gift.
Moreover, topping up the market offering list are artist painting, carpets. Also, there are a couple of stores selling T-shirts as well as handmade lacquer and leather goods you can utilize for everyday use. Also, if you visit during the winter months, the northern edge of Ismailovsky park lots of stalls were open in spite of the cold.
Go on weekends for more options
Notably, there are several stores opened during my weekday visit. However, do not expect many of the stores to be open or occupied. The market can get pretty busy with more stores open on the weekends.
With many of the stores closed on a weekday, you can also take a chance to explore more of the area. Also, some areas of the market do appear to be rather rundown and unkept. I enjoy exploring new places and particularly places of derelict. Here, there is a seating wooden Pavilion which does feel like it is living in the shadow of its past.
Interestingly, wood splinters can be seen sticking out all over. It is worth noting that this area is open to the elements and over time the weather can really wear down the structures. It could be dangerous to thread upon. Hence do keep a lookout for loose or gaping holes which can appear all over the area. It can be quite a hazard to walk or climb the area.
Up here, there are a few shuttered and rusted stores with correspondingly rusted tent structures. An old abandoned decorative windmill sits up here. It paints tad the glory days when this place was an amusement center or sort.
Good for half a day out
Furthermore, if you require something more familiar back in civilization, there is a small shopping mall (AST mall) located along the walkway you took from the metro station to the flea market. It is a 5 floor mall with a center sky-lit atrium.
There are toilets, food and various amenities here too. It is noticeably reasonably filled with people during my visit on a sunny weekday afternoon. You can find mainstream lifestyle stores including clothing and sports apparels. Souvenir prices are reasonably priced though not as cheap as those offered in Izmailovsky.
Teremok fast food
Furthermore, there is even a Teremok fast food restaurant located on the AST mall top floor food court. This chain is unique in Russia offering distinctive Russia staples in a fast food setting. The chain specializes in Russian-style home cooking at very cheap prices.
Also, their recipes were developed by the mother of Goncharov. I recommend a try of menu items such a thin crepe-like pancake called Blini, meat dumpling as well as Borscht cabbage beet soup.
Wrapping it up
All in all, despite the run down conditions and lack of stores during the weekday, Ismailovsky flea market is still one of the best places in Moscow to buy your souvenirs. The prices are much lower than Moscow's main-street shopping districts.
You will be good shopping there for 2 to 3 hours tops. Save some weekend hours for this street market where you can find a wide variety of Russian souvenir options in one spot at a bargain. Don't forget to visit on weekend if you really want to enjoy the place with most of the shops open.