Gorky Central Park of Culture and Leisure is a central park located at Krymsky Val in Moscow, Russia. It is one of the few large open green spaces in the city of Moscow. Gorky Park prides itself as the country eco-friendly recreational zone. Additionally, the 121 hectare park has an open concept and offers free entry 24 hours a day. In August 2018, the Park's celebrated its 90th anniversary.
Moreover, the park is named after Maxim Gorky, a Russian author. The park has a rather rich but controversial history which I shall elaborate more. The park opened on 12 August 1928. Notably, a novel by Martin Cruz Smith, as well as a Russian rock band took their name after Gorky Park.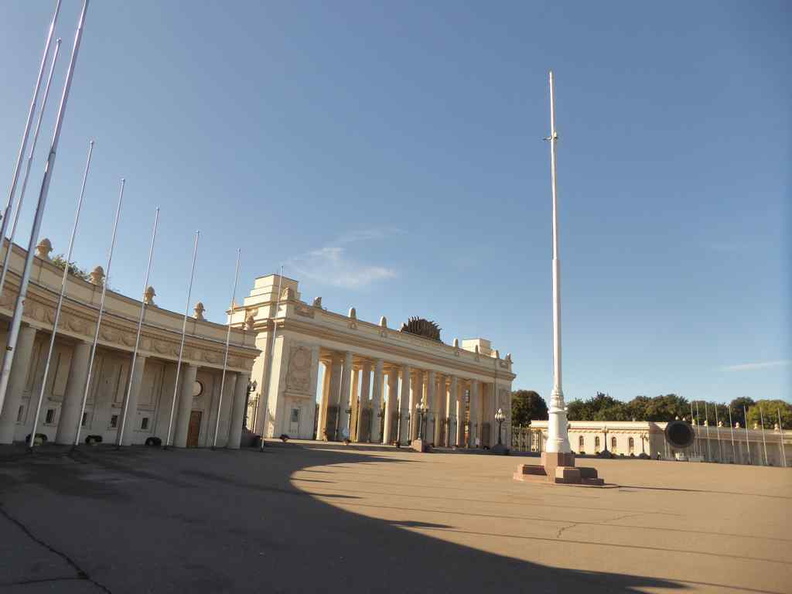 Gorky park is situated just across the Moskva River from Park Kultury. To get there, the nearest Metro station (Oktyabr'skaya) is within walking distance. The city's Metro system is the best way to get here. It brings you right into the entrances of Gorky Park. Upon reaching your metro stop, you pop up right into a mini hub with a couple of American fastfood restaurants. The park's main archway entrance is about a 10 minute walk away.
Front Archway and Museum
Being a national park, the Gorky Central Park establishment is somewhat synonymous to Central park in New York city and Hyde Park in London. Furthermore, greeting you at the Park entrance is the Gorky Park Museum.
It is an archway with a small museum within. Opening hours are from 11am–11pm, it is closed on Mondays. Close to the nearby Gorky Park metro station you'll find author Leo Tolstoy's house. The northern part of the park is flanked by rows of low-rise buildings. It has a modern feel to it with modern amenities such as toilets and drinking fountains.
Additionally, the Culture and Leisure portions of Gorky Central Park features early style garden, boules cafe, open-air movie theater, contemporary art & winter ice rink. The park is open and clean with several benches and planters laid throughout the park.
There are long stretches of lush manicured gardens, fountains, swan lakes. Also, there are a couple of rest seating areas, pond side benches as well as food stalls operating with the Park. The ponds are home to ducks and swans.
Gorky park lakes and wildlife
Gorky park has an expansive lake at the south part of the gardens, it stretches almost out to the Gorky Park pier at the North western side of the park. It is surrounded by mostly evergreen trees which provides good shade, especially in seating areas.
Stoned pavements encircles the lake with an occasional wooden boardwalk and bridge connecting paths over the several small lakes and ponds. There are even public benches situated at specific spots which you can use to relax by the lake.
The lake is also surrounded by several flower gardens. You can also find a number of small food stalls here which you can grab a quick bite. The park is also home to an extensive squirrel population there are small feeder homes which you can put seeds into. If you are lucky you can find the critters coming in for the food.
Besides squirrels, there are of course the resident ducks and swans of the lake too. They are mostly tame and the locals enjoy feeding them bread by the lake side broadwalks.
Some of the small micro parks in the gardens have specific themes to them. Some are just large open spaces which can be used for dog runs, while some are fountains and statues devoted for historical significance.
A public park for all ages
Furthermore, on my afternoon park visit, park patrons consists of a good mix of demographics of all ages visiting the park. You can find elder groups strolling through the park and feeding ducks and geese by the river.
There is alot happening at Gorky park for any given day. The park is usually more crowded on weekends. Also, the park can be quite buzzing even for a weekday afternoon. The park is visited by families with kids enjoying the playgrounds within the fairgrounds. Students can be seen training in school groups running circuits.
It just paints a thriving and open community which you thought otherwise unheard of in a communist country. Towards the Moscow river side of Gorky park is the Gorky Park Pier. The river is busy with many boats and ships frequently passing by.
In the distance from the Pier, you can see as well as the Church of Christ the Savior along the Moscow River.
Directly across the River in front of the Park pier is The Ministry of Defence of the Russian Federation building. It is a rather huge dominating and expansive structure with a gothic architecture style to it.
Gorky Park used to have a Theme park
Gorky Park wasn't exactly that prim and proper before. There were several abandoned buildings left behind by failed business, as well as left over carts, tents, advertising structures which made the park quite a mess. Hence, park recently had a nationwide effort by the government to clean the park, as well as sprucing up monuments. Also, since it's reopening, the Park now boasts free Wi-Fi coverage.
Also, prior to the big major cleanup and 2011, Gory park used to house an expansive amusement entertainment complex. This outdoor theme park used to have suspended roller coaster called the Gorky Park Roller Coaster. In addition, the amusement park used to house rides additional rides making up the amusement complex, some rides includes a Twister Coaster, Silber Mine, as well as small flat rides such as Alpenblitz, Fiesta Express, Jet Star 2 and Wacky Worm.
Notably today, a small part of the Amusement center called Luna Park remains. It is accessible via the North entrance of the park. It is not as big and buzzing as before, you can still find a carousel in service there, as well as some small kiddy rides.
All in all, Gorky Park is perfect for a lazy day out if you have a day to spare in Moscow. The Park does offer a good escape front the otherwise urbanised and busy environments. Also, Exploring the park with a light stroll won't take over half a day, giving you time to explore other sights in the city of Moscow.