When visiting Seoul, South Korea, you absolutely cannot miss visiting the two magnificent grand palaces: Gyeongbokgung and Changgyeonggung palaces. These ancient palace grounds are home to state buildings and king residences which had been standing since the 14th century and Josen dynasty of Korea. It offers a glimpse into the rich history and culture of Korea.
In this segment of Seoul explorations, let's take an explore of Korean royalty with a visit to both Gyeongbokgung and Changdeokgung palaces in Central Seoul. Lets see why these palaces of history, culture, and architecture are so special, and why they are two of Seoul's most popular tourist attractions.
A tale of two (or five) palaces
Seoul city is home to a number of Korea Palaces dating back to 1300s. Changgyeonggung Palace was built as a backup to the main Gyeongbokgung Palace. It is one of the five Josen dynasty palaces residing in Seoul city, them being Gyeongbokgung, Changdeokgung, Deoksugung, Changgyeonggung, and Gyeonghuigung.
Moreover, these five Seoul palaces open to the public, though the main Gyeongbokgung and Changgyeonggung palaces are recommended ones of the bunch. Also, both Changdeokgung and Changgyeonggung resides within close vicinity in Seoul city you can visit both at a go.
360 degree panorama of Gwanghwamun Gate Courtyard in Gyeongbokgung
Also, Gyeongbokgung Palace has a large sprawling grounds with many courtyard buildings, and vast gardens and lakes. It served as the Korean main palace for more than five hundred years. Also, the second be the newer Changdeokgung Palace. It sits a few kilometers away and served as a backup Palace grounds of the Gyeongbokgung.
360 degree panorama leading to Geunjeongjeon Hall of Gyeongbokgung Palace
Visiting Gyeongbokgung palace
First off between Gyeongbokgung Changgyeonggung palaces, the oldest of both Palaces is Gyeongbokgung. It was first constructed in 1395 three years after the Joseon Dynasty was founded. Additionally, the palace original construction was overseen by King Taejo who reigned from 1392 to 1398.
Also, Palace Greatly Blessed by Heaven, Gyeongbokgung was the main palace of the capital city and the largest of the Five said grand palaces here in Seoul city.
Also, it is the largest and most grandiose of all the palaces in Seoul. As you walk through the palace grounds, you'll be awed by the intricate details of the architecture and the stunning beauty of the palace gardens.
Furthermore, from the front courtyard, by the ticketing counter, you enter into the main working and administrative buildings of the Palace itself. Entry tickets cost 3,000 won per adult entry.
These are two large halls flanked large open courtyard spaces. Here, is the site where the king does his official duties. In the day, it is often buzzing and full with administrative staff, scholars, guards and commoners. The buildings inner palace within are the official royalty residences.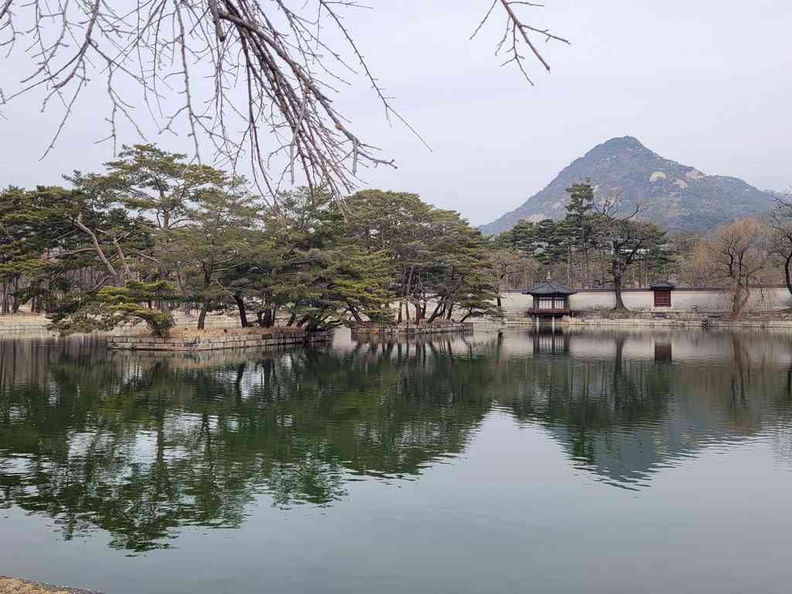 A highlight piece of the palace be the palace gardens which sits beyond here. You can find two lakes here one called Gyeonghoeru offering reflecting views on the lake with a background hill where the presidential blue house resides. And another called Hyangwonjeong Pavilion with a spanning bridge linking to the small island it sits on.
180 degree panorama of Pond with ducks and Gyeonghoeru in the distance.
A Josen-era palace rebuilt
The palace is majestic in its own right. Notably, most of the Palace grounds were burnt down in a fire in the 1876. Most of the current structures either original or rebuilt following restoration and preservation works over the 19th century.
Also, some remaining foundation strictures where the original buildings once stood can be found in the rear garden areas of the Palace compound when navigating the park.
As you wander through the palace grounds, you'll feel like you've been transported back in time to a different era. With stunning architecture, beautiful gardens, and fascinating stories behind each building.
180 degree panorama of King's residence in Gyeongbokgung palace
Moreover, Gyeongbokgung palace grounds are vast and large. However, most of it are plain barren grounds where some buildings used to sit after they were destroyed in the fire. The gardens itself is easy to navigate with maps and information boards in English at every corner. Do note the courtyard areas might be not wheelchair accessible, owning to presence of steps and tight passageways.
Wrapping up the rear end of the Palace grounds is a funeral rites compound. There are a few small hilly green spaces home to family's of magpies, which are surprisingly active in winter. Also, this rear area also has a secondary entrance and exit you can use to exit toward the presidential Blue house which you can visit as a separate attraction just a street away.
Catch the Change of guard parade
Don't miss the Changing of the Guard Ceremony, held at the entrance courtyard were the ticketing counter are. You do not need a ticket to enter this area to watch the parade.
It takes place at 10am and 2pm every day except Tuesdays, and is a mesmerizing spectacle to witness. The parade is however, it is largely still symbolic procedure for the tourist crowds, also considering royalties do not live here now.
In addition, sister palace Deoksugung palace, situated by the Seoul City hall also similarly does daily change of royal guards at 11am, 2pm, 3:30pm. There are no guard parades on Mondays. You are good for Gyeongbokgung Royal Palace for 2-3 hours tops if you are to explore all the buildings within. Also, the nearest MRT stop located right beside the palace is Gyeongbokgung MRT. Also, the palace is closed Tuesdays with opening hours 9am to 6pm, with last entry at 5pm.
Also, aside from the main palaces, there are also several smaller buildings and museums to explore. Examples include the National Palace Museum of Korea and the National Folk Museum of Korea at Gyeongbokgung palace. The museum is complimentary to the palaces and is a great palace to understand what you see at the palaces better.
Changdeoggung and Changdeokgung palace
Moreover, next up is Changdeokgung, a UNESCO World Heritage Site that was built in the early 15th century. This palace has a vast garden which is built by King Taejong in 1405. The best way to get to Changdeokgung Palace is via bus along Yulgok-ro road.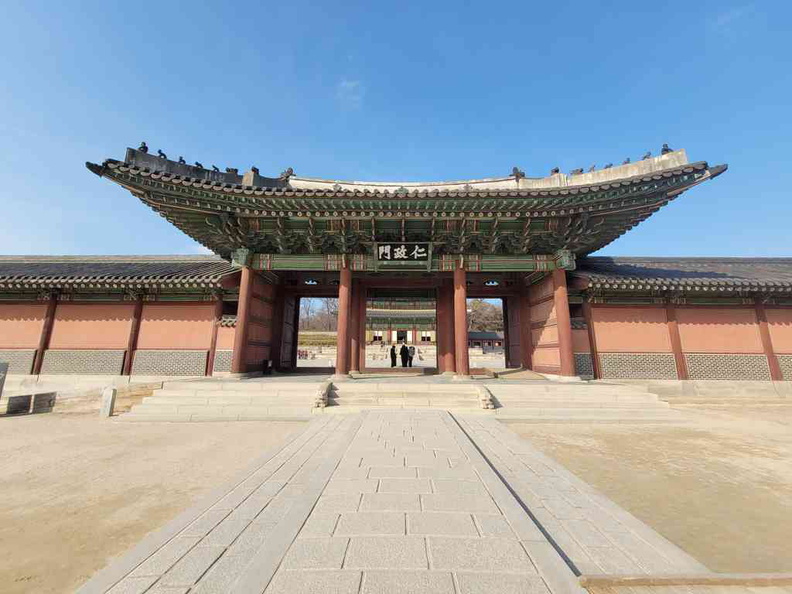 Also, you can enter from the palace ground west or east entrances. Just look for the vast entry gates.
Also, unlike the larger Gyeongbokgung palace, where most of the original buildings were destroyed in a fire, the buildings residing here in Changdeokgung are mostly complete.
Notably, being complimentary to the Gyeongbokgung Palace, the royal family stayed here when the main palace was being rebuilt after the fire.
Furthermore, the palace buildings are left open for you to explore its various nook and crannies, with little supervision of park wardens around. It adds to the quiet tranquillity here.
Also, you can take an explore into the various building and courtyards, which served as the Kings, Queens residences as well as those by support crew and the Queen's concubines. You can tell back in the day, these Courtyard are a hive of buzzing activity with guards at every corner. Today, these courtyards are devoid of activity with a chill of emptiness between each corridor. you are good for a out 2 hours tops.
Additionally, despite being smaller in size than Gyeongbokgung, these Palace grounds itself are large. It can take up to 2-3 hours to explore completely. Though you can pretty much see most of the palace highlights like the kings and queen's residences within an hour, forgoing the servant residential and service buildings.
Changgyeonggung palace
Moreover, the Changgyeonggung palace grounds has more greenery and harmony with nature, and it's not hard to see why. The palace grounds are surrounded by lush greenery. There is a cozy garden you can stroll through and even secret gardens to explore. Be sure to visit the Huwon Secret Garden.
Also, it is only accessible by paid guided tour, but is well worth the extra effort. Also, if you enjoy nature and parks, the highlight would be a reflecting pond called the Dae-chun-dang-ji Lake with the Octagonal 7-story Stone Pagoda sitting there.
Do note that, it costs an additional 1000 won (about S$1) to enter this Changgyeonggung Palace sector (Honghwamun Gate). Attractions here are the Queens quarters and Octagonal 7-story Stone Pagoda. If you wish to get more value, you can consider the Seoul Palace Combination Ticket at 10,000 won for all 5 palace you can use within a month.
Also, do note that the Donhwamun Gate's 5000 won entrance fee (about S$5) grants you to the Changdeoggung sector of the Royal palace. This is where you find the Kings quarters and entrance to the secret garden tour.
Lush gardens and a lake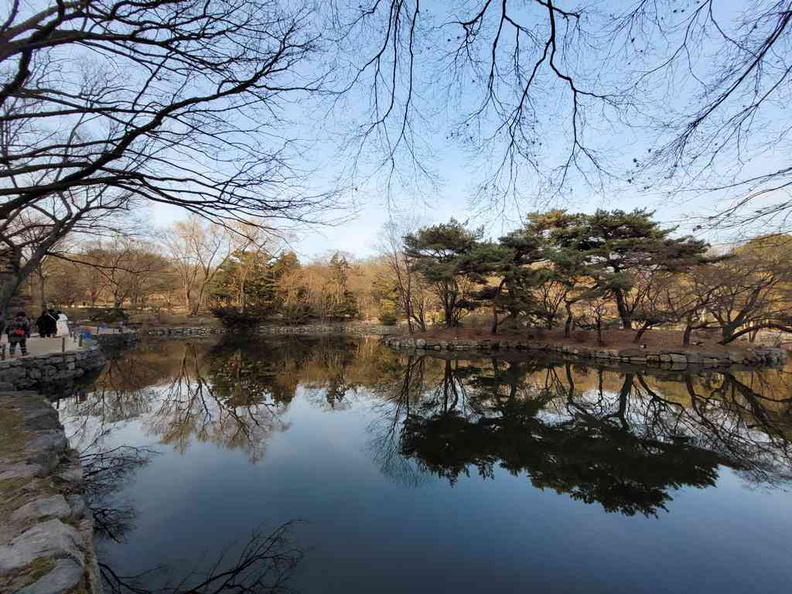 Moreover, the Changgyeonggung Palace gardens is one of the highlights here. The Chundangji Pond sits centrally here in the heart of a green space in the city. The park is smaller and more secluded than Gyeongbokgung vast grounds.
Notably, these gardens are home to a few resident birds you can see chirping on ther trees, as well as some wild cats too.
Also, at the end of the make is a small Victorian style green house. It is home to a couple of tropical plants and fruit trees. You can even find hibiscus flower here. Also, the palace grounds has two parts to it.
180 degree panorama leading of Changgyeonggung Palace gardens.
The gardens is a nice chill place to take a stroll and unwind in the mist of the buzzing Seoul city.
Wrapping up, you are good for both Changgyeonggung and Changdeoggung palace grounds for 2-3 hours tops. This makes the palaces suitable for a half day trip in your tour of central Seoul.
360 degree panorama of Changgyeonggung main hall.
All in all, visiting Gyeongbokgung and Changgyeonggung palaces are a must for any traveler explorer visiting the city of Seoul. The entrance fees are affordable and the attractions are well-kept and clean. The beauty, history, and culture on display in these palaces is truly awe-inspiring and will leave you with memories to last a lifetime.