Let's take alook at the Samsung S23 Ultra with an in-depth phone review. Delve into various aspects of Samsung flagship phablet, checking out the phone's exterior design, impressive camera capabilities, and put it through a performance benchmark to gauge its heat management, battery life. Let's go!
Exterior Impressions
The Samsung S23 Ultra spots a conventional candy bar form factor albeit a very large one. Still, the phone exudes a sleek and premium aesthetic in line with the brand's flagship offerings.
Unlike Samsung's budget plastic offerings, this flagship is clad in matte aluminium which is cool and light to the touch. Out of the box, you get the phone with a rather compact box with a sim eject pin, a USB-C 3.0 cable and a set of warranty information. As with all newer Samsung phones from S21 series onwards, there is no charger included in the box.
Furthermore, being a premium flagship, the phone rear side is covered with a premium selection of materials, starting with a matte metal backing. I tend to prefer this to glass-line glossy back, which more at times is more aesthetically pleasing being less of a fingerprint magnet. Samsung touts that the body is made of an "armour aluminium frame" which has tougher drop and scratch resistance. Though this does no make it immune to damage, so I would recommend a protection case pronto.
Also, sitting at 163.4 x 78.1 x 8.9 mm, the phone's narrower form factor makes it easy to hold in one hand. And weighing in at 234 grams, it does feel relatively light. This is despite its massive size despite its size and footprint, the phone feels light in-hand. In terms of overall build quality, the Samsung S23 Ultra features a combination of premium materials, likely including glass and aluminum. The device has an IP68 rating for dust and water resistance, adding to its appeal for those seeking a device capable of withstanding the elements at the beach or in a shower.
It's all (noteworthy) screen
There isn't much to improve on what is already good. The front spots a 6.8" Dynamic AMOLED screen with curved edges. This screen spots an impressive 1440 x 3088 pixels, larger than even most HD TVs and computer screens. However, the screen is slightly curved at the edges, giving the front of the phone a run off bevelled edge. I am not quite a fan of this as it is impossible to get glass screen protector to sit on fully.
Moreover, still, you could go commando and use the factory-provided glass front courtesy of Gorilla Glass Victus 2. The screen also spots a 120Hz refresh rates is tad the expectation in high-end phones today. Brightness on the screen is impressive at 1200 nits (HBM) with peak brightness of a blinding 1750 nits, making it visible even in the brightest sunlight.
Additionally on the screen, the phone also gives you the option to toggle between HD+ 1544 x720, FHD+ 2316 x 1080 and the full resolution for finer detail but at the expense of battery life.
Furthermore, the Samsung S23 Ultra's exterior design is sleek and well-thought-out, albeit nothing to scream home about. The phone's buttons and ports positioned for ease of use. The phone has a thoughtful arrangement that enhances usability on a large device with one hand. On the left side of the device, you will find a familiar layout of both a volume rocker and power button.
Moreover, the buttons are tactile with adequate feedback and convenient positioning for easy access during one-handed use. The power button is placed lower within reach of the thumb. This allows for one handed activation. Alternatively, you can also screen double tap or use the on-screen fingerprint reader to wake or unlock your phone than using the power button.
A busy bottom
Furthermore, the device bottom is a busy spot in contrast to the other side. It is home to a USB3 USB-C 3.2 port, allowing for more than adequate 10Mbps data transfer speeds, but nowhere thunderbolt-3 40Gbps speeds. Also, the USB-C port also serves as the main charging and data transfer port.
This is a welcome feature as USB-C has become the standard across various devices even supporting Samsung DEX as well On-The-Go (OTG) functions allowing you to plug-in third-party peripherals and input devices like wired hubs, storage drives, keyboards and mic.
Additionally, the device bottom is home to one of the two speakers, with the second one behind the earpiece. It delivers decent audio range including thumpy bass which would you otherwise not expect from very small speakers. The S-pen silo sites on the other end. More on the pen later. One glaring notable absence is the lack of a 3.5mm headphone jack, which has become a common yet annoying trend in flagship smartphones. Hence, you have only options of wireless headphones or the use of a USB-C adapter to connect your wired audio devices.
Interestingly, the S23 Ultra has a Dual Nano-SIM tray which allows for dual stand-by. This is a feature usually found on medium-end phones. SIM options includes Nano-SIM or eSIMs. However, the S23 Ultra has no expandable storage. It better if the Dual-SIM tray supports additional storage via MicroSD cards, like that on the Samsung A54.
Impressive Camera Performance
In the photography department. The Samsung S23 Ultra the cameras builds on the tired and tested periscope and multi-lens setup we come to love in the previous generation S22 Ultra. The S23 Ultra has 5 cameras– one at the front face, and an impressive four-lens camera setup at the rear.
This is the most you can find on any modern smart phone today. At the heart of this setup is the 200MP main sensor shooting massive 30MB-szied .JPG photos at 16320 x 12240 resolution each.
Also, there is alot of detail you can capture with 200MP, making it suitable for poster prints. This it's the standout feature of this device. However, this iteration is more incremental than revolutionary.
Samsung S23 Ultra Sample Photos
Still, the S23 Ultra blurs the line between phones and dedicated semi-professional point and shoot cameras. Also, this 200 MP main camera (ISOCELL HP2) has an aperture f/1.7, one of the largest you can find on a Smartphone today, without going into the 1″ sensor domain.
This allows for reduced noise and improved low-light performance capturing images in the dark while maintaining a high level of detail to capture more light into the sensor. Night photos have a good amount of detail, even in very dark areas.
Besides the larger f/1.7 aperture in the new main camera sensor, you can see Samsung's computational photography here at work, bringing down overblown highlights from lights, and yet balancing out the dark area. It makes for pleasing night shots without grainy artifacts seen in high ISO photos with such a small sensor. The S23 Ultra holds its photos very well in challenging dark environments.
Also, this main sensor has a fixed 24mm optics, with multi-directional PDAF, Laser AF, and in-built optical image stabilisation. This massive resolution is tad excessive by today's standards and is a road down memory lane where Nokia first introduced their 38MP "PureView" cameras in the Nokia 808. Still, megapixels do not mean anything besides in low-light performance.
Like all Samsung camera interfaces, this main camera starts off and sits in the 1x zoom range. It is a rather versatile camera lens for most situations, capturing and retaining lots of info in a shot.
Additionally, the main sensor also offers a 50 Megapixel (8160 x 6120 resolution) mode, on top of 200MP. For video, spec-wise the main camera and CPU pairing allows for the recording of 8K resolution video, albeit at only up to 30fps. The camera can handle 4K at 30/60fps, and 1080p at 30/60/240fps, with the ability to shoot at 960fps for very short duration.
Great for capturing landscapes
Also, accompanying the main sensor is a 12 MP, f/2.2, 13mm ultra-wide lens that offers a broader 120˚ field of view.
It sits at 0.6x zoom, which is notably a less wide compared to Samsung's older ultra-wide angles lenses at 0.5x zoom like their older Samsung S20 series. This wide lens is perfect for capturing vast landscapes or vast group photos. The ultra-wide fisheye distortion on the edges of your photos is also minimal.
The Samsung S23 Ultra boasts an impressive camera setup that includes multiple lenses. The third lens is a 10 MP, f/2.4, 70mm (telephoto) lens with a 1/3.52″ sensor capturing image of 1.12µm pixel size. This lens features Dual Pixel PDAF, OIS, and 3x optical zoom. It allows for closer shots without compromising on image quality.
Twice the telephoto fun
There are two telephoto zoom lenses on the S23 Ultra- one 3x and 10x. One of the most striking capabilities of the Samsung S23 Ultra is its native 10x optical periscope telephoto lens. While most phones typically max out at 3-5x telephoto, the S23 Ultra has an 10 MP, f/4.9 lens offers an unprecedented level of optical zoom. You can find lots of sample shots of the telephoto capabilities here.
Also, with a fine 1.12µm pixel pitch, you can cram alot of pixel data which the phone will decide whether to sample merge or pixel-bin into the final photo. This allows you to capture imperfect shots or sharper highly-zoomed in distant shots that would otherwise appear as blurry when digitally zoomed on most cameras.
The lens's Dual Pixel PDAF and Optical Image Stabilization is also great and aids for capturing distant objects, even with shaky hands.
Also, this periscope design has its lens is mounted lengthwise along the phone body, pivoting 90 degrees to the lens module. This design enables the lens to fit within the slim profile of the device while delivering exceptional zoom reach from a relatively small body.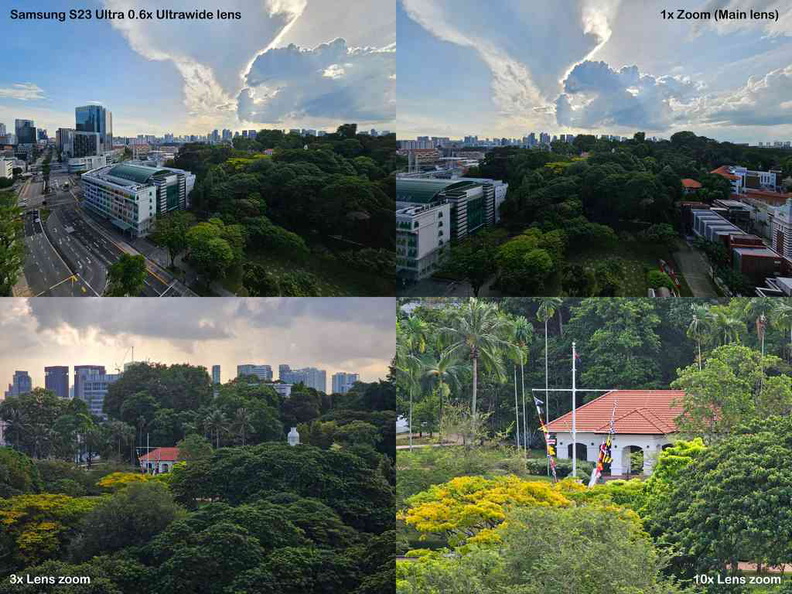 However, the massive zoom does come at a cost- a small aperture. This makes the camera less effective in low-light conditions. Still a long reach is best for photographing nature shots in the bright day, especially not startling wildlife.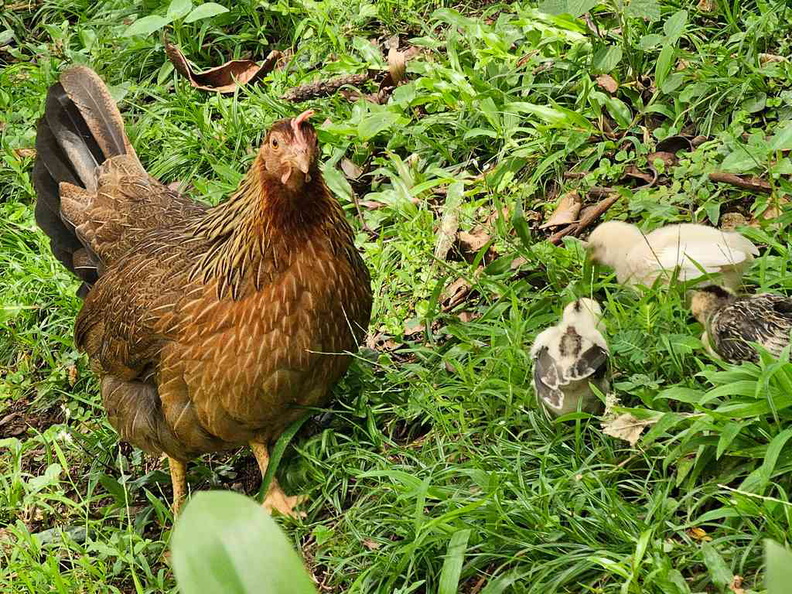 Still, achieving 10x zoom ranges similar to those offered by 1″ sensor point-and-shoot cameras is impressive. It Providing much versatility in a compact package. This coupled with the 200MP main sensor effectively pushes these point and shoot cameras out of the market.
Overall, the Samsung S23 Ultra's rear camera setup is a remarkable engineering feat. It offers a range of lenses and capabilities to cater to various photographic needs. The 200 MP main sensor, ultra-wide lens, 3x telephoto lens, and the impressive 10x periscope telephoto lens work in harmony to deliver stunning image quality and versatility.
Samsung has also improved the zoom transitions between each lens. This is especially useful when switching between zoom levels during video recording. Completing the camera offerings is a decent 12 MP selfie camera with Dual Pixel PDAF. The f/2.2, 26mm (wide) lens is positioned at the top of the screen with a pinhole cut-out.
CPU Performance benchmarks
We had came a long way to how handphone CPUs been optimised. The S23 Ultra has a well optimised, zippy and cool Qualcomm SM8550-AC Snapdragon 8 Gen 2 under the hood. Interestingly, we see this being the better decision for Samsung sticking to Snapdragon in place of their Exynos range of mobile CPUs on their flagships.
Also, the menu interfaces are fast and fluid. All thanks to the Android 13 and Samsung's very own One UI 5.1. The S23 supports 120hz screen refresh out of the box, a feature common on phones today, we first saw in Razer's gaming phone many years back.
Additionally, the phone comes with 6GB RAM onboard coupled to 128GB of storage. Notably, 6GB of RAM is near flagship specs for 2017 and 2018. It is nice seeing this in mid-range phones now. It is plenty for phones in this price segment, not to mention excellent for multi-tasking.
Runs cool in load situations
Moreover, on my benchmark tests, the S23 manages very impressive bench marks score. It scored Geekbench single core score of 1863 and a Multi-core score 5026. This places the S23 Ultra as one of the highest scoring of the Android phones made today. The S23 Ultra sits just behind the Vivo X90 Pro+ and Xiaomi 13 with a close 5142 score or 5087 respectively.
Also, cross platforms OpenCL compute scores a relative score of 9102 and a 3D mark Wildlife extreme score of 3571 with a 21.4 average gaming framerate. Impressively, there is notably no notable framerate drops even in the most demanding 3D games you throw at it. It makes for not only a very capable productivity device but one for play too.
What is remarkable is that the new Snapdragon 8 Gen 2 delivers this performance without any heat issues. In my gaming tests running 3D games, the phone hardly got hot too. It peaks at a temperature of 45.5°C in high stress benchmarks.
Notably, heat hotspots are concentrated on the top left corner of the phone where the main board and CPU die is located. The rest of the phone's body sitting at about 39.4°C in this condition, it is not too hot to touch.
Connectivity wise the Samsung S23 Ultra spots the usual wireless bells and whistles of Wi-Fi 802.11 a/b/g/n/ac/6e, including the newest 6e variant of Wi-fi 6. tri-band with Bluetooth 5.3, A2DP, LE/. Positioning GPS, GLONASS, BDS, GALILEO.
Lighting fast UFS4.0 onboard storage tested
From the S22 Ultra, the new S23 Ultra sees it base storage bumped from 128GB to 256GB, and topping up at 1TB. RAM ranges from 8GB to 12GB RAM. 8GB is offered on the lowest end 256GB. You can see how the UFS 4.0 storage shines with impressive write speeds, allowing you to quickly save large 200MP images from the main camera. Also, this filesystem can see the be fits paring the cameras with the newer UFS4 file storage. In my benchmarks, the 429.6MB/s writes and 1,200MB/s reads on the in-built UFS 4.0 flash memory makes. These read/write speeds are comparable to that of PCI-e Gen 2.0 SSD on personal computers.
In real-world use, it took 2 seconds to randomly save/write large 200MP photos at 30MB each to the onboard storage, where the camera button will pause before allowing another shot. In comparison 50MP photos sits at 15MB, and regular 12MP photos sits at about the 4MB range each. Interestingly, the saving time between a 50MP and 200MP image is the same, still about a 2 second pause between each photo.
A fun wireless S-Pen
Furthermore, the galaxy Ultra series takes on from the highly successful galaxy note series with the active digitzter S-pen. Originally introduced with the Galaxy Note series, the Samsung S-Pen is a versatile accessory. Also, it is a distinctive one too that sets the Samsung S23 Ultra apart from other smartphones on the market.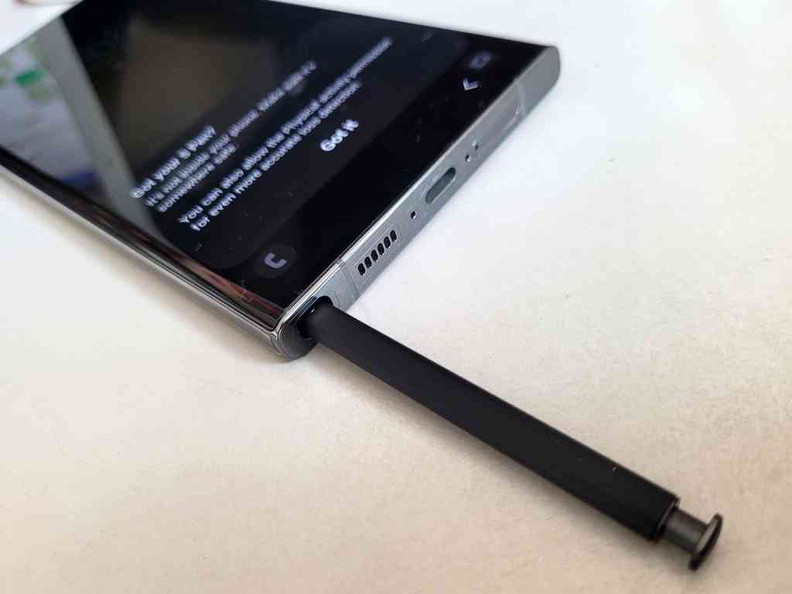 Moreover, the included S-Pen is a stylus sits in the included pen silo which charges via a clever pin-contact arrangement. The pen provides precise and pressure-sensitive input. It is ideal for taking notes, sketching, or navigating the device with precision. The S-Pen offers a natural writing experience to jot down thoughts, create drawings, or annotate documents.
Still there is nothing new to scream home about of the S-pen, which though as remarkable as the technology has matured from being a screen-only touch-input device to being a Bluetooth remote shutter. It can to act as a camera remote control, control media playback, or even navigate through presentations. Another cool thing about this S-Pen supports features like Air Actions, which utilize the built-in accelerometer and gyroscope to detect gestures. This allows you to perform actions akin to like a Nintendo Wii or Switch remote. You can toggle camera modes, switching between apps, or controlling certain functions without physically touching the device's screen.
Moreover, the S-Pen also offers handwriting recognition, converting handwritten notes into digital text. This feature is especially useful to input writing by hand but also require the convenience of digital text. However, I find the pen still not as intuitive and easy to work on as the apple pencil. While Samsung ability to make annotations and hand notes is useful for office productivity. It is the software implementation which puts the pen still behind the Apple pencil. You have to get used to writing on the smooth screen surface. It could help with more resistance.
Great Battery life
Moreover, the S23 Ultra also impressive in the battery life department. Samsung did a good job in improving the phone's battery performance from the S22 Ultra. Having a power-hungry processor is a disaster for battery life, I find the pairing of the S23 Ultra large internal Li-Ion 5000 mAh, compliments the setup as a whole.
The 23 Ultra sips battery too. The phone's non-removable battery lasted about 2 days in regular use, with about 10% left at the end of the second day. This is from about a 2-3 hours of daily screen-on time on social media and web, emails, messaging, calls, tethering on-the-go and music on commutes. Also, on regular use, you can expect to squeeze about 120 hours of standby time and about 7-8 hours of screen-on time on the S23 Ultra.
Your usage may vary too. Hence for a more standardised testing, in my battery drain benchmarks, the phone drains at a rate about 20% battery life for every 3 hours of use. This translates to about 12-14 hours of screen-on time at the standard screen refresh rate.
Also, there are several ways to juice up the phone too. It comes packed with 15W wireless (Qi/PMA) wireless charging, as well as 4.5W reverse wireless charging. The reverse charging is pretty gimicky, but actually works when charging small devices like the Belkin Wireless earbuds reviewed recently. For the best charging performance, fast-charging via USB-C cables kicks in 45W wired which grants 65% of charge in 30 minutes.
Who is the phone for
Which begs the questions now, who is the Samsung S23 Ultra for? For those who demands an all-in-one phone with the best phone photography (which is not a Vivo X90 Pro or Xiaomi 12S) and ability to input hand-written notes, the Samsung S23 Ultra is a no-brainer and possibility the only phone out there with these features in one device. The cameras are the main selling point of the S23 Ultra, spotting an impressive 4 rear camera setup, with the f/1.7 200MP main lens as the poster boy. Who knows, maybe 1" camera sensors would be the Samsung's next logical increment step in the Ultra's photography.
It is also for users who want the biggest screen and consume a lot of media, enjoy gaming, or require a larger screen for productivity purposes. The S23 Ultra is one of the largest modern Android phone in a candy-bar factor without encroaching into the Fold 4 foldable territory. The S23 Ultra's 6.8 inches offers the largest phablet screen there is, larger than Apple's 6.12" iPhone 14 Pro.
Still an expensive phone
The Samsung S23 Ultra sits behind its larger Galaxy fold 4 in Samsung's premium sub $2000 phone segment. Samsung Singapore prices the S23 Ultra starting at $1,528.00 for the 256GB base to $2,108.00 for the top tier with 12GB RAM and 1TB flash storage. It is not a cheap phone by today's standards. Though I had seen deals by Samsung where you can snag pretty good trade in and promotional deals which can easily slash upwards of S$500. You can find local sellers on Shopee or Lazada selling local sets starting from a more affordable S$1,235.00 for the base version.
For those who demands an all in one phone with the best phone photography and ability to input hand-written notes, the Samsung S23 is a no brainer and possibility the only phone out there with these features in one device.
One can only lament and gone are the days where you can get a flagship Samsung note priced under S$700. Flagships are overpriced today for technology innovation which is more incremental than revolutionary. If you are new to the Samsung Ultra series and looking to save a buck or two, I would recommend getting last year's S22 Ultra which are heavily discounted today. Also, it is not a worth upgrade if you already have the S22 Ultra.
At least it is pleasing to know that the phone's top-of-the-line specifications can be more future-proof, lasting you quite a few years. This paired with Samsung's assurance of four years of One UI and five years of security updates.
Wrapping up
All in all, that wraps up my Samsung S23 Ultra review. The phone is a flagship phone that offers an impressive array of features. Its standout feature is the exceptional camera setup, which rivals the quality and range of most compact point-and-shoot cameras. The phone's sleek and premium design exudes sophistication, while its benchmark performance showcases its powerful processing capabilities. It effectively manages heat, ensuring a comfortable user experience even during intensive usage.
The commendable battery life allows for extended usage without frequent recharging. The camera performance is outstanding, capturing stunning photos and videos with exceptional detail and clarity. Additionally, the inclusion of the S Pen adds versatility and productivity for stylus enthusiasts.
Overall, the Samsung S23 Ultra delivers a top-tier smartphone experience, making it a compelling choice for those seeking cutting-edge technology and a rich set of features. Still, it is hard to improve on what is already one of the best phones out there.
Many thanks to Samsung for the opportunity to review the Samsung S23 Ultra. As with all my reviews, manufacturers have neither editorial inputs to reviews, nor seen this review before it is released to you, my readers. Thanks for reading!