D-link Singapore was around to showcase their latest range of consumer-targeted home high security home networking routers and security IP cameras. On feature are two main product ranges, namely their D-link D-Fend and smart home security sensor products. It forms part of a holistic smart home security suite you can use to secure your home network.
Check out a crude video demo presentation I cooked together from the product walkthrough John from D-link Singapore. He very kind to walk me through the various products they have on offer for the 2019 year.
D-link smart home, routers demo and walkthrough
Smarten your home with D-Link connected home
D-link presented a range of accessories as part of a holistic suite of internet and physical home security. A small smart home mock-up was created to how D-link envisions their range of products to be used in your home.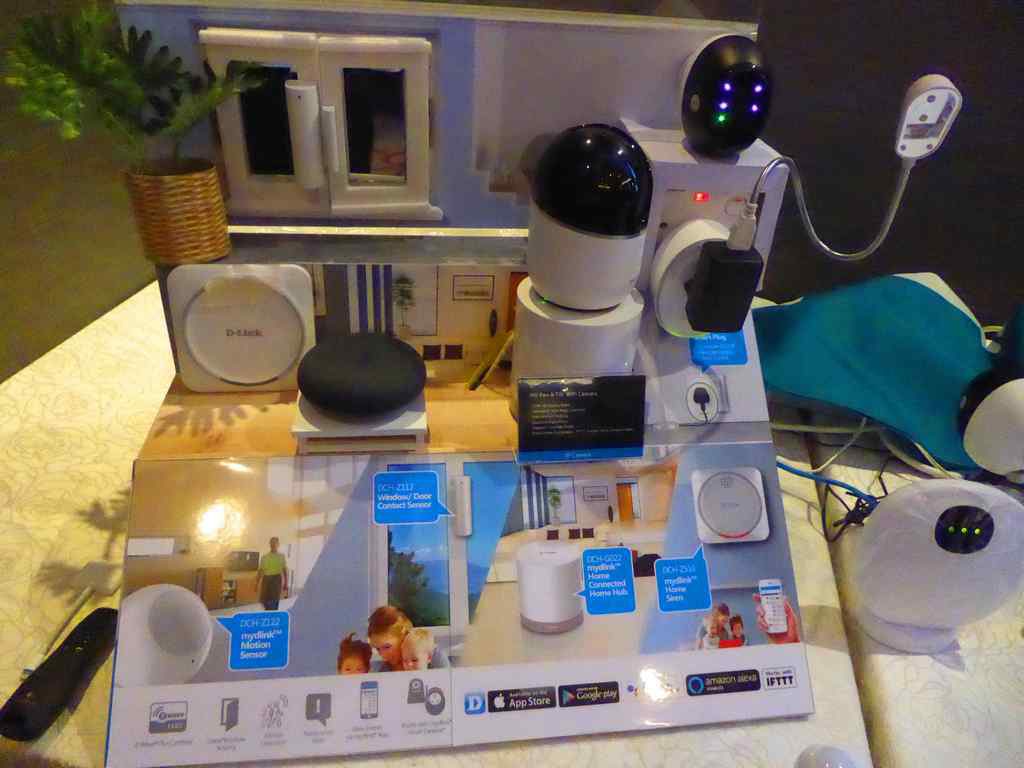 Starting off with more affordable selections, the suite involves a collection of IoT devices such as door sensors, motion sensor IP cameras as well as alarm base stations (D-link Z-wave). In a typical use-case is to have a voice activated device. Examples includes using Google home or Alexia. You can voice control your various smart plugs ($9.90) connected to devices around your home wirelessly.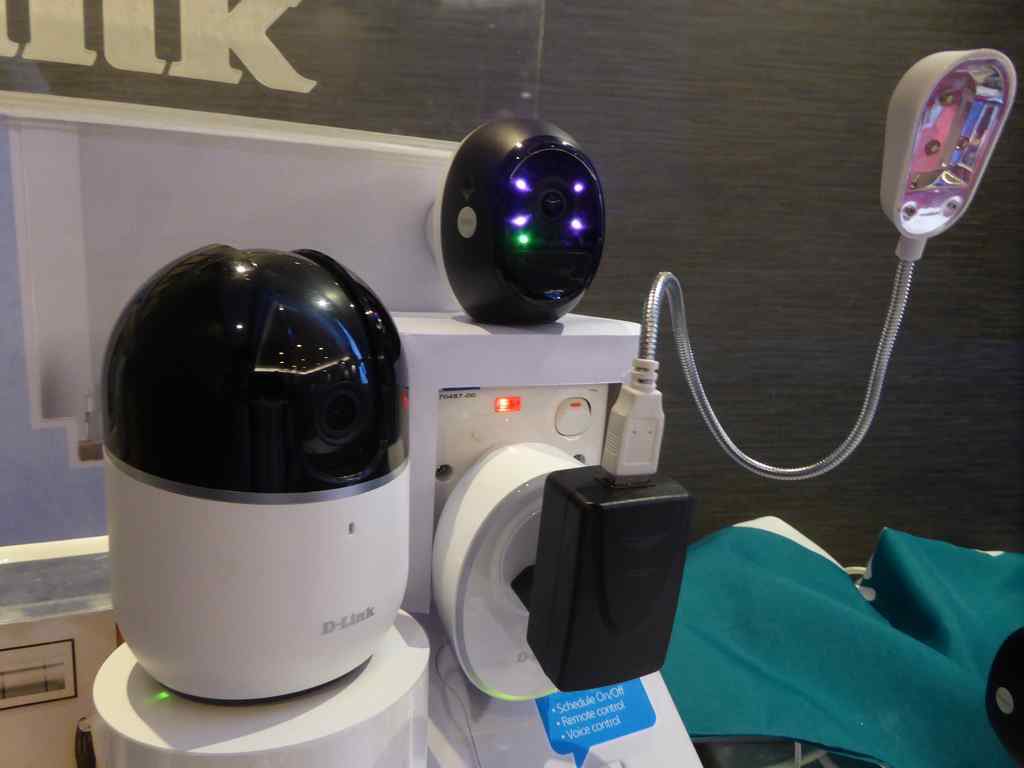 Also, the IoT-enabled smart plugs which allow users to turn your devices on or off, wherever you are. This is especially useful for those who frequently forget to turn off their appliances such as air conditioners and fans. This is provided if you have the smart plug connected that is!
Impressive Battery operated IP cameras
Moreover, the connected home starter kit starts at $99 for a base station. It serves as an alarm and door sensor. Adding into the collection is the D-link 2820KT pro camera suite ($599). It comes bundled with 2 wireless battery-operated cameras which can last an astonishing 7 to 11 months. This is achieved from a stringent standby power saving plan despite being always-on.
I can see great use cases for having the cameras mounted in remote or even outdoor areas previously limited by physical cabling restrictions. This is probably dues to lack of power outlets or data cable length. Wi-Fi coverage is your only limiting factor now. Additional use-cases can include baby monitoring from smartphones or tablets.
Welcome D-fend, the DIR-2680
Furthermore, a big portion of today's presentation is the pre-sale announcement of D-link's new DIR-2680 security router. Fueling it is McAfee Secure Home Platform and Intel's connected home technology. Also, it serves as a security gateway, controlling all visibility and access in your network.
D-link's use-case of the router was built to address increasing security risks from a correspondingly increasingly interconnected world. This is top of addressing new consumer attitudes towards security threats.
The worldwide adoption of connected devices is ever increasing. In fact, Gartner predicts 20 billion connected devices globally by 2020. This comprises of tablets, gaming consoles, to IP surveillance cameras, and IoT devices.
Henceforth, D-Link saw a need of these products to tackle new security issues and the larger attack surfaces areas faced by modern connected homes. It secures all connected devices by providing an additional layer of protection from potential hackers, and for legitimate devices accessing network and online content.
The router is an interesting device; it has security solutions developed together with McAfee. D-link partnered with McAfee (an Intel company) to address these concerns with a powerful, easy to manage, all-in-one solution. In attendance too is Mr Khandelwal from McAfee to address product questions. I had the opportunity to hear his views of the product and the cyber industry as whole. He is very knowledgeable in his field of expertise.
Block home internet from your phone!
Furthermore, complimentary to the DIR-2680 is the D-Link Wi-Fi (D-fend) app. You can download the App from your respective App stores right into your mobile device to manage your router via the internet.
Moreover, with every new connected device, the DIR-2680 router immediately and automatically helps secure all connected devices. This is achieved at the network level, and not limited to IoT devices without a screen. Here, you can smartly monitor your home network connected devices. Also, you can individually set internet access rules for every device. Here, you can limit internet access by time, date or even by genre and URLs.
Furthermore, the router employs adaptable Cloud Based Machine Learning to detect new malicious malware and attacks. Notably, it employs McAfee's Global Threat Intelligence provides an adaptable solution that blocks malware, and malicious websites.
Despite the technicalities, the router provides easy set up and instant protection for all devices with full control anywhere from the internet. Also, it is touted by D-link to offer end-to-end protection to prevent, detect and correct potential threats. Also, it keeps connected devices safer from unwanted intrusions and thefts.
Additionally, comprehensive parental control features provide customized protection for children in the household. You can manage the device directly via a D-link smartphone app which you can set yourself as a device administrator.
Interestingly, D-link is also moving into the subscription model (McAfee LiveSafe) to protect your family. This could be controversial despite the DIR-2680 comes bundled with an included 2-year bundle of unlimited McAfee LiveSafe.
Serious Protection Needs Serious Power
Furthermore, to power these features, the DIR-2680 does pack some serious hardware under the hood. On top of the software functions, the router is equipped with dual-band 802.11ac. It achieves MU-MIMO performance using Intel Home Wi-Fi (WAV500 Series) Chipset. Moreover, it supports numerous connected devices at the same time. It can run a range of high-bandwidth applications and up to 128 simultaneously connected devices.
Additionally, the router employs dedicated Chipsets dedicated to both wireless traffic (Intel Home Wi-Fi Chipset) and a second Intel AnyWAN System on Chip. AnyWAN is the DIR-2680 primary computing engine dedicated to handle the router's software and security functions.
The router employs adaptable Cloud Based Machine Learning to detect new malicious malware and attacks. Notably, it employs McAfee's Global Threat Intelligence provides an adaptable solution that blocks malware, and malicious websites
Hey Google, how is my network?
Additionally, the unique selling proposition is that you can have your smart home devices interact with it. You can give commands to your router via an app or voice. It is tad like a "Smart Router". Though I see limited use cases for it.
Examples includes performing a voice query through Amazon Alexia or Google home. You can pose questions like "D-Fend, how is the status of my network?" or "D-Fend latest notifications?". This is useful, but gimmicky. It is probably something you could show-off to your home visitors. Or, humorously play a prank on your friends by blocking their internet on your Wi-Fi network. However, I am not entirely sure how often will you actually need to query your router often as itself being a passive device.
However, a real useful feature is the router ability to notify you straight on your phone whenever a new device connects to your home network. This allows you to have a glimpse of your network status any point you desire. However, though realistically, having basic WPA and WPA2 protection with good complex passcode upfront would actually protect you sufficiently from intrusions, unless you run an open wireless network (which you shouldn't).
All in all, the D-link suite provides real-time monitoring and an additional layer of protection from potential hackers and your members of the home using devices and accessing online content. We can expect the router and IoT products to be available in Singapore come next month. I am looking forward to try them out and review them as time comes.
Stay tuned for them!