Let's check out the Standard Chartered marathon SCM 2022 race pack collection and race expo. The event is a rite of passage for all runners of the event. Here you collect all your race essentials typically a couple of days before the start of the event itself, which runs on this weekend from 29 Nov to 1 Dec.
Moreover, the SCM 2022 race pack collection and race expo was held as a two-day event at the Marina Bay sands expo halls. Thankfully, my race pack collection was a breeze, thanks to the many counters open distributing the race packs. Also, having your confirmation QR code on your phone is handy, it helps with going through the pre-event checks.
Quick SCM 2022 race pack collection
You be directed to the right queue line. Even on a mid-day visit after lunchtime, there were no queues on my visit. You probably spend more time navigating the winding empty queue lines than collecting the race pack itself.
Interestingly, after scanning my QR code, the staff at the counter didn't actually asked for any ID to verify my identity. But they did verify my running singlet size- very important. All items are packed into a clear sling bag which also serves as your baggage deposit bag. And with that, in under 5 minutes in total, my race pack collection was done.
A check through the bag items only yielded the race essentials. Items includes your race bib with 4 safety pins, a handy running pouch, and a bib sticker to stick onto the exterior of your bag.
Cool race expo area
With your bag, you pass through a sports apparel and equipment store courtesy of Puma, the main apparel sponsor this year. Here, you can find an assortment of running tops, bottoms and shoes. Something I take in stride though puma is not exactly known in the running scene as well as their soccer products.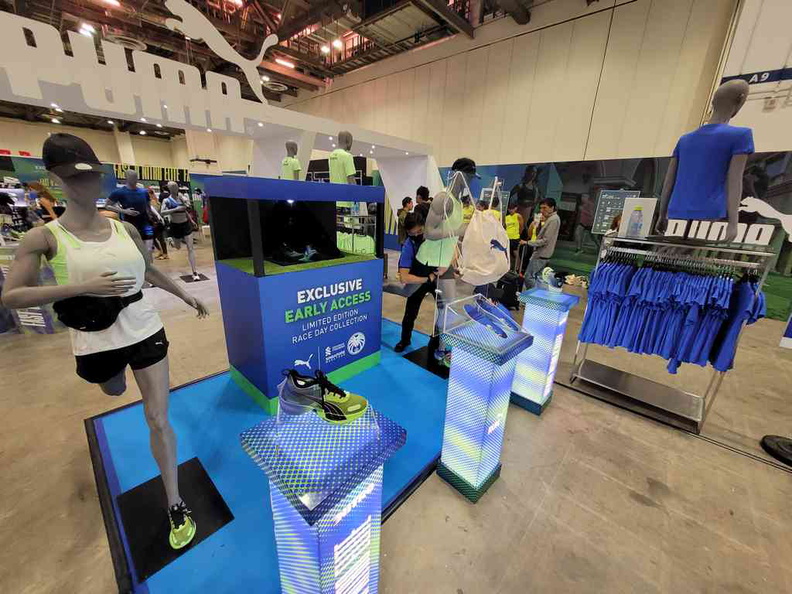 Furthermore, I found the included Puma singlet has a universal fit and has a longer torso cut than I am familiar with. This, referencing the older Adidas blue singlet from past SCMs too. Also, the Puma singlet is also similarly soft and has an excellent dry fit quality for a running singlet.
The event area is a pleasantly large space with many photo opportunities. Notable finds here are large wall posters which you can take as a backdrop to #scsm2022. Also, there is also a doodle board to pen well-wishes, and a professional timing board here you can use to pose with a mock-up run time.
Besides a photo booth and a Standard Chartered credit card kiosk full of hungry sales agents (who will politely give you space once you decline them), a really cool item at the expo is a wall of all participants names. Here, you can find for each race category, from 10km, half and full marathon. There appears to be an even mix of participants between each category. If you are up for it, you can have a go searching for your name. It was something I didn't have the patience to do.
The sponsors walk of agony
Next comes the less enjoyable part of the race expo. I was not pleased having to be forced to walk through exhibitors booths once you collected your race packs. It reminded me of the tourist traps which forces you through an attraction gift shop to exit. The idea is not too different here.
The walk started out fine with sports gear, such as tops, hydration gear, running gels, sunglasses and running magazines. Also, there was even a booth by Shokz selling their really cool bone-conducting earphones.
The part I did not enjoy are the hordes of Prudential insurance agents on the exit end of the exhibitors walk hawking Mobot mobility scooters as well. With the exit clearly in view, it is a 100m dash to the exit past this insurance agent Slalom obstacle course.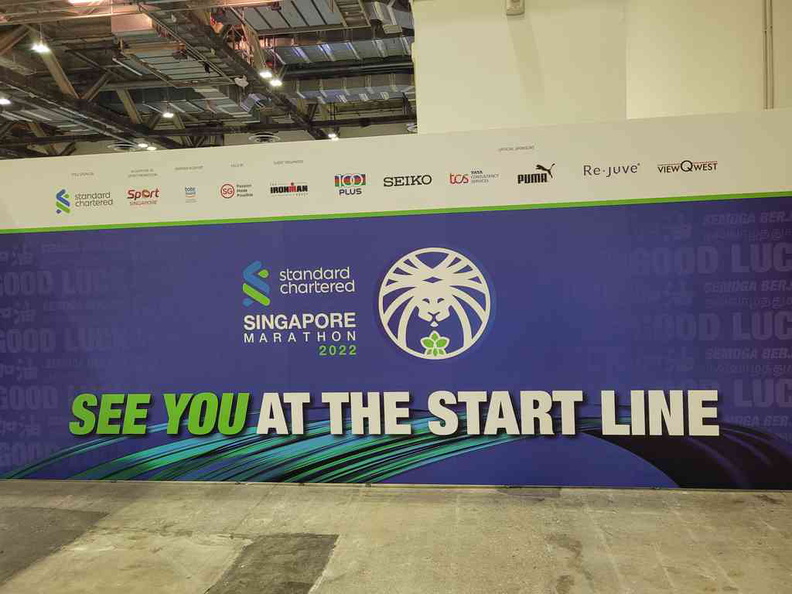 All in all, that wraps up the adventure of the Standard Chartered SCM 2022 race pack collection and race expo. Wishing all the best in your run, whether it is your first 10km, half-marathon, or your 10th marathon, there is something for everyone. Just hope the weather be good for Sunday morning, the weather ain't reporting that rosy so far.
See at you at the Marathon weekend. Stay safe and keep running!