Today was the National Vertical Marathon. The NTU Vertical Marathon is an annual vertical marathon race event held in Singapore. The annual vertical race is organized by the NTU University sports club. Also, the event has it place in the Singapore sports calendar as one of the few pioneering sports events, having been around for almost 20 years in the running. Let's check out the event in this post-event look around as a participant. In addition to this race report is my Race video of the event. Check out my race to the top!
Video: Racing up Gucco Tower in the NTU Vertical Marathon
Guoco Tower the new kid on the block
A thing I love about the event is that the organisers make a point to rotate about new buildings in Singapore. This gives you a chance to climb up a number of buildings in Singapore which could otherwise not do so. Lets briefly touch on the building venue this year itself. Opened in 2016, the tower is home and named after the real estate developer, GuocoLand. The Tower costed $3.2 billion to construct and is also otherwise known as the Tanjong Pagar Centre. It sits centrally over the Tanjong Pagar MRT station.
The tallest building in Singapore
Additionally, hovers the Singapore financial and central business district as the tallest building in Singapore. With it completion, at 290m, the skyscraper displaces current incumbents of the Singapore skyline, overtaking UOB Plaza One, One Raffles Place and Republic Plaza. One Raffles Place and Republic plaza previously jointly held the title as the tallest building. Guoco tower beats them just 10 meters.
Ease of getting there
Moreover, the choice of race venue is one very well thought through by the organizers. Very rarely do we have an event centrally situated in Singapore and highly accessible by public transport (MRT). Hence, this year's event saw my trip there as easy as taking the train, popping out of the MRT, grabbing a few snacks at the bakeries on the basement floors and up at registration in under 10 minutes.
Furthermore, good thing the event started after 8am, otherwise it would be more of a pain getting an early MRT service on a Sunday morning with the shortened MRT operating hours given rail works.
Event day pre-race registration
Nonetheless, registration was a breeze. There were ample registrations counters, with at least 5-6 counters open at my detail reporting time at about 8.30am. The registration and race times were separately emails to your registration email as pre-event instructions a week before the event.
Additionally, the event is run by volunteers and students of the sports club. I was given my tiny pre-race pack containing my dry-fit race shirt, which runners would need to wear to be identified for participation (those wash-first wear later runner cringing at this), the race bib (number tag).
The race bib also contains your RFID timer chip which tags your start and end times as you start and cross the finishing timer pads at the top. Also, you have about 30 minutes between your registration and reporting time to change and warm-up. There were enough toilets in the Guoco tower basement shopping area for changing.
Bag deposit
Additionally, just beside the registration counter is the baggage counter. It looks really inviting to pass your bags to after you had changed and have your bags ready for deposit. I had the mental mode of depositing my bags before entering the race-ready pen.
However, that is the bag collection counter. Rather, the deposit station is hidden on the other side of the tent on race check-in. You will be instructed to enter the race briefing "holding-pen" before you can deposit your bags at the counter. The bag deposit staff was friendly and quick, who got my bags labeled and placed on the shelves behind the counter.
Up here, you be checked off by an official with a checklist with your bib-number as you enter the pen, presumably for a race and safety briefing which I didn't quite received. You be whisked off straight to the start line in under a minute.
You have about 1-2 minute for last minute stretching and prep before finding yourself at the start line with a race marshal reading off the official clock and shouting you how much time you had left before start.
Racing up the tower
The race saw a registration of over 80 over details (groups) in which they are dispatched about 3-5 minute intervals between each other to prevent overcrowding along the stairwells. The race demographics are mostly students and individual running enthusiasts, as well as a couple of independent running clubs. Moreover, each detail comprises of about 5-6 runners each. Moreover, the numbers are not fixed and could be topped up with runners from other details to form a ready group.
The climb up starts at the ground floor lobby pouch area of the Guoco Tower. The race starts entering a fire escape corridor lined with fluorescent lighting. You race about 5 meters into the building before the central stairwell with a slew of race marshals cheering you on as you meet your first steps. After all, every race begins with your first step right?
In a nutshell, the difference between regular Marathons to a vertical Marathon, as the name suggest, is that this involves a vertical climb. This usually involving ascending a series of steps and slopes where the bulk of the distance covered involves more vertical ascend then transverse. Also, this is contrary to a typical horizontal running marathon. Moreover, Singapore is a vertical concrete Jungle to begin with. Hence, with that, there is no shortage of tall buildings which you can use to race to the top.
In my race, you can start finding people stopping to rest on the stairs. Courteous runners, knowing that you are behind them will move to the left and leave the inside of the stairwell for overtaking. Some runners will just stay on the right where you over take traditionally on the left.
Use of handrails
The use of handrails to pull yourself up during your climb is perfectly permitted in a vertical marathon. The use of gloves is recommended if you wish to give yourself a better grip on slippery surfaces (especially chrome handrails) as well keeping your hands drier if they are all soaked in sweat by previously participants.
I brought a set of half gloves to help with this and wore only my right hand glove after checking with earlier participants who completed the race earlier of the stairwell arrangement. The stairwell runs in a clockwise manner with two flights of stairs per floor all the way from the ground floor to the finishing floor.
This is unlike the Swissotel vertical marathon where you see stairwells alternating between clockwise and anti-clockwise modes with a variation of 4 to 2 flights of steps per floor. Knowing this is good to get your running rhythm in-check.
Throughout the run, just like the previous Vertical marathons like the one previously held at Republic plaza, you could hear the constant hum of the stair forced air ventilation system. This is used to keep air within the stairwells, especially during a fire escape scenario. This keeps keep fresh air at ambient temperature flowing through the stairs. The stair well, being hardly used, are all still clean and new in look.
A High intensity sport
Furthermore Vertical Marathons, however, unlike marathons see runners taking on nearly maximum heart rate at a high intensity through a short amount of race time. Your performance offers a good gauge of heart health. It is almost similar to anaerobically high intensity training. This is contrary to long marathon runs where you can run at a lower constant heart rate.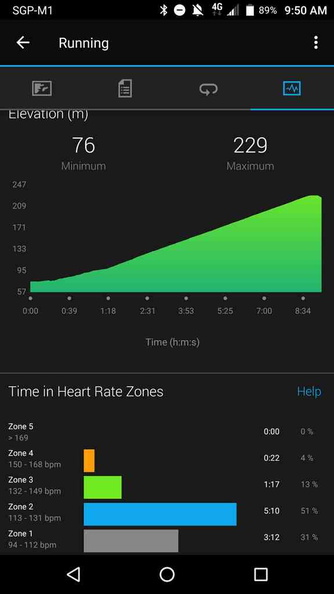 The start of my race yielded most of my maximum heart rate. Here, I was able to pull through in the Zone 3 to 4 about 20% of my climb. Fatigue started to set in from the mid-point on wards from the 15th floor where the climb reverts to a more steady continuous load in heart rate zones 1 and 2 as I made my way to the finish. Heart rate is still mostly above 110 beats per minute most part of my run. My race took about 8 minutes for the 37 floor, which was under my target of 10 minutes.
Notably, the climb to the 37th floor saw an increase in about 150 meters in elevation, which is about half of the building's 290 meters. I shall touch on more of this in the race finish section. Also, in comparison a typical run for my often see myself in the Zone 2 and 3 areas. Which is my low intensity baseline I am typically under in long steady runs.
Mid-race Water points
There are two water points offering isotonic drinks throughout the entire race route. They are delivered using paper cups which you take with you and throw off at the dustbins on the floors up above. These water points are placed equidistant from each other. At times, they are choke points as you get runners stopping for a mid-point break.
For most runners like myself, we ended up not drinking up through the climb but only after the finishing line. After all, it is a relatively short race without the need for in-race hydration if you are well-hydrated beforehand.
The Finish and Race carnival
Tanjong Pagar Centre however, sits at 64 floors. However, for the vertical marathon, only 37 floors of the 290m building were accessible for climbing. Reason being that the top half of the building is home to high-end residential units which are inaccessible to the public. This largely comprises of 181 luxury residential units called the Wallich Residence and a 222-room Sofitel hotel.
The race ends into a sheltered office area and lift lobby. You run over your ending timer mat where a marshal will checkoff your bib with a marker. This indicates that you had completed your race. Here you can find more water points offering bottled water and Redbull.
Moreover, the lift lobby is large enough with space for 5-6 runners to recuperate and do any stretching if need be after the race. Thereafter a race Marshall will call an elevator for you. A quick ride down into office tower building main lobby where you exit into your finisher medal collection table. The medal is coaster solid metal and held together with an lanyard sling with the event logo printed all along it. It feels like a premium item in recognition of your achievement.
In addition to the race event itself is a race carnival at the building's central event square. It offers carnival food, games as well as a photo booth. You have a selection of local food sections. This ranges from Ice cream, Muah Shee Malt Candy Kacang Puteh and Caricature as well as a chance in the event lucky draw. Also, you collect your event goodie bag here. A table crew will check off you last and final mark on your bib indicating your collection.
Goodie Bag items
You have quite an assortment of items included in the post-race event goodie bag. Notable items includes an assortment of food stuff, including white rabbit candy sweets, sports drinks and a Men's health magazine. It is all packed in an event draw string bag. A rather large bag indeed!
All in all, National Vertical marathon will remain one of my few favorite running events in the Singapore annual running calendar. At $30 for an open registration, it is still one of the more affordable running events for now. It is definitely a race to look forward to again where they announce a new race venue next year.