Funan IT mall had recently reopened after a 3 years refurbishment. The tech mall which first opened on 1985 is located along North bridge road. It closed in 2016 and reopened recently on 2019. The entire old building was completely torn and rebuilt from the ground up and new. Let's check out the sights and sounds of the new funky IT lifestyle and tech mall.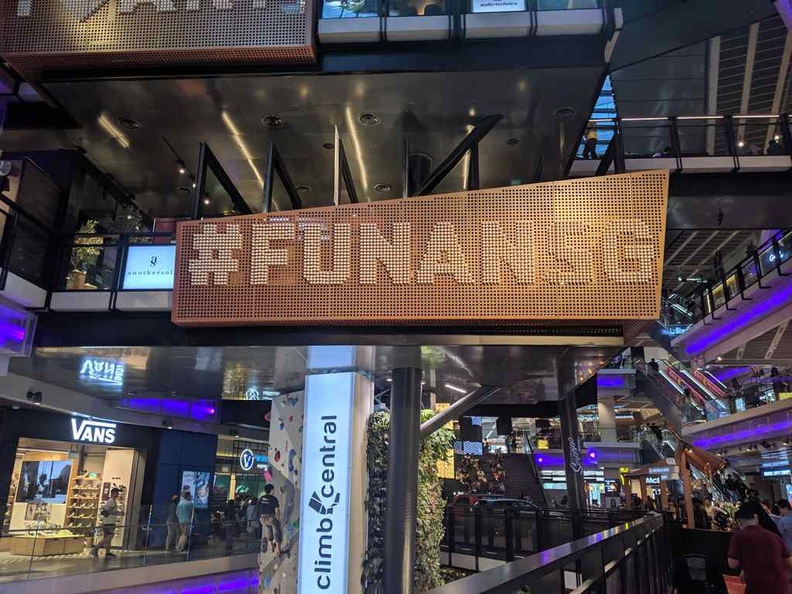 Different but Same
Moreover, like the previous mall, Funan is managed by Singapore home-grown property developer Capital malls. The layout of the mall is similar to its predecessor. It has a central open core allowing you to see all the floors from the ground floor and vice-versa. Entry to the mall is similar too. The mall still retains both an East and West entrance on the ground floor serving both North Bridge road and Hill Street respectively.
Additionally, an impressive large digital clock greets you at the North bridge entrance from City hall MRT station. Here is where you can find one of the mall's express entrances with escalators serving the upper and basement floors.
If memory serves you right, the old mall also had an express escalator bringing you right up to the mall's third floor. It served anchor tenants such as South East Asia computers in the old mall. Notably, anchor tenants like South East Asia Computers and Challenger did not move back here. Moreover, interestingly, Challenger still retains their flagship mall at another of Capital's Malls own mall in Bugis junction and not here.
What the new mall is different is the myriad of F&B outlets scattered throughout the mall. It goes with Capital mall style of closely integrating physical and F&B retail closely. Interestingly, there is also a Wolf burgers restaurant here on the ground floor offering quick to-go meals.
Tree of life
Moreover, taking centerstage in the mall is what is called the "tree of life". It is an expansive man-made street structure which seemingly grows from the ground floor and linking the various top floor shops via its interlinking steel support arms which looks like branches of a tree. Hence, the name "Tree of Life".
Also, the "tree" serves as a platform for several smaller pop-up shops on the upper floors as well as home to some studio cubes (from co-working spaces). It gives the look of these rooms floating above the lobby. Anchor tenants generally occupy stores along the outer rim where the walkways are.
Also, you can find a climbing wall, random meeting rooms and pop-up stores hawking mainstream phone accessories products sitting in between walkaways linked on the Tree of life.
In addition, Funan IT mall ground lobby area is decorated with a modern and industrial theme. You can find several lasers and projection elements feting the mall's branding. The ground floor is also home to a seating gallery typically used to hold performance events. However, on most days, these steps are largely being used as a gathering and seating area for patrons.
A Tech lifestyle retail experience?
However, I find the new mall lacks a strong tech focus. I found the gadget accessories and big name retail stores found here are similar carbon-copies of those similarly seen in heartland malls. I find it difficult to distinguish Funan IT mall with a differentiating factor from other Capital Malls.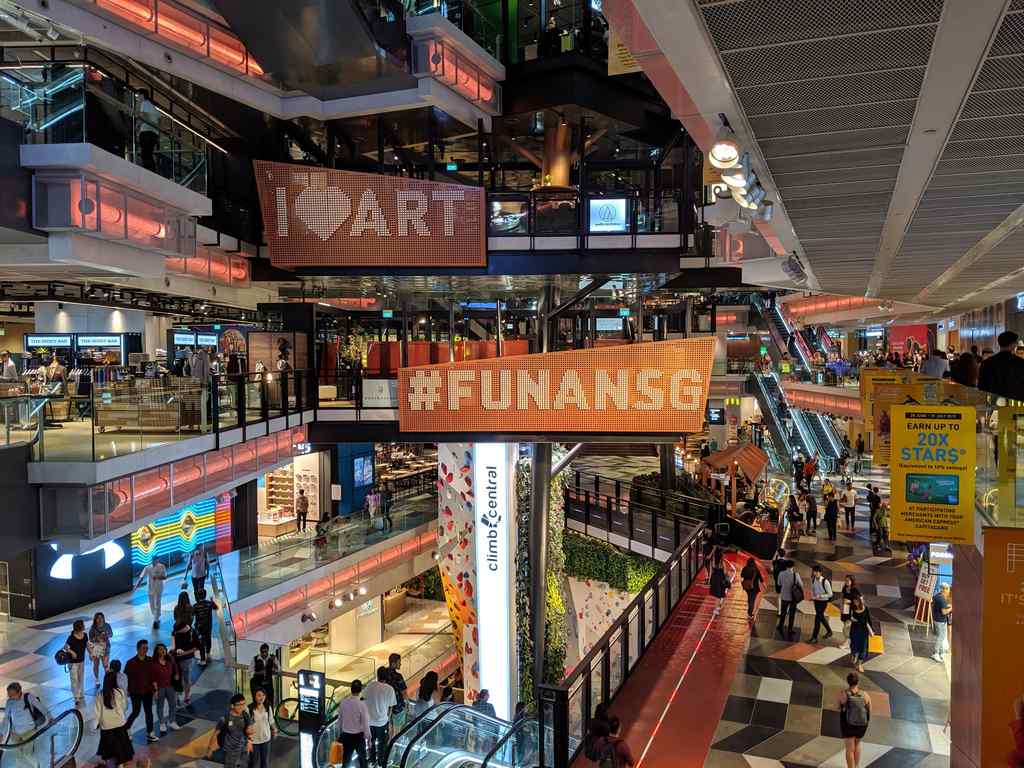 Just like any mall
Still, granted if you want the visitor footfall, you have to appeal to the masses. Hence, simply put, Funan is establishing itself more of a lifestyle consumer mall. This mall caters mostly to complete consumer products and not a computer component shops like Sim Lim Square. Come to think about it, the mall concept is tad synonymous to how Taiwan IT malls work. The last time we visited Syntrend Creative Park mall in Taipei, with a collection of tech-related stores under one roof. This is in comparison to their Guanghua Mall sells computer components, which is the equivalent of our Sim Lim square.
Moreover, I found most of the retail stores here tend to feature a repackaged diluted experience catering more to the lifestyle crowd, and less of the hardware IT geeks. Everything here is retail-ready and packaged for the masses, nothing much unique to the offerings here. As a technology person, I was tad disappointed to find nothing in the mall which is tech-worthy eyebrow-raising of interest.
Notable stores includes a DJI store selling an expanded product range, a concept Xiaomi store. There is an Alan photo shop, as well as conventional large departmental stores such as Best Denki and Gain City. There is also a Golden village movie theather here.
Though I hope to see more pop-culture elements, this strays away from what we come to love Funan mall for. Hence, do not expect to find stores selling computer hardware components. Interestingly, there is a lone Brompton Junction bicycle shop on the ground floor, presumably to complimentary the bicycle facilities on the ground floor. But in a tech mall?
Cycle track, a white elephant?
Furthermore, a new notable feature is a cycling track. It runs through the entire length of the mall interior. Also, there is a separate outdoor track which passes alongside the mall's exterior. The outdoor track has a bike repair kiosk and vending machines selling replacement parts. There are also bicycles parking, locker sand showers available. I find it is a neat touch to promote the idea of green commuting or "park and ride" in the CBD.
However, I am not sure of the applicability of these bicycle facilities today. Considering these were conceived 3 years before the onslaught of e-bike, e-scooters terrorising Singapore's streets.
While the idea of the mall offerings sport facilities and a bicycle track through the mall seemed right during the time of conception, current developments had gone ahead of itself. This is given the bad rap Personal Mobility Devices (PMD) has. This notably forced the mall to take a conservative approach in banning the riding of such PMDs and bicycles through the mall in the light of mall patrons safety.
Great Chill Roof garden
Furthermore, a little less-known area in Funan is the rooftop garden. These nice roof gardens are accessible only by the elevators in the mall. It is essentially an outdoor wide space suitable for events. Also, it has a number of seating and resting areas in addition to large grassy squares.
Additionally, the garden spans across two building blocks, allowing you to catch panoramic views in both the Central Business District Marina Bay on the east side, as well as the Clark Quay and Central mall section towards the other end of the mall.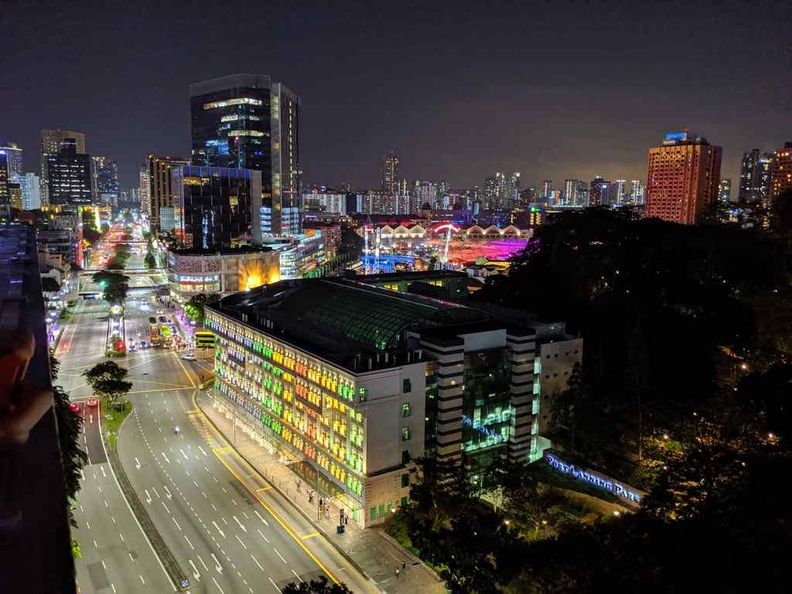 Notably Funan also now has service residential elements. Here, you can see the blocks on residential apartments sitting on top of the mall building visible from the roof gardens.
All in all, Funan IT mall is a great welcome of a revival of an old boy in the neighbourhood. The architecture and design is modern and unique for malls. However, it would be quite misleading to brand the mall as a Tech mall without any strong tech unique selling element. What you get is mostly diluted Tech experience, which is indifferent to other similar malls in the area offerings similar alternatives to the offerings.