Georgette at home in the world is a temporary exhibition at the National gallery Singapore. It is one showcasing the works and life story of local art pioneer Georgette Chen.
Notably, the exhibition will feature her most significant works alongside a wealth of newly discovered archival materials. It is a display collection of her still live drawings, portraits of community people as well as landscapes form he many trips around the world.
Furthermore, the galleries are laid out across two separate galleries- the City hall gallery and a portion of the existing Wu Guan Zhong gallery. Both are situated on the 4th floor of the gallery's City Hall Wing. Also, the atrium at the City hall floyer connects the two galleries, continuing your journey story telling of Georgette works and her life in general.
The life of Georgette Chen
Known by her full name as Chang Li Ying, Georgette Liying Chendana Chen, was born on 1906 in Zhejiang Province, China. This was notable during the Qing Dynasty periods. She was the fourth child of a large Chinese family of 12 children, comprising of 10 girls and 2 boys.
The art galleries of Georgette at home in the world are clean and open, with most of the paintings hung on the surrounding walls. Sealed displays sits in the center of the space housing notable documents of interest.
Still, Georgette despite having lived and born into a privileged life, things are not always smooth sailing for her. She survived through the World War II, where her first husband Eugene Chen, succumbed to illness and died in Shanghai towards the end of the war. Eugene has ties to the Sun Yat family, another notable prominent business and family known in early Singapore history. You might remember the Sun Yat Sen Nanyang Memorial Hall we visited previous at Balestier.
Furthermore, Georgette was exposed to art at a young age. She lived a rather sheltered life too, having studied at the Académie Colarossi and the Académie Biloul in Paris, France, and attended high school in the United States as an international student. Additionally, Georgette worked as an art teacher at Han Chiang High School. This was during 1951 after relocating the Penang Malaya after marrying Ho Yung Chi. He was a close friend and former aide of Chen's late husband. They divorced in 1953, where Chen would move to Singapore and spend the most artistically significant years of her life there.
Pioneers of The Nanyang Art Style
Moreover, Georgette is one of the pioneers doing art in the Nanyang style. It is a rarity for woman artist in a then male-dominated art community. Additionally, interesting items includes a couple of application forms Chen used to apply for various positions here in Singapore, such as being an art teacher. Notably, Chen was awarded the Singapore Cultural Medallion in 1982 for her contributions to visual art in Singapore.
Additionally, one of Chen most recognizable piece is a self portrait painted on 1946. It depicts her interpretation of her state of mind and impression she had on herself during that time of her life.
A unique style
Interesting is her liking to paint still-life on canvas, akin to what most artists in art school typical start off drawing. Her portraits also captures the mood and environment of her subjects pretty well.
Also, in her landscape oil on canvases, her rather distinct style of painting water reflections through a series of S-swirls. It gives her art a rather neat and packaged style not been in areas out of Asia. Also, Chen's iconic signature is typically written vertically and a highly recognisable item in all her pieces.
Also, the City hall floyer area has large timeline board depicting and charting out various notable events through her life. Notable ones include her early life as a student in New York and Paris. Then there is the part surviving through World War II, and staying as a residing resident in her Singapore home at Siglap Plain. On her return to Singapore after the second world war, she became a teacher at the Singapore-based Nanyang Academy of Fine Arts (NAFA) from 1954 to 1981. She stayed as a distinguished educator of the Singapore arts scene at the NAFA till her retirement.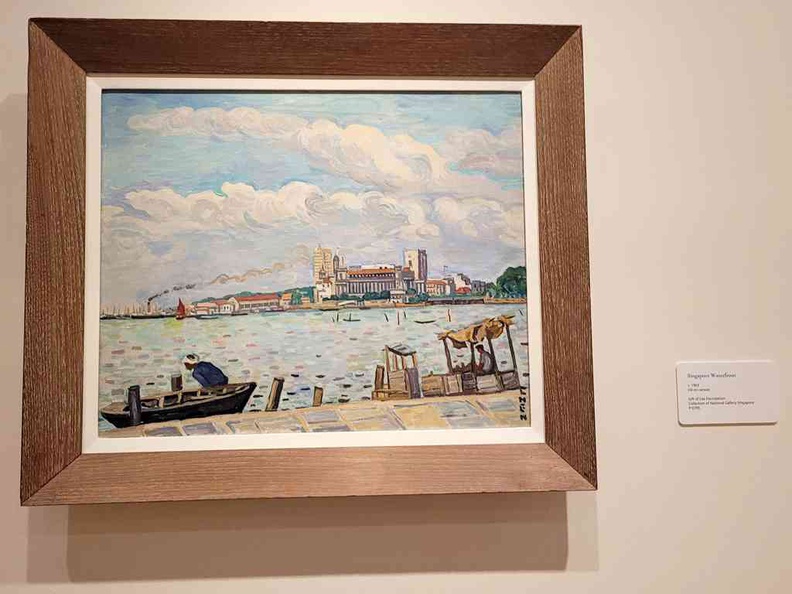 Chen's works had an international exposure too, with her works notable showcased Salon d'Automne exhibition in Paris. Also, in 1949, Georgette held a major solo exhibition at the Asia Institute in New York. Showcased were paintings she did after the second world war, where she toured and painted various China's landscapes and portraits during that timeout. Also, you can purchase souvenirs and iconic prints of the exhibition at the gallery gift shop.
A special personal collection
On March 1993, aged 86 Chen died of complications from rheumatoid arthritis after an 11-year struggle with the ailment. The appointed executor of the Georgette Chen Estate (Lee Foundation) found 53 newly discovered paintings not seen by the public eye. In June 1994, these works were donated to the Singapore Art Museum (SAM). The proceeds of the sale of her estate going into the Georgette Chen Arts Scholarship. It is a fund for art students managed by the National Arts. This brings the total number of known of Chen's pieces to 104 with most displayed in the National Gallery today.
Lastly, entry to the gallery is included in your National Gallery general admission priced at $20. Entry is free for Singaporean and PR residents. Just do remember to obtain your free entry stickers at the admission and ticketing counters. This after verifying your Identify card at the entrance ticketing counter.
All in all, Georgette at home in the world, brings you into the world lesser seen of one of Singapore's pioneering artists of her era. The exhibitions runs from 27 Nov 2020 to 26 Sep 2021. Do make a date with one of Singapore's own pioneering artist at the City Hall Wing, of the 4th level of the Singapore National Gallery.