Fancy creating art for the digital realm or play hands-on games via virtual mixed reality great for children? The Future World Exhibition at the Marina Bay Sands Art science museum is one such interactive one. It utilises a mix of animated video projection to create an immersive experience.
Notably, the permanent exhibition is created in collab with art collective teamLab. Furthermore, the exhibits through four key narratives in a logical fashion. Also, it comprises of the "City in A Garden", "Sanctuary", "Park" and wrapping up with "Space". The exhibit touts as a place where Art Meets Science.
A digital flora City Garden
Starting off, you enter into a dark space with animated plants and flowers. A highlight of this "City in A Garden" are interactive ceiling projection visual segments which illuminates the small welcome room with floor to ceiling projection of growing plants and blooming flowers.
It mimics a digital garden, and when paired with ambient perfume does make for a pleasant flora experience.
Moreover, leading on is the "Sanctuary" and "Park galleries. Here, you find a playground slide which animates as you go down it. It is friendly for both kids and adults. Additionally, the gallery is more of an interactive one than one of learning. It is great for families and kids allows you to interact with various audio-visual elements.
Also, there is a small side cave home to a few interactive tables and a motion wall. You can drag and move objects around the animated projection table to perform various tasks and objectives.
Additionally, an interesting section is a "traffic room". It is a kid-friendly activity room complete with soft walls and props. You can move a set of blocks in the enclosed to connect traffic blocks depicted by animation arrows. Also, these allow you to interact and create traffic links on your placed blocks to move the virtual animated traffic around the room.
The Virtual Aquarium and Sketch Town
Furthermore, the highlight of the exhibit here is a vast animated Sketch Town video wall spanning almost 2 stories tall. The first of them here is a virtual aquarium housing a myriad of hand-coloured marine creatures.
You can get your creations onto the digital board by colouring and scanning them in. Here, you can find rows of work tables with crayons and A4 drawing templates of marine animals, such as marlins, seahorses and jellyfishes you can doodle on.
Additionally, the galleries flow through a logical sequence through large dark passageways which leads on to the next. Also, you can find a chill "Sanctuary" artwork room with floor to ceiling projection screens and a second animated screen area housing a city.
Interestingly, after a scan and upload, your coloured creations will soon find their way into the large screen doing their thing. Whether its swimming in the aquarium or commuting around in the city. Also, for the city wall, if you coloured a truck, you can find it chugging along the road.
Moreover, if you uploaded a coloured aircraft, like a UFO or jet plane, it will take to the skies on-screen. Colour a house and it will pop up in the digital city-town as a new property. Also, occasionally, a bad dragon will come and "invade" the town, where the planes and residents will spring into action to defend the menace.
Play elements and nature wall
Wrapping up the play elements here is a centrally located play area filled with large glowing balls. Moreover, the large glowing balls here tad resemble giant Swiss gym balls. Moreover, the lights are synced to the lights mounted on the ceiling too. Also, it brings about a colour palette similar on the ground and the ceiling.
Moreover, other interactive elements also include a virtual hopscotch course. Here, you can first design your hopscotch course using a screen by the course, and run through your course via projection on the ground.
Additionally, encompassing the exit wall here is a tranquil nature wall. Also, it does bear a similar resemblance to the Story of the forest Rotunda at the Singapore National Museum, with similar wall projection animation featuring animals and the forest.
Crystal forest Space
Wrapping up the future world exhibition is a crystal forest called "Space". It is a short walk through a wall of LED light strips and mirrors. Also, it gives you an illusion and impression of an endless space. It is quite a photo opportunity piece. The exhibition ends from here and exits out to the museum basement atrium area.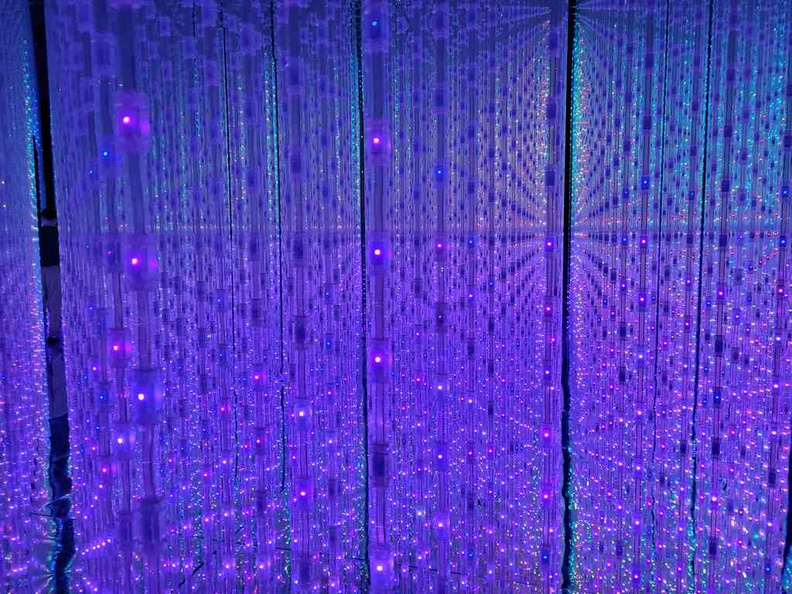 Wrapping up Future World Art Science Museum
All in all, you are good for Future World at Art Science Museum for about 2 hours tops. Most of the exhibits are interactive and engages you which bodes well with kids. It is not a big exhibit in terms of content, but one which immerse yourself in a breath-taking world of art, science, magic all under one roof and through a collection of digital interactive installations. Great for a day out in the museum.