Beard brothers BBQ is a casual dining halal Texas-Style restaurant located at Petaling Jaya, Selangor, Malaysia. It is great for a trip when you are in Kuala Lumpur, Malaysia. Let's check them out with a dinner group dine-in.
Notably, the restaurant sits in an open-mall like setting in the Tropicana Golf & Country Resort. It is located on the outskirts of Kuala Lumpur city and is very accessible via ride hailing which is the recommended method and affordable of getting there, like Grab for instance.
At the restaurant, the dining ambience is largely cosy and casual and is great for families and kids. You get a combination of tabled seating and long tables with benches able to take on sizable groups of 10 diners with ease.
Wood fired meat goodness
In general, Beard brothers is essentially a western-style BBQ meat grill joint. Furthermore, the restaurant has an open air setting. With seating inside and outside the restaurant grounds itself. Also, Beard Brothers pride themselves in having all the meats cooked via wood fires. To bring forward the point, you can find stacks of wood stacked all about the rear of the restaurant kitchen.
Additionally, meat selections includes beef brisket, pulled lamb and roasted chicken. BBQ ribs options includes lamb rib slabs, as well as beef rib bone. Also, I found their meat offerings are rather good. The meats are lightly crispy on the outside, yet soft and juicy within.
Furthermore, this is the case for their BBQ rib slabs. Their steak meats are lightly BBQ sheared on the edges without being too bloody or tough. In all, I would recommend the beef and ribs are my top picks.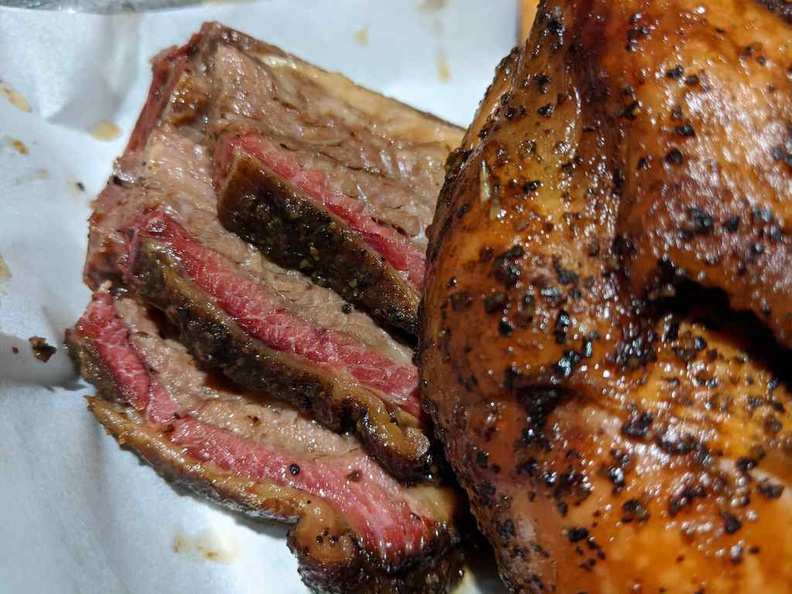 However, their lamb is one of the less-favorite of the offerings, the meats still have a rather strong gamey taste which might not be for everyone. Additionally, as the restaurant is halal certified, don't expect to find pork ribs or roasted bacon here.
Moreover, you do pay a premium for dining here at Beard brothers. A single diner platters typically cost in the sub 30 ringgit range, starting with ¼ chicken at 25RM (About $8 SGD), Texas Start at 27RM, and their Sheep Thrill (30RM) comprising of 100g of Lamb. Moreover, your mains are paired together with sides of chips, cups of mashed potatoes, coleslaw, chips and short corn bread.
Big platters great for sharing
Additionally, Beard brothers is known for their large platters, a recommended dish here is their giant platters available in three sizes. Here, you get aged ribs with beef slices and grilled BBQ chicken. The highlight being their beef steak cuts, which is best tried medium-rare and their spice-seasoned pork ribs. Also, you can make out the thick coats of spices sitting on your pork ribs.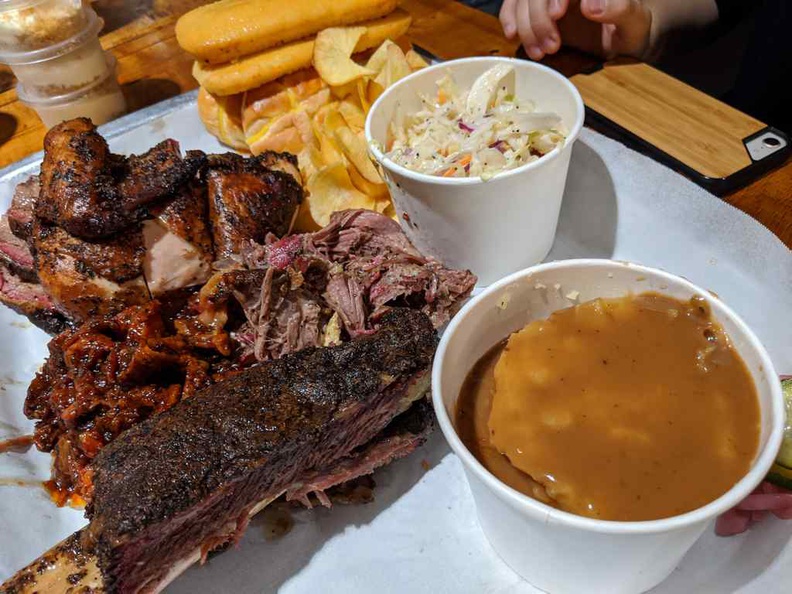 First up with the Triple Threat (priced at 120-200RM) and able to serve 2-3 pax. This comprises of a hearty assortment of beef brisket (100g), lamb (100g), beef ribs paired with mashed potatoes and coleslaw sides served in cups, together with beans, bread and a drink can. In addition to a small selection of standard canned soda drinks are cold brew selections priced from 10-14RM ($3.30-$4.70 SGD).
Additionally, you can individually add separate meats as add-ons costs 20RM for beef, 23RM for Lamb. 32RM for beef ribs, and quarter chicken at 18RM.It is worth noting that their beef brisket and lamb are the most pricey ala-carte selections.
Furthermore, next level up is the Behemoth priced in the range of 200-300RM (About $100 SGD) and able to serve 3-4pax. Last and largest on the offerings is The Brobdingnaglan is the largest of the platter offering 450-600RM (Up to $200 SGD). It is served through multiple small platters and good for 6-8pax. They go great with their Spicy BBQ sauces.
In conclusion, Beard brothers BBQ was a joy to dine at. Though they not be one of the cheapest offerings out there, by the quality and quantity of the foods offered via wood fired BBQ grill. Of course, being an establishment serving halal food in a Texas-Style Restaurant in a west-meets-east fusion of food and culture. If only you can have it in Singapore.
Verdict:
Must Go! | Actually pretty Good | Worth Trying | Shortlist Optionally | Should Avoid
Beard brothers BBQ Locality Map
Tropicana Golf & Country Resort, P-G-01,
Tropicana Avenue, Persiaran,
47410 Petaling Jaya,
Selangor, Malaysia
Weekdays opening hours: 12–2pm, 6–10pm
Fridays: 6–10pm
Weekends: Saturday 11am–10pm
Closed on Mondays