Let's take a dine-in today at the Yu Ni Xian Yu grilled fish at Plaza Singapura. This unassuming eatery specializes in an array of affordable grilled fish dishes cooked on personal-sized small fire-lit trays fit a one person, a concept that is pretty intriguing.
Hence, come Yu Ni Xian Yu grilled fish. The store is inconspicuously tucked inside the otherwise mainstream Kopitiam food court inside the shopping mall. They operate out of Plaza Singapura Kopitiam food court on the mall's 6th floor. It was interesting to note that this establishment occupied a level above the Nando's restaurant we visited previously sometime back.
To think about it, food court stores selling grilled fish is not uncommon in Singapore. You can typically find them in zi-char stores either in restaurant style or coffee shop seafood restaurants. However, these dishes are usually quite sizeable- meant for 2 or more dinners often with portions too large for a single person. They are also more pricey, typically priced in the $20 to $25 range like the one we had at Guo zai zi jia zi-char hawker store at Redhill market sometime back. However, unlike traditional dishes meant for sharing, Yu Ni Xian Yu stood out with its focus on individual portions, also catering to solo diners.
Fish selections
Moreover, their menu boasts 10 different stock flavours. Notably, the fish served is the same standard fish fillet piece across the board. You do have 10 soup bases options to choose from. I would recommended flavours here to go is their "mala-like" Hot and Spicy fish flavour and their signature "Special sauce". Additional other flavour options on their menu include Sichuan pepper, lemon, Tomato, Garlic, hot and spicy, sour vegetable and vegetable soup.
Your fish fillet, about 20cm long is sized like a medium-sized fish, served on a simmering plate placed on a stand with a heated flame by tongs. The simmering soupy plate sits on top atop a stand, complete with a heated flame. Handling the slightly weighty tray required a bit of caution as it can be pretty bulky.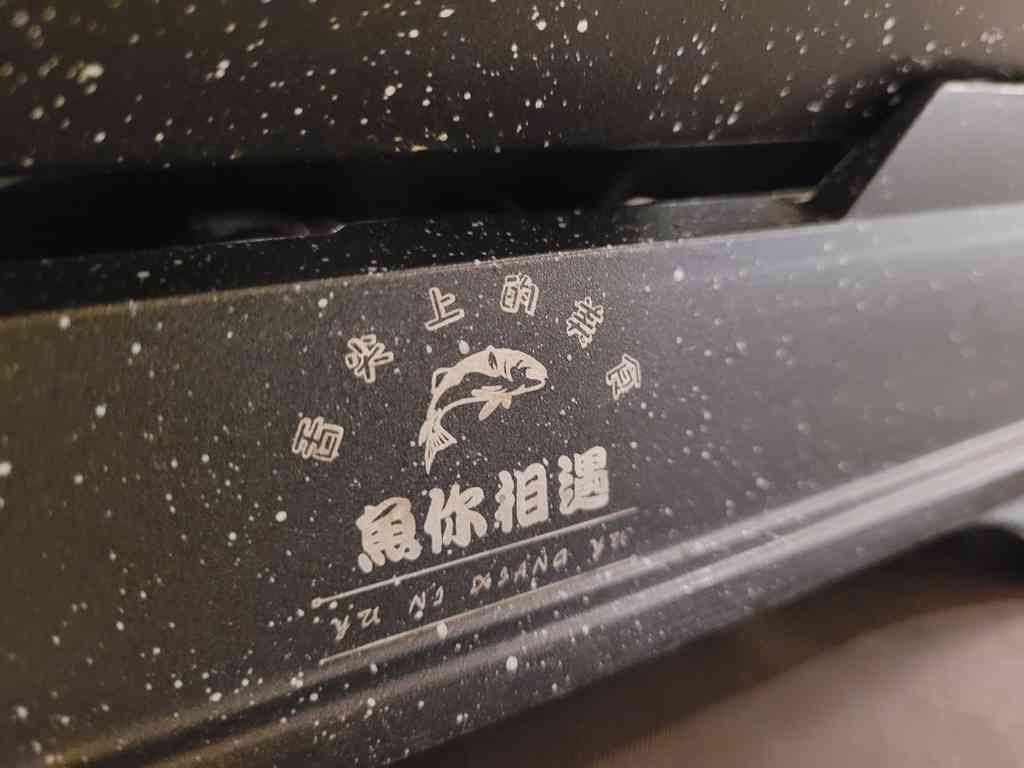 What struck me was the longer than average preparation time by food court standards, averaging around 10-15 minutes. A buzzer be given to you during your wait. The cooking process encompassed the essential task of heating both the fish and the hotplate. Among the flavors offered, the Hot and Spicy variety particularly appealed to my penchant for mala cuisine. The fish fillet was generously drenched in mala sauce and garnished with heaps of parsley. It offers a taste that harmoniously represented the essence of Sichuan flavours.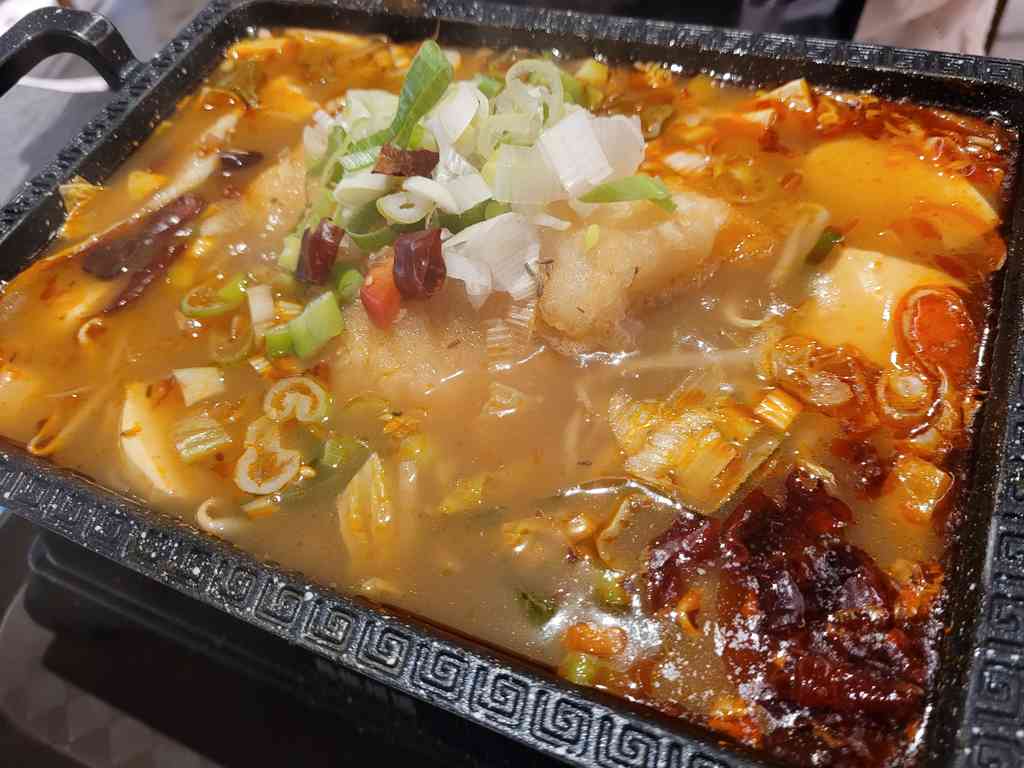 Condiments to complete your meal
Also to go with your meal, there are 15 different additional condiments you can add-on into your grill. This includes rice, cabbage, black fungus, tau kwa and potato to name a few. I recommend rice staples as a side being a good recommendation with an Asian touch. The staff there told me that their dish is best paired with additional 2-3 condiments. This is typical for most customers do and seldom do patrons have the fish by itself.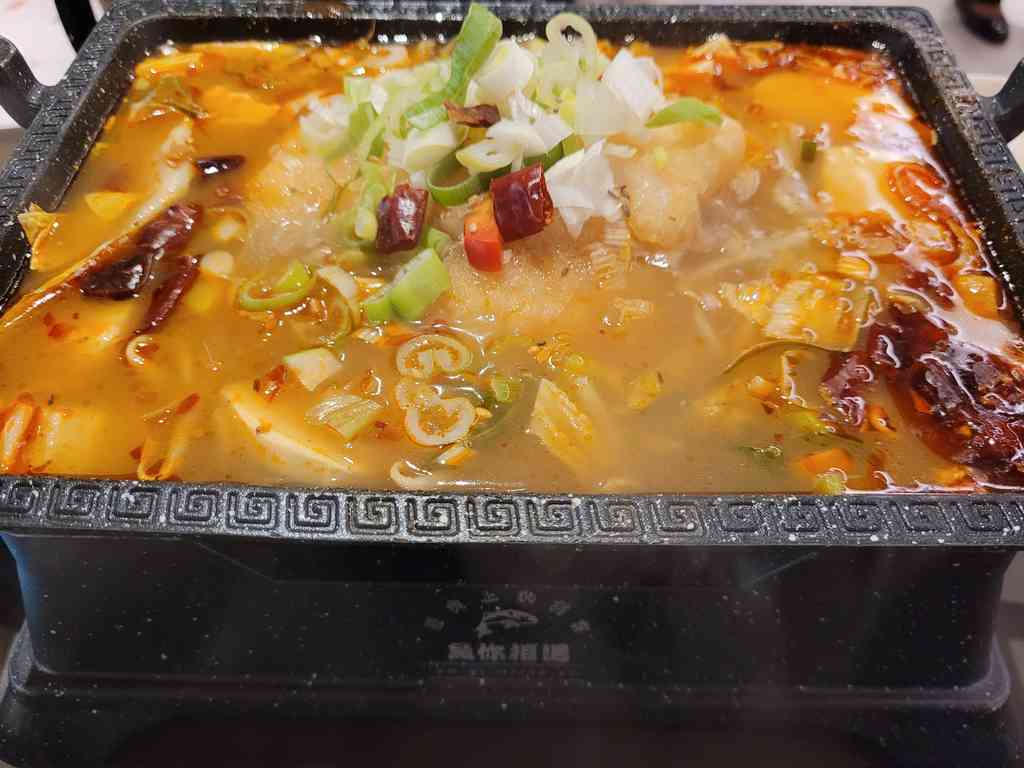 Don't let the standard $8.90 base price fool you, you meal in total will cost more than that with the addition of rice, a couple of condiments and add-ons. These are priced at a dollar each. With 2-3 additional condiments, hence your meal's final tally can reach the $10-11 range per meal. Still, it is still a good price point for an authentic Chongqing-style grilled fish experience, which usually costs upwards of $20 with portions too much for one.
Humorously, the food court trays are sized slightly inadequate for accommodating both the grilled fish tray and a bowl of rice. Also, you do need some muscle and lots of care carrying your burning fiery dinner to your table. Still the portion sizes were impressive. Pairing the fish with rice created a satisfying and filling meal, suitable even for smaller eaters. Sharing a dish was not uncommon, but the serving sizes were well-suited for individual consumption.
A warm hearty
albeit

soggy meal

A unique aspect of the dining experience was the way the fire beneath the soup tray kept food warmth without making it overly hot. The use of odourless and smokeless solid fuel enhanced the ambiance of the air-conditioned environment. To think of it, the offering is tad a budget and personalised version of Tian Tian Yu grilled fish.
While relishing the flavorsome fish, I noticed a drawback in execution. The crispy pan-fried skin tended to become soggy and saturated by the accompanying soup. It leads to a partial loss of texture. Hence, it would be ideal if there were options for a drier variant or for the fish fillet to be served separately from the soup. Alternatively, the store could consider the possibility of offering your fish steamed instead of fried when served in the brothy soup, or maybe as a dry side.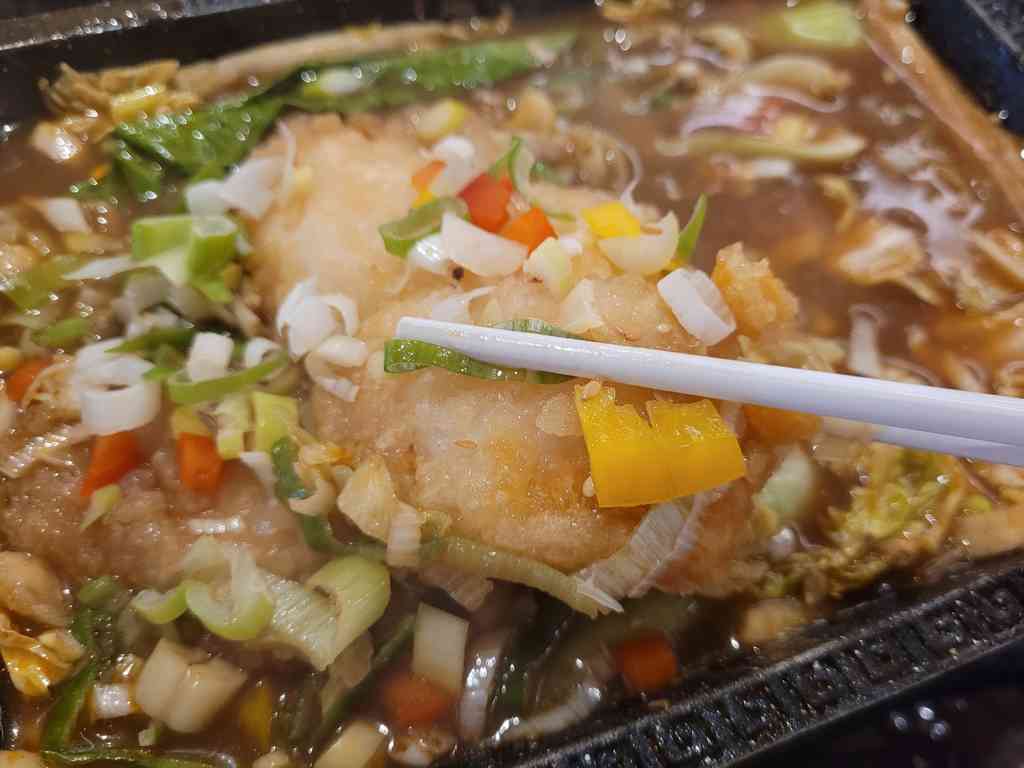 Also, for those seeking a less fiery experience, their "special sauce" fish tray is one to shortlist. It is accompanied by a generous serving of chopped spring onions, offered a delightful sweet and sour alternative. In addition to grilled fish, the menu featured an assortment of noodle and rice dishes served in hot pots, further diversifying the culinary choices.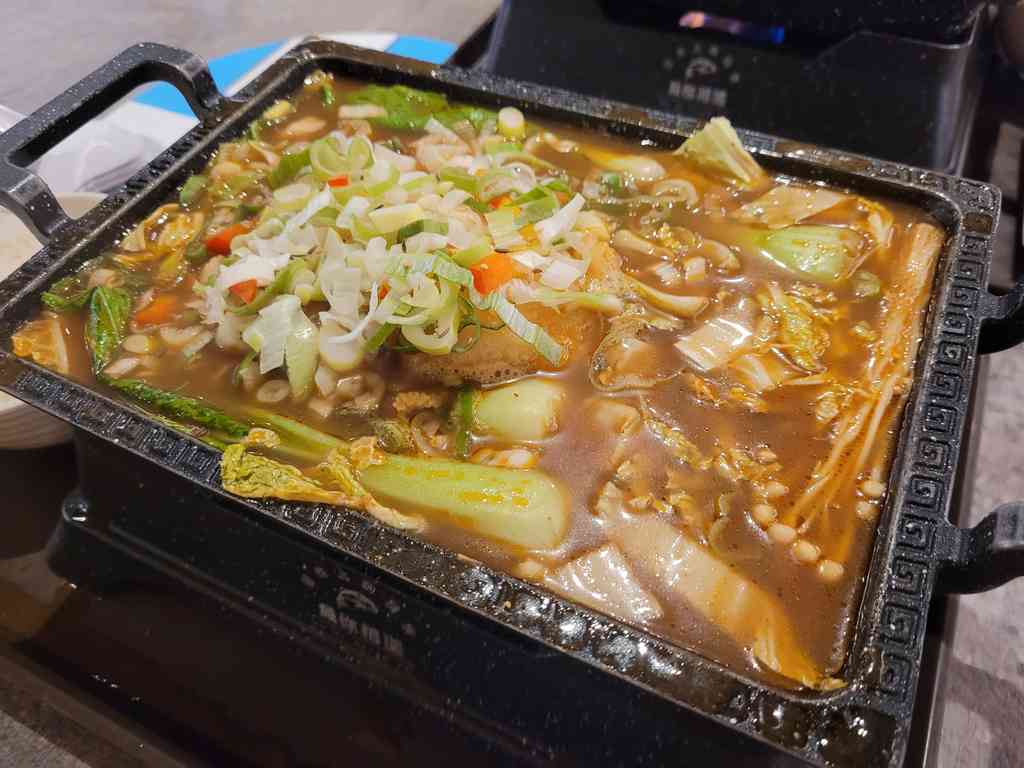 Moreover, on top of the grilled fish, other menu offerings here include a selection of noodles and rice dishes served in hot pots. Topping up their menu options is a small selection of minor complementary dishes. Examples includes e-noodles, la mian (pulled home-made noodles) and soup. Examples includes Fired chicken lia mian, beef, rice cake, chicken luncheon meat, and fried Qing Jiang fish, all similarly priced at $7.90.
Wrapping up
A notable aspect of Yu Ni Xian Yu Grilled Fish was the affordable pricing, offering value for the culinary experience. The amiable staff added a touch of warmth to the dining encounter. Payment convenience was also a plus. You have credit card and Fairprice mobile app payments accepted, offering a 10% discount on the bill.
All in all, my dining exploration at Yu Ni Xian Yu Grilled Fish within Plaza Singapura was indeed a delightful encounter. The establishment presented an assortment of flavors and dishes that were both satisfying and reasonably priced. For those seeking an authentic Chongqing-style grilled fish experience without straining their wallets, this venue proved to be a worthy choice.
---
This review is not sponsored by the establishment nor did they provide any editorial input or reimbursements into the content and outcome of this review. Meals are paid in full out of my own pocket as a regular and anonymous patron.

Verdict:
Must Go! | Actually pretty Good | Worth Trying | Shortlist Optionally | Should Avoid
Yu Ni Xian Yu grilled fish Locality Map
Kopitiam @ Plaza Singapura
68 Orchard Road, #06-15/16/17/18/1920,
Singapore 238839
Opening Hours: 8am- 10pm daily.